While it seems hard to believe that anyone wouldn't be interested in taking a trip to the land where pasta was perfected, I can understand wanting to get the most out of your vacation.
So I wanted to put together a comprehensive list of cities you could add to your journey. Whether you're interested in seeing museums filled with fashion and art, learning to talk with your hands, or attempting to take in the vast amount of historical architecture – I think I have you covered.
Best Cities in Italy
Now go grab a bowl of your favorite Cacio e Pepe and say "Ciao" to the twelve best cities to visit in Italy this year.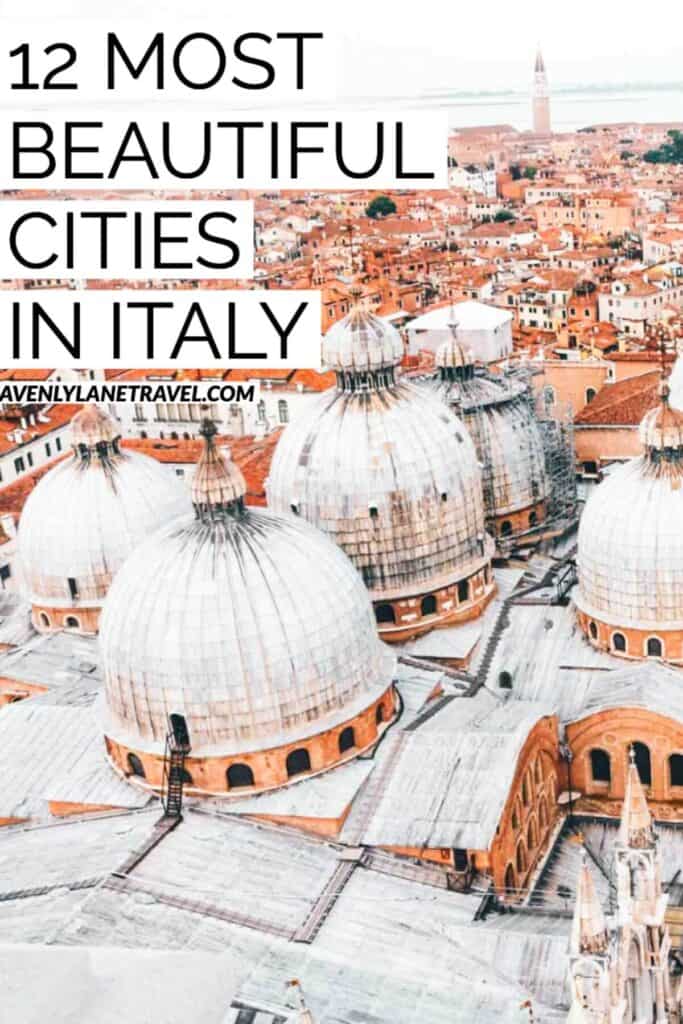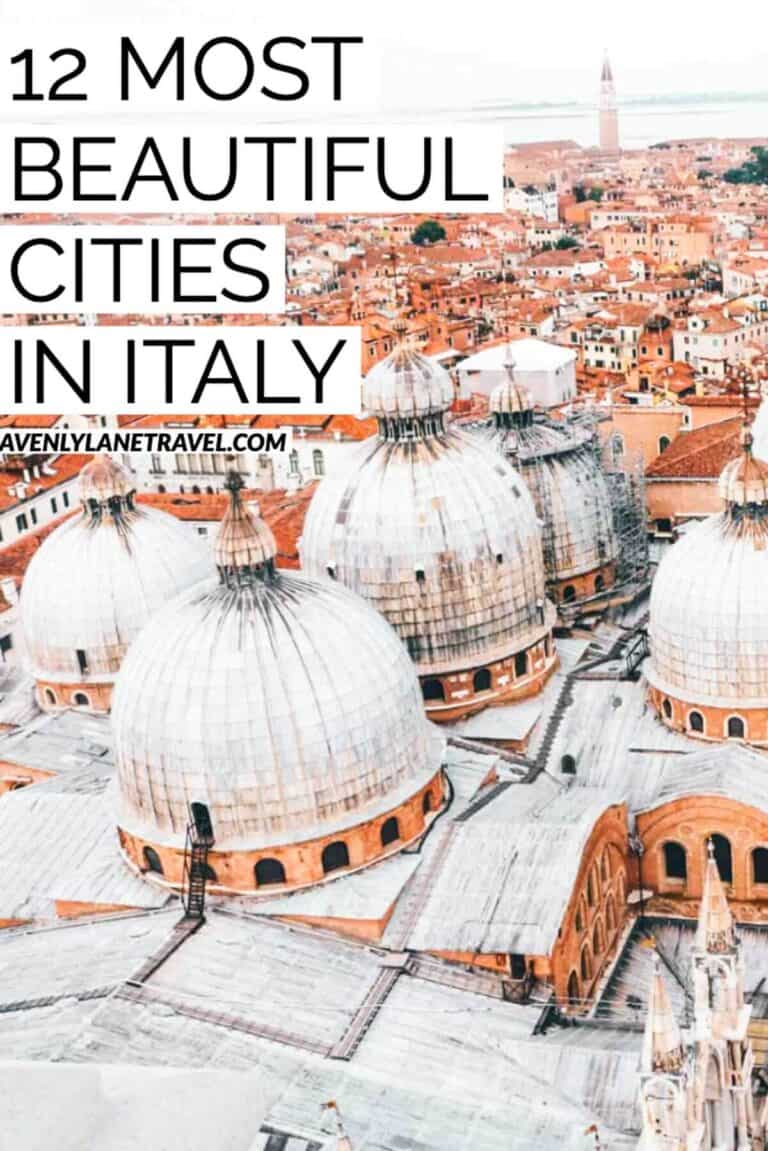 Belvedere, Modica, Italy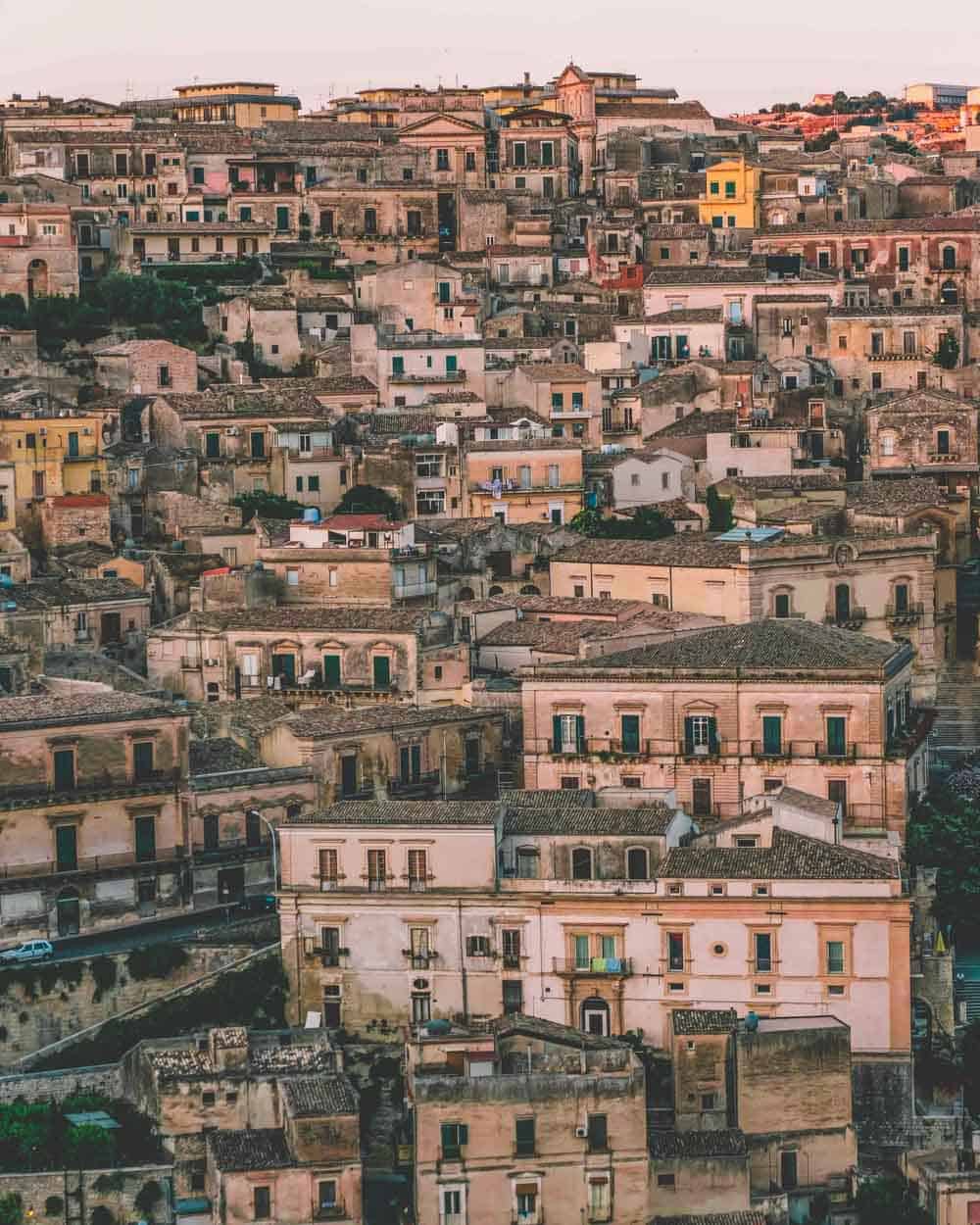 Let's start with Modica, located in southeast Sicily it's famous for its unique Baroque architecture and locally produced chocolate or "Cioccolato di Modica". Nestled in the Hyblean mountains, the town is divided into two distinctive parts: Modica Alta and Modica Bassa.
While it's a bit of a trek to the top of the mountain, the small area of Belvedere has to be on your itinerary. I suggest going at sunset for the most stunning views, you will literally have the entire city at your feet.

While there don't forget to visit the Cathedral of St. George.
Matera, Italy (My personal favorite)
I feel like I don't really need to say anything about Matera. Just look at those photos! Wow!
That being said – if you're looking for something to do in this fascinating Southern Italy area you MUST go see The Stassi (or stones). An ancient town once considered impoverished it's more of a tourist attraction thanks to the UNESCO rating. The historical architecture will make you want to take a million pictures.
Other popular sites include the many churches and monasteries built from limestone of the area. And the famous cisterns used as water filtration.
Rome, Italy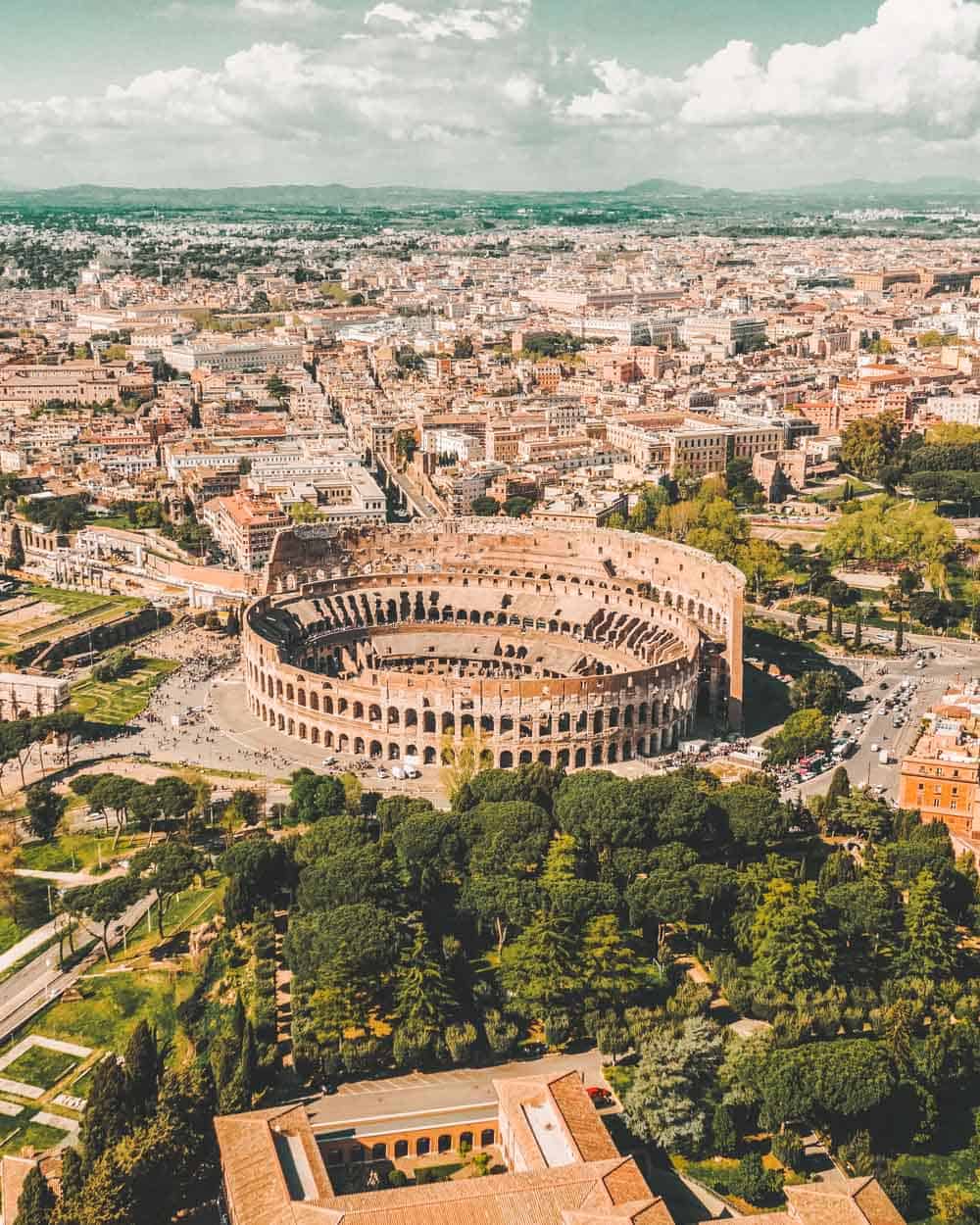 It might be overdone but it is one of Italy's most popular tourist destinations and its capital so of course we had to include – Rome.
My husband and I just got home from Italy a few months ago and I must say, it was kind of exactly what I expected. Lots and lots of tourists.
The Colosseum, Pantheon, and Vatican museum are just as wonderful as you would assume. But there was one thing that was different than I was originally expecting – the food! Yes, the gelato was incredible, but everything else we ate, was just okay.
Where to stay in Rome: Hotel Foro Romano (Where we stayed) – The reason you book this hotel is because of its location. It is right next to the Roman Forum and Coliseum, easy walking distance. This is the area you want to stay in.
What has been your experience in Rome? Did you find the food disappointing or did it live up to your expectations?
Not sure what to pack? Check out our Rome Packing List next.
Related: 9 Worst Things About Rome | 10 Best Things to See in Rome
Burano, Venice Italy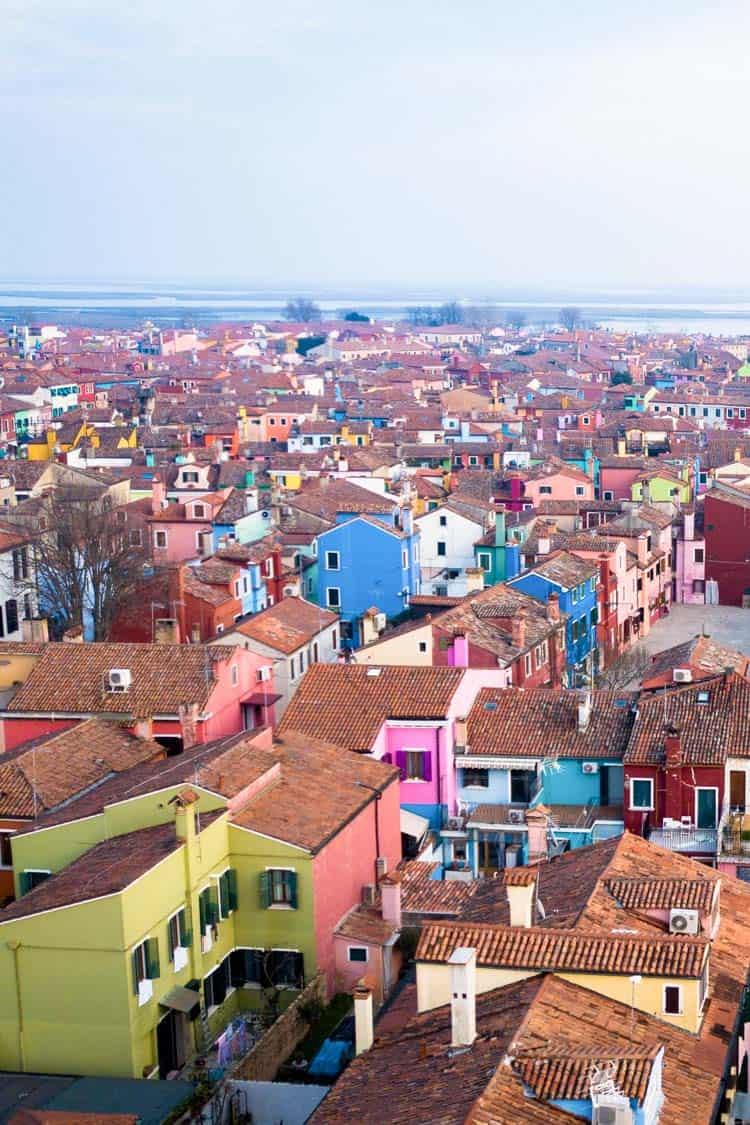 Beautiful Burano!
An island off the coast of Venice. Known as one of the most colorful cities in the World, it's fishermen's neighborhoods come in every color of the rainbow and shouldn't be overlooked. [Link to Colorful Cities in the World post]
While the leaning bell tower of Chiesa di San Martino is just beautiful and their seafood an obvious choice. You need to check out the exhibits in the Lace Museum which includes some scrumptious history on their famous "Bussolai Buranei" – butter cookie. Yum!
Read next: 30 Most Beautiful Cities in Italy
Venice, Italy
Real shocker to see Venice made the list, right? Who doesn't one day dream of traveling to Venice and taking a gondola ride down the canals?
The capital of Italy's Veneto region, is built on more than 100 small islands in a lagoon in the Adriatic Sea.
It has no roads, just those canals – including the Grand Canal thoroughfare – lined with Renaissance and Gothic palaces. The central square, Piazza San Marco, contains St. Mark's Basilica, which is tiled with Byzantine mosaics, and the Campanile bell tower where you have the best view of the city's stunning red roofs.
Where to Stay in Venice: Hotel Ai Cavalieri di Venezia – Located in the trendy Castello district is this amazing hotel. It offers easy access to the main attractions in Venice and is close to great restaurants, bars, restaurants and museums.
Related: 7 Romantic Getaway's in Italy
Siena, Italy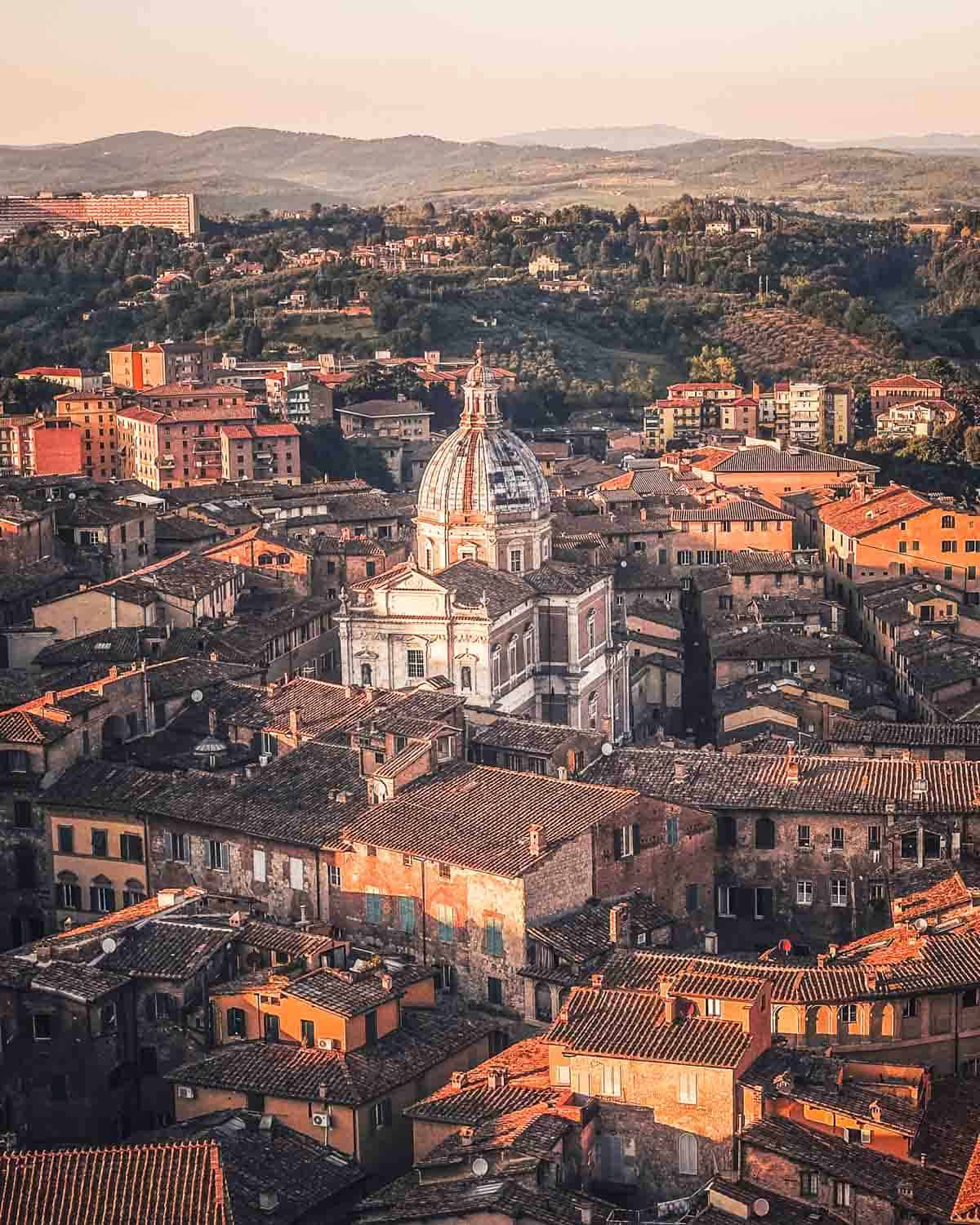 You can find Siena in the central area of Tuscany. It's warm burnt-sienna hued bricks and Gothic buildings will make you want to linger it's streets a little longer.
I think the fan-shaped central square, Piazza del Campo, absolutely charming. There you can see the Palazzo Pubblico, the town hall with its slender Torre del Mangia tower that has some breathtaking views from the top.
And if freschos are more your thing, those at the Piccolomini library are a must see.
Florence, Italy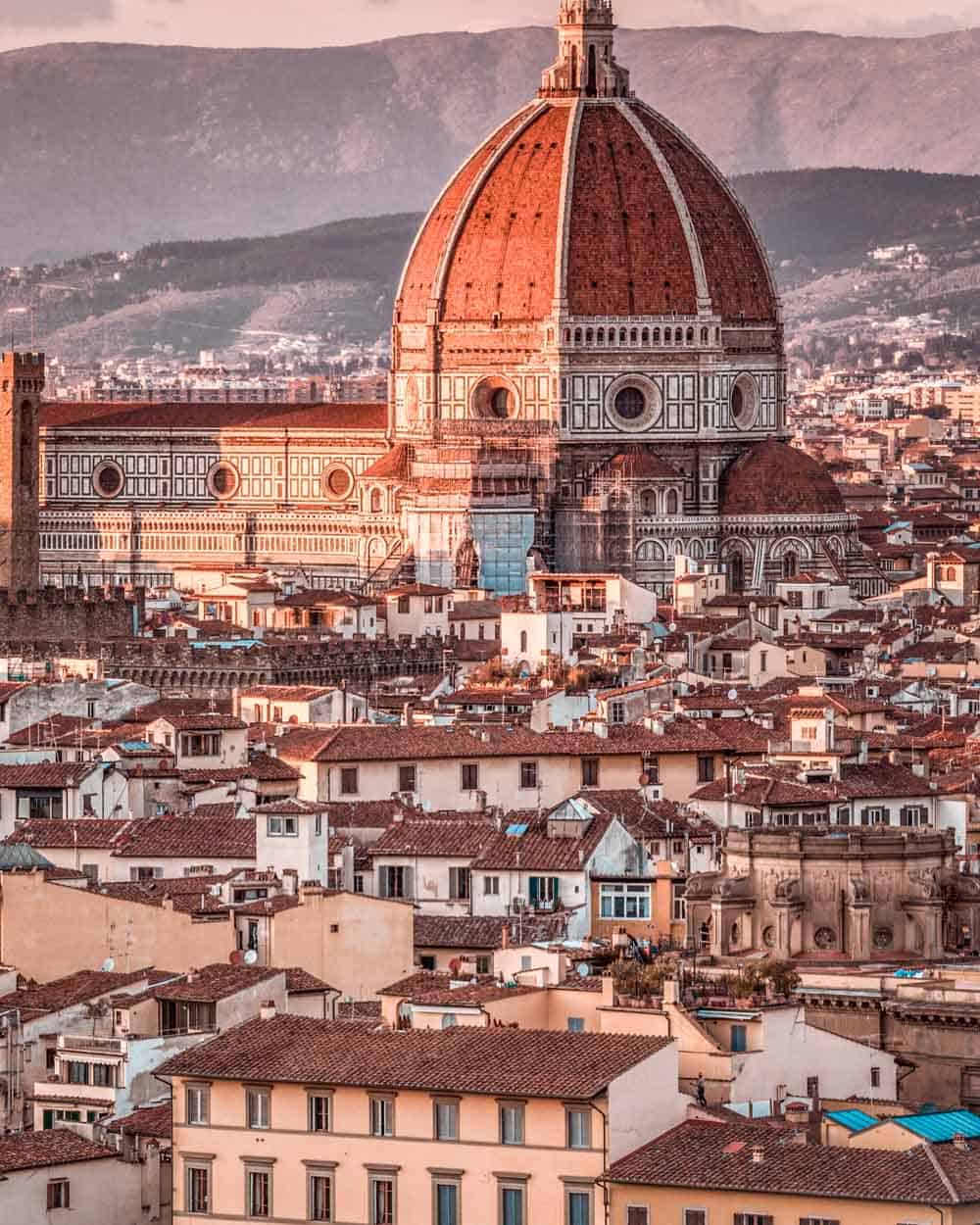 Ah Florence – home to masterpieces of Renaissance art and believe it or not, even more legendary architecture.
The Uffizi Gallery holds Botticelli's "Birth of Venus" and da Vinci's "Annunciation" while you can find Michelangelo's "David" sculpture at the Galleria dell'Accademia. If that isn't enough name-dropping for you (hah!), take a stroll over to the Duomo cathedral engineered by Filippo Brunelleschi and bell tower by Giotto.
While in the area find a restaurant where you can dive into some local Florentine steak. Delicious!
Where to stay in Florence:
Budget Choice: Hotel Alessandra – The location of this hotel is perfect. It is within a stones throw of the famous Ponte Vecchio, while Florence Cathedral is less than 10 minute walk. The buffet breakfast is delicious.
Best hotel for families: Four Seasons Hotel Firenze – This hotel is next to the botanical gardens of Giardino della Gherardesca and includes an amazing upper terrace with pool and hot tub for the kids.
Milan, Italy
Italy's finest in Milan.
Calling all fashionistas! Milan, is a global capital of design and known for its streets filled with high-end fashion and the finest restaurants, it is THE place to treat yourself.
This metropolis found in Italy's northern Lombardy region is home to the national stock exchange and a large financial district. Not to be confused with the Duomo of Florence, the Gothic Duomo di Milano cathedral can be found there along with the Santa Maria delle Grazie convent, which holds Leonardo da Vinci's beloved mural "The Last Supper".
I hear Dolce and Gabbana calling your name!
Where to stay in Milan: Best Overall – The Square Milano Duomo | Luxury Choice: Armani Hotel Milano
Vernazza, Italy
This is more of a village than a city, but it was just too gorgeous to leave off the list.
Vernazza is nestled into the Italy's rugged northwest Ligurian coast and makes up one portion of the Cinque Terre. There you'll find a small marina surrounded by colorful homes.
Clinging to the rocks, Doria Castle is a powerful medieval "defensive" structure with a tower that overlooks the sea, a great spot for pictures. The Belforte bastion is just below it.
Another gorgeous tower to see is the bell tower of Santa Margherita di Antiochia Church which is topped by an elegant cupola.
Has anyone been to Vernazza? How did you like it?
Lago di Como, Italy (Lake Como)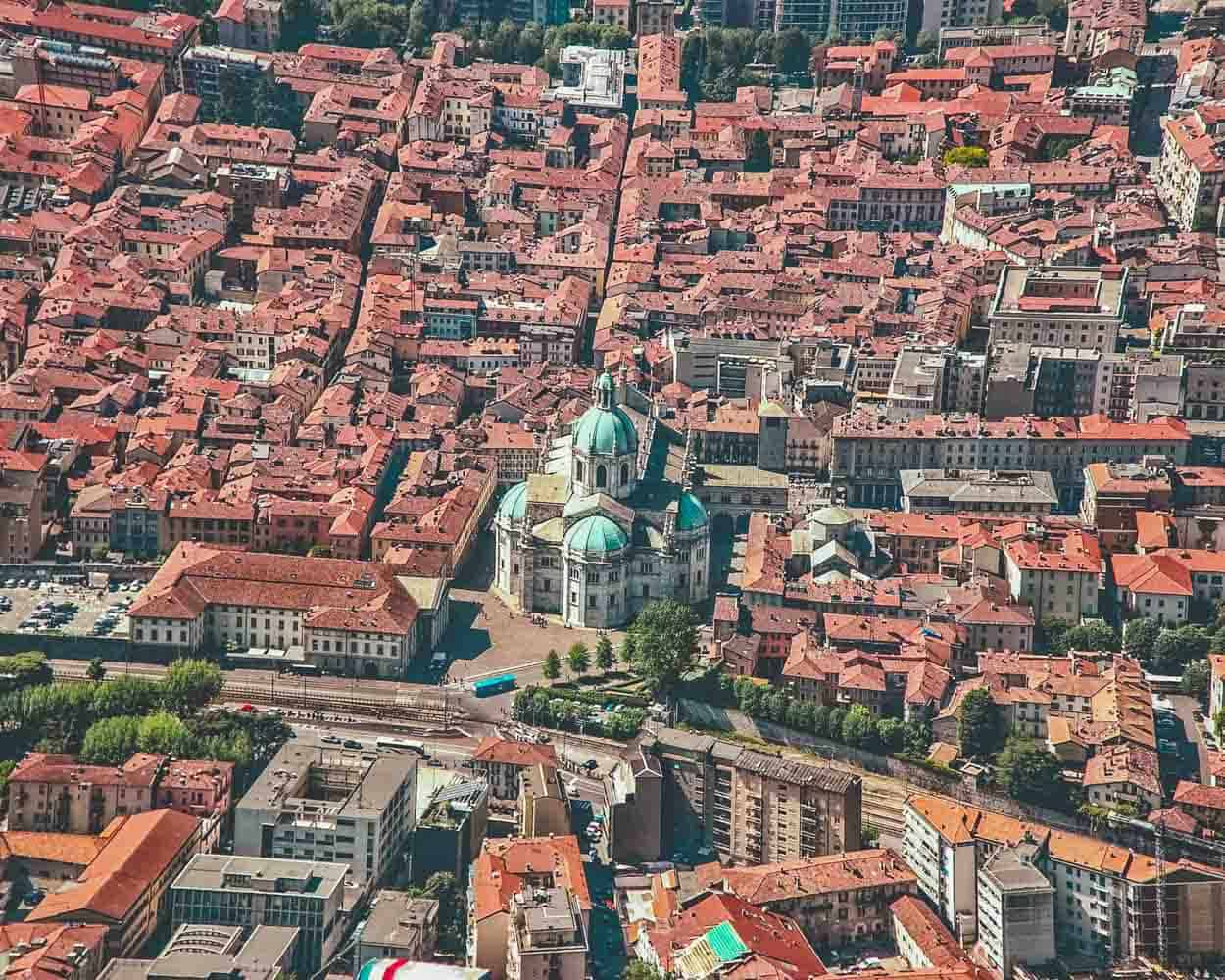 Also found in northern Italy's Lombardy region, Lake Como is an upscale resort area known for its dramatic scenery and positioned against the foothills of the Alps. The lake is shaped like an upside-down Y, with three branches that meet at the resort town of Bellagio.
At the bottom of the southwest branch lies the city of Como, home to magnificent Renaissance architecture and a cable railroad that travels up to the mountain town of Brunate.
There is so much focus around Lake Como that I am a little shocked at how beautiful the actual city is even without the lake! Amazing.
Procida, Italy
No list would be complete without the vibrant town of Procida.
One of the Flegrean Islands off the coast of Naples in southern Italy, it is a comune of the Metropolitan City of Naples, in the region of Campania.
This area is a little more quiet, a bit slower. Although it may seem like there is less to do here – just remember it's about the sea! Eat the local catch, grab a drink at one of the bars, or book a boat tour.
Take in the breath-taking views and be at peace here.
Where to stay on Procida Island: There are numerous hotels around the northern part of the island. I recommend staying at the Albergo 'La Vigna' hotel. This beautiful hotel is surrounded by its own vineyards and is just a short walk from the historic city center. If you plan on spending significant time on the beach, your best bet would be to head over to Chiaiolella on the southern side of the island.
Naples, Italy
Last but not least Naples!
Sitting on the Bay of Naples this city is close to the still-active volcano – Mount Vesuvius. Yes that volcano, that notoriously destroyed Pompeii.
The city's cathedral – Duomo di San Gennaro has to be seen for its many frescos. Another Duomo?! Again, don't be confused – this is the third in the group.
With centuries of art and architecture found in the area including the Royal Palace and Castel Nuovo you will wonder why you haven't visited before.
Where to stay in Naples: Luxury Choice – Grand Hotel Vesuvio | Budget Choice – Grand Hotel Europa
What cities in Italy would you add to the list?
Read Next: 30 Most Beautiful Cities in Italy
Pin it for later! (Hover over the images below to pin them to Pinterest.)