After seeing photos of Jasper National Park many people think that the in person experience can't possibly be as good. Spoiler, the Jasper attractions live up to the hype! The mountains really are that rugged and breathtaking, you really can explore glaciers, and the lakes really are the brilliant turquoise or blue colors you see.
What to do in Jasper National Park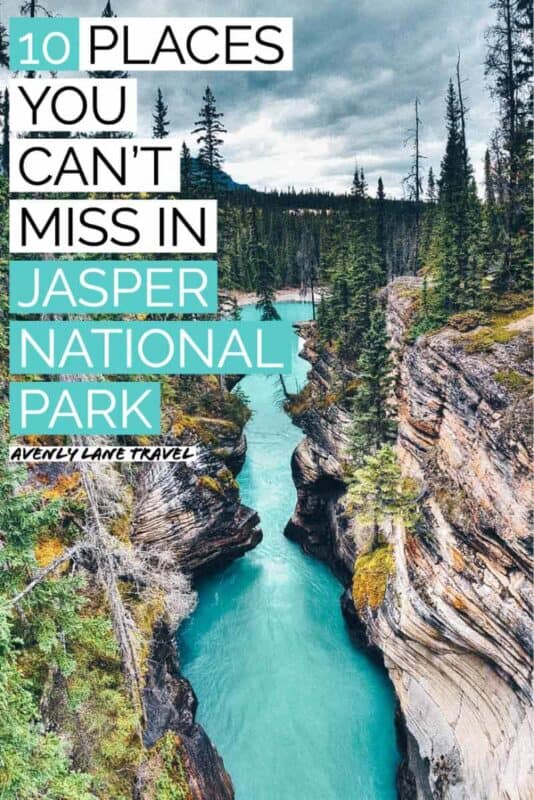 This perfect mountain escape has something for everyone, and things in every season. When trying to figure out what to do in Jasper National Park it is good to take into account the weather. Not all the attractions are open year round; not surprisingly, more people visit in the warmer summer months.
There are so many things to do in Jasper National Park. When planning what to do in Jasper, there are far too many stops to include on one trip. Below are 10 of the top things to do in Jasper, but know that the list easily could have gone much longer.
Also remember that the world famous Banff National Park is only 3 hours away, so combining Jasper attractions with Banff attractions is common.
The Top 10 Jasper attractions are…
1. Miette Hot Springs
The Miette Hot Springs look like a large swimming pools built in the middle of the mountains. What makes these Jasper hot springs even better is that the water in these pools comes from a natural hot spring.
These Jasper hot springs are located only 45 minutes from town, and are the perfect escape after a long day trekking through the mountains.
2. Sunwapta Falls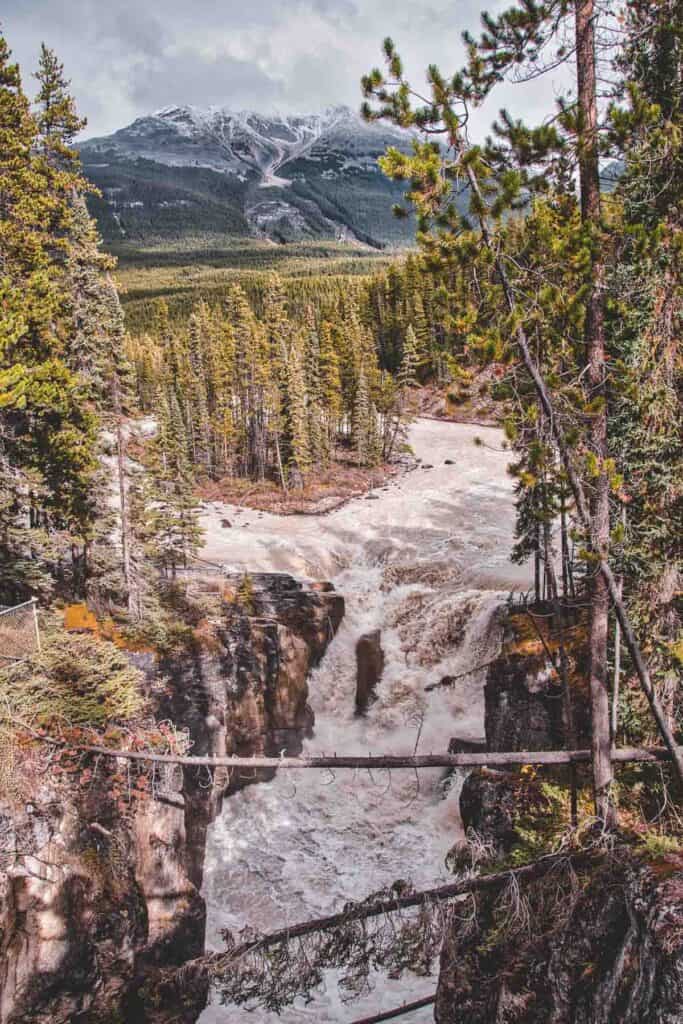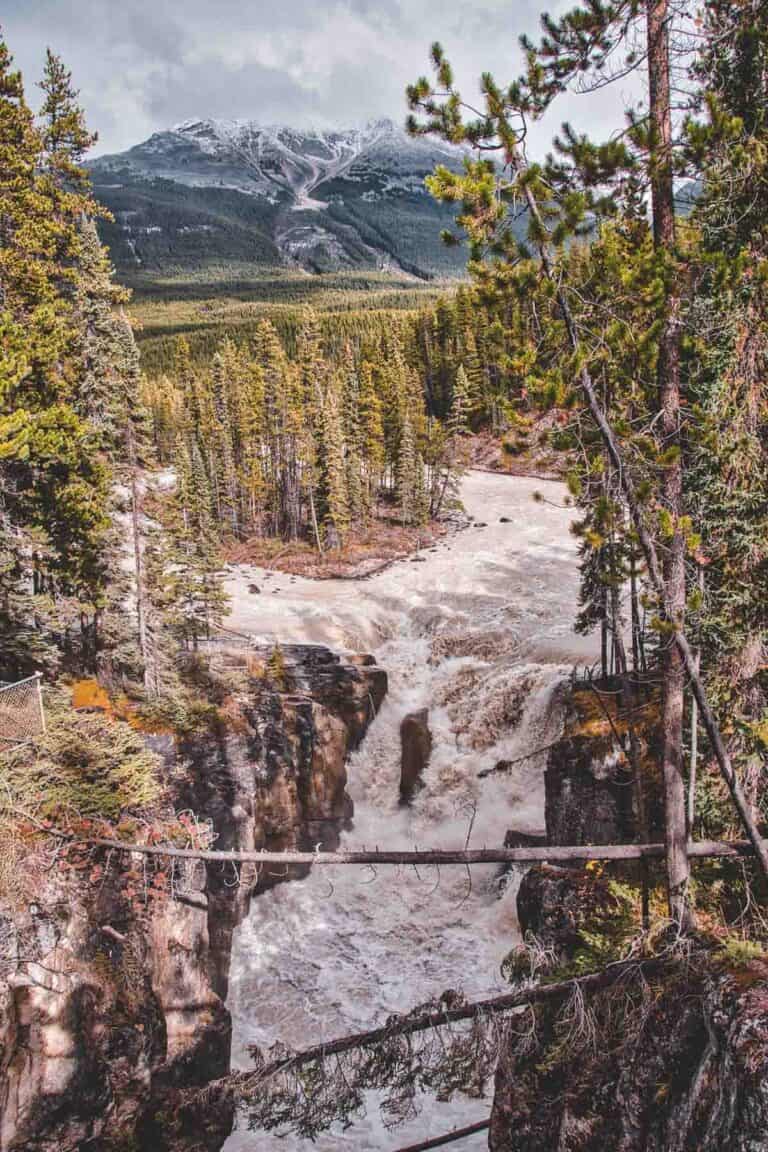 This gorgeous waterfall is most famous for the small picturesque island at the top of the falls. The Sunwapta River flows around this island and then immediately down the falls.
Its location right off of Icefields Parkway makes it a quick stop.
3. Valley of the Five Lakes
This quick hikes takes you around 5 different mountain lakes with water in varying shades of blue and green. The hike can be made longer, but the most common trail is only 2.8 miles (4.5 km).
4. Jasper Gondola (Skytram)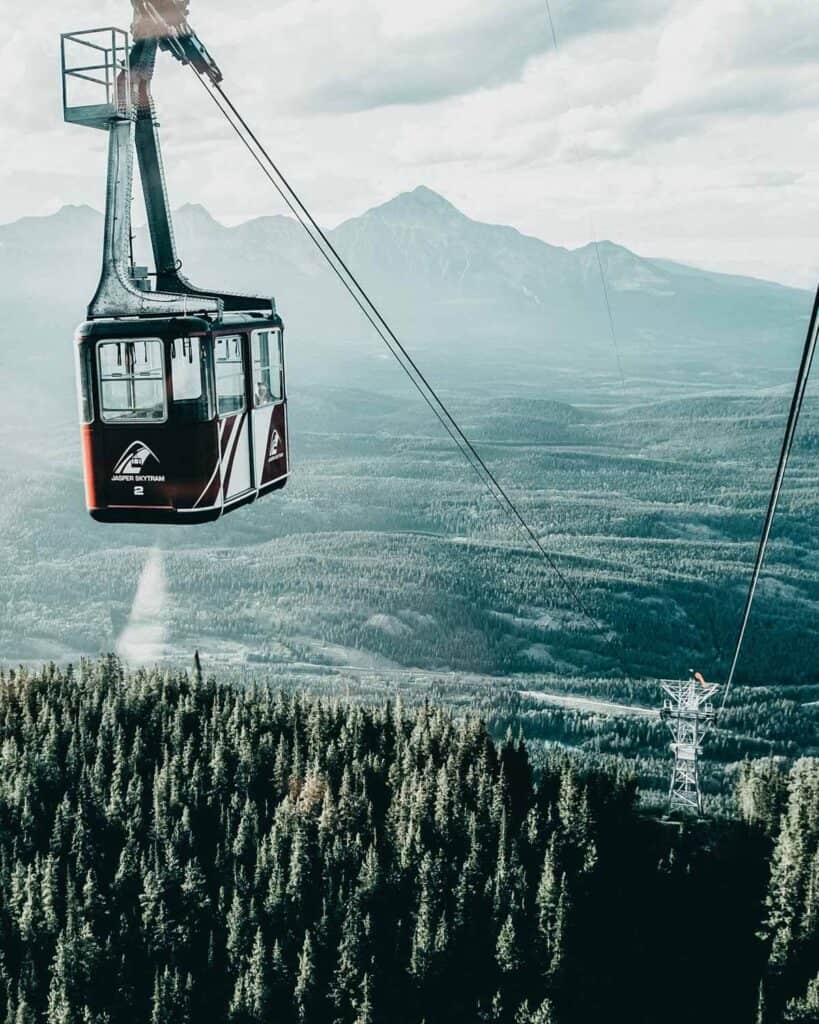 Want to take a Jasper tramway up to the top of a mountain rather than having to hike up? The Jasper Skytram does exactly this. The top of Whistlers Mountain is only a quick Jasper tramway ride away.
After riding the Jasper gondola up to the top, the mountain views are awesome. For those wanting to spend even more time there are gift shops and a restaurant. The ride can be a little bit nervewarcking if it's windy outside.
5. Athabasca Falls Jasper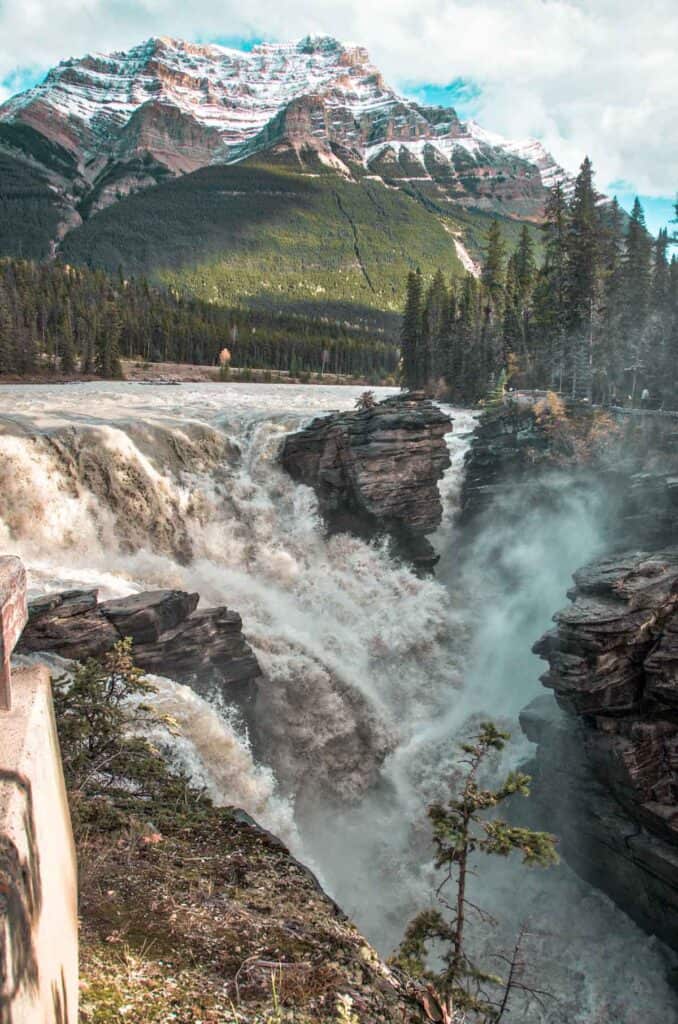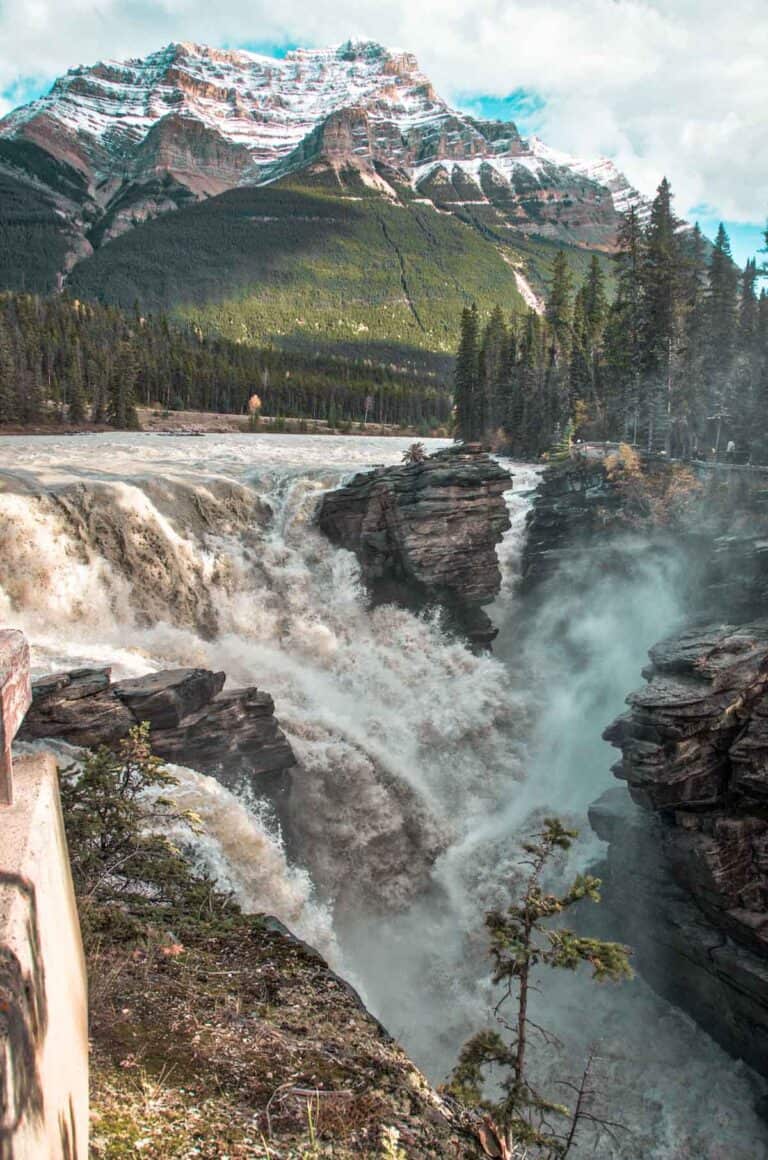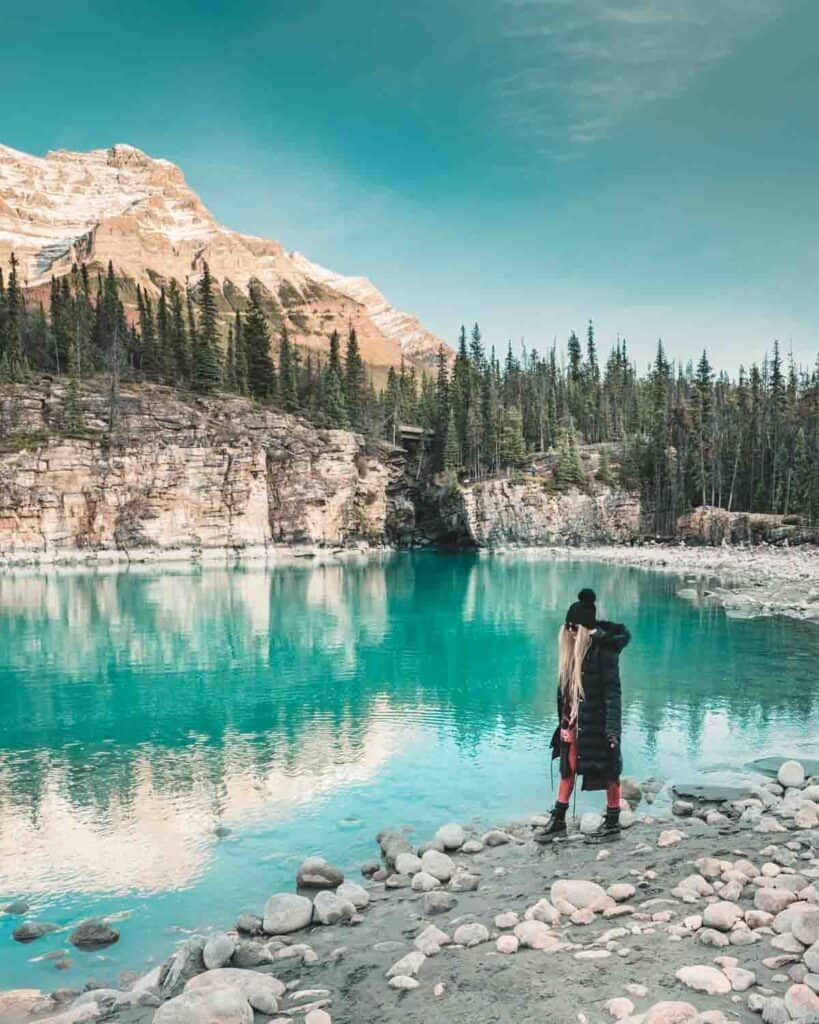 Another easily accessible waterfall right of of Icefields Parkway is Athabasca Falls. It doesn't require a long hike to be able to enjoy these gorgeous falls. The falls are perfectly framed with gorgeous Canadian Rocky Mountain views.
For those looking for even more enjoyment after viewing Athabasca Falls Jasper, continue following the path along Athabasca canyon and then along the river.
6. Columbia Icefield Skywalk
Another way to experience phenomenal mountain views is on top of the Jasper Skywalk. The glacier skywalk is actually a bridge built over the side of a mountain. What makes it all the more exhilirating is that this bride is made out of glass, and is completely see through.
Check in at the Columbia Icefield Center and then board the shuttle bus to the Jasper Skywalk.
7. Maligne Canyon Hike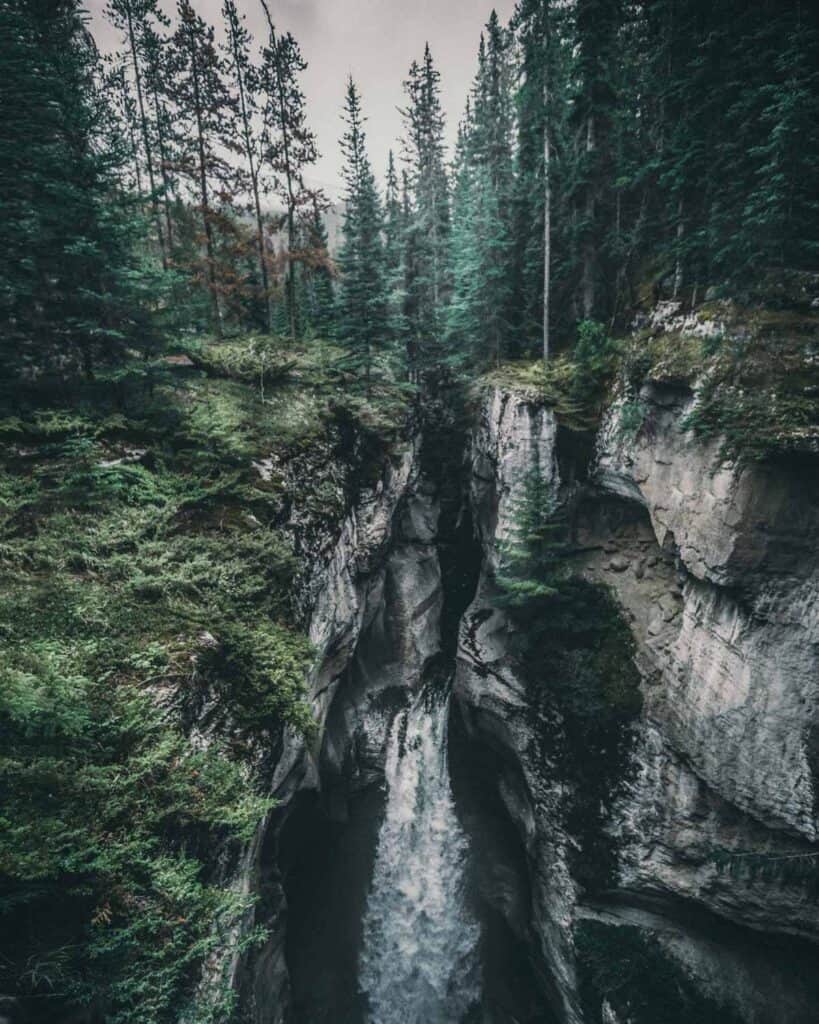 The Maligne Canyon hike is one of Jasper's most popular. The Maligne River flows through tall canyon walls. To add to the drama, bridges zig zag across the canyon. The hike is easy enough, but plan plenty of time for pictures.
Located northeast of Jasper, Maligne Canyon is just a quick 10 minute drive away from the town. The proximity to the town helps add to the crowds.
8. Mount Edith Cavell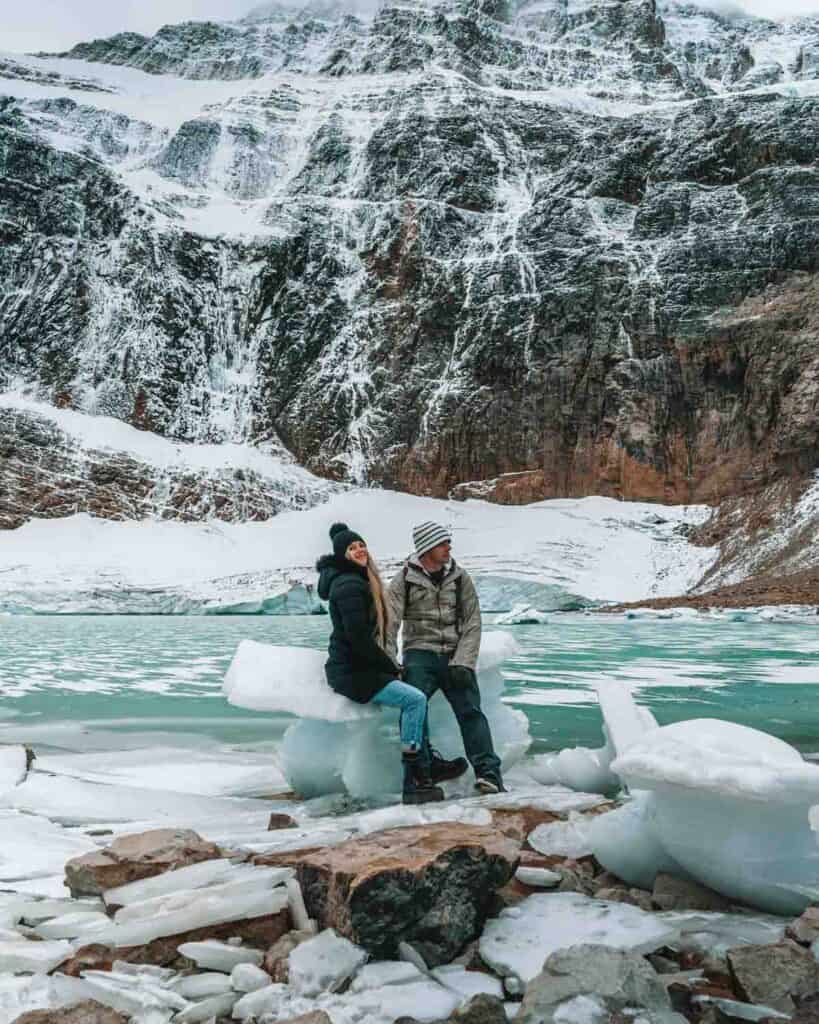 The hike to Mount Edith Cavell is another popular trail. What makes this Jasper attraction so great is that it is another great place to see a glacier.
Angle Glacier crawls down Mt Edith Cavell and parts of it melt to form a mountain pond at the bottom.
Related post: The Most Underrated Attraction in Jasper National Park: Mt. Edith Cavell
9. Athabasca Glacier Tour/Columbia Icefield Tour
Want to actually climb on a Jasper glacier as part of a Columbia Icefield tour? This is exactly what you can do at the Columbia Icefield Centre. Pay for your tickets and then climb in a snow crawler that will take you on a Athabasca Glacier tour.
Even if you don't want to pay for the tour, you can complete a short hike to the "toe" of Athabasca glacier to inspect it up close. A Columbia Icefield tour is a must do for those wanting to see a Jasper glacier.
10. Town of Jasper/Jasper Accommodation
Even though the town of Jasper is small, visiting the quaint downtown is a great experience itself. There are so many great restaurants, shops, coffee houses, bakeries, and juice bars.
When trying to figure out your Jasper accommodation, I highly recommend staying in one of the Jasper hotels. Even though the Jasper hotels are a little more expensive than those outside of the park (about a 1 hour drive) away, the town is the perfect launching point to get to all the best Jasper attractions.
There are so many other Jasper attractions that could make the list. What else do you think should be included?