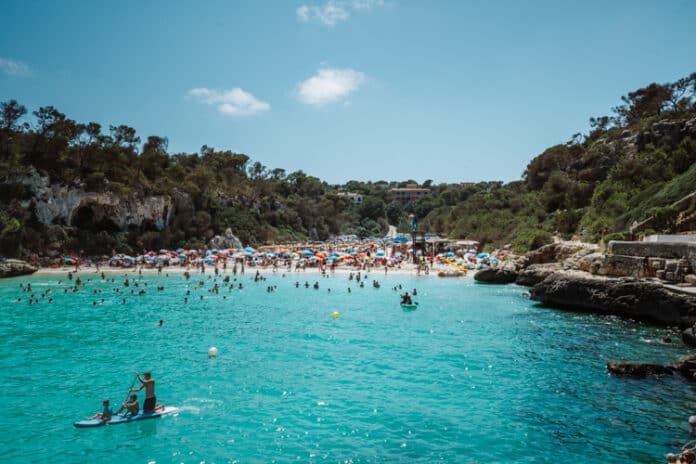 Cala Llombards
Looking for a great beach in Mallorca? Cala Llombards is a perfect example of the unique cove beaches that make Mallorca special. Rocky cliffs perfectly frame a small beach and protect the waters from wind and waves. The ultimate effect on the waters is that you see water that is a stunning mix of turquoise, blue, and see-through.
Not only is this family friendly beach visually amazing, but the protected waters are perfect for swimming, even with little ones. Some of the other nearby beaches tend to turn into a spring-break like party vibe, but this beach seems to appeal to families and people looking to relax and lounge. What's even better is that this is one of the few cove beaches that also has its own beach bar.
Cala Llombards Quick Facts
Other Names: Platja Cala Llombards, Calo des Macs (immediately next to)
Known For: calm waters, small cliffs to jump off of, snorkeling
Facilities: beach bar, umbrella rentals, showers, bathrooms
Lifeguards: Yes
Parking: lots, directly behind beach (sometimes charging) but free and along sides of nearby roads
Cost: Free
Location
Not surprisingly, Cala Llombards (or Llombards Cove Beach) is in small town of Es Llombards. This town is on the southeastern side of the island of Mallorca, Spain. If you are coming from Palma or the airport, it is about a 45 minute drive.
The beach is a little bit out of the way, so it much easier to access with your own car. The last 8 minutes of the drive are on roads so skinny that only 1 car can fit down them at a time. While this happens in a lot of different places in Mallorca, it was especially difficult here. We had to pull off to the side of the road a number of times so that another car could pass, and at times there were rock walls on either side of the road making it so one car would have to back up to let the other pass.
Multiple Access/Parking Locations
When driving up to Cala Llombards you can park in a number of different locations. Most people come in from the west and park at the mouth of the beach, but if you come in from the north side of the beach you can park along the streets there as well.
There isn't one magic formula for accessing this beach, so I recommend parking wherever you can find a spot.
Parking
The biggest parking lot is directly in front of the mouth of the beach, but the last time we visited we parked along a street on the north side of the beach and hiked down the cliff to get to the sand.
You can also park along the south side of the beach on the street there. Supposedly the parking lot at the mouth of the beach charges for parking in peak seasons, so keep your eyes peeled for a street spot if you don't feel like paying.
What to Expect Once There
Like a lot of the best Mallorca beaches you can expect a decent amount of crowds. This is inevitable since the island is so popular and most of the coasts are rocky cliffs rather than sandy beaches. This beach is a lot bigger than a lot of the other calas, but it still tends to fill up.
Thankfully the sand is deep enough that you likely aren't going to be fighting to find space to lay out your towels and you can swim in the water without being on top of other people (even in peak season).
I think this beach being out of the way of most of the resort areas helps keep it from overcrowding.
Less Party More Family
Some of the other beaches attract university age students looking for a party. Cala Des Moro is beautiful, but if you aren't looking for a beach party then you might want to steer clear. A much slower vibe is evident at Cala Llombards.
Snorkeling and Cliff Jumping
There were a lot of families swimming with kids in the gentle waters. The clear waters and rocks along the side are great for snorkeling, so you are likely to see a number of other visitors checking out the marine life.
There were a few people jumping off the cliffs that line the sides of the bay, but the heights of these cliffs weren't nearly as high as some of the others.
Beach Bar/Umbrella Rentals
A huge perk of this beach is that it comes with a full list of facilities. Many of the most gorgeous cove beaches don't have restrooms, showers, or lifeguards. This beach has all of those as well as a beach bar and umbrella rentals.
I loved being able to have all the facilities that let me spend an entire afternoon without having the leave the beach.
What Else Is In the Area
This part of the island is home to a lot of different cove beaches. The super popular Calo Des Moro is only 5 minutes away, as well as Cala Santanyi if you are looking for a beach in a small city environment with restaurants within walking distance.
Conclusion
Cala Llombards is a fantastic beach that is easy to access. If you are looking for a beach that has all the facilities and less crowds, you should consider checking out Cala Llombards.