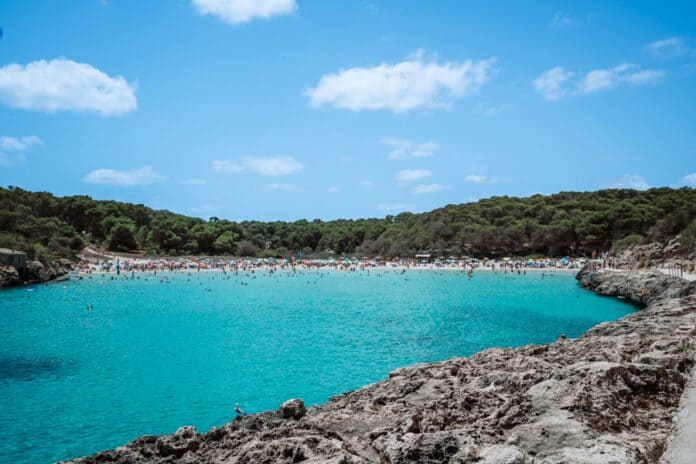 Cala S'Amarador: Voted Best Beach in Europe
The Cala Mondrago Natural Park is a gold mine of awesome beaches!
Cala S'Amarador is the third beach in this park and unfortunately is somehow missed by some visitors to the area.
This is especially surprising considering it is the biggest of the three beaches in this nature reserve, but is likely missed because the other two are a little bit closer to the parking lot.
You can read about the other two beaches Cala Mondrago and Cala Des Borgit here.
For a Mallorca cove beach, Cala S'Amarador is huge and 100% as pretty as the pictures make it look. Given that I'm not surprised that this beach was previously voted the "Best Beach in Europe."
The thing I am surprised about is that the name translates to Amateur Beach, if you can figure out why let me know.
Cala S'Amarador Quick Facts
Other Names: Platja S'amarador, Cala S Amador, Cala Mondrago Nature Reserve, Cala Amarador, Parc Natural de Mondrago
Known For: Previously winning the "Best Beach in Europe" award
Facilities: limited, no showers, porta potties, concession stand
Lifeguards: Yes
Parking: paid lot, limited street parking
Cost: 5 euros
Other: Neighbor of Cala Mondrago and Cala des Borgit
Location
Cala S'Amarador is not in one of the main resort areas of Mallorca, but it is pretty close to the Cala D'or resort area in Santanyi. This unique cove beach is on the southeastern coast of the island, and is about an hour drive from Palma.
You basically need a car to get here, and once you are here you should plan on having to walk at least 15 minutes from the parking lot.
Parking
Due to the immense popularity of the beaches in this area and the fact that all three share the same parking lot it can be a little bit difficult to find a spot. There is a lot that charges 5 euros to park, but at times it can fill up.
If the lot is full or you don't want to pay to park, there is a limited amount of street parking a little bit ahead of the parking lot. You will see the areas of the road that aren't lined with a low stone wall.
We parked outside of the lot and only had an extra 2 or 3 minutes to hike.
15 Minute Walk From the Parking Lot
Unfortunately getting from the parking lot to the beach requires a bit of a hike. Lots of hikes in Mallorca are gorgeous, but this isn't one of them. You will be walking through a residential area from the parking lot to the beach.
Thankfully the path is pretty easy to follow. Once you get to the beach you will need to take a pretty steep set of stairs to get down to the beach.
You can also walk directly from Cala Mondrago as there is a path that connects the two beaches. Lots of people don't realize that this path exists though, and they end up staying and Cala Mondrago the entire time and not exploring further.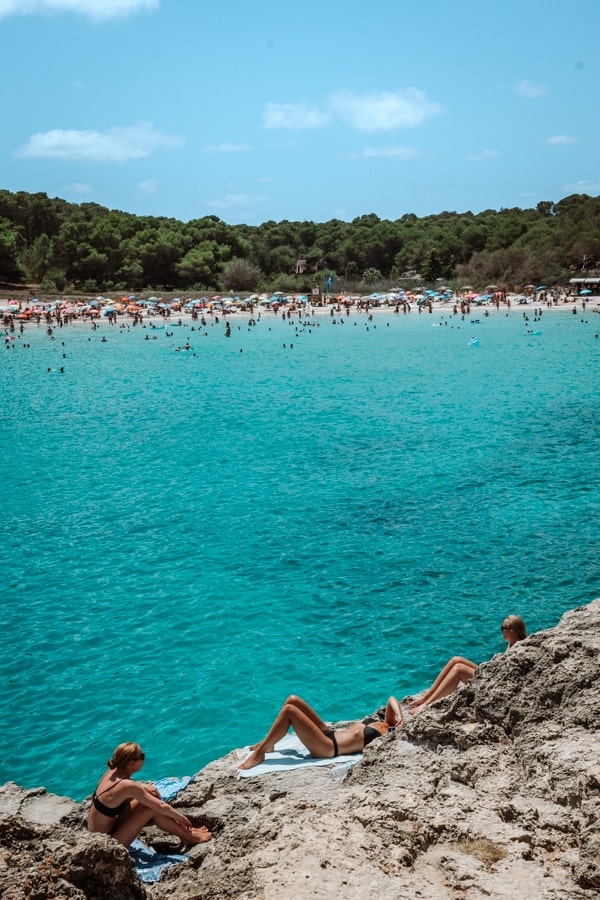 Pros
Overall, there are a ton of amazing things about this beach that justify planning a visit.
Absolutely Beautiful and Relatively Large
This beach won best beach in Europe for a reason. The water really is as clear and turquoise as the pictures show. It is substantially bigger than a lot of other Mallorca cove beaches, but still has the same charm and rocky cliffs framing each side.
Facilities
While porta potties aren't great, I do love that there is a small concession stand selling cool drinks to help you cool off on a hot day. A ton of the Mallorca beaches don't even offer this, so comparatively the facilities are nice.
There are also umbrella rentals for those looking for some shade.
Cliff Jumping And Snorkeling
For those that are interested, there are cliffs that you can safely jump off of and the water is clear enough for you to snorkel and see a good variety of sea life. The calm waters are great for swimming, even for kids.
Cons
It's not all perfect, so there are a few things you should know about ahead of time.
Still Crowded
While it is less popular than Cala Mondrago, it is still very likely to be crowded. A beach this beautiful in Mallorca is almost always guaranteed to have people. That being said, at least it is big enough for everyone to spread out.
15 Minute Hike From the Parking Lot
The 15 minute hike in from the parking lot is a real drag. It isn't pretty and isn't shaded. At least the perfect waters of the beach will welcome you there.
Conclusion
This beach won best beach in Europe for a reason. It's gorgeous and worth a visit even with it taking relatively more effort to access and the likely crowds.