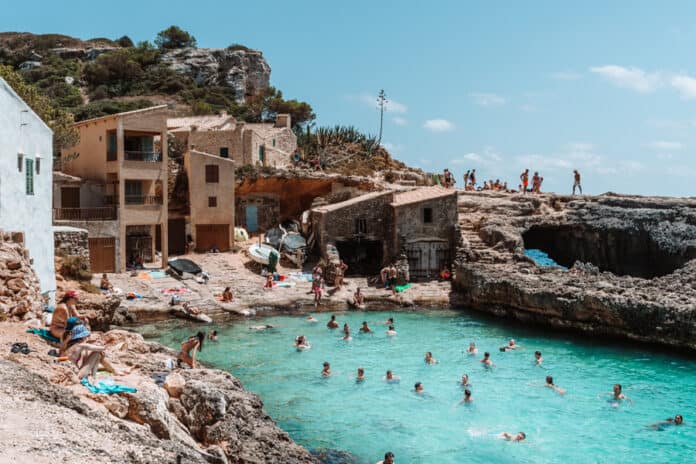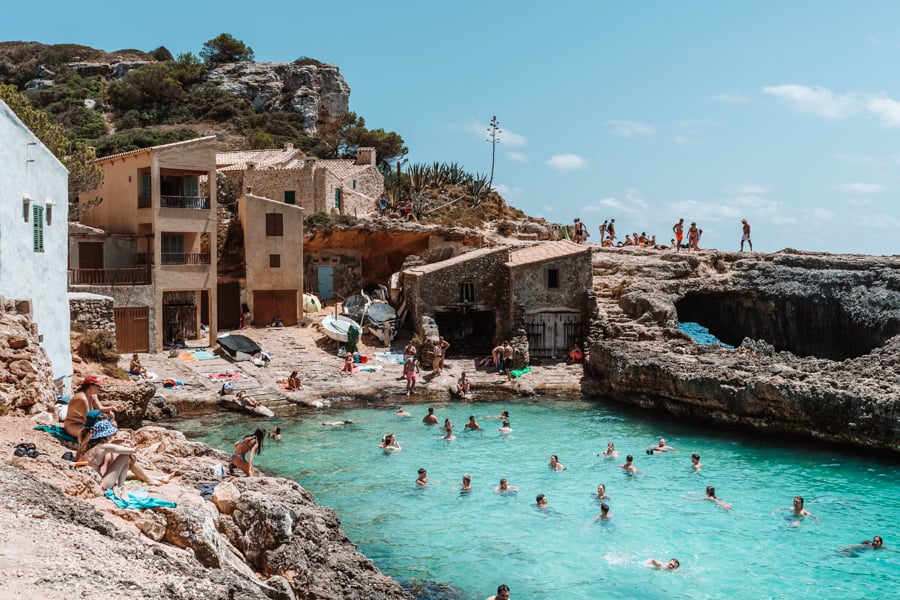 Check out 16 Mallorca Beaches that will blow your mind!
I've been to a lot of beaches around the world. From Seychelles to Brazil and from the Azores to Hawaii there really are a lot of phenomenal beaches spread around the globe. Even with my experience I can honestly say that after visiting all of the others I was blown away when I visited the Mallorca beaches.
I'm not exaggerating when I say that the beaches in Mallorca are phenomenal! This island is famous for its rocky cliffs and intimate cove beaches. While most of the beaches aren't super large, there are enough of them dotted around the island to keep you occupied for a long time.
If you aren't familiar Mallorca is an island in the Mediterranean Sea that belongs to Spain. It is a popular holiday spot for Europeans, but even with the crowds it is still a must see.
I'm usually one that doesn't want to go to the same destination twice, but I just booked a return trip this spring!
Tip: The best way to get around in Mallorca is to rent a car. I would recommend renting the smallest car possible as the roads are very narrow and parking can be a nightmare. Book here.
Note: I have personally visited every beach on this list. This is the info I wish I had before going to Mallorca; I hope this helps you!
16 Best Beaches in Mallorca
Here are the 16 best Mallorca beaches (according to me).
Calo des Moro (#1 Mallorca Beach)
A lot of people call Calo des Moro the best of all the cove beaches in Mallorca. And, I can't say they are not wrong.
First impression & only con: Wow, this place is crowded. We were there during the busiest time of year (July) and there was literally a line of people waiting to go down to the beach. But it was totally worth it.
Tip: The best times to go are early fall or spring if you want to avoid the crowds.
Quick Facts on Calo des Moro
Other Names: Cala Moro, Caló des Moro, Cala del Moro
Known For: Clear turquoise waters, intimate beach feel
Vibe: Younger crowd overall, party atmosphere (but not in an obnoxious way)
Facilities: Porta-potties at the parking lot only
Lifeguards: No
Parking: Medium sized lot 1 km away (fills up quickly!!)
Cost: Free
Other: You can access Cala S'almunia with a short walk from Cala des Moro
Read our full blog post with photos: Calo des Moro
Cala S'Almunia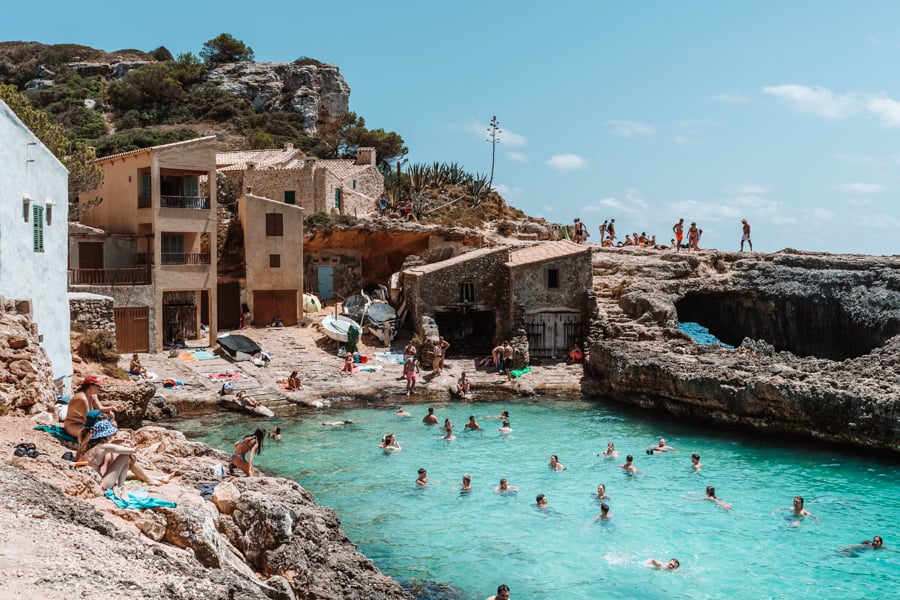 Want a two for one special? Cala S'Almunia is the forgotten neighbor of Calo des Moro.
Cala Des Moro is Instagram famous for having an especially striking combination of turquoise waters and rugged cliffs.
The beautiful look is continued just next door at Cala S'Almunia!
Unlike a lot of other beaches in Mallorca, this and Cala Des Moro are much less family friendly. The beach has a vibe that feels like a spring break party.
We saw lots of university age people dancing to loud music, sharing a few drinks, and loudly having a good time. For those looking to join that type of party this might be a perfect fit.
I also think more families tend to stay away because the beach doesn't have a lot of facilities and requires a 15 minute walk to access it. If that doesn't scare you off you will not be disappointed when you get there.
There is still a ton this beach offers.
First impression: This place is seriously like a fairy tale! These photos are not heavily edited. This is exactly what it looks like! The water is that blue. The cliffs are that pretty.
Only negative: Hardly any sand and the surrounding rocks are painful to lay on.
Quick Facts on Cala S'Almunia
Other Names: Cala S'Almonia, Cala Almonia, Cala Des Moro (next door but same parking)
Known For: Cliff jumping, not a lot of sand, very rocky, absolutely stunning
Facilities: None, only porta potties at the parking lot 15 min away
Lifeguards: No
Parking: Lot is a 15 min walk away (fills up quickly)
Cost: free, but limited spaces
Other: gorgeous rock features and mild cliff jumping
Youtube: Check out my YouTube clips of this beach here.
Cala des borgit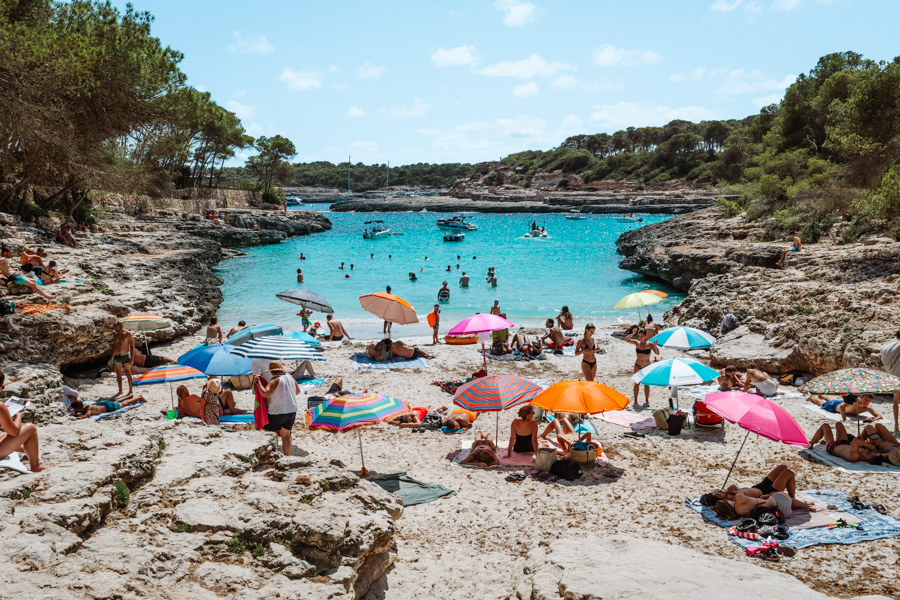 Amazing, lesser known beach in Mallorca!
Calo des Borgit honestly might be my favorites Mallorca beach I have visited. It just had a really peaceful, calm vibe to it that was hard to find during high season. (We went in July)
It requires a small hike to get to and is relatively unheralded compared to its two closest neighbor beaches that it shares a parking lot with (Cala Mondrago and Cala S'amarador).
I honestly loved everything about this beach.
Calo des Borgit QUICK FACTS
Sand Quality: Fine, goldenish/whitish sand
Water Color: Amazing bright turquoise water!
Swimming conditions: Honestly, perfect! The water is very calm, hardly any waves. Perfect for families.
Other Names: Calo des Borgit, Platja des Borgit, Cala des Burgit
Known For: Being a 10 minute walk from the more famous Cala Mondrago
Facilities: None (trash cans only)
Lifeguards: No
Parking: Shared lot with Cala Mondrago for 5 euros (some free street parking)
Cost: Free
Other: 10 minute hike required
Es Trenc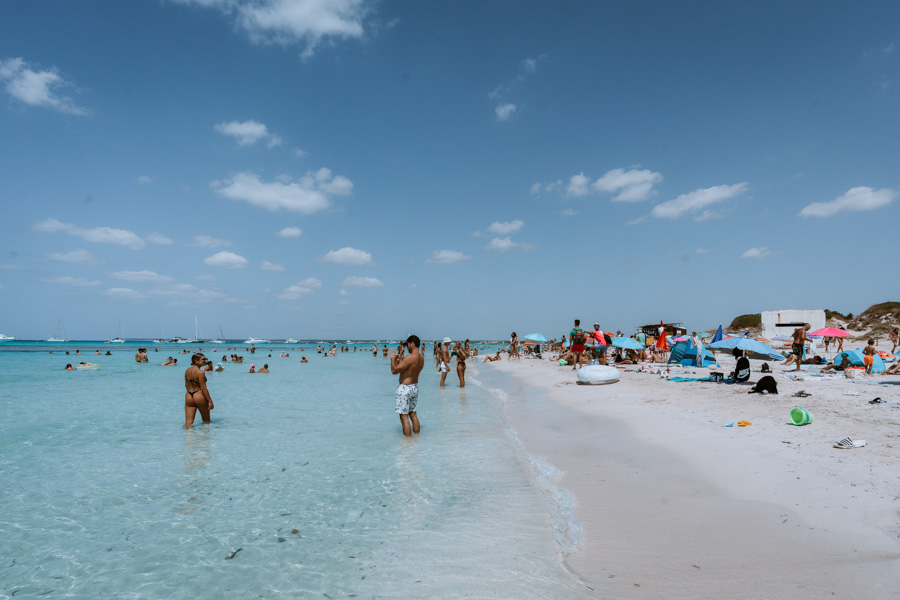 Playa Es Trenc is a famous beach in the South East of Mallorca. It felt like we were in the Caribbean…but better.
While Mallorca generally has rocky cliffs with a smattering of cove beaches, there are a couple places where you can find the traditional big beach experience.
At Playa Es Trenc you will encounter a wide stretch of sand to go with those perfect Mediterranean waters.
Playa means beach in Spanish.
QUICK FACTS ABOUT ES TRENC
Water: The clearest & bluest water we saw in Mallorca
Sand: Bright white, but quality could have been better. There was some "debris" in the sand if I'm getting real picky. :)
Swimming conditions: Perfect for all types of swimmers. Very light waves. You can go really far out and it will only be chest deep.
Other Names: Playa Es Trenc,Es Trenc Mallorca, Es Trenc beach, Parc Natural Es Trenc (next to Trenc Badestrand)
Known For: wide and long stretch of sand, clear turquoise water
Facilities: concession stands, gross porta potties, no showers
Lifeguards: Yes
Parking: large lot 3 minute walk away from the beach
Cost: 7 euros to park (takes card or cash)
Other: lots of people, but big enough to accommodate
Cala S'Amarador
Voted best beach in Europe!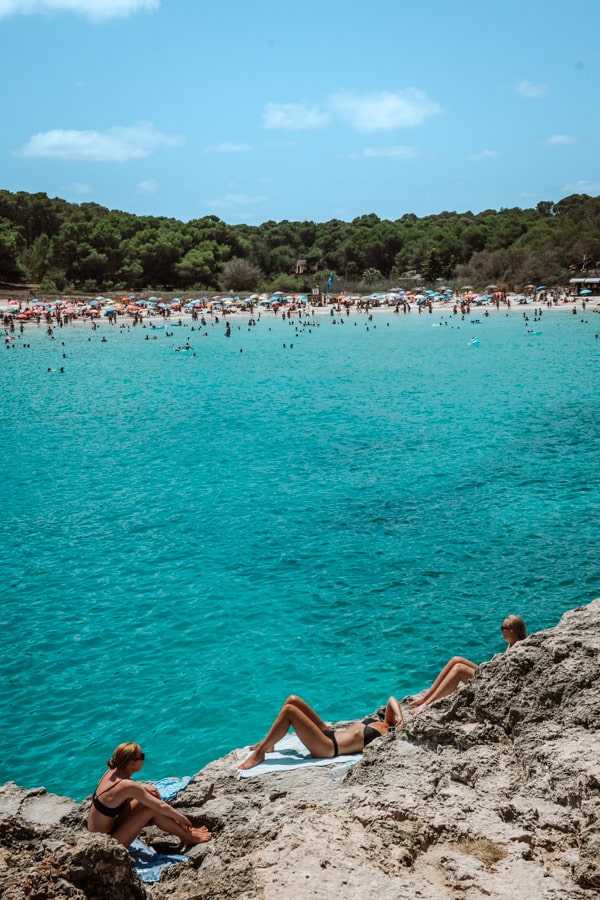 The Cala Mondrago Natural Park is a gold mine of awesome beaches!
Cala S'Amarador is the third beach in this park and unfortunately is somehow missed by some visitors to the area.
Cala S'Amarador Quick Facts
Other Names: Platja S'amarador, Cala S Amador, Cala Mondrago Nature Reserve, Cala Amarador, Parc Natural de Mondrago
Good for: Snorkeling, cliff jumping, swimming, sun bathing
Known For: Previously winning the "Best Beach in Europe" award
Facilities: limited, no showers, porta potties, concession stand
Lifeguards: Yes
Parking: paid lot, limited street parking
Cost: 5 euros
Other: Neighbor of Cala Mondrago and Cala des Borgit
Cala Mondrago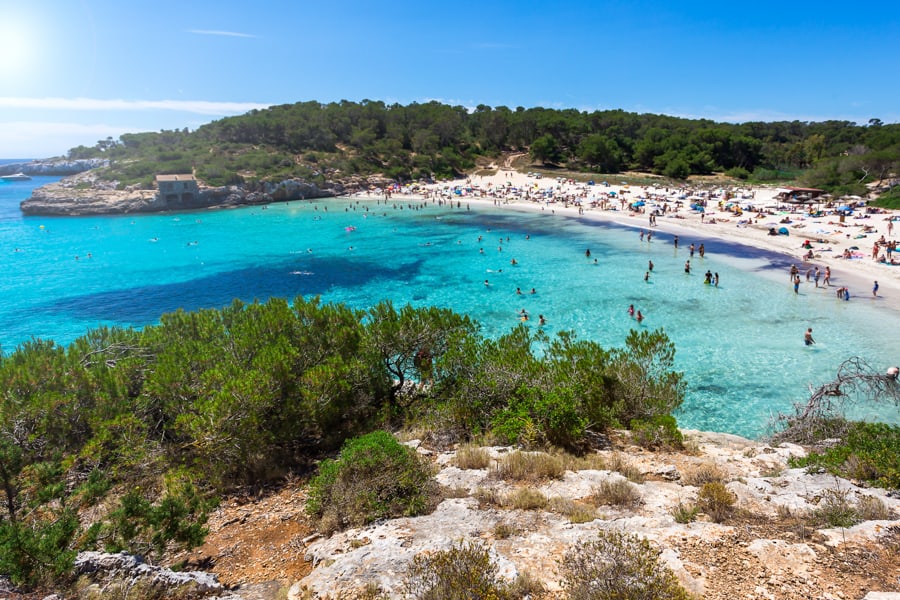 Cala Mondrago is another of Mallorca's phenomenal cove beaches.
Going to a cove beach like Cala Mondrago involves some tradeoffs from a traditional beach though. There is less available sand which results in a more condensed crowd.
Overall still very much worth it.
This is an amazing beach for snorkeling by the way.
CALA MONDRAGO QUICK TIPS
Sand quality: Meh, honestly, not as great at a lot of the others. It wasn't as soft.
Water: Bright, clear, turquoise water
Other names: Parc de Cala Mondrago, Cala Modrago (sp), Cala de sa Font, Cala de n Alis
Best for: Swimming, snorkeling, photos, and relaxing
Day & time I visited: Saturday at noon (crowded)
Facilities: No showers, bathrooms at parking lot
Lifeguard: Yes
Cost: Free
Parking: Lot for 5 euros and some free street parking
Other: 10 minute walk required
Read our full blog post with photos: Cala Mondrago
Cala Mitjana
One thing I dislike about the name Cala Mitjana is that it translates to "average beach."
So, not only is the name potentially misleading in its location (there is a Cala Mitjana beach in Menorca as well), but it is also misleading in its description.
Cala Mitjana is not average!
This cala has a really unique vibe, likely because it is a little bit harder to access than others.
There are some really nice houses that back up onto the Cala, and I think they are rented out as party houses as there was loud music playing and groups of people having a good time at the cala.
The small beach is open to the public, and it is another great swimming spot with calm and clear blue waters, and is likely to be less crowded than some of the other nearby beach options.
LOCATION: Cala Mitjana is located on the southeastern coast of Mallorca. If you are driving there from the airport it will take you just under an hour.
We most recently stayed in the Cala D'or resort area (highly recommend) so the drive up only took us about 15 minutes.
CALA MITJANA QUICK FACTS
Other Names: Cala Sa Nau (due to shared parking lot)
Known For: required 20 minute hike, proximity to Sa Nau, party houses, small intimate beach vibe
Facilities: Only a beach bar
Lifeguards: No
Parking: Shared lot with Cala Sa Nau (20 min hike away)
Cost: Free
Crowds: popular but not overrun
Other: Hike is gorgeous
Cala Pi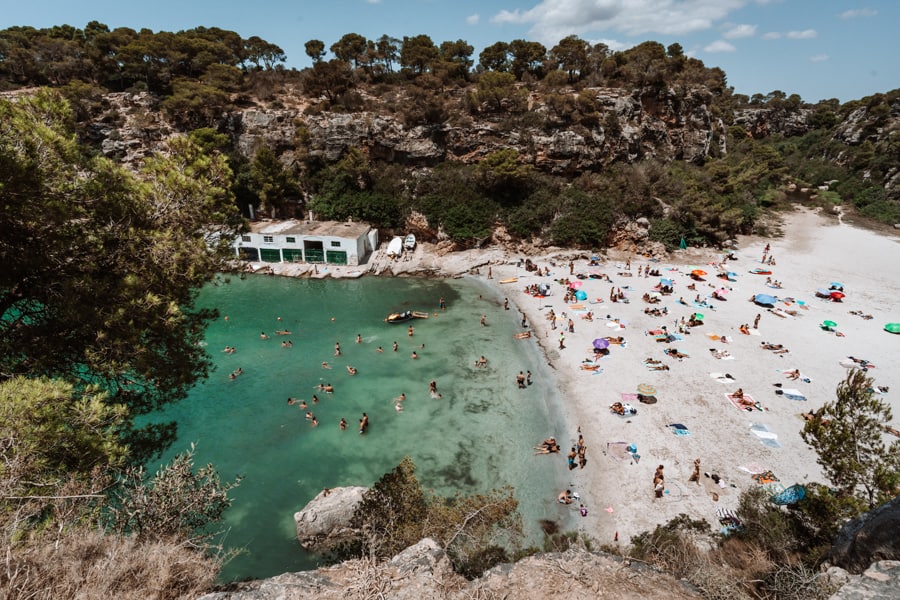 Plain and simply, Cala Pi is awesome. Mallorca is full of rocky inlets that snake into the island ending in small beaches. These intimate beaches are somehow even better in person. One of my favorites is Cala Pi.
Cala Pi offers all of the traditional amazing allures of a cala, with a few extra perks.
You can do an awesome hike and get to see another awesome cala (Cala Beltran).
It is also much easier to access since it is located in the middle of a small urban area with tons of parking, and restaurants and shops in the area so you can make a whole day of it.
While this beach features a famous Instagram photo spot of a platform jutting out high above the beach. If you are interested in snapping the perfect shot, make sure you read on to see how to find it.
QUICK FACTS ABOUT CALA PI
Other Names: Cala Pi, Next to Cala Beltran
Known For: Instagram famous photo spot, more sand than many other Mallorca cove beaches
Facilities: None (but some nearby in the city)
Lifeguards: Yes
Parking: Lots around the city
Cost: Free
Other: Cala Pi is the starting point for a hike to Cala Beltran
Cala Beltran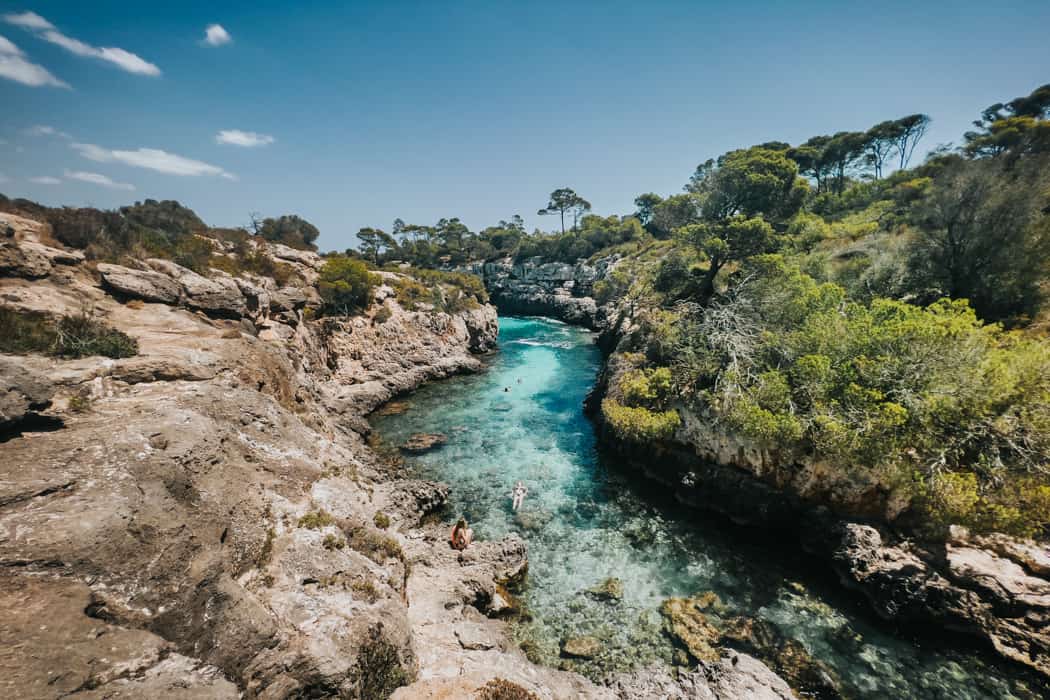 So many people don't realize that Cala Beltran exists, which for you could actually be a huge benefit.
In Mallorca's peak season it is almost impossible to get away from crowds of people. Does an incredible cala (cove) without crowds of people sound too good to be true?
Cala Beltran just might make the impossible possible.
For those that do get to appreciate Cala Beltran, they almost always do it in conjunction with a visit to Cala Pi. This is because by far the easiest way to access it is a secret trail that leaves from Cala Pi.
This secret trail isn't marked and leaves from behind a fish house. The hike to this hidden cala is only 20 minutes or .6 of a mile, so it won't take you an entire day to access. The hike itself provides phenomenal views of Cala Pi, one of Mallorca's famous towers, as well as the Mediterranean Sea.
The one downfall of this beautiful cala is that there isn't a sandy beach, but a shore made up of smaller rocks.
CALA BELTRAN QUICK FACTS
Other Names: Cala Pi's Secret Cala
Known For: AWESOME cliff line hike taking you to a rocky cove with stunning water
Facilities: none
Lifeguards: none
Parking: plenty on the side of the streets in the urban area
Cost: free
Other: hard to find the trailhead, but .6 mile hike required
Cala sa Nau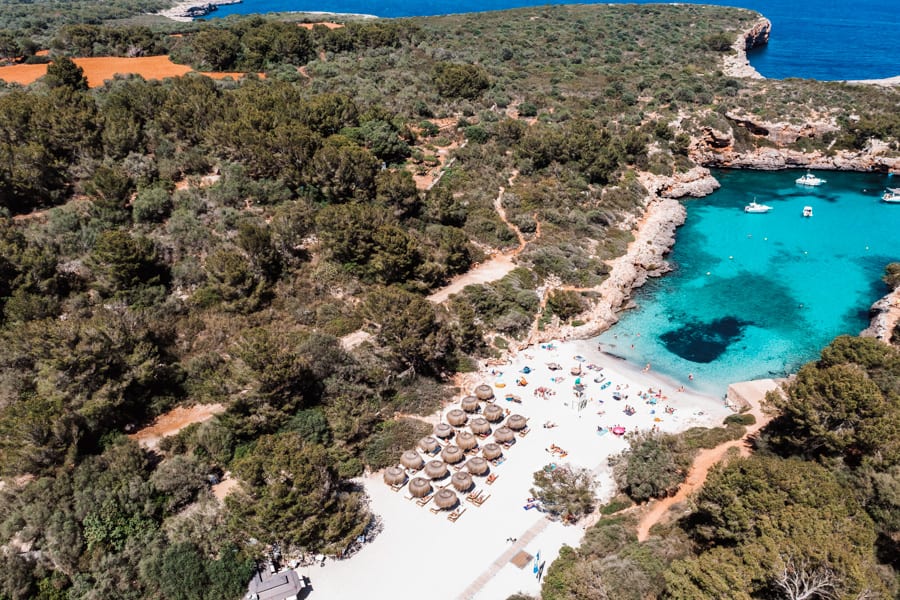 The beach features a wide stretch of sand, cliffs you can jump off of, refreshment stands, and even access to a super fun hike that will take you to another cala.
While it is a little bit trickier to access than some of the others, I think it is worth figuring it out.
The drive to this beach can be a little confusing, but once you get there it is easy to access.
QUICK FACTS ABOUT CALA SA NAU
Other Names: Playa Sa Nau
Known For: Beautiful cove beach, proximity to Cala Mitjana
Facilities: Showers, restrooms, a restaurant and bar
Lifeguards: Yes
Parking: Large lot and some street parking
Cost: Free
Other: Starting point for the hike to Cala Mitjana
Trenc Badestrand
Want the joys of Es Trenc beach without quite as many crowds? This beach is actually attached, it just involves a further walk down once you get onto the famous Es Trenc beach.
At Trenc Badestrand the sand isn't quite as wide, but you will likely find even more room to lay out, and the water is ideal to swim in.
Quick Facts about Trenc Badestrand
Other Names: Es Trenc, Parc Natural Es Trenc
Known For: being attached to Es Trenc, amazing family beach
Facilities: No showers, but concession stands and porta potties at Es Trenc
Lifeguards: Yes
Parking: big lot, that only fills up at the absolute busiest times
Cost: 7 euros to park
Cala Gran
The beaches of Mallorca are famous for often providing an intimate feel. They do this by being framed in by cliff walls on either side.
The water winds into the island ending in a number of mini beaches.
The waterways help protect against waves crashing in, which ultimately creates an awesome spot for lounging or floating in the water. It also helps the water stay clear.
Cala Gran is a beach in the Cala D'or resort area near Santanyi that delivers that exact experience. It is one of the bigger cove beaches, and comes with a lot of amenities that the smaller beaches don't.
CALA GRAN QUICK FACTS
Other Names: Platja de Cala Gran, Cala Gran Majorca
Known For: Big urban cove beach with lots of crowds
Facilities: Restrooms, showers, concession stands, umbrella and hammock rentals
Lifeguards: Yes
Parking: Plenty of nearby street parking
Cost: Free
Other: walking paths and cliff jumping available down the sides of the beach
Cala Egos
A relatively unknown beach.
We stayed in the Cala D'or resort area of Mallorca. This little resort town is known for being home to 5 amazing cove beaches.
What we didn't realize was that there was an additional cove beach just steps away from our hotel. By complete chance we happened to walk by and decided to explore.
We discovered Cala Egos, which was so amazing it could easily be considered a 6thamazing beach in the resort area.
You can fly under the radar here and still experience rugged cliff walls winding into a gorgeous beach of soft sand. I loved spending time at this mini cove beach.
CALA EGOS QUICK FACTS
Other Names: Cala D'egos, Cala De Egos, Calo, (formerly known as Caló de ses Egües,
Known For: calm waters, cliff jumping, mini beach, "less crowds"
Facilities: mainly for hotel guests, no showers or bathrooms, but in city can find a spot, no rentals in area
Lifeguards: No
Parking: easy, street parking nearby
Cost: Free
Other: Way less known than other Cala D'or beaches
Cala Ferrera
All around awesome beach.
Of all the gorgeous cove beaches in the Cala D'or resort area Cala Ferrera is my favorite.
It is my favorite because it offers all of the facilities, is easy to access, adventure sports, as well as access to the perks of the city.
Cala Ferrera truly offers everything! A lot of the beaches are gorgeous but they don't have facilities that will let you spend an entire day there.
Aside from showers, restrooms, and lifeguards, this beach also has a place to play sand volleyball as well as relatively high cliffs for the adventurous to jump off of.
You can swim or snorkel in the perfect water, stretch out on the sand, or even stay in the hotel named Cala Ferrera that overlooks this beach. Regardless of what you do here, I'm sure it'll be a great experience.
CALA FERRERA QUICK FACTS
Other Names: Playa de Cala Ferrera, Platja de Cala Ferrera, Cala D'or Beach
Known For: Hotel with same name overlooking beach
Facilities: showers, restrooms, sand volleyball
Lifeguards: yes
Parking: plenty of city parking and a mini lot directly in front of the beach
Cost: Free
Crowds: yes, but a deeper stretch of sand than most
Cala Llombards
Looking for a great beach in Mallorca? Cala Llombards is a perfect example of the unique cove beaches that make Mallorca so special.
Rocky cliffs perfectly frame a small beach and protect the waters from wind and waves. The ultimate effect on the waters is that you see water that is a stunning mix of turquoise, blue, and see-through.
Not only is this family friendly beach visually amazing, but the protected waters are perfect for swimming, even with little ones.
Some of the other nearby beaches tend to turn into a spring-break like party vibe, but this beach seems to appeal to families and people looking to relax and lounge.
What's even better is that this is one of the few cove beaches that also has its own beach bar.
CALA LLOMBARDS QUICK FACTS
Other Names: Platja Cala Llombards, Calo des Macs (immediately next to)
Known For: calm waters, small cliffs to jump off of, snorkeling
Facilities: beach bar, umbrella rentals, showers, bathrooms
Lifeguards: Yes
Parking: lots, directly behind beach (sometimes charging) but free and along sides of nearby roads
Cost: Free
Cala Santanyi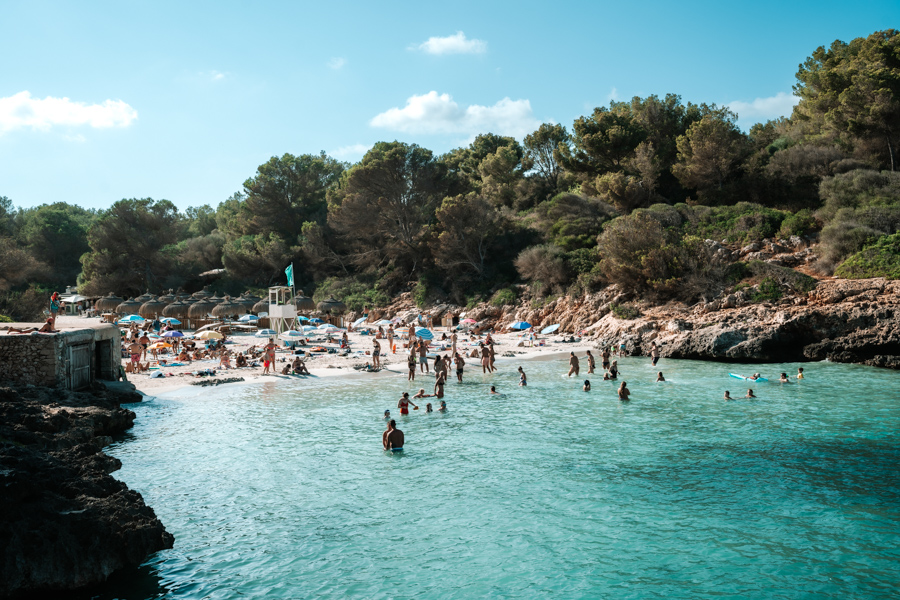 Cala Santanyi is a great beach for those that are in the area. While you may have to fight for some space to spread out on, you won't be disappointed with the beach and facilities itself!
Cala Santanyi Quick Facts
Water color: Crystal clear turquoise blue.
Sand color and quality: Fine white sand
Other Names: Platja de Santanyí, Cala Santanyi, Cala Figuera (next door), Playa de Santanyi, Platja de Stanyi
Known For: wide sand, mild waves
Facilities: showers, restrooms
Lifeguards: yes
Parking: plenty in city
Cost: free
Other: cool cave, offshoots for snorkeling to snorkel in.
Vibes: Mostly families when we went.
What to Bring to the Beach
Travel towel – So much easier to pack these quick dry microfiber travel towels than go without or be forced to buy one once there. We always travel with at least two of them.
Dry Bag – There are some lessons you just don't want to learn the hard way. Ruining your phone, camera, or other valuables at the beach is a very expensive lesson to learn. This dry bag is amazing and works for any and all water activities.
Reef-safe sunscreen – The sun here can be very strong. Make sure to wear a reef safe sunscreen or a rashguard.
Rash guard or long sleeve swim top – I wear the one from Skims and I love not having to worry about getting burned when I am out in the sun ALL DAY. Free people also has some amazing rash guards you can shop here.
Backpack or waterbottle sling – I am obsessed with my Beis travel backpack. I never travel without it. It is seriously the perfect size. Not too big, not too small. If you don't want to bring a full backpack this waterbottle sling is my absolute favorite. It fits a waterbottle, iPhone 14 pro max, plus some extra space for bars or snacks or your wallet.
Packable snacks – I always travel with these That's it bars from Amazon. OMG, they are sooo good and only have a few minimal ingredients.