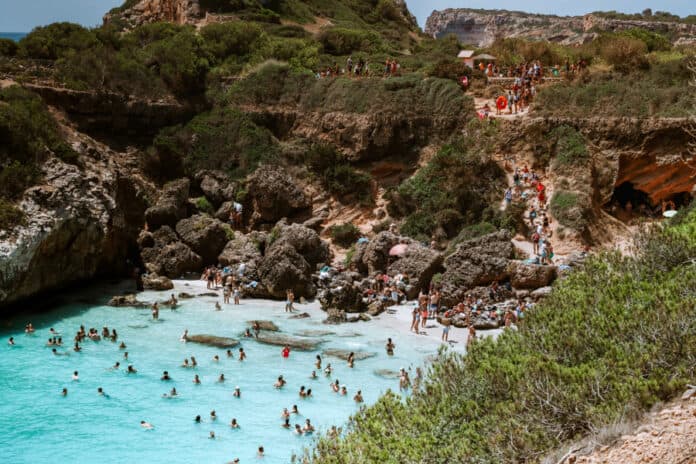 Cala Des Moro
A lot of people call Cala des Moro the best of all the cove beaches in Mallorca.
Mallorca is home to a lot of phenomenal beaches, but I'm still inclined to agree with the masses.
Calo Des Moro is awesome! The pictures make it look unreal and somehow in person it looks even better!
Where people are wrong is when they call Calo Des Moro a hidden gem. It might have been at one point, but the secret is now out; throngs of people are flocking to this beach.
Despite the crowds, I still highly recommend visiting this gorgeous beach. While it isn't fun having to fight for a stretch of sand to lounge on, the crowds tend to create a young party atmosphere on the beach.
Quick Facts about Caló des Moro
Other Names: Cala Moro, Caló des Moro, Cala del Moro
Known For: Clear turquoise waters, intimate beach feel
Vibe: Younger crowd overall, party atmosphere (but not in an obnoxious way)
Facilities: Porta-potties at the parking lot only
Lifeguards: No
Parking: Medium sized lot 1 km away (fills up quickly!!)
Cost: Free
Other: You can access Cala S'almunia with a short walk from Cala des Moro
Hover over the video below to watch & save it to your Pinterest!
How to get to Calo des Moro
This idyllic beach is a little bit tricky to access. You have to drive there and park in a lot that is about .6 miles (1 km) away from the actual beach. You could drop people off closer to the beach, but you would have to drive down a road that is marked for local residents only.
The hike to the beach is pretty easy, especially since most of it takes you straight down a residential road. The road will lead you to the mouth of a trail that will quickly take you down to the beach.
A tricky part is knowing that you need to turn left off of the road to begin walking down the path rather than continuing straight until the road ends. If you go until the road ends you will end up at Cala S'almunia. S'almunia beach is another awesome cove beach, but it isn't Cala des Moro.
Location
It is located on the south side of the island of Mallorca. If you are coming from Palma it will take you about 45 minutes to drive there. We stayed close to the South side of the island so it was just a 20 min drive for us.
What to Expect Once There
You 100% can expect the beach to look like the photos. In fact, I think it looks better in person than any picture, even with Photoshop enhancement. That being said, there is more you should know about this beach before visiting.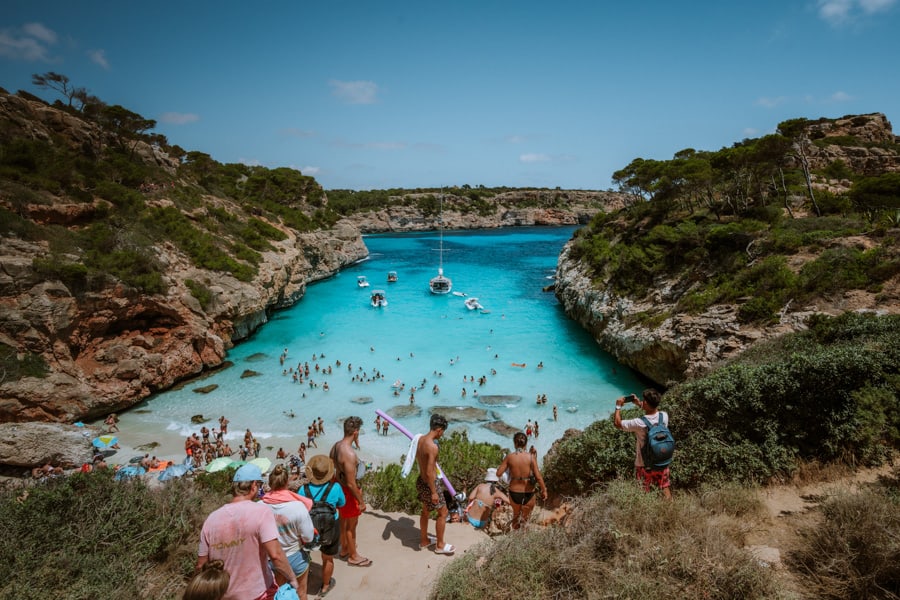 The Negatives
I highly endorse taking the time to visit this beach, but there are still some negatives associated with it that you should be aware of.
You Need A Car
Getting there via public transportation would be incredibly difficult and would involve an eleven longer walk.
Parking/Lot Closures
There is one lot that fills up quickly. When we were last there we saw a lineup of cars just waiting to circle the lot without any spaces. There were people who parked an additional two miles away just to be able to visit.
The lot fills up so quickly because it is also the parking lot for Cala S'almunia. If you want a spot you can wait for someone to leave and hope to get lucky, or get there early yourself.
Hike Required
The parking lot isn't exactly close to the beach. You need to walk for over half a mile just to get to the trailhead which is a pretty boring jaunt down a residential street.
Thankfully the trail to the actual beach is pretty simple and is only about ¼ of a mile long.
Young Spring Break Party Atmosphere
If you are looking for a family friendly atmosphere this probably isn't the beach for you. There were tons of young people partying on the beach. Lots of the boats parked in the cove play music and there are vendors selling cheap beers.
No Real Facilities
There are no lifeguards, no showers, and no real bathrooms. The only "facilities" in the area are porta-potties at the parking lot and trash cans along the trail.
Crowds
Plain and simply you will encounter other people here. When we were there on a weekend we had to wait in a line to even get down onto the beach. Once on the beach there was no real room to spread out your towels and lay out. While some of this is due to the rocky nature of the beach, the massive amounts of people didn't help.
The Positives
While you can probably guess what the biggest positives are, I guarantee there are more that you haven't even considered.
Looks Even Better In Person
Somehow the beach looks even better in person. I'm still blown away by the clear blue water, jagged rocks, and gentle waves. Swimming in the water was so enjoyable because aside from the gentle waves being enjoyable, the temperature of the water is perfect.
Phenomenal Cliff Jumping
If you are a thrill seeker the cliffs lining the sides of the cove are perfect for cliff jumping. While we didn't jump ourselves we watched athletes perform stunts from various heights. If you want you can jump from a relatively low height on up to some ledges that were so high they made my stomach squirm.
Vendors Selling Cheap Drinks
There are some vendors that set up in the area. I was shocked that their cold drinks were relatively affordable. You could get water or soda for 2 euros or even beer for 3 euros. I definitely think this helped contribute to the party vibe.
Gorgeous Hike
While the first part of the hike is through a fairly boring neighborhood, the last quarter of a mile is a fun path that takes you along the cliff line and then down to the beach.
Other Great Beaches in the Area
The parking lot and first part of the hike are the same as Cala S'almunia. In fact, there is even a path that quickly leads you from Cala Des Moro to Cala S'almunia. It only takes 3 minutes to walk between the two. While I think Cala des Moro is more impressive, we also loved Cala S'almunia.
Cala Llombards is also only a 5 minute drive away if you are looking to visit another phenomenal cove beach. If you want a more traditional beach experience with wide sand you can visit Es Trenc, which is only about a 20-25 minute drive way.
Conclusion: Cala Des Moro Mallorca
Is Cala des Moro Mallorca a hidden gem? Absolutely not. So long as you aren't deterred by the crowds of people, the positives of this beach greatly outweigh the negatives. I'm not one that typically wants to be around crowds, but I loved this beach.