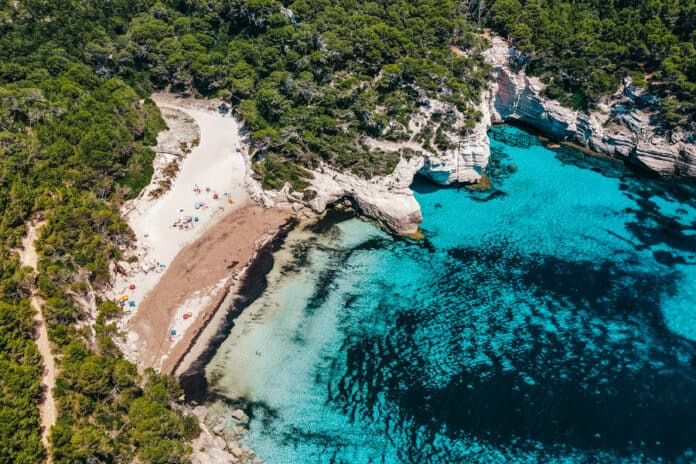 Cala Mitjana Mallorca (yes there is a Menorca one as well)
First off, I think it is worth complaining about the name Cala Mitjana. It is incredibly misleading for a couple of different reasons.
First off, there are two Cala Mitjanas. Same name, both on Balearic islands (one on Mallorca and one on Menorca), and both beautiful cove beaches.
This is about Cala Mitjana beach in Mallorca.
The second thing I dislike about the name Cala Mitjana is that it translates to "average beach." So, not only is the name potentially misleading in its location, but it is also misleading in its description.
Cala Mitjana is not average!
Now that I'm done complaining let me tell you that Cala Mitjana is absolutely fabulous. This cala has a really unique vibe, likely because it is a little bit harder to access than others.
There are some really nice houses that back up onto the Cala, and I think they are rented out as party houses as there was loud music playing and groups of people having a good time at the cala.
The small beach is open to the public, and it is another great swimming spot with calm and clear blue waters, and is likely to be less crowded than some of the other nearby beach options.
Cala Mitjana Quick Facts
Other Names: Cala Sa Nau (due to shared parking lot) Cala Mitjana beach
Known For: required 20 minute hike, proximity to Sa Nau, party houses, small intimate beach vibe
Facilities: Only a beach bar
Lifeguards: No
Parking: Shared lot with Cala Sa Nau (20 min hike away)
Cost: Free
Crowds: popular but not overrun
Other: Hike is gorgeous
Location of Cala Mitjana Beach
This beautiful beach is located on the southeastern coast of the island of Mallorca. If you are driving there from the airport it will take you just under an hour. We most recently stayed in the Cala D'or resort area (highly recommend) so the drive up only took us about 15 minutes.
Finding It = ½ the battle
When you look at a map you will see that there are two access points for Cala Mitjana. Regardless of which one you choose, it is going to require a hike.
One of the access points is at Cala Sa Nau and the other shows a more direct path in from the street. You want to begin your hike at Cala Sa Nau, trust me.
Reasons to Go to Cala Sa Nau To Begin
It is much better to begin at Cala Sa Nau rather than at the road drop off that leads directly to the beach for a few reasons.
There is no parking at the other site!
There is literally some space off the side of the road for 3 cars only. If you try to find a spot at the mouth of the trail (not Cala Sa Nau) you are likely to have to park a couple of miles away, and then have a hike of over a mile.
At Cala Sa Nau there is a reasonably sized parking lot. While this lot may fill up at peak times, there is additional street parking available just outside of the lot.
The Hike From Cala Sa Nau Is Prettier
The hike into the cala from either direction is about the same distance, but by coming in from the Cala Sa Nau lot you are going to be able to follow the coast line.
The hike from Cala Sa Nau is much prettier. It takes you along a rocky coastline with sweeping ocean views. The routing is a little bit circuitous to avoid private property, but don't worry you will get there.
If you hike in from the marked street entrance it is straight without the sweeping ocean views.
The required hike
The hike starts out in the forest but soon opens up along the coastline. When you are on the coastline you will see for miles and miles. I loved the gigantic rock hole that allowed ocean views through and had crashing waves named Mirador des Puntas.
The trail only took us about 20 minutes each way, or only about 1 mile.
The Actual Cove Beach
Due to it being a little bit harder to access you will have less people there. I mentioned the fancy party houses. There also were very few kids, as I think they stick to the easier to reach calas.
Like a lot of Mallorca beaches the winding cove protects the shores from having big waves. This helps keep the waters clear and calm, and perfect to lay back and relax in.
Conclusion: Cala Mitjana Beach is Worth The Trip
I loved the vibe and enjoyed this hike and dip in the cala immensely. I also like that the hike was beautiful but not long enough that I wasn't comfortable doing it in flip flops!
What to Bring to the Beach
Travel towel – So much easier to pack these quick dry microfiber travel towels than go without or be forced to buy one once there. We always travel with at least two of them.
Dry Bag – There are some lessons you just don't want to learn the hard way. Ruining your phone, camera, or other valuables at the beach is a very expensive lesson to learn. This dry bag is amazing and works for any and all water activities.
Reef-safe sunscreen – The sun here can be very strong. Make sure to wear a reef safe sunscreen or a rashguard.
Rash guard or long sleeve swim top – I wear the one from Skims and I love not having to worry about getting burned when I am out in the sun ALL DAY. Free people also has some amazing rash guards you can shop here.
Backpack or waterbottle sling – I am obsessed with my Beis travel backpack. I never travel without it. It is seriously the perfect size. Not too big, not too small. If you don't want to bring a full backpack this waterbottle sling is my absolute favorite. It fits a waterbottle, iPhone 14 pro max, plus some extra space for bars or snacks or your wallet.
Packable snacks – I always travel with these That's it bars from Amazon. OMG, they are sooo good and only have a few minimal ingredients.
Full guides on my favorite Mallorca beaches
I have visited over 30 Calas (or beaches) in Mallorca and have full guides about all of them. From which ones are best to the parking (it can be a nightmare) to how to get down to the actually beach as a lot of them require hikes.
CALO DES MORO – This is probably the most beautiful cove beach I have ever seen. It was crowded when we went (high season) but if you go during the spring or early fall it won't be nearly as crowded.
CALA S'ALMUNIA – Amazing cliff jumping spots here. Not too high, not too small. It was just perfect in my opinion. This beach is literally a 5 minute walk from Calo des Moro. Don't miss it! It's beautiful!
CALA DES BORGIT – Amazing, lesser known beach. This may have been my favorite Cala we visited. It is much lesser known and wasn't nearly as crowded as the others.
ES TRENC – Lesser known but amazing! Es Trenc is more of a traditional beach than the others on the list (no rocks or cliffs around) but more out of the way from most of the touristy things. It was another one of my favorite beaches. The water was so blue, and the sand so white! Trust me, you don't want to miss this hidden gem.
Other Mallorca beaches we loved:
Note: We have been to every single one of these beaches. It was A LOT of work but we love it! Mallorca is one of our favorite spots to vacation in the summer. I hope you find this information helpful. Thanks so much for reading!