Cala Santanyi: A Gorgeous Beach That is More Confusing Than It Should Be
There are so many beautiful calas or cove beaches on the island of Mallorca that you can miss some hidden gems if you aren't paying attention. We almost missed Cala Santanyi because of the Mallorca naming conventions.
I got really confused trying to figure out where this gorgeous beach actually was. I've seen 5 different beaches all get called Cala Santanyi.
Technically, each of the 5 beaches could be correct, but they weren't the one I was actually looking for. Let me explain.
Starting out, Santanyi is the name of a city and region on the Spanish island of Mallorca. Once you know that this is the name of a part of the south eastern side of Mallorca, it makes sense that any beach in this reach can get called Cala Santanyi. That being said, there is one cove beach that actually has the name Cala Santanyi, and isn't just a cove beach in the Santanyi area.
To further confuse things there is also a resort named Cala Santanyi overlooking this beach, but if you get there you are definitely in the right spot!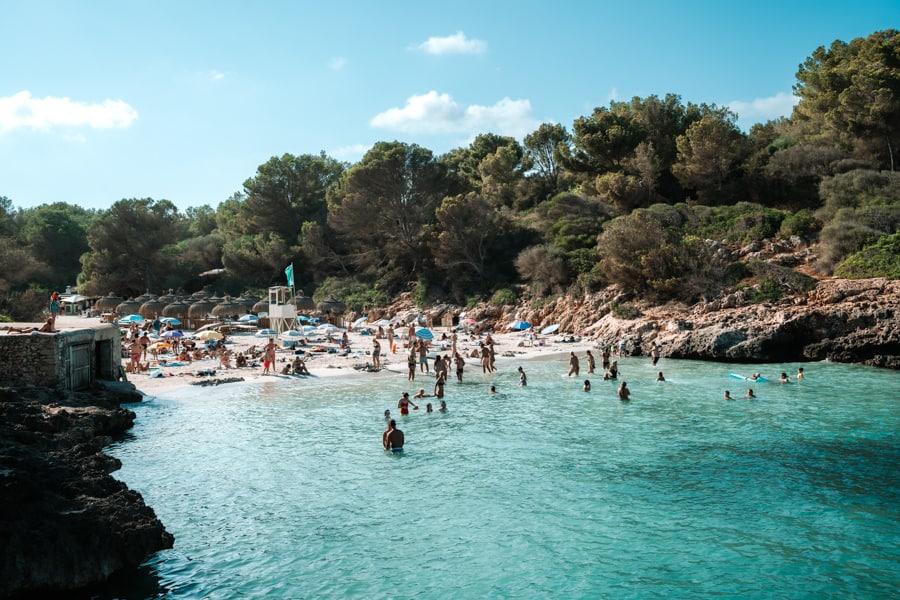 Quick Facts
Other Names: Platja de Santanyí, Cala Santanyi, Cala Figuera (next door), Playa de Santanyi, Platja de Stanyi
Known For: wide sand, mild waves
Facilities: showers, restrooms
Lifeguards: yes
Parking: plenty in city
Cost: free
Other: cool cave, offshoots for snorkeling to snorkel in.
Vibes: Mostly families when we went.
Location of Cala Santanyi Mallorca
As previously mentioned, this beach is in the Santanyi region of Mallorca on the southeastern coast of Mallorca.
It is about 40 miles from Palma where the main airport is, or about a one hour drive across the island.
Cala Figuera Mallorca
Next door is another mini town named Cala Figuera that is also in the Santanyi district.
Cala Figuera is a small fishing village that doesn't have its own beach, so the visitors from there will head to the closest beach, which is Cala Santanyi.
While Cala Figuera doesn't have its own beach or swimming spots, it is known for its traditional buildings and still being a fishing village.
What To Expect At Cala Santanyi
By Mallorca cove beach standards, this beach is "big." At least it is bigger than others and offers a few perks that a lot of others don't.
Crowds
Full disclosure, this beach tends to attract a lot of people! Supposedly the crowds are due to it being next to a number of resorts as well as on a main public transportation route. The wide white sand is gorgeous, but you may have to fight for space to spread your towel out on it.
Parking
Even though this beach gets crowded parking is relatively easy. With it being in the middle of a small urban area, there is plenty of street parking all around the beach. One of the best parts of the parking is that it is free. Even if you can't find a spot directly next to the beach, the walks from the next street over isn't bad.
No Cost, But Umbrella Rentals Available
Cala Santanyi is free to access, but if you do want to rent an umbrella you can.
Steps To The Beach
The steps down to the beach are pretty steep, but thankfully there is no real hike required like a lot of other Mallorca beaches require.
Cave Snorkeling
The caves that jut into the cliff walls are perfect for snorkeling. The clear water is home to lots of marine life that you don't have to be a professional diver to see.
Restaurants and Bars In The Area
Unlike a number of other beaches this one has restaurants and bars in the area. This allows you to enjoy a whole day without having to get back in your car.
Mild Waves
This cove has a straight shot out to open waters which make the waves come in a little bit more than some of the others. The waves are generally still very mild, but a little bit bigger than a lot of the other more protected coves.
Conclusion: Is Cala Santanyi worth visiting?
This is a great beach for those that are in the area. While you may have to fight for some space to spread out on, you won't be disappointed with the beach and facilities itself!
Full guides on my favorite Mallorca beaches
I have visited over 30 Calas (or beaches) in Mallorca and have full guides about all of them. From which ones are best to the parking (it can be a nightmare) to how to get down to the actually beach as a lot of them require hikes.
CALO DES MORO – This is probably the most beautiful cove beach I have ever seen. It was crowded when we went (high season) but if you go during the spring or early fall it won't be nearly as crowded.
CALA S'ALMUNIA – Amazing cliff jumping spots here. Not too high, not too small. It was just perfect in my opinion. This beach is literally a 5 minute walk from Calo des Moro. Don't miss it! It's beautiful!
CALA DES BORGIT – Amazing, lesser known beach. This may have been my favorite Cala we visited. It is much lesser known and wasn't nearly as crowded as the others.
ES TRENC – Lesser known but amazing! Es Trenc is more of a traditional beach than the others on the list (no rocks or cliffs around) but more out of the way from most of the touristy things. It was another one of my favorite beaches. The water was so blue, and the sand so white! Trust me, you don't want to miss this hidden gem.
Other Mallorca beaches we loved:
Note: We have been to every single one of these beaches. It was A LOT of work but we love it! Mallorca is one of our favorite spots to vacation in the summer. I hope you find this information helpful. Thanks so much for reading!
What to Bring to the Beach
Travel towel – So much easier to pack these quick dry microfiber travel towels than go without or be forced to buy one once there. We always travel with at least two of them.
Dry Bag – There are some lessons you just don't want to learn the hard way. Ruining your phone, camera, or other valuables at the beach is a very expensive lesson to learn. This dry bag is amazing and works for any and all water activities.
Reef-safe sunscreen – The sun here can be very strong. Make sure to wear a reef safe sunscreen or a rashguard.
Rash guard or long sleeve swim top – I wear the one from Skims and I love not having to worry about getting burned when I am out in the sun ALL DAY. Free people also has some amazing rash guards you can shop here.
Backpack or waterbottle sling – I am obsessed with my Beis travel backpack. I never travel without it. It is seriously the perfect size. Not too big, not too small. If you don't want to bring a full backpack this waterbottle sling is my absolute favorite. It fits a waterbottle, iPhone 14 pro max, plus some extra space for bars or snacks or your wallet.
Packable snacks – I always travel with these That's it bars from Amazon. OMG, they are sooo good and only have a few minimal ingredients.