Looking for the best place to visit in Dubai at night? Dubai Garden Glow couldn't be a more perfect way to end the night. Keep reading to find out more!
Dubai is a vacation spot with no lack of attractions. There's just so much to do! If you haven't yet, check out our post on the top 10 things to do in Dubai, and if you're hesitant to visit, check out our post on why you shouldn't be afraid to visit, while you're at it.
Dubai Garden Glow
One attraction that is highly underrated in Dubai, is Dubai Garden Glow. The Dubai Garden Glow in Dubai, UAE is truly unique.
It is spread across 40 acres, with 32 installations made by 150 artists in 200,000 man hours. I haven't seen anything like it at any of our other travels. It's a botanical garden mixed with cool neon displays. The neon displays are large and creative.
Perfect for Visiting Dubai With Kids
There are other elements of the park that are great for when you're traveling Dubai with kids, such as Dinosaurs and ice sculptures. Dubai Garden Glow opened in 2015, so it's a relatively new attraction.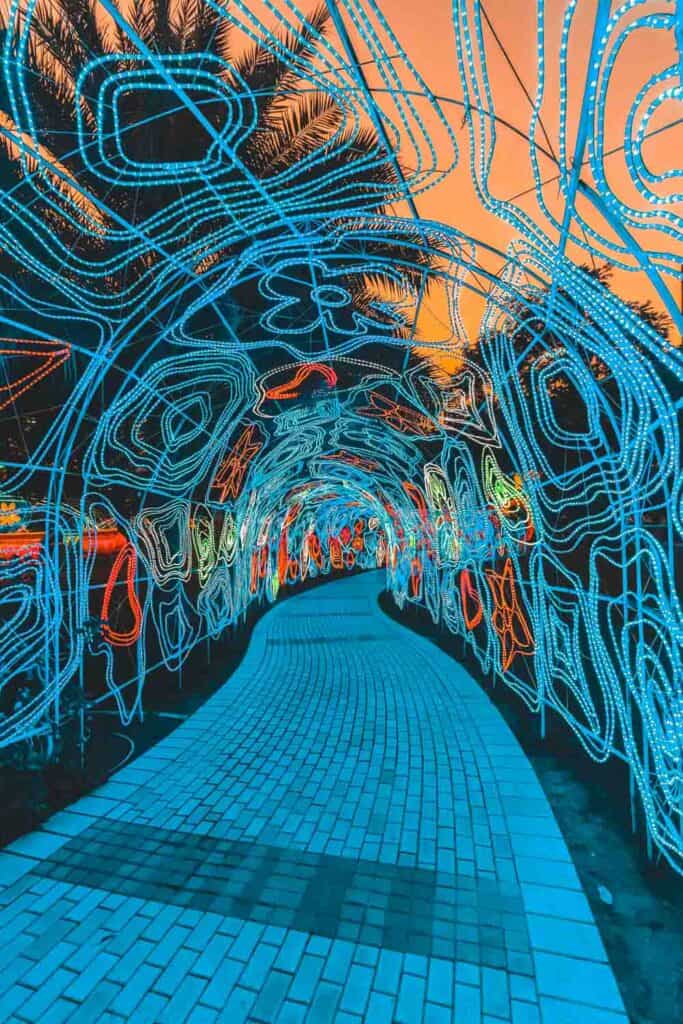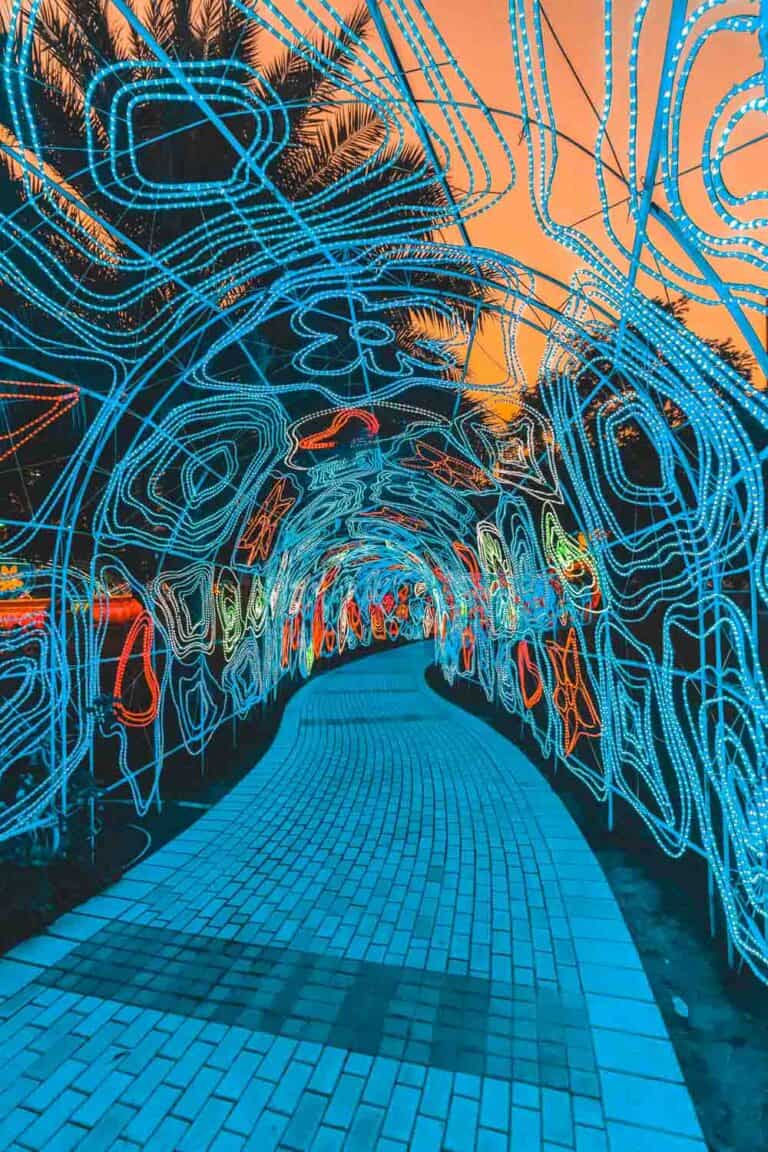 Zabeel Park
Zabeel Park is the larger, more encompassing name of the park area. There are actually four parks in one – Garden Glow Park, Recycled Art Park, Dinosaur park, and Ice park.
All of these are located near the Dubai Frame, halfway between the airport and Burj Khalifa. The area is easy to access by car or Dubai's public transportation.
Also see: 10 Attractions You Can't Miss in Dubai
Garden Glow a.k.a. Glow in the Park
Out of the 4 parks, Garden Glow is our favorite. There's an array of light sculptures in the shape of plants, animals, bugs, random items, architectural structures, and more.
With the neon lights, you may think the park is just for kids, the lights are magical to them, and there's plenty to point out. Just because kids enjoy it, though, doesn't mean adults won't!
We actually found that strolling around the lights was the perfect date night. With the dark night broken up by pretty lights, the atmosphere is romantic, especially as the night gets later and the attendance of kids decreases. I do have to admit…I may have liked it more than him. He didn't NOT enjoy it, but he only thought the glow in the park displays were fun for as long as I liked them and wanted to pose for pictures with them.
Sidenote – the lights are constructed of energy saving bulbs. This is an example of Dubai's eco-friendly efforts.
Find all: Hotels in Dubai
Ice Sculpture Park
The Ice Sculpture Park is part of the greater Zabeel Park, but you have to pay extra to go into this one. We opted not to go into this one, but see more info about it in the ticket details below.
Dinosaur Park Dubai
It's not easy to find things to do in Dubai with kids. The city is just geared for a more adult and adventurous or tech-savvy population. The Garden Glow park is one of the best things you can do with kids, then. The Dinosaur Park, though, kids love! There are over 120 animatronic dinosaurs to view and interact with. Don't worry; none of the dinosaurs in the park will scare children. While the dinosaurs are large, none of them are fire-breathing or approach to bite you!
Green Community Dubai in the Art Park
Joining Dubai's green community, you have the Art Park. The Art Park also glows but is unique in that all of the sculptures are made from recycled materials. It's really cool to see displays made from recycled dishes, cds, and small glass bottles. Again, the light bulbs used to illuminate the art park are energy saving bulbs.
The Art Park is a quick perusal through, so we were glad it's attached to other parts of the park.
Dubai Garden Glow Tickets
Admission for the Dinosaur Park, Garden Glow, and Art Park are all rolled into one ticket. Ticket prices are 60 AED, or about $15. That's not a super cheap price for park admission in the US, but for Dubai it is. The $15 is definitely worth the night get-away.
To get into the Ice Park, tickets cost an additional 40 AED, or about $11. The Ice Park supposedly has phenomenal ice sculptures, back lit and glowing. We had already seen something similar, so we didn't splurge for the extended ticket; the same may apply to you. If ice sculptures are a new concept, especially at a professional level, and/or you need an excuse to get out of the heat and put on your jacket, be sure to check it out.
Supposedly there are offer codes available online that can get you a $5 to $10 discount, but we couldn't find any.
Glow Park Dubai Hours
Dubai Garden Glow sounds like it would be exclusive to night, right? It actually opens a little earlier. When we were visiting the hours were 4pm-11pm. Make the visit for whatever fits into your itinerary, but if you can help it, we recommend not getting there until the sun sets. After sunset is when you can truly appreciate the glow of the lights.
Not surprisingly, if you want the romantic date night, go later in the evening, so there's not as many kids around.
Find all: Hotels in Dubai
Seasonality
Dubai Garden Glow is only open October through April, but you can confirm opening and closings on their website – Dubai Garden Glow.
Have you had the chance to visit Dubai Garden Glow? Let us know in the comments below.
Where to Stay in Dubai:
*Best with Marriott points: Element Me'aisam, Dubai – We always love the Marriott line of Element hotels – Think clean, modern design, environmentally conscious, with amazing free buffet breakfasts of predominately fresh and healthy food. You won't be getting the standard sausage and pancakes.
Dubai has a ton of hotel choices – even though this hotel was great, we only booked it because it was dirt cheap with Marriott points, and we had a car, it was too far away from the action to stay here otherwise. If you are looking for something closer to the main attractions check more popular Dubai hotels here.
Pin these for later! Thank you so much for reading.
Read next: