Las Vegas calls itself the "Entertainment Capital of the World". While that claim may seem dubious to some, I think Vegas makes a very compelling case for it to be true.
Most everyone knows the typical stuff to do in Vegas, but aside from the gambling, crazy unique shows, and endless shopping, there are still a ton of other unique things to do in Vegas.
The city doesn't just have a nightlife style of entertainment. It developed something for everyone: the outdoorsy, the artsy, the thrill seeker, and even the intellectual.
Sound absurd? Keep reading to discover the top things to do in Vegas. Including some of the most unique Vegas things you have never heard of.
24 Unique Things to do in Las Vegas
1. Zero Gravity Unique Experience Las Vegas
Ever wanted to go to space and feel what it is like to be weightless? Did you know you could experience that in Las Vegas?
If you are looking for different things to do in Vegas, this is it. LITERALLY A ZERO GRAVITY EXPERIENCE just like you are in outer space can happen in Vegas. It is one of the most unique Vegas experiences you can have.
At the Zero-G flight experience you take off in a plane that flies in parabolic patterns (up and down and up and down) that literally take the effects of gravity away from you for 20-30 seconds at a time. You get to experience weightlessness 15 different times.
This attraction costs a pretty penny so be sure to save up, but at least it's easier than going to space! Find out more on their website gozeroG.com.
The only downside is this activity is extremely expensive (prices are in the thousands). If you are looking for a similar-ish experience I recommend trying out the indoor skydiving here!
2. The STRAT SkyJump
Another opportunity for the adrenaline junkies to get their fix is to jump off the side of the STRAT. Yes, you can jump off of the building that is over 800 feet tall in a controlled fall down the side.
The experience is sometimes called a vertical zipline and it is pretty intense. Book your tickets to the STRAT SkyJump in advance because evidently the experience of diving off of a building Mission Impossible style is quite popular!
4. Neon Museum/Graveyard
Vegas casinos are constantly expanding and being rebuilt to try and become the new hip property (Resorts World and Circa being the newest with Fountainebleu coming soon). This intense competition led to the creation of and ultimately excess of a ton of neon signs. Where do the extras or old ones go? To the Neon Museum of course.
It's wild to take a walk through the history of Vegas to see casino signs of the past. Tours are available, or you can hang out with the photographers climbing around trying to get the best shot.
If you are looking for cool things to do in Vegas, make sure to check this place out.
Planning a trip to Vegas for the first time? Check out our Las Vegas tips and must do's for first timers.
5. Dig This Las Vegas
Read more on the Las Vegas heavy equipment playground here.
6. The Shark Reef Aquarium at Mandalay Bay
Lots of places have cool aquariums, but the Shark Reef at Mandalay Bay in the middle of the Las Vegas Strip makes for a great change of pace on an otherwise crazy trip. It is ideal for families, but can be appreciated by adults as well.
It's about $25 to get in, but if you pre-buy it is usually cheaper. Pre-buy Shark Reef Aquarium Entry Ticket at Mandalay Bay tickets.
Once inside you'll see sharks, exotic fish, and get to experience my favorite sea-tunnel that makes it feel like you are at the bottom of the ocean. The touch pool or shark feed are also fun options.
Book your stay at Mandalay Bay here.
9. Titanic Artifact Museum
If you are like me then you are probably endlessly fascinated with the sinking of the Titanic. Want to feed that fascination further by looking at actual artifacts from the ship?
The opulence and wonder of the ship has been rescued from the sea floor and put on display in Las Vegas at the Titanic Artifact Museum.
7. Take a Valley of Fire Day Trip
If you are looking for an unusual thing to do in Vegas look no further than the Valley of Fire. Yes, another absurdly beautiful and unique natural rock formation is only 45 minutes outside of Vegas.
Most people don't get beyond the neon lights, but more and more people are discovering this state park. It gets its name because the rocks look on fire when sun hits them right. The valley was used by the Anasazi and some of their petroglyphs remain.
Trust me, this is one of the best things to do in Vegas. You won't regret it.
Book your tour: Valley of Fire Guided Hiking Tour from Las Vegas
10. Sprinkles: The cupcake ATM
CUPCAKE ATM – do I really have to say anything else? Located by the Linq (the big ferris wheel) the Sprinkles bakery features some of the best ice cream, cookies, and cupcakes ever. The best part is obviously the ATM where you can withdraw a cupcake on demand.
UPDATE 2022 – IceBar Las Vegas Linq
Unfortunately, the Sprinkles ATM is no longer there. The good news is that it has been replaced by the Linq IceBar. Yes, the name IceBar perfectly describes the setting It is a bar/club that is largely made out of ice. The second you walk in, you will feel like you arrived at the North Pole.
The temperature inside will be freezing! Thankfully, your admission ticket includes the use of a parka and gloves. The gloves are especially useful as your drink your cocktails out of completely unique ice glasses.
Given Vegas' location in the middle of the sweltering desert, a freezing bar made out of ice is a perfect escape.
11. Visit the Container Park
The Container Park is a recent project by Tony Shsieh (the Zappos guy RIP). It was conceived as a sustainable downtown revitalization project with large parts of it being built from old shipping containers (like you would see at a port of entry). The result is pretty cool.
The unique atmosphere attracts all kinds of boutique shops, coffee houses, and restaurants serving food I've never heard of; my husband calls this area the "hipster's paradise."
12. Go Skiing at the Las Vegas Ski Resort
You asked for unique things to do in Vegas and skiing is it. Yes, in the mountains just 45 minutes away from The Strip developers built a ski-resort. It is not huge and does not feature the world's best snow, but the novelty of being able to ski within 45 minutes of the scorching desert heat is unreal.
13. Shoot a REAL Machine Gun (LEGALLY)
So I'm not a gun person at all, BUT I keep hearing from many boyfriends and husbands how exciting this is. There are few places in the world where you can legally and safely shoot a machine gun without being an active solider; Vegas is now one of them.
14. ATV Tour of the Mojave Desert
If you are looking to tour the desert landscape but want a little bit more adventure, you can take an ATV tour of the Mojave Desert instead. This tour won't take you through the Valley of Fire park, but you will get to see a lot of similar desert scapes and rock formations.
Drop off and pick-ups included!
This tour picks you up in Las Vegas so you don't have to have your own transportation to enjoy. Make sure to book ahead of time to reserve your spot.
15. Hiking and Rock Climbing at Red Rock Canyon – Calico Basin Red Springs
When I first moved to Vegas I didn't realize it was surrounded by mountains – yeah I know, the whole Rocky Mountain Range covers most of the western United States. By not knowing Vegas had amazing mountains, I missed some of its most amazing attractions. Just west of Vegas is the Red Rock Canyon featuring Calico Basin.
This area features gorgeous red rock sandstone formations which create some of the best hikes and incredible rock climbing (so gorgeous I had a set of our engagement photos taken there). The rocks attract climbers from all around the world, and consistently get rated as a top 5 climbing spot in the US.
Book your tour: Las Vegas: Red Rock Canyon and Seven Magic Mountains Trip
Book your tour: Red Rock Tour – Las Vegas Strip Trike Tour
16. Gondola ride at the Venetian
Want to go to Venice and be sung to in the canals? Is Italy too far away? Once again, the experience is available and a must do in las Vegas.
The opportunity to be serenaded by a real gondolier while being escorted through man-made canals in a miniature version of Venice is awesome. Also, don't worry about the scorching heat as lots of the canals are indoors (yes the sky in the picture above is simulated). I have a friend that worked as a gondolier and you bet she was a talented singer!
Book your tour: Madame Tussauds with Gondola Boat Ride – This includes admission to Madame Tussauds show in Las Vegas and an outdoor gondola ride as well as a meal (if meal option is selected).
17. Explore Hoover Dam
18. Seven Magic Mountains
Ever seen modern art in the middle of the desert just south of The Strip? It is exactly what it looks like, a bunch of huge colorful rocks stacked on top of each other. My husband first discovered them on accident while dirt biking in the area.
A Swiss artist named Ugo Rondinone created the display. My husband thinks the display is wildly overrated, but I think it is uniquely Vegas.
If you are interested in seeing, make sure you head out there quick.
Book your tour: 7 Magic Mountains, Grand Canyon & Hoover Dam Tour
19. Ride The Big Apple Roller Coaster on the Las Vegas Strip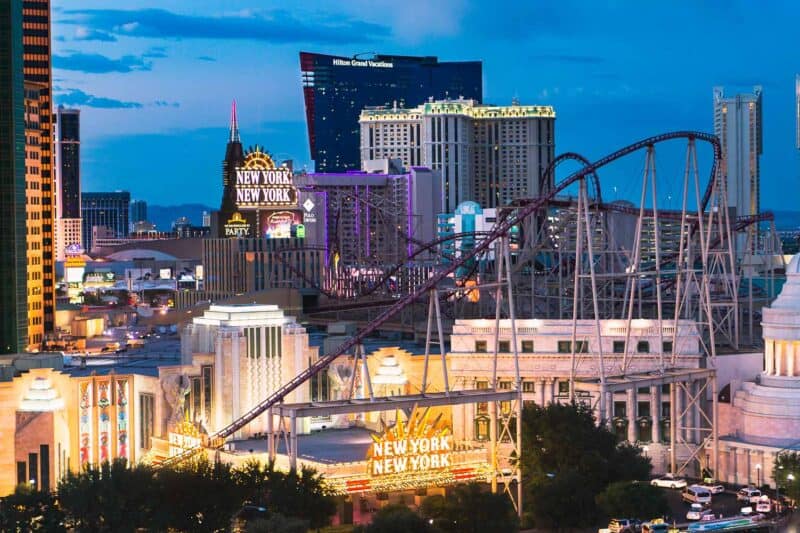 I love roller coasters, but am not always in the mood for an entire day at an amusement park. The Big Apple Roller Coaster on the Las Vegas Strip (in the New York New York Casino) allows you to enjoy the quick rush of a roller coaster, and then return the standard Vegas festivities within minutes.
My favorite thing about this roller coaster is that it speeds directly along The Strip. When not roaring upside down or around corners you can enjoy views of the various casinos and pedestrians far below.
The roller coaster isn't a lame novelty. It really gives fuel to the adrenaline junkie as it goes about 70 mps. Make sure to buy your tickets ahead of time (buying ahead of time allows you to skip the line).
20. Take a Las Vegas Hot Air Balloon Ride
There is something about hot air balloons that seems super unique and fun. The concept of a big basket slowly being lifted by hot air to soaring heights makes me nervous and excited at the same time.
Want to give one a shot at a fraction of the cost of other locations? Of course, Vegas would be a place where you can make this happen.
Not only are hot air balloon rides available about 45 minutes outside of Vegas (pickup at certain hotels available), but you can enjoy exquisite mountain/canyon views while taking in a sunrise or sunset.
While I hate getting up early, booking a sunrise tour with the included champagne toast seems like the perfect romantic getaway!
21. Eat at the Heart Attack Grill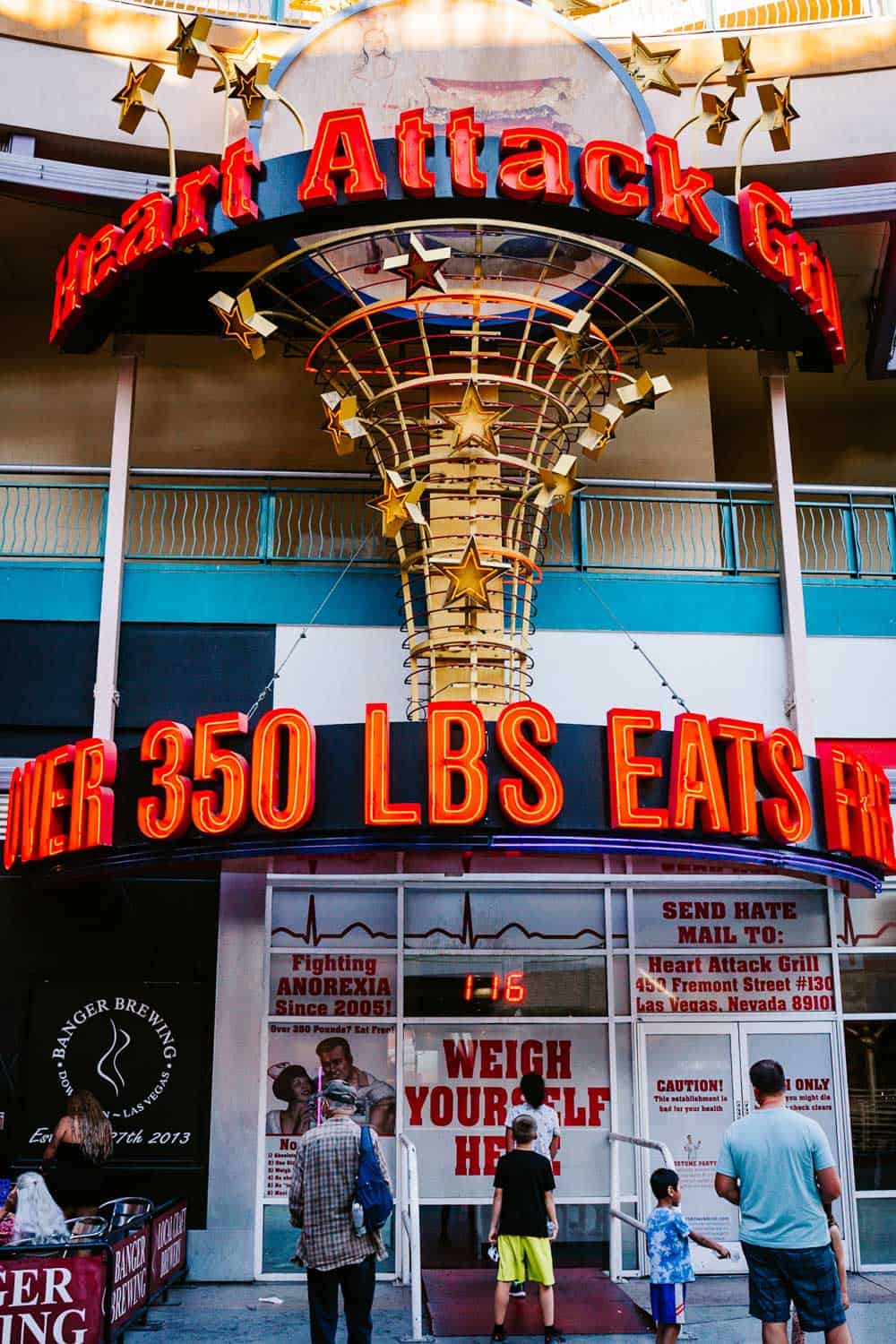 Only Vegas would feature a restaurant that advertises itself as the "Heart Attack Grill". They boldly declare that their menu items are absolutely terrible for you. In fact, if you are over 350 pounds, they will let you eat for free. There is even a massive scale out front so that you can see if you make the cut.
Once inside, you will see the wait staff dressed as nurses and treating you like their patients. The menu items will make you understand why. Want an 8 patty burger? You can order it! Wine served via an IV drip bag? It's yours. How about a butter fat chocolate shake with butter dropper directly in? Yup, and somehow it actually tastes great.
Definitely one of the most unusual things to do in Vegas, but hey, its all part of the fun!
I always say I recommend going to the Heart Attack Grill, but for the sake of your health only going once!
22. Lucky Day Bar
If you know me then you know that I am not a drinker. That being said, I still enthusiastically endorse a visit to the Lucky Day Tequila and Mezcal House.
This cozy bar is right off of Fremont Street, so it's in a place you are already likely to go.
Aside from the robust menu of quality tequilas and mezcals, you may wonder why is it worth a stop? The unique ambiance is worth a visit alone. Even though it is small, it is decorated with over 15,000 programmable lights. These lights evolve to constantly cast a new glow over the bar.
It feels more like a mini museum than it does a bar. Rather than visiting, you will see some people stare while transfixed by the lighting.
Read Next – 12 Awesome Things to do on Fremont Street
23. Axe Throwing Las Vegas
Ever dreamed about hurling an axe into a target? At Axe Throwing Las Vegas you can learn to do exactly that. If you've done it before how about learning how to do it properly so that you can show off to your friends when you next do it with them.
At Axe Throwing Las Vegas you can learn to throw axes from a pro. If you are already a pro you can go to Dueling Axes at Area 15 Las Vegas with a group of friends and hang out, sip beer, and see who is the best.
I highly recommend doing the Axe Throwing lesson as it was way more fun than I expected. Buy your tickets in advance here.
24. Car Showrooms and Custom Restoration Shops
Are you a fan of classic cars? Hot rods? Want to see some of the most amazing customs ever done? That is exactly what you can experience by booking the Las Vegas Car Showrooms and Restoration Tour.
If you are familiar with the TV show Counting Cars then you will know Count's Kustoms. Danny "Count" Koker allows his collection to be viewed as well as his automobile restoration shop this tour. You will also have a chance to snap a pic at the Welcome to Vegas sign, as well as see the Shelby American cars display.
What is the most unique thing you have done (or want to do) in Las Vegas?
SAVE MONEY – BUY AN ALL-INCLUSIVE PASS!
Don't skip this section like I normally do.
Most all-inclusive passes suck! They don't actually include things you would want to do, or you need to visit 10,000 attractions in a short amount of time to make it worth their while. The Go City Las Vegas Pass is different; it is a huge cost savings and includes things you actually want to do!
Seriously – if you want to see a Cirque du Soleil show alone the pass basically pays for itself.
Some of the other big ticket items included are a ride on the High Roller, LINQ Zipline, and Illuminarium at Area 15.
Some of the things that I think are coolest are the LINQ Zipline, the High Roller, SkyPod at the Strat, Area15 Illuminarium, and the New York New York Big Apple roller coaster.
There are 35 different things you can choose from.
They include other show tickets, museums, bar crawls, as well as things like go-cart racing and escape rooms. If you don't want to see a Cirque show you can switch out those tickets for a Strip Helicopter tour instead.
This deal literally can't be beat if you are looking to do more than just gamble while in Vegas. There is a day time limit though so to get your money's worth you have to keep moving, though there isn't a more affordable way to cover so much ground in Vegas.
If you enjoyed this post don't for get to share it with your friends!
More posts on Las Vegas:
I lived in Las Vegas for almost 10 years and loved it there! Here are a few of our most popular Las Vegas posts that will help you plan your trip.