Las Vegas calls itself the "Entertainment Capital of the World". While that claim may seem dubious to some, I think Vegas makes a very compelling case for it to be true. Most everyone knows the typical stuff to do in Vegas, but aside from the gambling, crazy unique shows, and endless shopping, there are still a ton of other unique things to do in Vegas.
The city doesn't just have a nightlife style of entertainment. It developed something for everyone: the outdoorsy, the artsy, the thrill seeker, and even the intellectual.
Sound absurd? Keep reading to discover the top things to do in Vegas. Including some of the most unique Vegas things you have never heard of.
14 Unique Things to do in Las Vegas
1. Neon Museum/Graveyard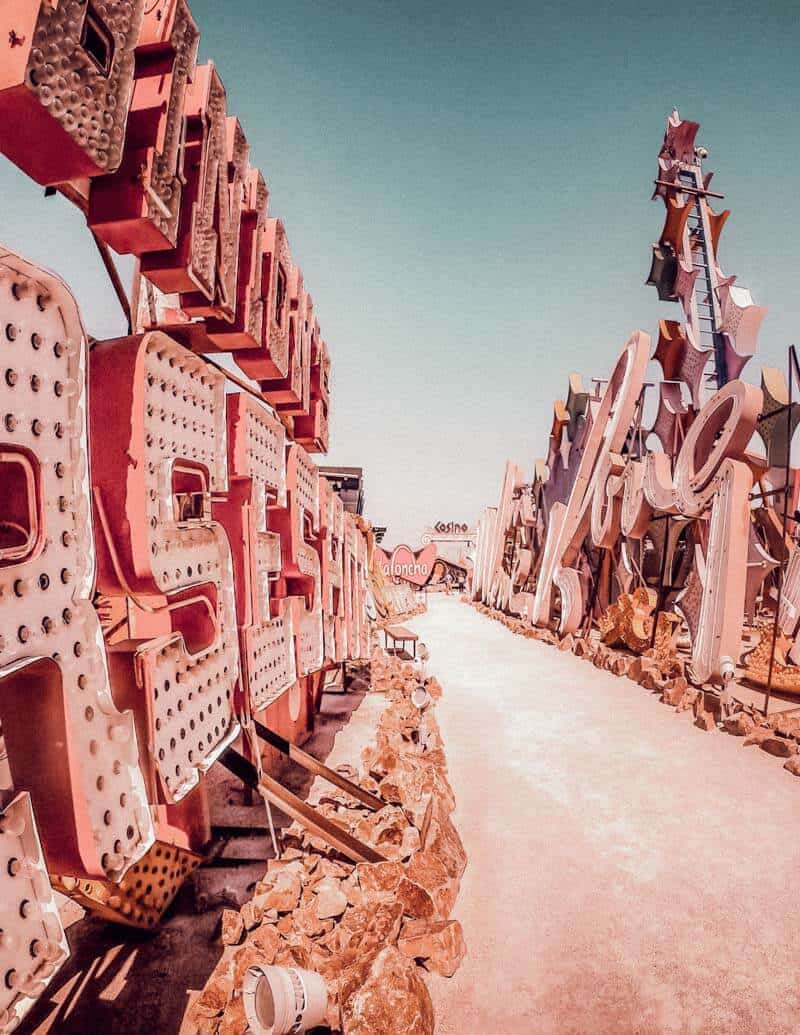 Vegas casinos are constantly expanding and being rebuilt to try and become the new hip property (Resorts World and Circa being the newest). This intense competition leads to the creation and ultimately excess of a ton of neon signs. Where do the extras or old ones go? To the Neon Museum of course.
It's wild to take a walk through the history of Vegas to see casino signs of the past. Tours are available, or you can hang out with the photographers climbing around trying to get the best shot.
Planning a trip to Vegas? Check out our Las Vegas tips and must do's for first timers.
2. Exotics Racing / Race car driving experience
Want to own a Ferrari? Lamborghini? Aston Martin? Porsche? How about at least race around in one of them for a day? At Exotics Racing you can literally you can go to racing school where you learn to drive these amazing machines to their limits.
Packages are shockingly affordable; if you are into fancy cars you have to check it out here. Surprise gift for your boyfriend? Bachelor party? It's a perfect thrill.
Here are 3 of the most popular Exotic Car Racing Tours:
3. The Shark Reef Aquarium at Mandalay Bay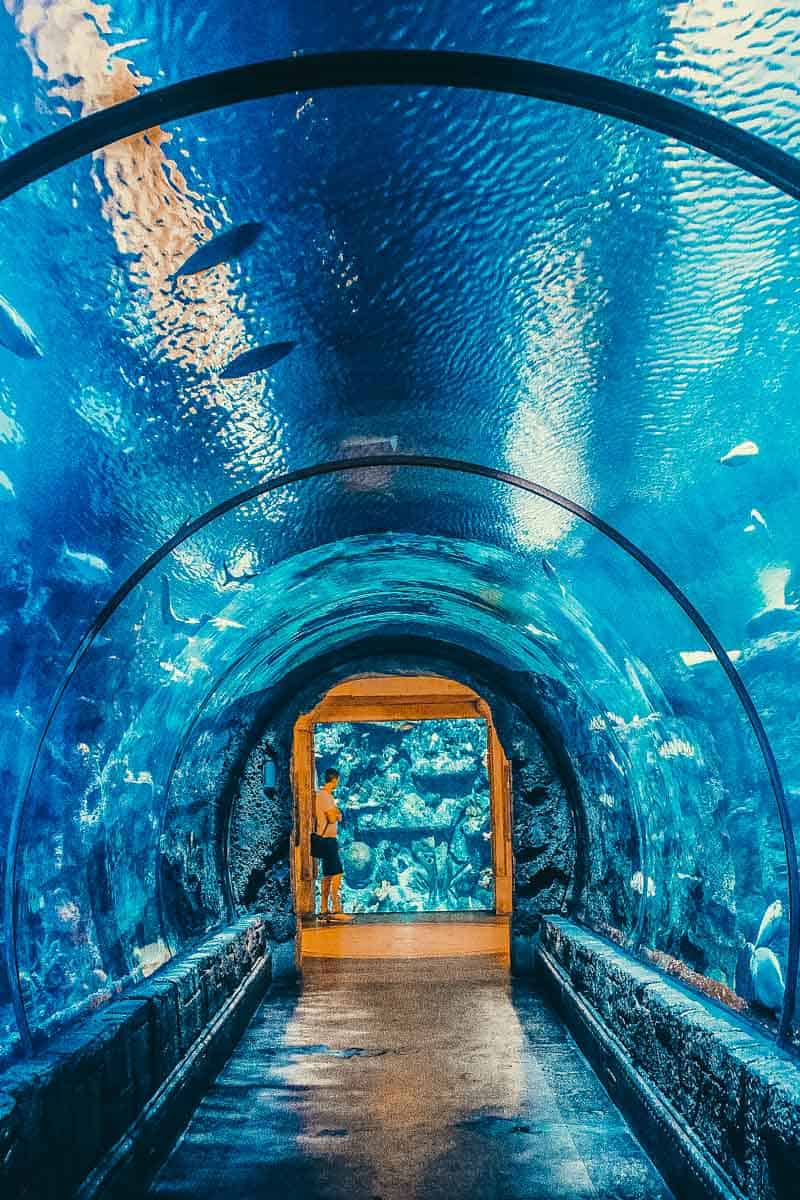 Lots of places have cool aquariums, but the Shark Reef at Mandalay Bay in the middle of the Las Vegas Strip makes for a great change of pace on an otherwise crazy trip. It is ideal for families, but can be appreciated by adults as well.
It's about $25 to get in, but if you pre-buy it is usually cheaper. Pre-buy Shark Reef Aquarium Entry Ticket at Mandalay Bay tickets. Once inside you'll sharks, exotic fish, and my favorite tunnel that makes it feel like you are at the bottom of the ocean. The touch pool or shark feed are also fun options. Book your stay at Mandalay Bay here.
Buy your tickets in advance here – Shark Reef Aquarium Entry Ticket at Mandalay Bay
4. Valley of Fire Day Trip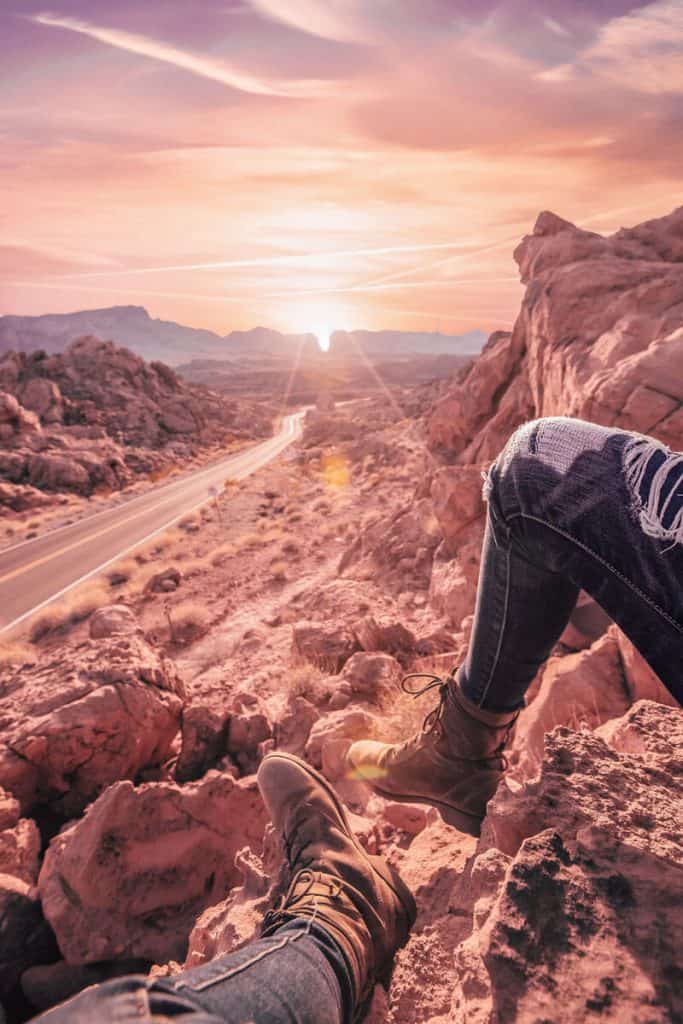 If you are looking for an unusual thing to do in Vegas look no further than the Valley of Fire. Yes, another absurdly beautiful and unique natural rock formation is only 45 minutes outside of Vegas.
Most people don't get beyond the neon lights, but more and more people are discovering this state park. It gets its name because the rocks look on fire when sun hits them right. The valley was used by the Anasazi and some of their petroglyphs remain.
Trust me, this is one of the best things to do in Vegas. You won't regret it.
Book your tour: Valley of Fire Guided Hiking Tour from Las Vegas
5. Sprinkles: The cupcake ATM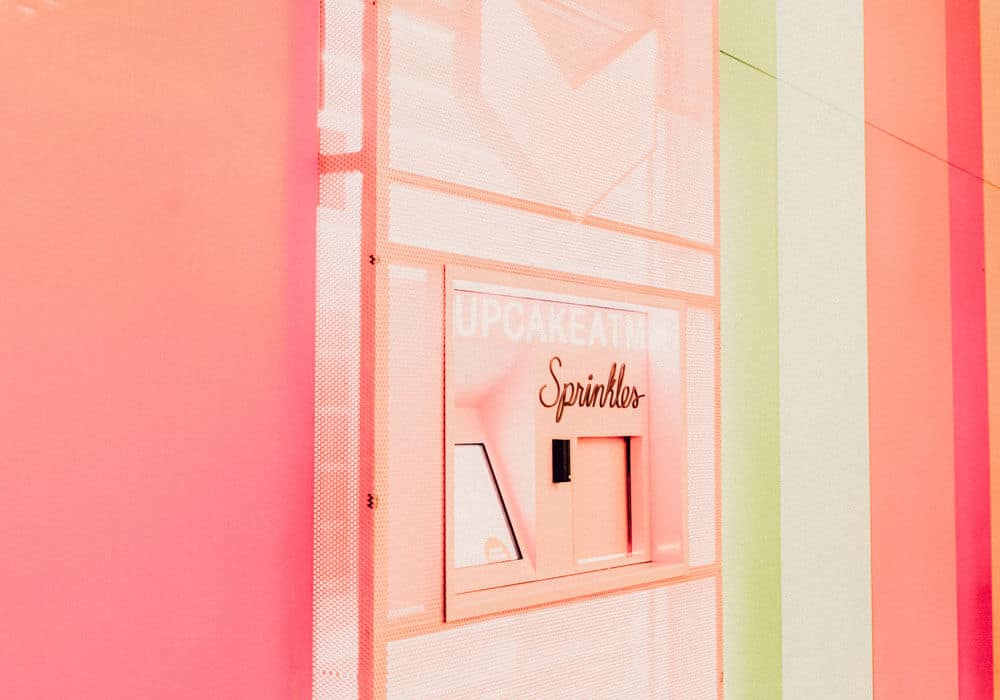 CUPCAKE ATM – do I really have to say anything else? Located by the Linq (the big ferris wheel) the Sprinkles bakery features some of the best ice cream, cookies, and cupcakes ever. The best part is obviously the ATM where you can withdraw a cupcake on demand.
6. Zero-G – The No Gravity Experience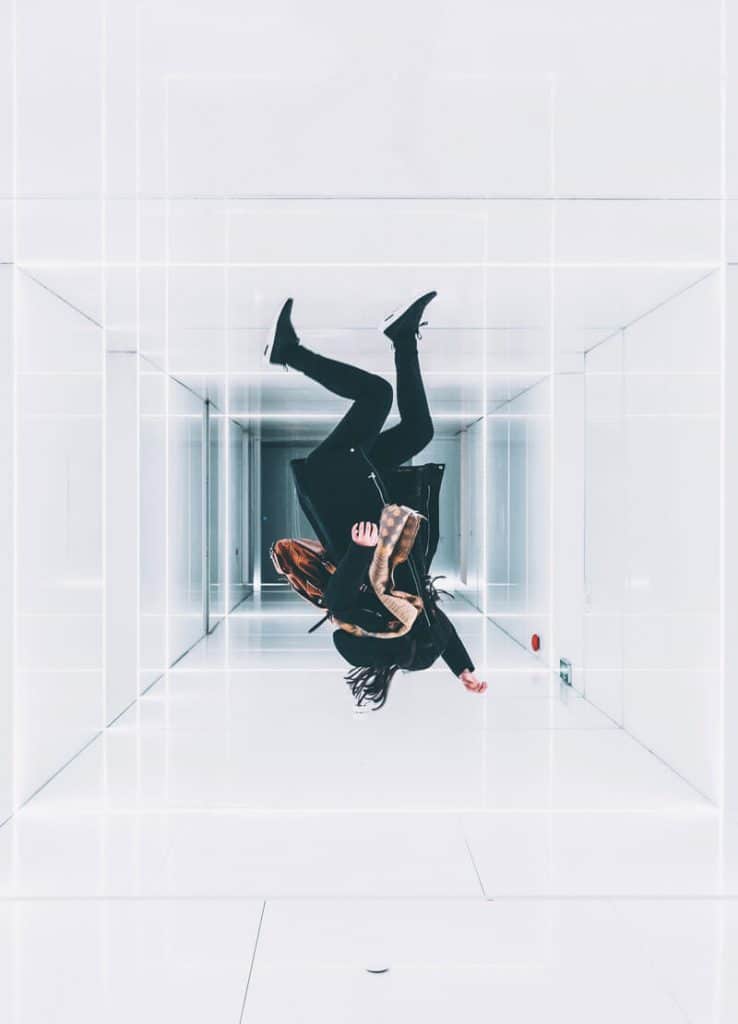 Ever wanted to go to space and feel what it is like to be weightless? Did you know you could experience that in Las Vegas?
If you are looking for different things to do in Vegas, this is it. LITERALLY A ZERO GRAVITY EXPERIENCE just like you are in outer space can happen in Vegas.
At the Zero-G flight experience you take off in a plane that flies in parabolic patterns (up and down and up and down) that literally take the effects of gravity away from you for 20-30 seconds at a time. You get to experience weightlessness 15 different times.
This attraction costs a pretty penny so be sure to save up, but at least it's easier than going to space!
7. Container Park
The Container Park is a recent project by Tony Shsieh (the Zappos guy RIP). It was conceived as a sustainable downtown revitalization project with large parts of it being built from old shipping containers (like you would see at a port of entry). The result is pretty cool.
The unique atmosphere attracts all kinds of boutique shops, coffee houses, and restaurants serving food I've never heard of; my husband calls this area the "hipster's paradise."
8. Helicopter tours of the Vegas strip at night
9. Dig This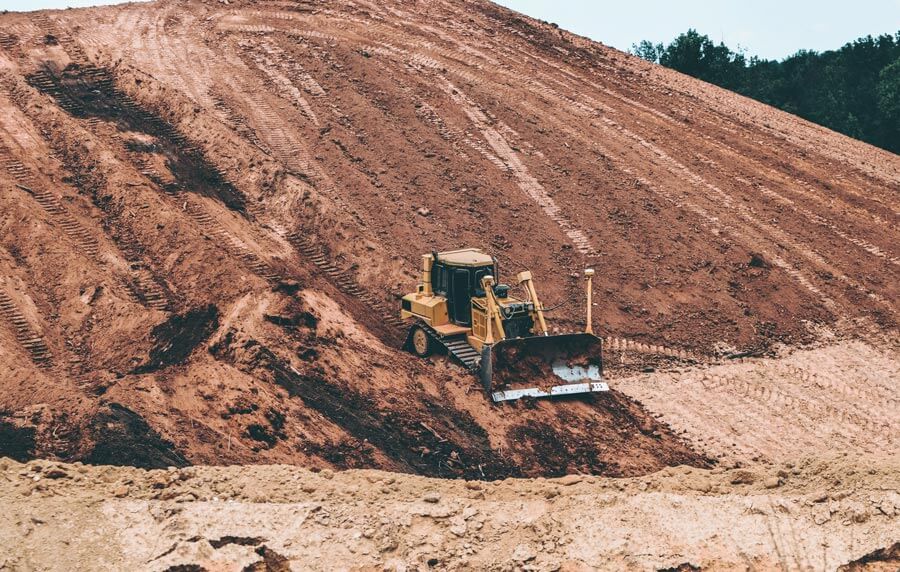 Ever wanted to drive a bulldozer but not actually work a construction job? How about an excavator? Not even sure what that one is, but think driving big time construction equipment could be fun?
How about using huge equipment to crush a car?
Of course this is on the menu in Vegas and open to everyone from the manliest of men to the girliest of girls (and even those as young as 12). Take a video driving one and tell everyone you had to get a part time job after losing all of your money gambling!
You can check out more here.
10. Hiking and Rock Climbing at Red Rock Canyon – Calico Basin Red Springs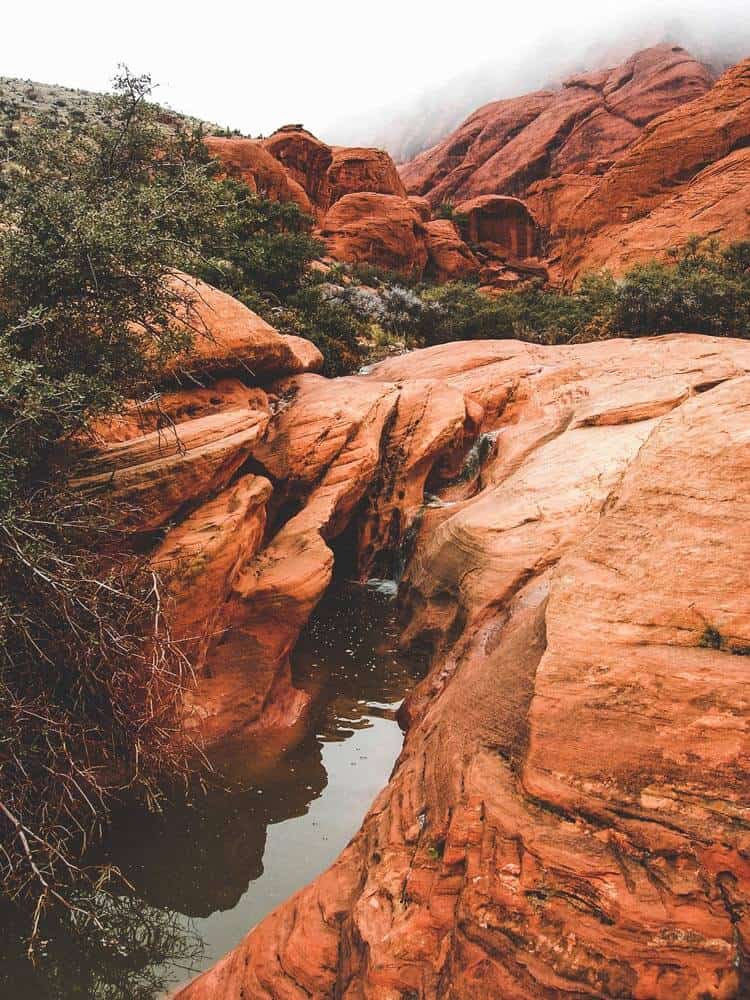 When I first moved to Vegas I didn't realize it was surrounded by mountains – yeah I know, the whole Rocky Mountain Range covers most of the western United States. By not knowing Vegas had amazing mountains, I missed some of its most amazing attractions. Just west of Vegas is the Red Rock Canyon featuring Calico Basin.
This area features gorgeous red rock sandstone formations which create some of the best hikes and incredible rock climbing (so gorgeous I had a set of our engagement photos taken there). The rocks attract climbers from all around the world, and consistently get rated as a top 5 climbing spot in the US.
Book your tour: Las Vegas: Red Rock Canyon and Seven Magic Mountains Trip
Book your tour: Red Rock Tour – Las Vegas Strip Trike Tour
11. Las Vegas Ski Resort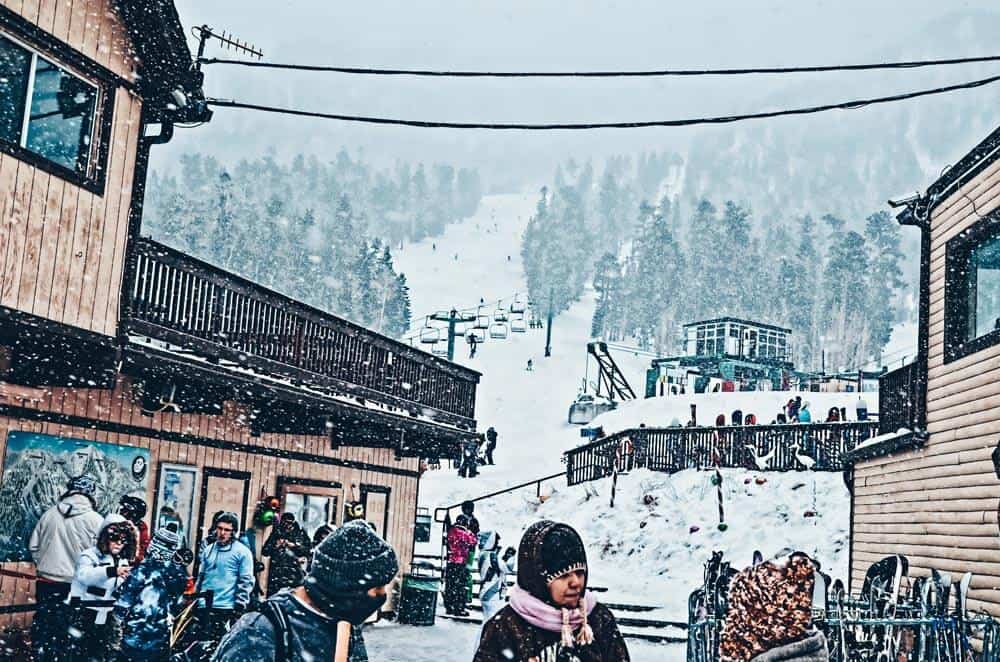 You asked for unique things to do in Vegas and skiing is it. Yes, in the mountains just 45 minutes away from The Strip developers built a ski-resort. It is not huge and does not feature the world's best snow, but the novelty of being able to ski within 45 minutes of the scorching desert heat is unreal.
12. Gondola ride at the Venetian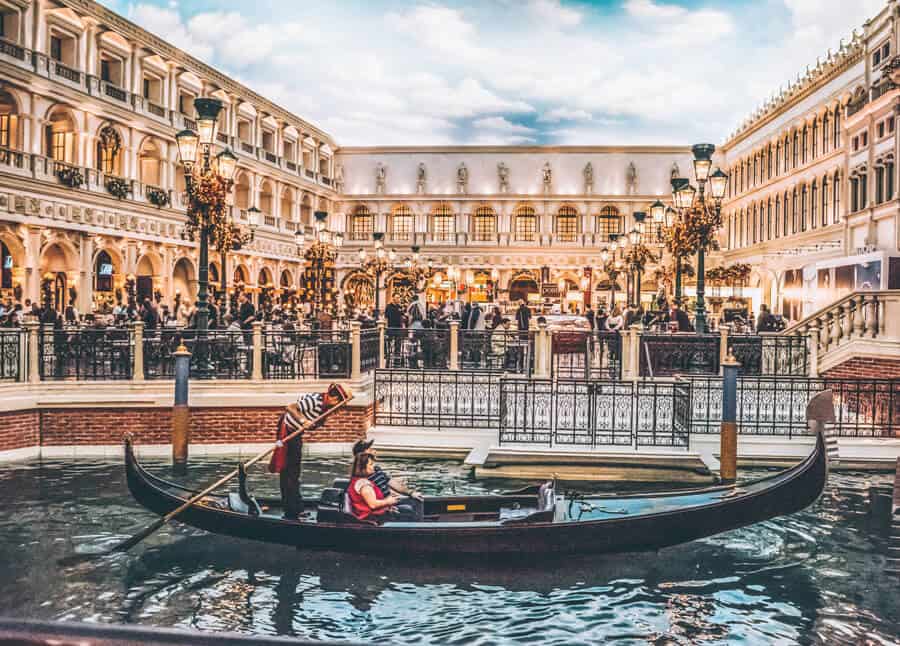 Want to go to Venice and be sung to in the canals? Is Italy too far away? Once again, the experience is available and a must do in las Vegas.
The opportunity to be serenaded by a real gondolier while being escorted through man-made canals in a miniature version of Venice is awesome. Also, don't worry about the scorching heat as lots of the canals are indoors (yes the sky in the picture above is simulated). I have a friend that worked as a gondolier and you bet she was a talented singer!
Book your tour: Madame Tussauds with Gondola Boat Ride – This includes admission to Madame Tussauds show in Las Vegas and an outdoor gondola ride as well as a meal (if meal option is selected).
13. Hoover Dam
The Hoover Dam and Lake Mead are surprisingly pretty cool to see. I'm not one who would typically advocate for a dam tour, but finding out that the dam's generators are what is powering Vegas' neon lights was actually fascinating. Check out the best tours of Hoover Dam here.
The dam is on the border between Nevada and Arizona, only about 30 minutes from The Strip. It is MUCH bigger than it looks in pictures. Also, the reservoir creates an awesome place to rent a boat and go waterskiing or wakeboarding (Lake Mead).
Here are some of the most popular and best-rated Hoover Dam tours, including the best deals.
Ultimate Hoover Dam Tour from Las Vegas With Lunch – This is by far the most popular Hoover Dam Tour. It has over 2,500 positive reviews on Viator. Pretty impressive. I love that this tour gets you there before the crowds arrive. There is nothing worse than being packed on a tour with a million people. This is a fully guided tour over Hoover Dam. **This tour also includes a bonus stop at the "Welcome to Las Vegas Sign".
Small-Group 3 Hour Hoover Dam Mini Tour With Strip Pickup – This 'mini' 3 hour tour is just the right amount of time. It is perfect for you if you are looking for a tour that doesn't take up your whole day.
14. Seven Magic Mountains
Ever seen modern art in the middle of the desert just south of The Strip? It is exactly what it looks like, a bunch of huge colorful rocks stacked on top of each other. My husband first discovered them on accident while dirt biking in the area.
A Swiss artist named Ugo Rondinone created the display. My husband thinks the display is wildly overrated, but if you are interested in seeing, make sure you head out there quick.
Book your tour: Las Vegas: 7 Magic Mountains, Grand Canyon & Hoover Dam Tour
What is the most unique thing you have done (or want to do) in Las Vegas?
Where to Stay in Las Vegas
Overall Favorite: Bellagio Hotel & Casino – A Luxury resort with five pools in a courtyard setting. The rooms are the ultimate luxury. The inspiration for this property was Lake Como in Bellagio, Italy. This hotel features a free water show with fountains synchronized to music is right in the middle of the Strip. Once you get inside, you are immediately greeted by the Bellagio Conservatory and Botanical Gardens. The average daily rate of a room at the Bellagio is about $200, so make sure you get ample opportunity to enjoy. Check prices here.
Budget Choice: The Golden Nugget – Located off of Fremont Street, or what many people now call Old Vegas. This hotel recently received a complete renovation, and now the rooms feel brand new, and are beautiful. My favorite feature of this hotel (other than the price) is the waterslide that goes straight through a shark tank. Seriously, a water slide that goes within inches of huge sharks! I have literally booked this hotel for friends at a rate of $25 per night, though in high season and on weekends it is more expensive. Check prices here.
Dirt Cheap – Family Choice: Circus Circus – While this property is a little tired, its location is right off the Strip so you have immediate access to any of the big casinos, yet you can book Circus Circus at an extremely low rate. On more than one occasion I've had family with little kids book this for $19 a night and enjoy the Adventuredome as well as free circus shows.
If you enjoyed this post don't for get to share it with your friends!
Check out our most popular articles on Las Vegas next: