You must visit the picturesque village of Furnas on any trip to the Azores. Located on the Portuguese island of Sao Miguel Azores, this town is a natural hotspot of geothermal activity.
It somehow feels completely different from the rest of the island.
The Village of Furnas, Sao Miguel, Azores
Tucked away high in the mountains, the village of Furnas is home to only 1,500 people. It is also one of the best places to see and experience the effects of an active volcano. Steaming hot springs, leafy fern-lined gardens, and natural thermal spas abound in Azores Furnas.
This tropical paradise won't disappoint!
Where to Stay in Furnas
If you plan on staying a night in Furnas these are the best hotels in the area.
Casa da Igreja Velha – This location is perfect as well! Just a 3 minute drive to Lake Furnas and a 3 minute walk from Terra Nostra Park. Book here.
*Best Overall: Terra Nostra Gardens Hotel – Considering that the Terra Nostra Garden Hotel is one of the highest rated in all of the Azores, (don't believe me, check it's rating on booking.com).
Considering it rates well into the 9's out of 10, you would expect it to be extremely expensive, but surprisingly it isn't.
It typically ranges between $100 and $200 per night, but does sell out so book quickly. We would have loved to have stayed there, but it was sold out when we were there.
Furnas Lake Forest Living – Located just outside Furnas and right by Furnas Lake. Lots of hiking trails nearby.
Best Things to do in Furnas (Sao Miguel Island)
Wondering what to do around the Furnas Azores? Here are our six of our favorite hotspots:
1. Soak in the Paradise Pools of Terra Nostra Park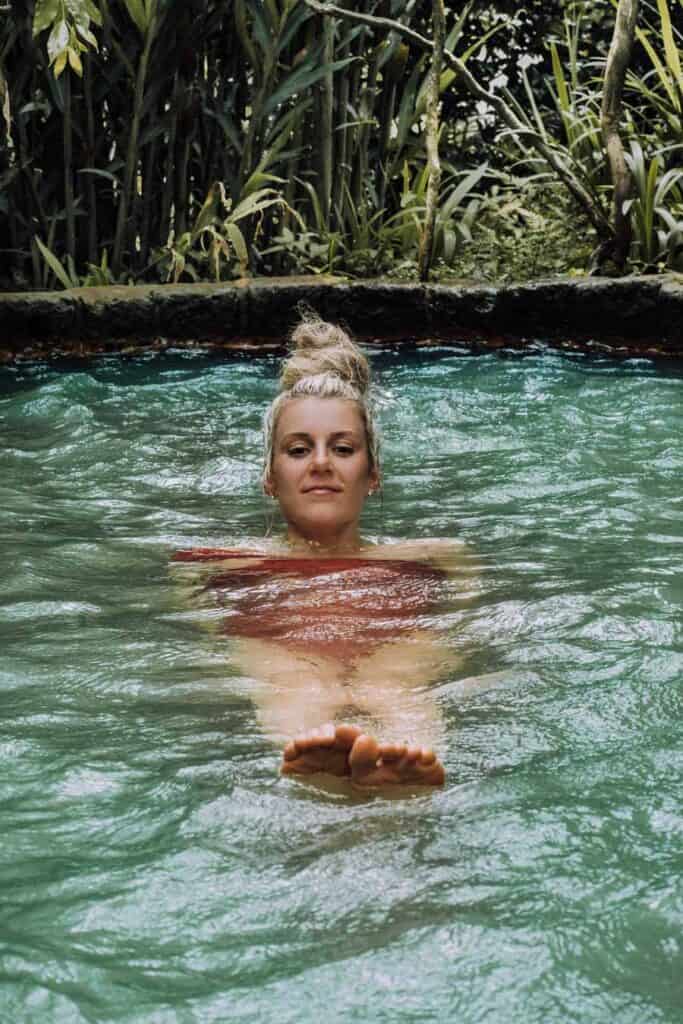 Terra Nostra Park is a natural oasis filled with geothermal spas and lush botanical gardens. The grounds are absolutely amazing, with warm water streams, tropical plants, and a series of unusual thermal pools.
Our favorite is the huge orange water spa. This hot pool's water is a unique rust-orange color. It is not caused by mud, but rather by high levels of iron in the water. Make sure you wear a dark-colored swimsuit as the orange waters can stain! (I had on a red swimsuit and there was no staining)
Terra Nostra Park Hours
Terra Nostra Park is open from 10:00 – 18:00 and costs €8 per person. There are towels and lockers available here.
2. Relax at Poca Da Dona Beija (hot springs)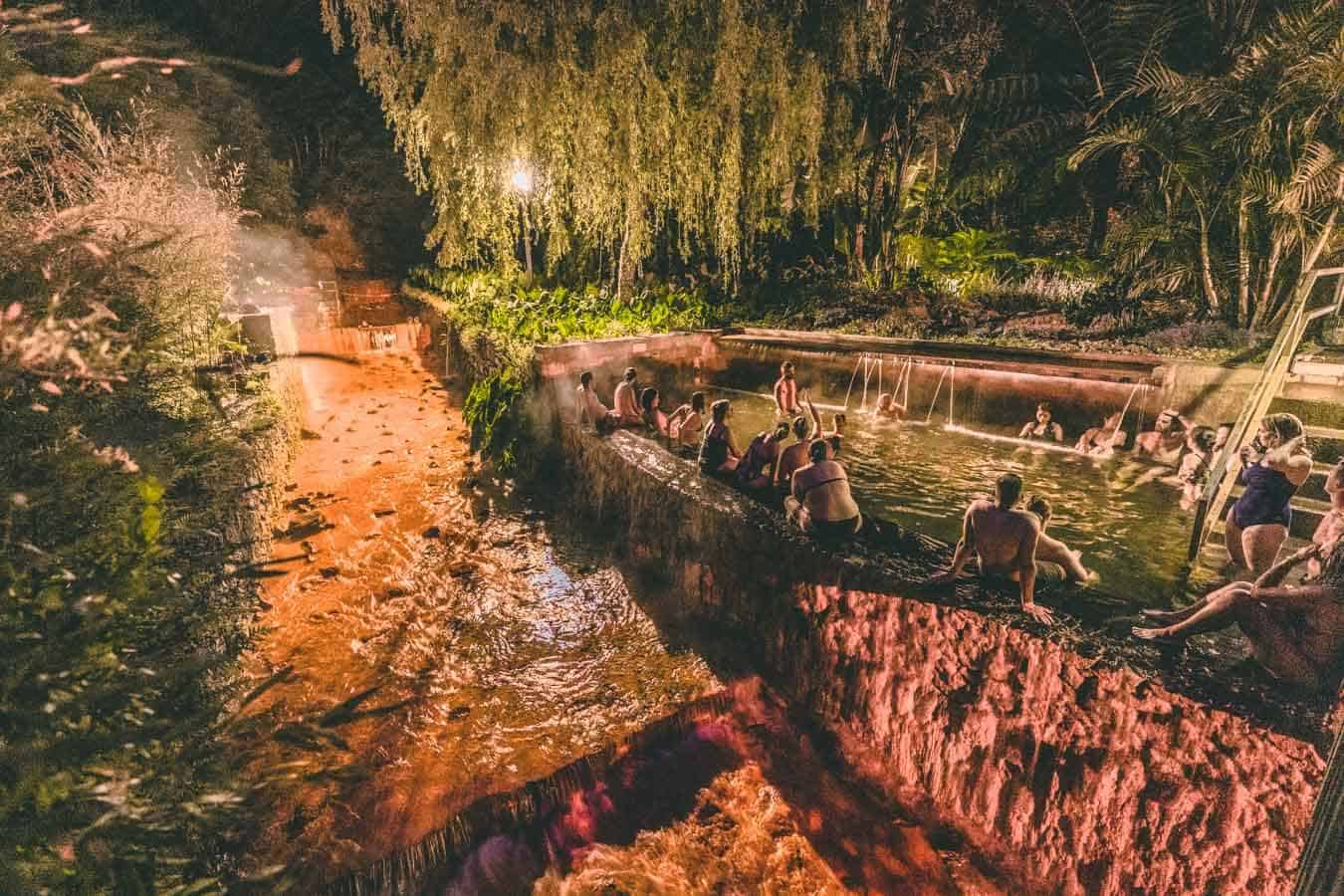 Poca Da Dona Beija is another awesome hot spring where Furnas' geothermal activities are a definite plus.
You'll find five different open-air hot tubs, scenic pools, and thermal spas of varying temperatures. We enjoyed going back and forth between the different temperatures! These hot springs are a must on any trip to Furnas Azores.
Poca Da Dona Beija Hot Springs Hours
Open from 7:00 until 11:00 pm, it's the perfect late-night activity and costs just €6 per person to get in. While it is nice that it is open late, keep in mind that it does attract a younger and more rowdy crowd in the evening. While it's not a party destination, it is worth knowing that you definitely won't have it to yourself.
If you'd prefer a quieter soak, aim to visit these hot springs early in the morning. At peak times it can get crowded. To reserve a spot and even have dinner included you can book a relaxing soak ahead of time.
If you are interested in seeing the Poca Da Beija hot springs without the hassle of renting a car I recommend these guided tours.
Read our full guide on visiting the Poca Da Dona Thermal Baths here!
---
Top ways to experience the Azores and nearby attractions:
---
3. Enjoy Furnas Lake (Lagoa Das Furnas)
Lake Furnas fills a natural volcano crater and is one of the most scenic spots in the village of Furnas.
The area is made up of multiple geothermal springs, it's a real feast for the senses with its boiling water, sweltering steam, and mud spouting out of the holes in the ground just about everywhere you look.
There's plenty to do around Furnas Lake; you can walk or bike along the lakeside trails or even rent a boat for the perfect serene escape.
Our favorite spot is the caldera of steaming ground on the northern shore of the lake. Don't miss it!
Book your tour: Full-Day Furnas Azores 4×4 Tour from Ponta Delgada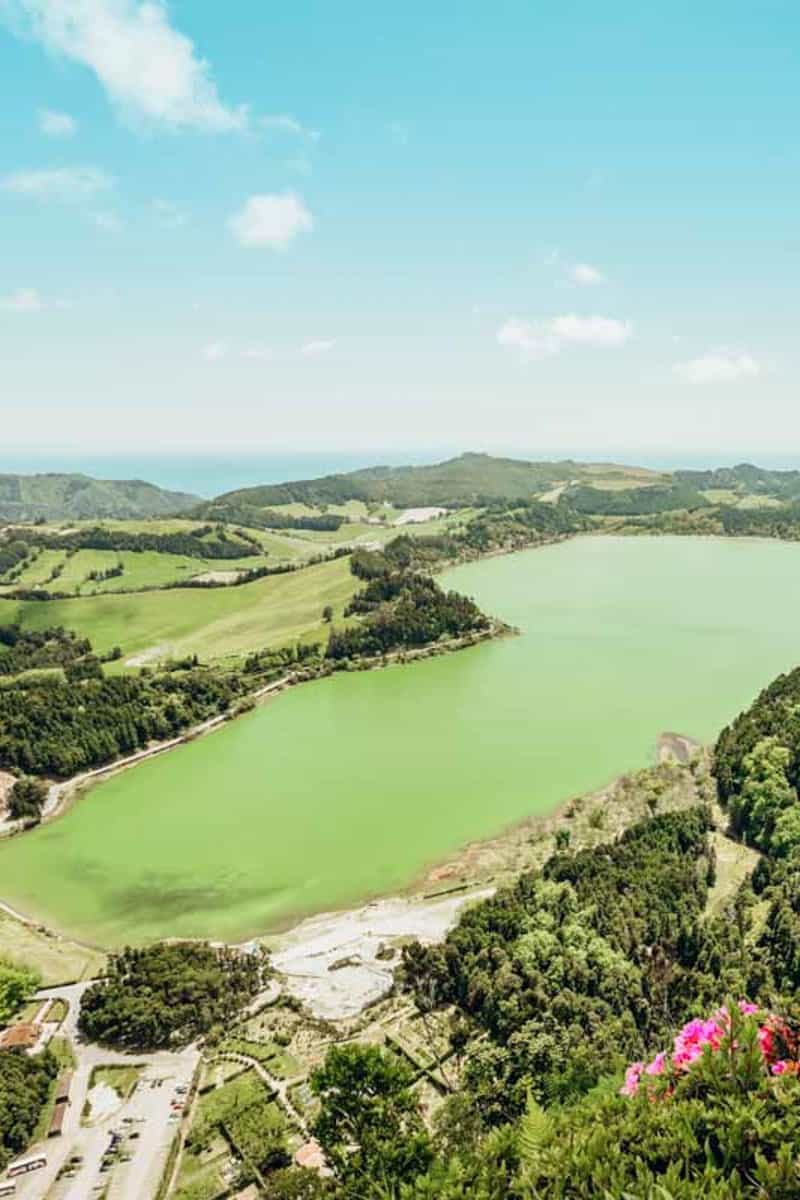 4. Witness the Steaming Caldeiras Das Furnas
This spectacular thermal valley on the edge of Lake Furnas is something truly extraordinary. You can see the steam and water literally bubbling up out of the ground! A boardwalk leading around the northern side of Lake Furnas makes this otherwise scorching valley safe to explore.
The smell of sulfur is really strong around the caldera. I thought it would make me feel sick, but luckily it didn't. We'd recommend coming here later in the day when there are fewer crowds; we visited in the late afternoon and had the place pretty much all to ourselves! What bliss.
Hours: The boardwalk at Caldera Das Furnas is open 24 hours a day, and it supposedly costs €2 to park here. However, we pulled in to see no gate and no one to collect money from us.
Don't miss the opportunity to watch cozida being cooked by local chefs while you're here!
5. Taste Some Traditional Cozida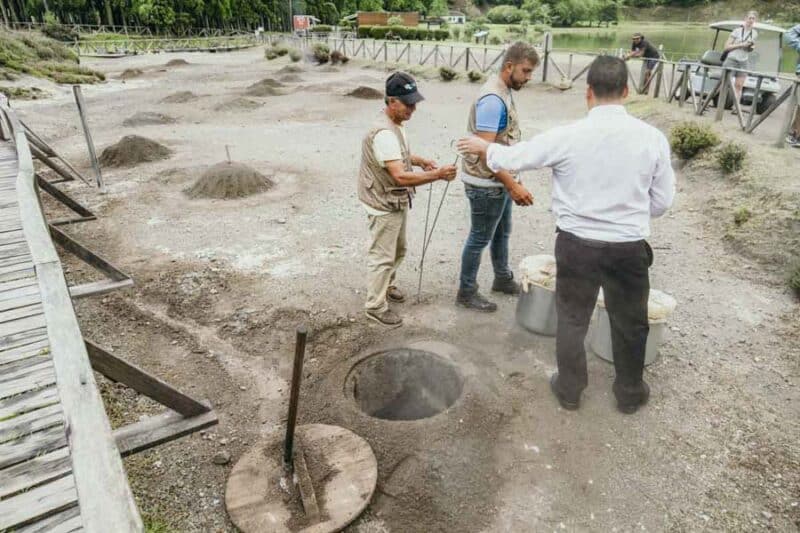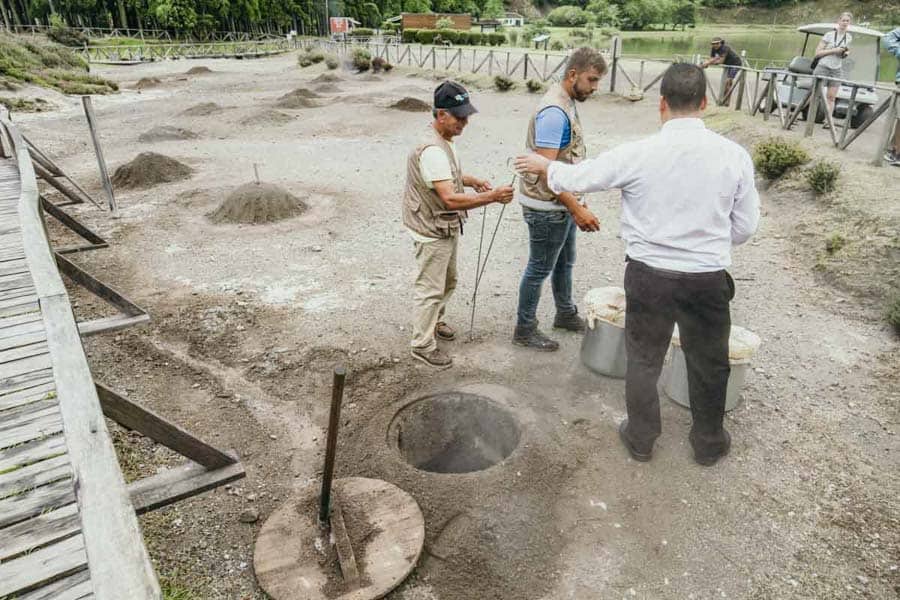 When in the Azores, you should do as the locals do, and that means trying some of the traditional cuisine. Cozida is an Azorean treat, a sausage stew that's cooked in the ground by chefs using the natural geothermal heat.
Furnas in Sao Miguel is the best place to get a taste of cozida.
The chefs bury the stew in the ground and wait for Mother Nature to do her job. I didn't have any myself because of my dietary restrictions, but the smell and novelty tempted me.
If you've tried some cozida stew, let us know what you think of it in the comments below!
Read the full blog post with photos: Cozido das Furnas: Volcano-Cooked Cozido in the Azores
6. Stay in a World-Class Hotel
A lot of the higher end hotels, such as the Furnas Boutique Hotel, can be found in this area of Sao Miguel right in the heart of the action. Close to the famous hot springs and natural lakes of Furnas, it's high up on the list as the best hotel Azores has to offer. If you can afford it, it's well worth the splurge!
The hotels in Furnas are about an hour's drive from the main airport in Ponta Delgada Azores, but be aware that some of the roads are windy and some are made of cobblestone, so allow for some extra time on your drive if you're prone to carsickness.
The roads aren't scary at all. The only time it felt a bit worrying was driving down the mountain late one night, so you should avoid doing this if you can help it. The roads are far more scenic during the day anyway!
There is so much to see and do in this scenic corner of the globe – from geothermal springs and natural lakes to top-notch hotels.
What are your favorite things to do in the Azores?
If you enjoyed this post don't forget to share it with your friends! Thank you so much for reading!
Hover over the images below to pin them to Pinterest!