More and more people are visiting Dubai. An Abu Dhabi day trip from Dubai is also getting more and more popular.
Abu Dhabi to Dubai, or Dubai to Abu Dhabi, is it feasible for a day trip?
Abu Dhabi Tour From Dubai
It is insane to miss the opportunity to take an Abu Dhabi tour from Dubai. Abu Dhabi is another ultra-modern city, but it isn't as tourist focused. The Grand Mosque of Abu Dhabi is so beautiful I've been 3 times; generally I don't go anywhere more than once.
To see the top things to do in Dubai, read here.
So how close are they? Is it feasible to visit both on one trip? What are the Dubai Abu Dhabi transport options? The short answer is yes, it is quite easy to transfer between the two cities as it only takes about an hour and a half. I've visited the UAE three times in the last three years, and plan on going again next year.
The best options for transport from Dubai to Abu Dhabi are…
Afraid to go, don't be, read why here.
Rental Car – Most Flexibility
I've driven between the two cities by rental car. The drive is about 85 miles of a completely straight highway. It's easy! Some people say that the locals drive crazy, but the quality of drivers felt exactly like any American city to me.
After taxes and fees we paid about 128 AED ($35 USD) per day for our rental car. We loved the flexibility of having our own transport from Dubai to Abu Dhabi to leave early in the morning and return super late at night and stop at random out of the way spots.
Also, I had no issues renting with my American drivers license. Agencies did not require an international driving permit.
Find all: Hotels in Dubai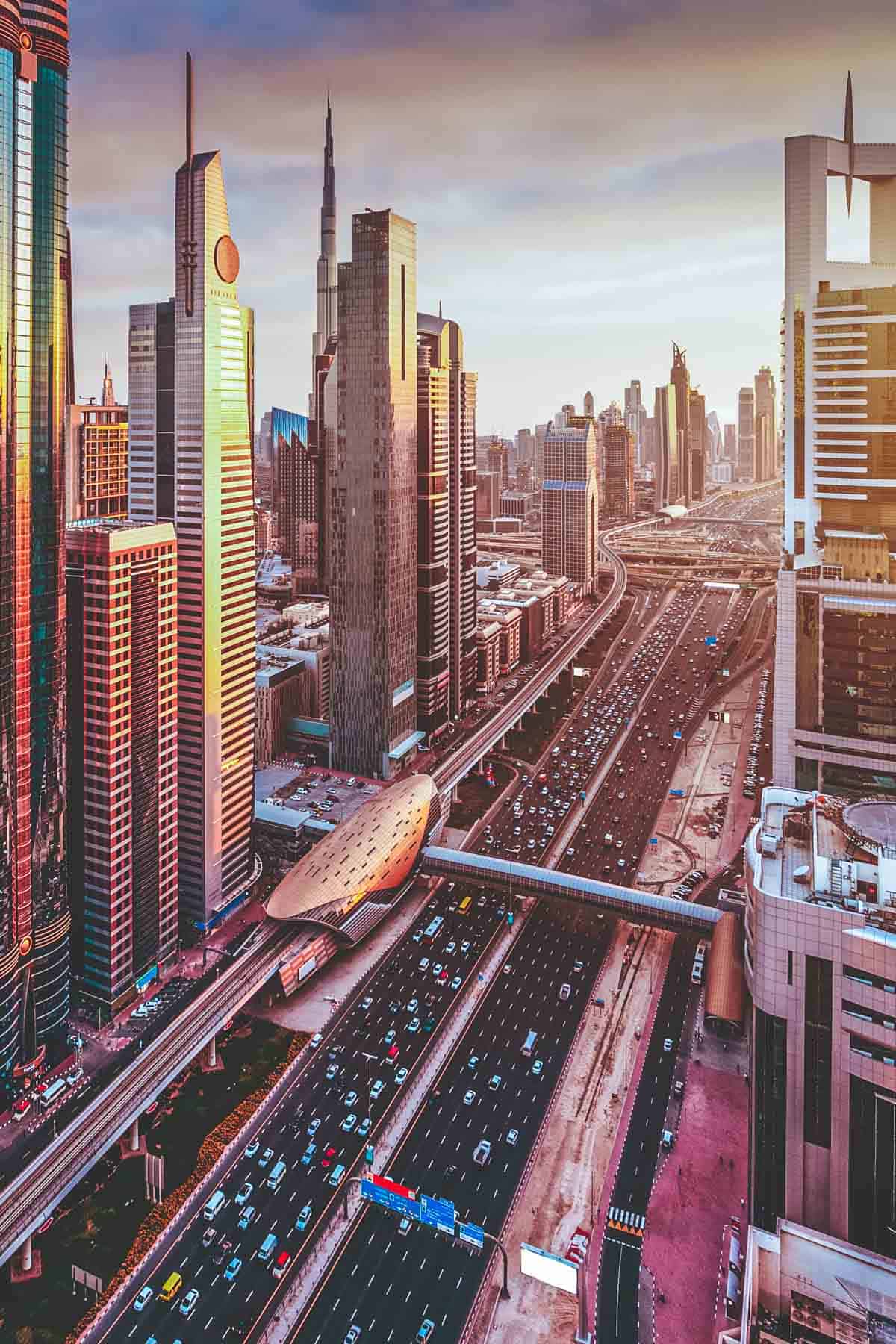 By Bus – Cheapest
Even though I normally hate traveling by bus, this bus ride is easy. Most lines don't have any stops and the buses have air conditioning and comfortable seats.
You can hop on a bus at either airport, or you can jump on from the Dubai Metro Station Ibn Battuta or at the Abu Dhabi Central Bus Station. Buses generally leave every 30 minutes, and can cost as little as 5 AED (about $1.86) but are generally about 25 AED $6.81.
The Dubai Airport to Abu Dhabi by bus is also an option.
By Taxi – Surprisingly Not Too Expensive
During one of my trips to the UAE I needed to transfer from the Abu Dhabi airport to Dubai to keep from missing a flight. I worried that the last minute taxi fare would be more than my flight home.
Thankfully, I only paid about 300 AED ($81.68). I have a friend that previously was a Dubai local and he swears he routinely took this for half as much, so feel free to try and negotiate. As far as taxi fares go, the rates in these cities aren't bad for developed cities.
Uber (and other ride share aps) – Similar to Regular Taxis
Similar in price to a taxi ride share aps can be used in UAE. The fares usually end up being almost the same as the taxis in this part of the world.
The best thing about ride sharing aps is that you don't have to talk to the driver or exchange money if you don't want to. You can travel from Dubai to Abu Dhabi without having to exchange currency.
Flying – Not Recommended
There are a couple budget airlines that fly this incredibly short route, but given the time it takes to get through airport security, and even transfer around airport terminals I wouldn't recommend it unless you are going to be connecting on another flight out of the country with a ton of luggage!
The average fares when I've looked seem to be about 1,100 AED ($300 USD).
Also, if you are in Abu Dhabi and plan to fly out of Dubai on Emirates Airlines (my favorite), the airline will supposedly provide you with a free shuttle bus ride. Call the airline's customer service line to find out more details.
Abu Dhabi Day Trip From Dubai
Want to take an Abu Dhabi day trip from Dubai? It will be a long day, but it is easy to do. I would recommend more time for your Abu Dhabi trip from Dubai, but even in one day you can still take in a couple sites like the Grand Mosque and some of the gorgeous beaches.
What would your preferred way to travel from Dubai to Abu Dhabi be?