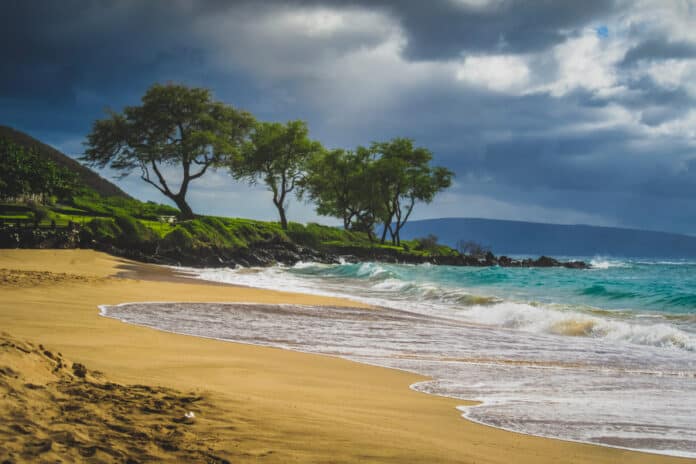 There are so many great beaches on the Hawaiian island of Maui that it is hard to choose which one to spend your time on. Some beaches offer great snorkeling but don't really have nice sand to lounge on. Others offer both but are completely overrun with crowds due to a high number of hotels being really close.
There are some beaches that offer each of those but aren't easy to access.
Shockingly, Maluaka Beach in Maui threads the needle by providing just about everything you would want in a top Maui beach. Maluaka Beach is great for snorkeling, families, swimming, and sun bathing.
It really is one of the best beaches in Maui!
Maluaka Beach Quick Tips
Sand & water color: Light fine golden sand and turquoise blue water
Best for: one of the island's top snorkeling spots
Known for: being an all around great beach – also, turtles are frequently spotted here
Facilities: restrooms, showers, picnic tables
Swimming conditions: Usually calm, but be careful because at times the conditions can change
Lifeguard: none
Cost: Free
Parking: Free public parking at a lot across from Keawala'i Church (short walk to the beach)
Available tours: Turtle town snorkeling tours available in the area (best snorkeling on Maui)
Where is Maluaka Beach located?
Maluaka Beach is just south of Makena Landing with the area nearby known as Turtle Town. This area is famous for being home to some of the best snorkeling!
Parking at Maluaka Beach
There is a free public parking lot at the southern end of the beach off of Makena Keonoio Rd. There are not big signs designating the beach, so make sure you are paying attention to your GPS.
For simplicity, I recommend you put Keawala'i Church into your GPS. The free public parking lot is directly across the street from this church.
If I attended a church that was directly on this beach I know I would have a hard time focusing! Or maybe seeing such a beautiful view makes people so grateful they want to go worship to say thank you; regardless, the church backs directly up to the beach.
From there you walk down a sidewalk to the beach. Parking can fill up so I recommend you get there early or late in the day.
Maluaka Beach Snorkeling
The beach has some unique geography that generally make the conditions perfect for snorkeling. There are mountains that protect this beach from wind and help keep the waters calm.
Calm waters help keep the sea creatures out and visible.
There are a lot of boat and snorkel tours that head to this area. If you aren't interested in booking a tour you can see a lot of similar animals by snorkeling here.
What else can expect at Maluaka Beach?
Very clean beach and facilities.
Great beach for families.
It is big enough that you don't feel crowded.
Great snorkeling with turtles and lots of colorful fish. (Make sure to use a reef safe sunscreen.)
Big shade tree on the beach.
Picnic area.
Has a nice grassy patch incase you don't want to get sandy. Nice added bonus.
Less crowds since it isn't a main resort area, though it is directly in front of the Makena Beach and Golf Resort
Swimming Conditions
Generally this beach is pretty good for swimming since it is protected from the worst winds. Like a lot of the beaches in Hawaii, there are times when the surf can get rough. So take caution.
This means that it is generally NOT a good beach for surfing or boogie boarding.
Make sure to use a reef safe sunscreen when snorkeling to preserve the coral reef.
Tip – Make sure if you snorkel you have a waterproof phone case (I have this waterproof housing from amazon that works ridiculously well) and a good dry bag for your electronics. This is my favorite dry bag. I never travel without it. Go pro also works wonders!
If you want to be able to take over/under water pics you will need an additional dome housing. I have this one from amazon that connects perfectly to my axis go waterproof phone case and is expensive, but works amazing.
Facilities
There are public beach restrooms available so you don't have to sneak into a resort. There are also showers which are always nice after getting back into your car after swimming and lounging in the sand.
---
Top ways to experience Maluaka Beach and nearby attractions
---
Pros and Cons
Pros
Not crowded, or way less crowded than other Maui beaches
Free parking available
Easily accessible
Good chance of seeing turtles!
Great snorkeling
Good shade
Cons
Not a good surfing beach
Parking can fill up
Not a lot of hotels in the area
Conclusion: Is Maluaka Beach worth visiting?
If you want to experience a beach away from the crowds that offers an all-around great experience, Maluaka Beach is it!
Things to do near Maluaka Beach
Big Beach – One of my favorite beaches in Maui.
Makena Cove – Secret cove
Oneuli Beach – Beautiful Black sand beach with amazing snorkeling.
What to Pack for Maui
Planning a trip to Maui? Here are our best MAUI BLOG POSTS:
My husband and I have been to Maui a couple times and have written up more blog posts to help you plan your trip. These are my most popular blog posts and Hawaii travel guides to help you plan your trip. I hope it helps!
Maui general trip planning
Maui Beaches
Maui Hikes & Lookouts
Maui Waterfalls
Everything else