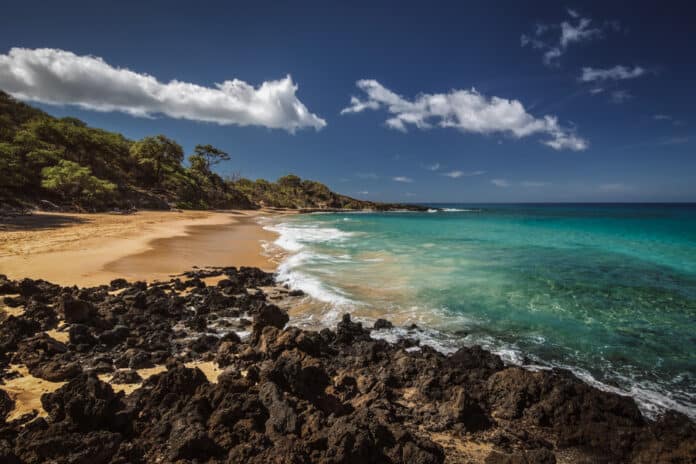 Little Beach Maui – Nude beach!
Yes, there are nude beaches in Hawaii! If you are looking for a nude beach in Maui you won't be disappointed with Little Beach. If it's not your thing, then I highly recommend you avoid this beach because it DEFINITELY attracts nudists.
While it technically is illegal to lounge nude on Hawaiian beaches, it is not enforced on Little Beach. The result is that this gorgeous beach is therefore not for everyone. I'm definitely not a Hawaiian nude beach expert, but it is known as the best nude beach in Hawaii.
Make sure you are prepared before visiting this clothing optional beach in Maui!
Little Beach Quick Tips:
Other Names: Pu'u Ola'i Beach, Makena Beach, Makena State Park Beach
Water color: Turquoise Blue
Sand quality: Amazing fine golden sand
Known for: Being a nude beach in Maui (being directly next to Big Beach aka Oneloa Beach)
Swimming conditions: Great
Other names: Pu'u Ola'i Beach
Facilities: restrooms, picnic tables, showers
Lifeguard: none
Cost: $5 for non-Hawaii residents
Parking: Large paid lot for $10, or free street parking. You access Little Beach through Big Beach in Makena State Park.
Available tours: There are actually a ton of tours in the Makena area. Including snorkeling tours and kayak tours and more. Head here for more of my favorite tours.
Where is Little Beach located?
Little beach is located on the south side of Maui in Makena State Park. It is immediately next to Big Beach. You access Little Beach by walking to the end of Big Beach and then up and over a rock cliff. Don't worry, there is a path and stairs cut up and over the cliff.
If you are driving here from the main Maui airport, it will take you about 40 minutes.
Nudity is illegal in Hawaii, Technically
Public nudity is illegal in Hawaii. That being said, it is NOT enforced on Little Beach.
This is probably the reason it is not publicized more openly as a nude beach because it is technically in violation of the law.
Consider This Your Warning
Consider this your warning, there will be naked people here!
It can be really easy to arrive at Little beach having no idea it is a nude beach. I did research before hand and did not find anything on it being a nudist paradise. I was shocked when I got to the top of the rock cliff.
From the top I saw a beautiful beach, but almost immediately I couldn't focus since I was distracted by the copious amounts of nude sunbathers.
At the top of a cliff there is a sign that says "no nudity." Ironically I saw a nude couple post with that sign with the gorgeous beach as a backdrop.
If you want to enjoy a similar aesthetic without the nudity head to Big beach right next door.
How to get to Little Beach
The best way to get here is to rent a car. If you don't have a car rental you can rent a moped for the day, or take an Uber/Lyft. Uber/Lyft will be your most expensive option depending on where you are staying.
If you decide to explore the island by moped you can rent one here for up to two weeks at a time!
Little Beach parking and beach access
Makena State Park charges about $10.00 per vehicle to park. There is also a $5.00 entrance fee per person. Children three and under are free. If you are a Hawaiian resident it is also free. There were attendants in the parking lot checking that people were paying at the kiosks when I entered.
Accessing Little Beach
Once parked, you will take a small hike from Big Beach to Little Beach.
If you are facing Makena Beach (Big Beach) you will walk to your right. You will see a spot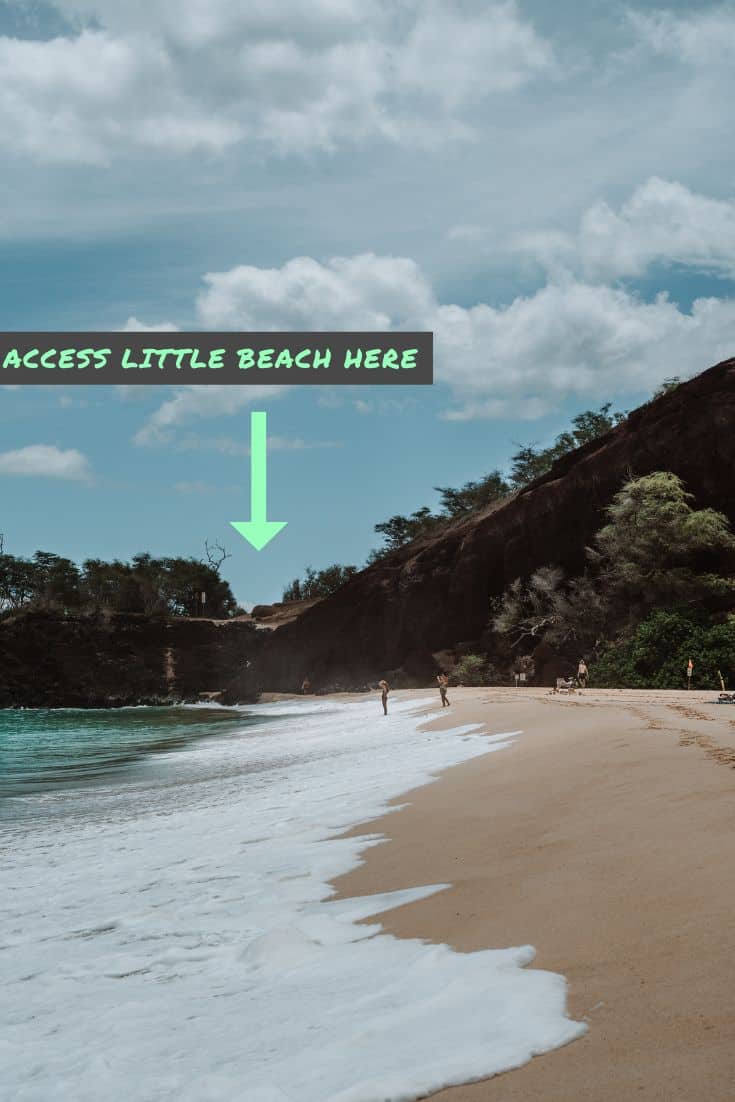 What to expect at Little Beach
The vibe
While I would in no way say my experience is scientific, I would say the most common type of visitor is from the LGBT crowd and skews a little bit older.
Thankfully, I didn't see any children on the beach.
Snorkeling at Little Beach
There are reefs just off the shore of the beach. This means that Little Beach snorkeling is one of the few places where you can check out the fish wearing nothing but your fins and mask.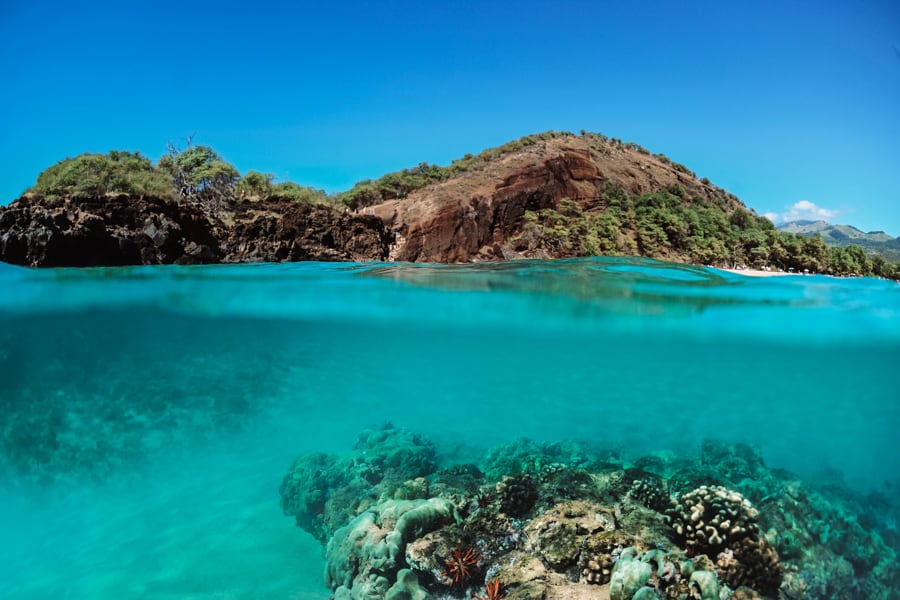 Swimming Conditions
Much like Big beach, Little Beaches waves can get intense. Make sure to check the Little beach surf report before going.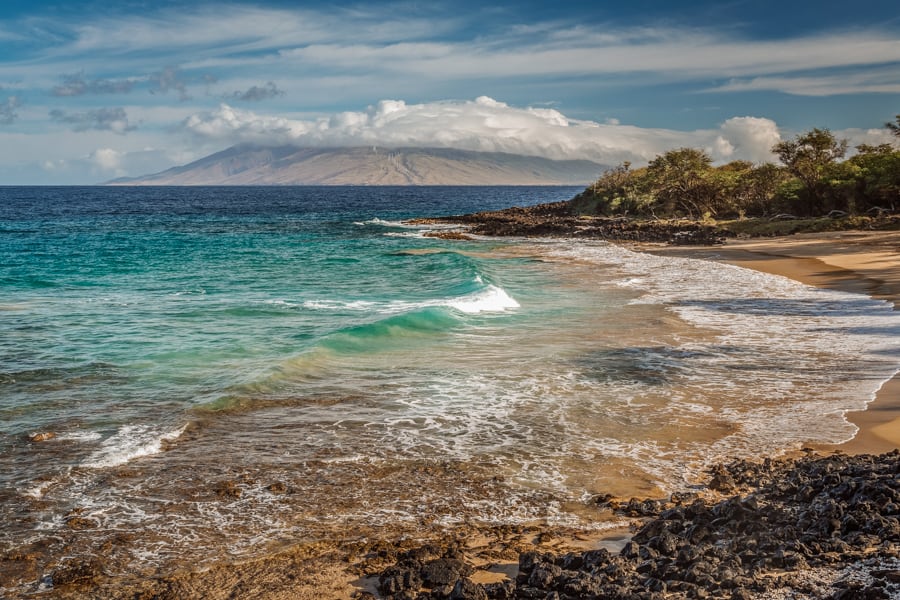 Big Beach Vs. Little Beach Maui: What's the difference?
There is a big difference between the Makena Beaches also known as Big Beach and Little Beach.
Put simply, Little Beach is a nude beach and Big Beach is not. Even though they are only separated by a thin rock cliff wall the experience in entirely different.
Big Beach is not a nude beach and you will find tons of families lounging and playing on the sand and in the waves.
Because I came from the famliy friendly experience of Big Beach, I was shocked by the nude scene of Little Beach just over the cliff. It was interesting, but definitely not my jam.
Big Beach and Little Beach are two of Maui's most popular bodysurfing and bodyboarding beaches.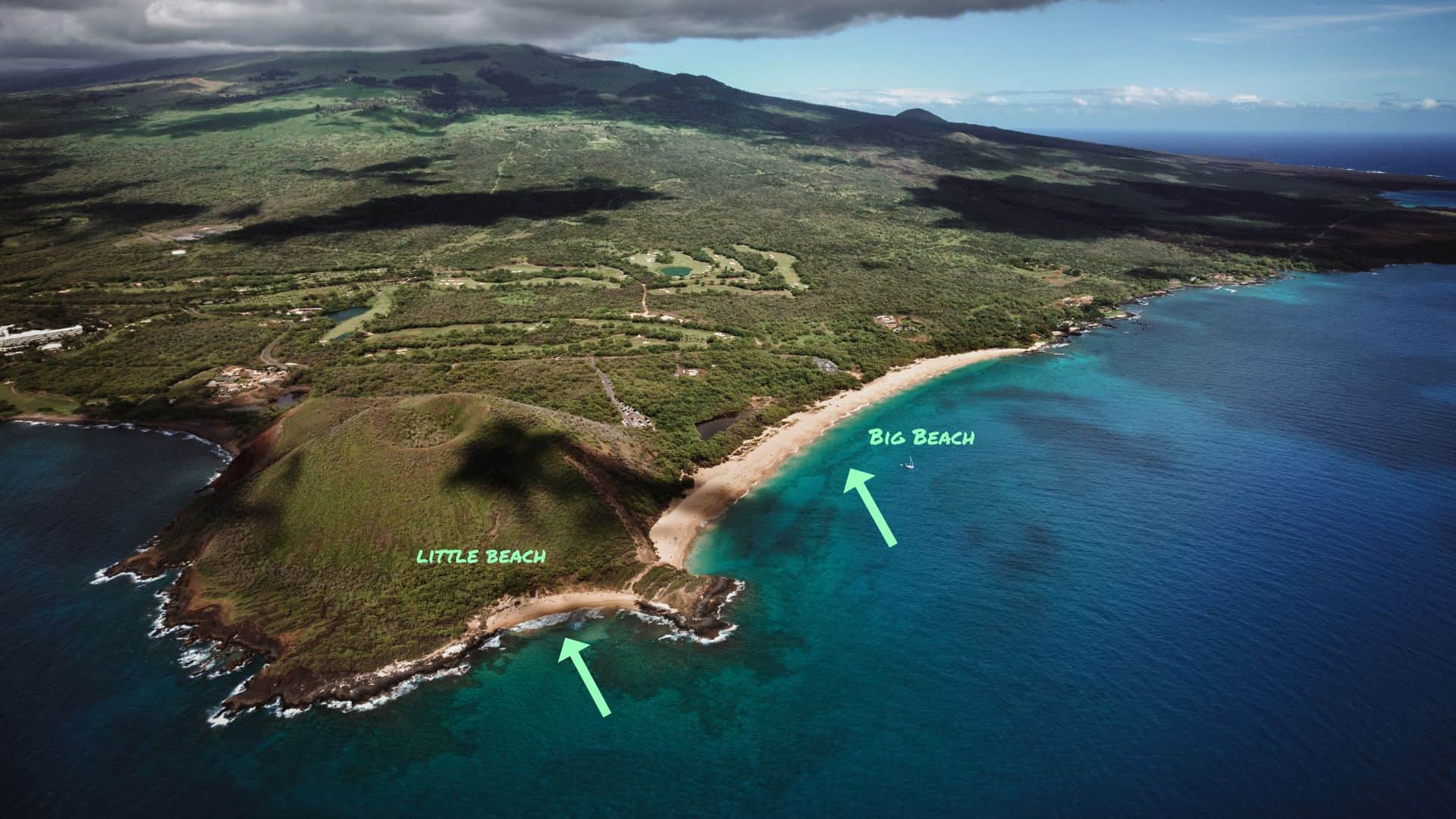 Conclusion: Is Little Beach worth visiting?
Plain and simply, it depends. Little Beach is a great beach for swimming, snorkeling, or lounging in the sand, but if you aren't specifically targeting a nude beach in Hawaii then you can get just as amazing of a beach experience without all the extra skin.
I laughed when I discovered it but promptly went back to Big Beach.
Things to do near Little Beach Maui
Big Beach – (2 minute walk away)
Makena Cove – (5 minute drive away)
Oneuli beach – Black sand beach!
Where to stay in Maui
Before booking a hotel on Maui there are a few things you need to know.
The hotels in Maui are ALL very expensive. You will have a difficult time finding a hotel for under $200 a night.
You have to book in advance. Like, far in advance. The hotels and rental cars book up super fast so make sure to plan ahead.
Best Option* Hyatt Regency Maui Resort & Spa – We love this hotel! The location is perfect and only a 2 minute walk to the beach. There are 2 amazing pools at the property and so many amenities. The only downside is it is super expensive.
Best budget option* (if there is such a thing in Maui) – Hakuna Matata Maui Hostel
Four Seasons Resort in Wailea – This is one of the more expensive resorts on Maui, but it's also one of the most fantastic. If you can swing it financially, highly recommend giving this place a shot. The hotel overlooks Wailea Beach and has 3 swimming pools and 3 restaurants on-site. If you are looking for the ultimate service, food, and pampering, then you should stay here. Check current pricing here.
Hotel Wailea – This hotel is fairly small, with under a hundred guest rooms. This, and the fact that it is far away from the road and any other noise pollution, makes it the perfect place to stay in peace and quiet.
Hyatt Regency Maui Resort & Spa – Another amazing hotel and resort you are guaranteed to love.
What to Pack for Maui
Planning a trip to Maui? Here are our best MAUI BLOG POSTS:
My husband and I have been to Maui a couple times and have written up more blog posts to help you plan your trip. These are my most popular blog posts and Hawaii travel guides to help you plan your trip. I hope it helps!
Maui general trip planning
Maui Beaches
Maui Hikes & Lookouts
Maui Waterfalls
Everything else