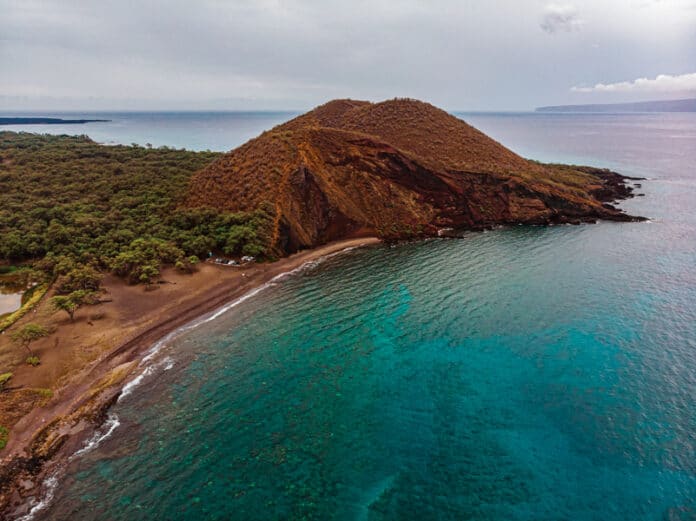 Oneuli Beach: A Hidden Gem
Maui is super popular for a reason! It is home to so many incredible beaches. There are miles of beaches with gorgeous white sand, an awesome mineral green sand beach, and even black sand beaches of lava rock (my favorite).
What shocks me is that even with miles and miles of gorgeous beaches there are still a few that sneak under the radar and aren't well known. Oneuli Beach is one of the hidden gems on the island of Maui. Not only is it less known, but it is one of the few beaches made up of black lava rock sand.
There are some tradeoffs associated with this beach. It is a little bit harder to access and is not great for sunning or swimming, but it is awesome to be able to see black sand and is a good snorkel spot. In fact, the name Oneuli translates to "dark sands."
Given its unique beauty and lack of crowds, I highly recommend stopping by!
Oneuli Beach Quick Tips:
Sand & water color: Black sand (not solid black but close enough) & Crystal clear turquoise water
Sand condition in water: Just beyond the shoreline the sand turns into solid lava rock. Be careful if you go in since the lava rock gets sharp! Wear water shoes to avoid getting cut up on the rock.
Best for: Snorkeling, black-ish sand, and avoiding crowds
Known for: the beautiful black sand
Facilities: porta-pottie by the parking lot
Swimming conditions: Typically great, but water is rocky
Lifeguard: none
Cost: Free
Parking: Few spots just off shore
Access: short dirt road that "should" be accessible with a standard rental car if you drive slow
Other Names: Naupaka Beach
Avoid The Crowds
Given the extreme popularity of Maui so many places on the island of Maui tend to get crowded. Even with crowds it is still paradise!
But, if you do want to find your own little slice of paradise you should look into visiting Oneuli Beach. There are substantially less people on this beach than many others, including ones directly next door.
I'm proof of this because I'd been to Maui 3 times previous to me finding out and visiting this beach!
Why Less Crowds?
I think this beach avoids most of the crowds for a few reasons. The first of which is because it is a little bit harder to access.
Where is Oneuli Beach located?
Oneuli Beach is about 45 minutes from the main airport on the southwest side of the island. There are a few resorts in this area, but it isn't the most dense hotel area.
This isolated beach is located right by Makena State Park, which is home to the famous Big Beach.
How to get to Oneuli Beach
The best way to get here is to rent a car. If you don't have a car rental you can rent a moped for the day, or take an Uber/Lyft. Uber/Lyft will be your most expensive option depending on where you are staying.
If you decide to explore the island by moped you can rent one here for up to two weeks at a time!
Short Dirt Road Required
To get to the parking lot you have to drive down a bit of a dirt road. You will see mixed reviews on whether you need a jeep or not. The road definitely has bumps in it, but I've seen regular cars go slow and get to the lot no problem.
If you don't want to take your car you can park off the main street and walk there instead in less than 10 minutes.
Parking
To park you will find a few spots at the end of the dirt road. While there aren't a ton of spots, given the anonymity of the beach the spots tend to not fill up.
Not The Prettiest Beach
Full disclosure, it isn't the prettiest beach on Maui. The sand isn't a pure black sand like you will find at Wainapanapa State Park on the Road to Hana.
The sand is a mixture of golden sand and black sand which makes the entire beach appear brown – i.e. not as pretty as a beach of pure golden sand or pure black sand.
What you can Expect at Oneuli Beach
Generally, a good summary is bad for swimming, but great for snorkeling.
The sand stops at the water line and the water rushes over solid lava rock. This lava rock is sharp enough to slice your feet open if you aren't wearing water shoes. I would definitely plan on wearing water shoes unless you want your feet and legs to get cut up. These are the ones that I recommend and love.
If you do want to enter the water the safest spot is in the middle of the beach where the rock shelf is the smallest.
Swimming Conditions
If you are brave enough to access beyond the rocky shelf, you also need to be careful because while conditions are generally calm, the waves can sometimes be intense.
Oneuli Beach Snorkeling
Beyond the shelf in the open water is an excellent snorkel spot. You are very likely to spot tons of aquatic life in these waters.
This beach may have the best shore snorkeling in Maui.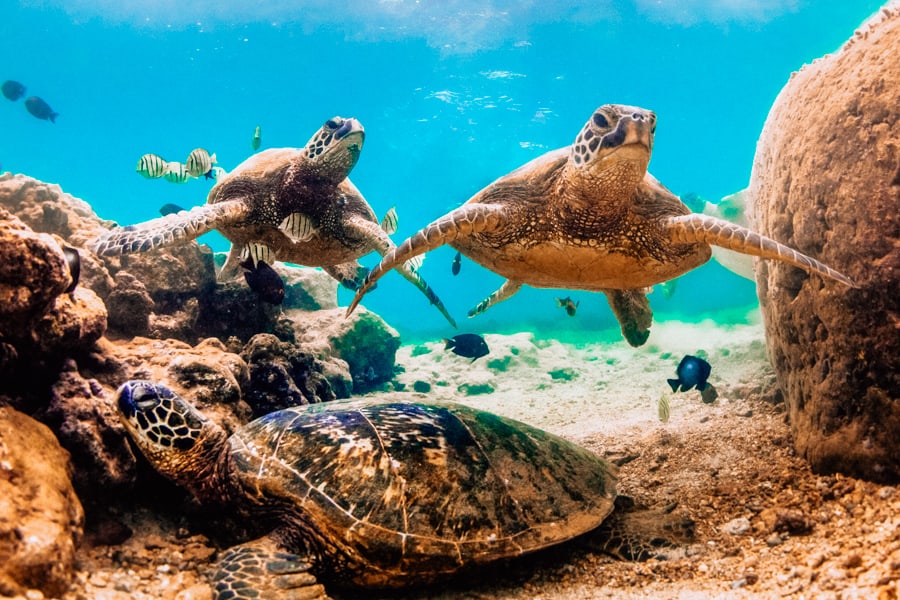 Make sure to use a reef safe sunscreen when snorkeling to preserve the coral reef.
Facilities
There is a porta-pottie.
Conclusion: Is Oneuli Beach worth visiting?
Yes! Oneuli beach is an absolute hidden gem! If you are looking for a picturesque little beach with minimal traffic – this fits the bill, though I wouldn't plan on sunning on the shore for an extended period of time
Top Things to do near Oneuli Beach
MAKENA BEACH (BIG BEACH) – (2 minute drive .7 miles) One of my favorite beaches in Maui!
MAKENA COVE – (3 minute drive) Gorgeous secret beach just around the corner from Big Beach.
MALUAKA BEACH IN MAUI – The whole package. All around amazing beach.
Keawakapu Beach – (12 minute drive)
Ulua Beach Park – (10 minute drive)
What to Pack for Maui