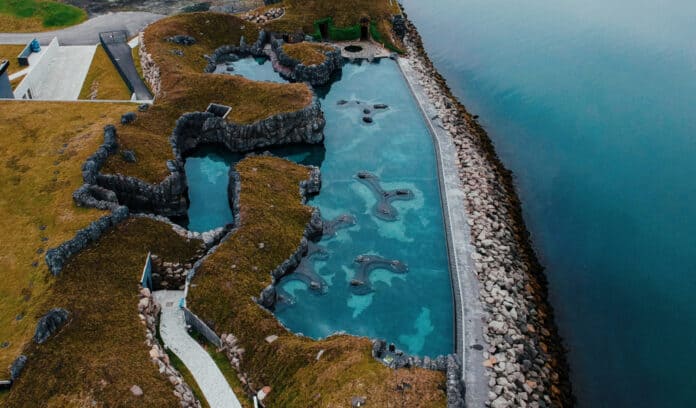 Sky lagoon Iceland Review – Sky Lagoon vs Blue Lagoon
Everyone knows that a must stop on every Icelandic vacation is the absolutely incredible Blue Lagoon.
This gigantic natural hot tub is being heated by waters bubbling up from the center of the earth. While the Blue Lagoon experience is unreal, it isn't the only geothermal hot tub experience available in Iceland.
The Sky Lagoon is a relatively new offering for Icelandic visitors. It offers a similar geothermal hot tub experience with a couple unique twists. Rather than milky blue waters and face masks, you get infinity ocean views and a full body scrub.
Sky Lagoon Location
One perk of the Sky Lagoon is it's location.
It is located in Reykjavik rather than 45 minutes away like Blue Lagoon is. It's on the south end of the city and easily accessible by rental car.
Scooter Access
For those that didn't rent a car, a super easy way to get to the lagoon is with one of the scooters that are ubiquitous around the city.
You can read more about them here.
Drive Through An Industrial Park
The final part of the drive makes it feel like you are in the wrong location. You have to pass through an industrial park; don't worry you are heading in the right direction.
The lagoon is at the end of a peninsula, and is surrounded by a small park and beautiful coastal walkway.
What to Expect Once you Arrive at Sky Lagoon
When you get to the lagoon you check in at an information desk. There are two lines, one for walk-Ins and the other for pre-purchased tickets.
Sky Lagoon Prices
There are a few pricing options when booking the Sky Lagoon.
Pre Lite Pass – $48 Includes Sky Lagoon admission, public changing facilities, towel.
Pure Package – $68 Includes everything in pure lite plus one journey through the seven step ritual. Read more about that here.
Sky package – $95 Includes everything in pure plus private changing facilities and showers, sky lagoon amenities. (This is the one we choose.)
Walk In Vs Pre Purchase
I've been there twice and neither time was actually sold out so walk-ins were welcome. While it can sell out, a huge perk of the Sky Lagoon over the Blue Lagoon is that there is generally much more availability.
The line at the walk-in check-in was longer the last time I was there, as well as there is always a risk that walk-ins wouldn't be welcome due to capacity constraints.
I recommend getting your tickets ahead of time just to be safe.
If you would like a tour to do all of the access and transportation for you, I recommend this one here.
Tiers of Tickets Broken Down
The Sky Lagoon is a lot cheaper than the Blue Lagoon. If you do the most basic package, it is about half the cost (about $55 USD).
There are two main decisions you need to make when deciding which package to get.
Do you want your own private changing room and shower?
Do you want to do the full 7 step spa process that includes the sauna, cold mist, body scrub, and steam room?
The packages are called different things, but know that those are the decisions you are really making.
What the Basic Package Includes
Access to the main pool with views
Access to the pool bar
Access to the Cold Plunge
General Group Men's/Women's Changing Rooms
Cafe and lounge access after your swim
For a lot of people the basic package is sufficient. You get way more than I expected.
What you don't get access to without the 7 step ritual ticket
Sauna
Cold Mist
Body Scrub
Steam Room
Showers to use after the steam room
Access To The Big Main Pool With The Views
Simply looking to soak in the hot water while taking in views? You get full access to large geothermal pool. There are no parts of it that are blocked off.
Access To The Pool Bar
You get full access to the swim up pool bar with a basic pass.
Pay with your wrist band
I love being able to pay for drinks with a wristband.
When checking in they ask you if you want to pre-authorize a credit card for drinks so you don't have to worry about paying while in the water or after.
You just scan at the bar and then leave when you are done. No other checkouts required.
Side note: there is a restroom next to the bar so you don't have to swim all the way back to the locker room.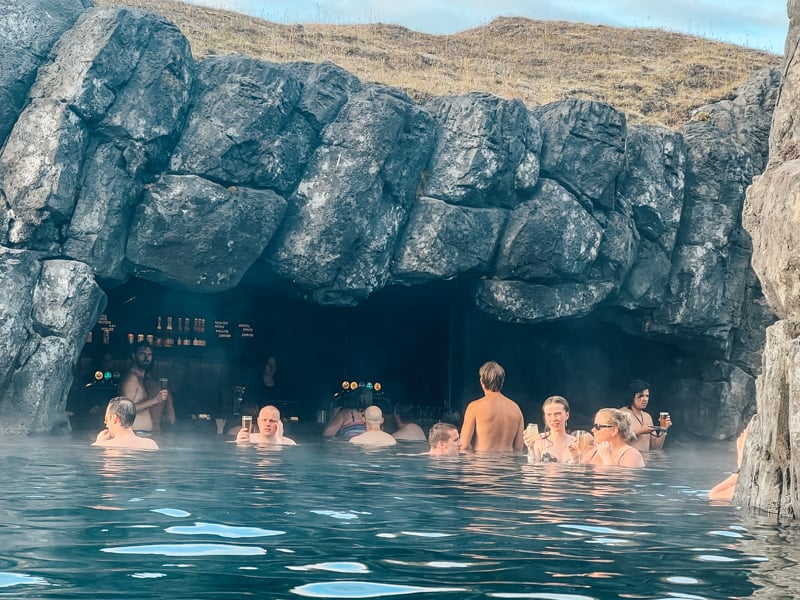 General Group Men's/Women's Changing Rooms
If you are content with a normal locker room and showers, then you likely won't have any problems here.
They do request that everyone shower before entering the geothermal pool.
Access To The Cold Plunge Tub
There is one cold plunge tub. They said it's about 10 degrees Celsius/50 Fahrenheit but when you get in it feels so much colder.
The longest we saw anyone be able to stay in was 5 minutes, while most people are only about 30 seconds.
I really enjoyed going back and forth between the cold plunge and the hot spring.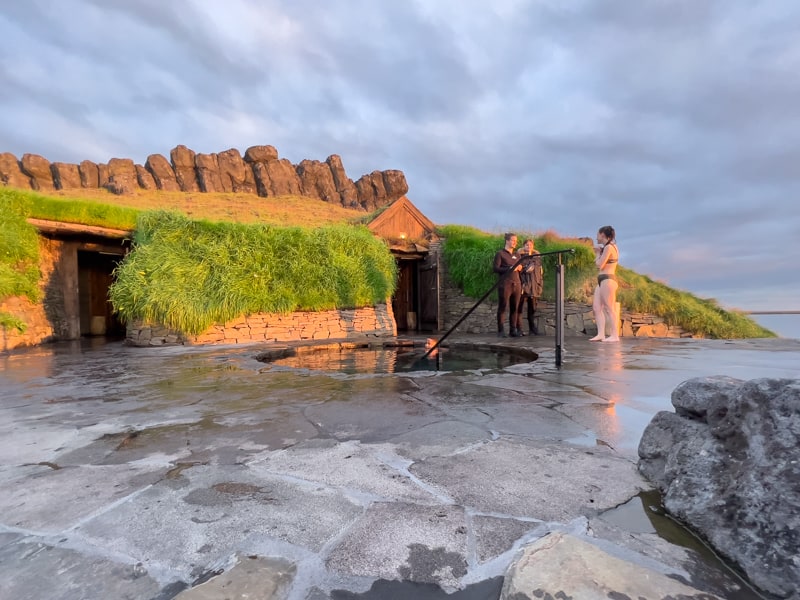 Cafe and Lounge Access After Your Swim
After your swim you can spend time in the cafe and lounge. We didn't expect to hang around, but the cozy fireplace feel made us relax a while longer.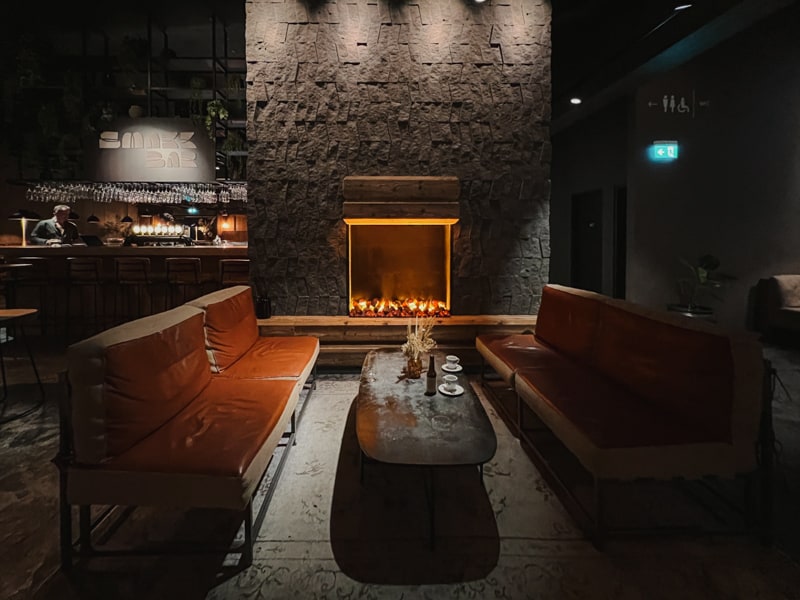 What The More Expensive Packages Gets You
The more expensive packages give you everything listed above, plus a few other perks.
I thought that I would be content with the basic package, but after experiencing once of the nicer ones I recommend one that at least includes the 7 Step Spa Ritual.
Why I Recommend the 7 Step Ritual
So I'm not normally into spa treatments at all. I feel like I generally can do a spa treatment at home and get the same effect, but there is something different about the experience here. I think anyone could enjoy it, men and women included.
What's included in the 7 Step Spa Ritual?
Lagoon
Cold Plunge
Sauna
Cold Mist (OMG this was incredible after the sauna)
Body Scrub
Steam Room
I love the temperature changes. Aside from proven health benefits, the temperature changes from hot to cold are incredible refreshing.
Step 1 – Soak in the Lagoon
Obviously.
Step 2 – Cold Plunge
Tip – Once you enter the door (to the right of the cold plunge on photo below) for the seven step ritual you will not be able to access the cold plunge again. Make sure to take full advantage and use it as much as possible before "officially" beginning the seven step ritual.
Step 3 – Enter the best Sauna in Reykjavik
Pretty sure this is one of the best saunas in Reykjavik.
The sauna is amazing! Even if you aren't a sauna person warming up in there after a cold plunge is awesome. I've never seen a sauna with such a view before. Even when there are lots of people on the sauna it still doesn't feel crowded.
Attendants ask you to whisper in the 7 Steps area, which helped me to further relax.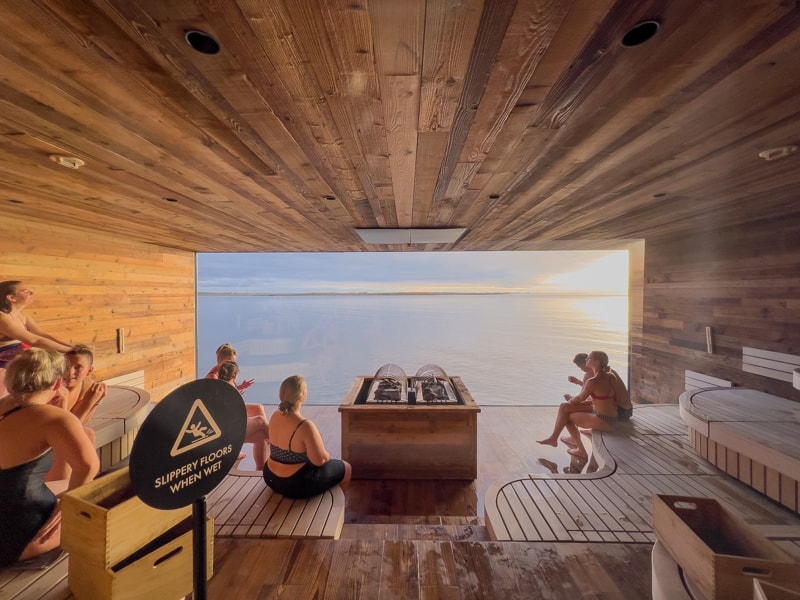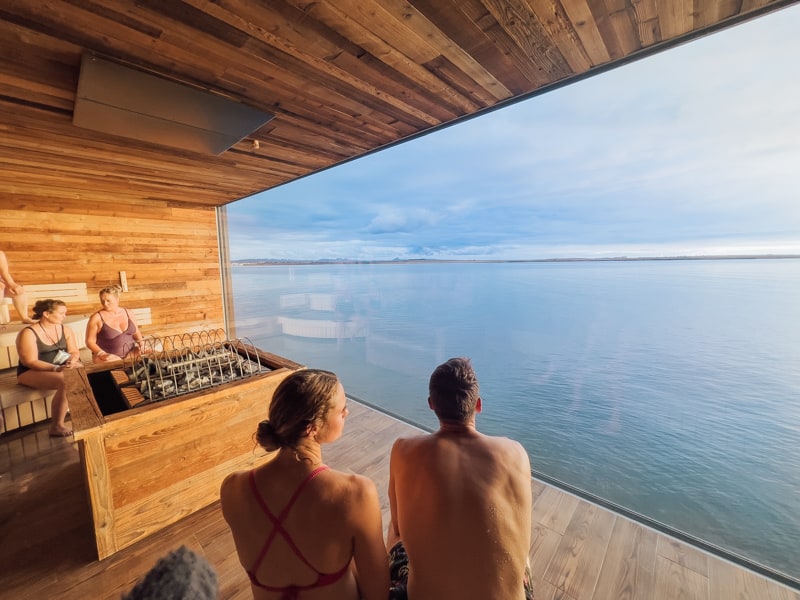 Step 4 – Cold Mist Room
After the sauna you go into the cold misting room. Cooling off after the sauna feels incredible.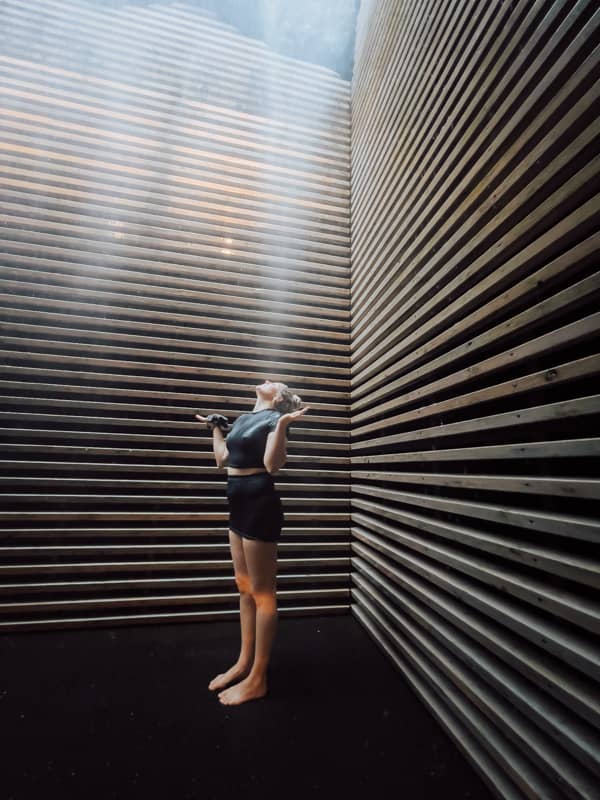 Step 5 – Body Scrub
After the cold misters you are given a bowl of the scrub to run onto yourself.
The body scrub is very mild, but ultimately makes your skin feel so soft. I have no idea how it works, but over and over again you would hear people being shocked at the results.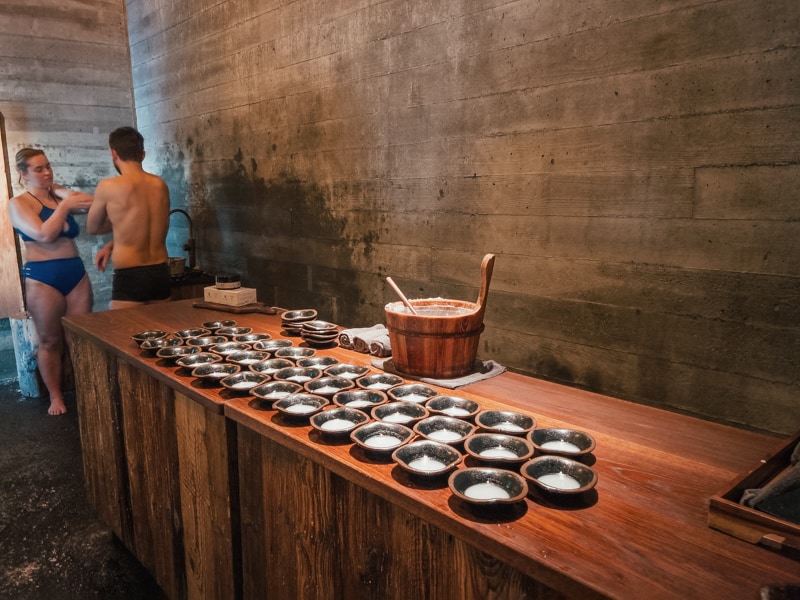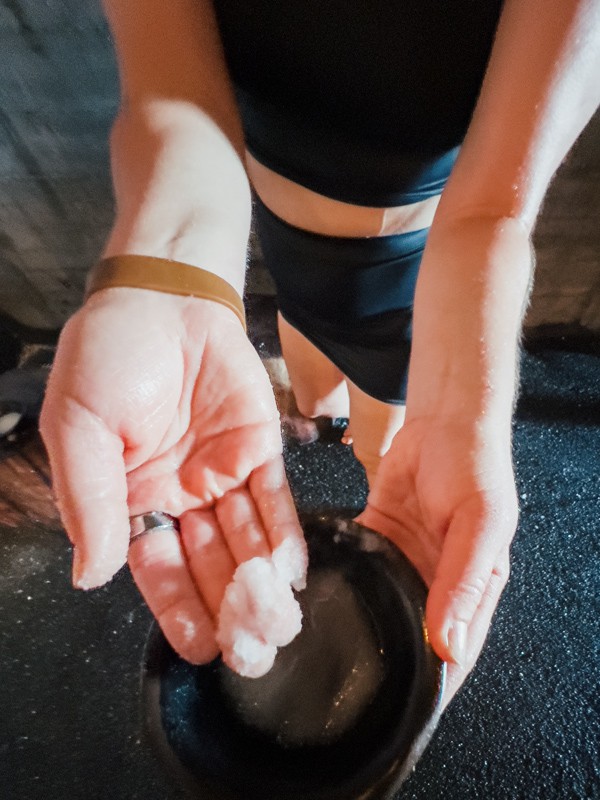 Step 6 – Steam room
You then enter the hot steam room with the scrub still on your body so it can set in.
Once again, the transition into the hot steam room is amazing.
Step 7 – Shower & Lagoon
After you are done in the steam room you can shower and then get back in the big pool.
Private Shower And Locker Room
If you value your privacy or want a more comfortable showering experience then you might want to pay extra for the private locker room and shower. It was worth it in my opinion.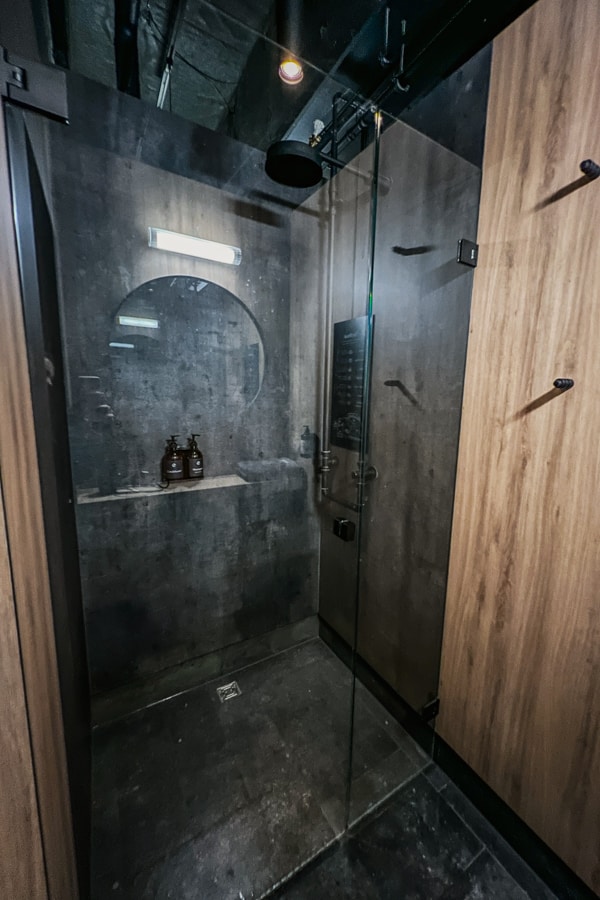 Would I recommend the 7 Step Ritual Ticket?
Yes! Absolutely.
In fact, I would say your experience won't be the same if you don't go for it. At first I only wanted the basic ticket but after my husband told me its only $9 more for the ritual I decided to give it a go and I am so glad I did. (Prices change depending on the season)
In general, you can stay in each step however long you like, which is great if you like a sauna but don't like the cold mist (or vice versa).
I legitimately found the experience refreshing and recommend you add it onto your package.
Side Note: while you start and ultimately finish the 7 Step Process in the big geothermal pool, other than the cold plunge you can only do the other steps once.
What The Geothermal Pool Is Like
Hot But Not Too Hot
Somehow they've struck a balance of the water being hot but not too hot. I've been in hot tubs where I've ultimately felt cold, and others where I felt like I needed to get out immediately to cool off. Thankfully that wasn't the case here.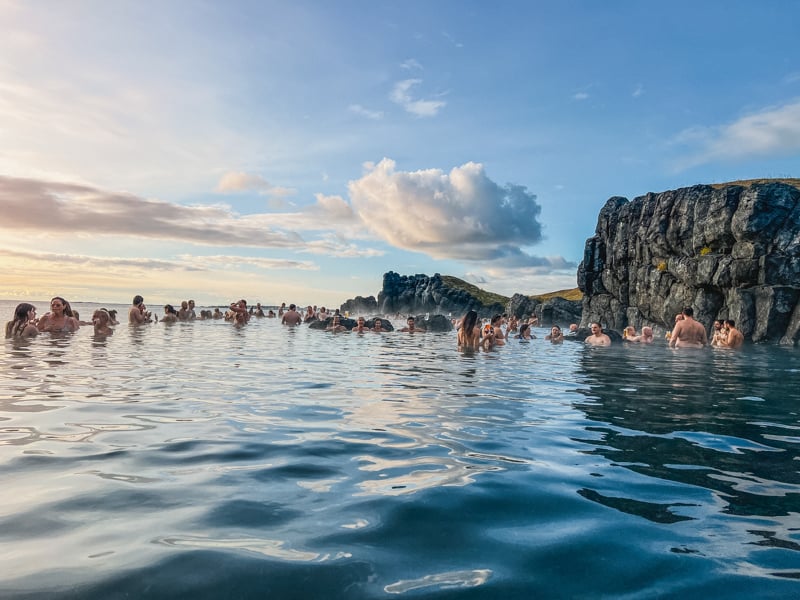 Bigger Than You Think
It was hard to gauge the size from pictures, but it was much bigger than I expected.
There are lots of rock nooks and crannies including inlayed seating for groups to spread out in.
Even at the busiest time we had no problem finding our own space.
Waterfall
I didn't realize there was a waterfall that you can hang out beneath if you like as well.
Sky Lagoon vs Blue Lagoon
Read our full guide to visiting Blue Lagoon here.
Pros
cheaper than Blue Lagoon
much easier to get a reservation, and generally walk-ins are welcome
gorgeous views
7 Step process is actually refreshing
located in Reykjavik
Cons
cheaper than Blue Lagoon, but still expensive
not as big as Blue Lagoon
don't get the milky blue waters and as much lava rock
while still being heated by geothermal waters, it doesn't feel as natural as the Blue Lagoon.
What to bring to the Sky Lagoon?
All that you really need to bring is a swimsuit. They offer free towels there and they also have shampoo and shower gel.
Conclusion
Overall the experience is great and highly recommended. It is perfect for a soak after a full day of hiking!