If you've never been in a gondola and are looking for a quick one that will give you great views from the top of the US Virgin Island of St. Thomas then you might want to consider the St. Thomas Sky Ride to Paradise Point.
It's not the longest gondola ride or the most glamorous, but if you've never done one it is still pretty cool. If you don't want to ride in the gondola you can actually drive up there yourself. The top is called Paradise Point.
It is especially fun with kids to ride up in the "sky bucket."
Things to know before you go:
Free Wi-Fi is available at the top of Paradise Point
Discounted tram tickets are available on some evenings.
Some cruise passengers can save a couple bucks by booking an excursion directly through the ship.
Booking A Spot On the St Thomas Skyride
You can easily get this as a cruise excursion to get a quick bird's eye view of the island, and trust me, St. Thomas is beautiful.
As much as I love St. Thomas I would recommend that the first thing you do is go snorkeling, but if you get your fix elsewhere and are looking for a unique adventure head here.
You can book your tickets in advance.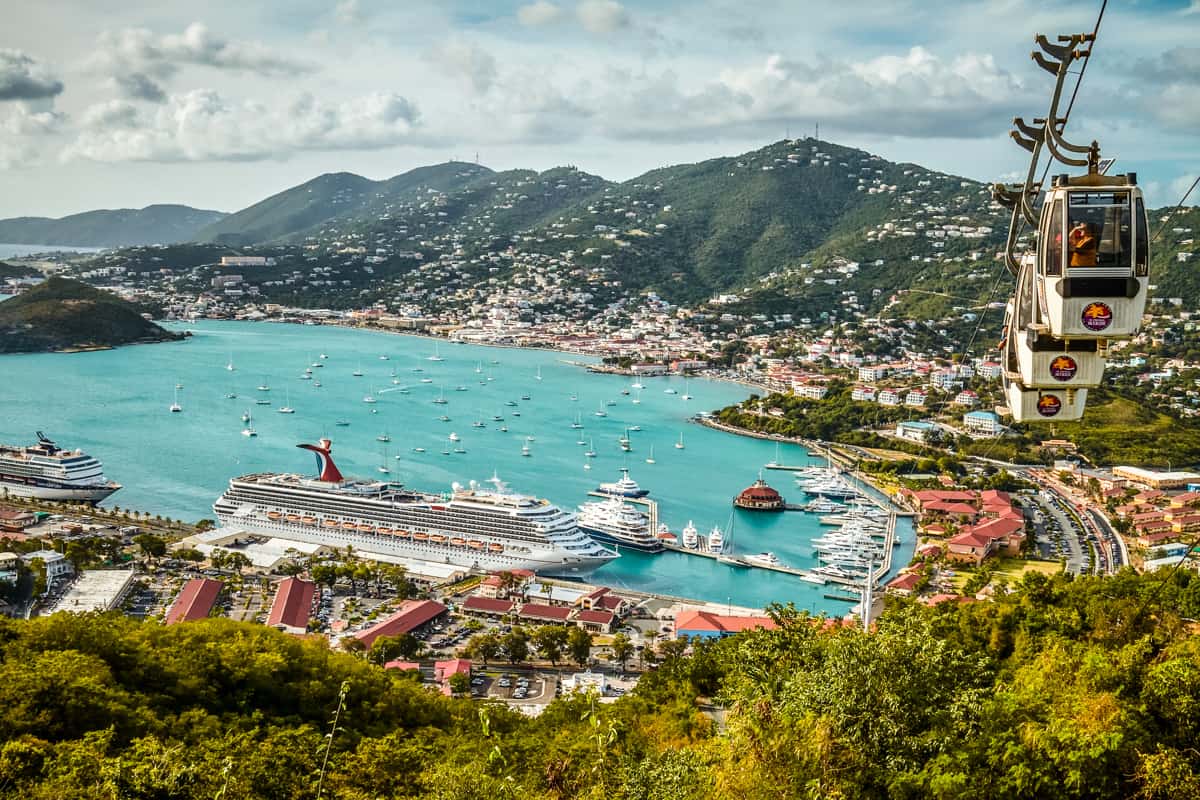 St. Thomas Skyride Price
As of May 2023, tickets are $24.95 for adults and $16.95 for children. Check current prices here.
You will see a lot of different prices, especially if you book it as a cruise excursion. You are very lkely to be able to save money by booking yourself and taking a taxi. You can expect to pay about $24 per person.
Hours
The St. Thomas Skyride schedule will coincide with the cruise schedule and season. Typically, you can expect opening hours to be 9am on ship days but it can vary. Check out the schedule here for the most up-to-date hours of operation.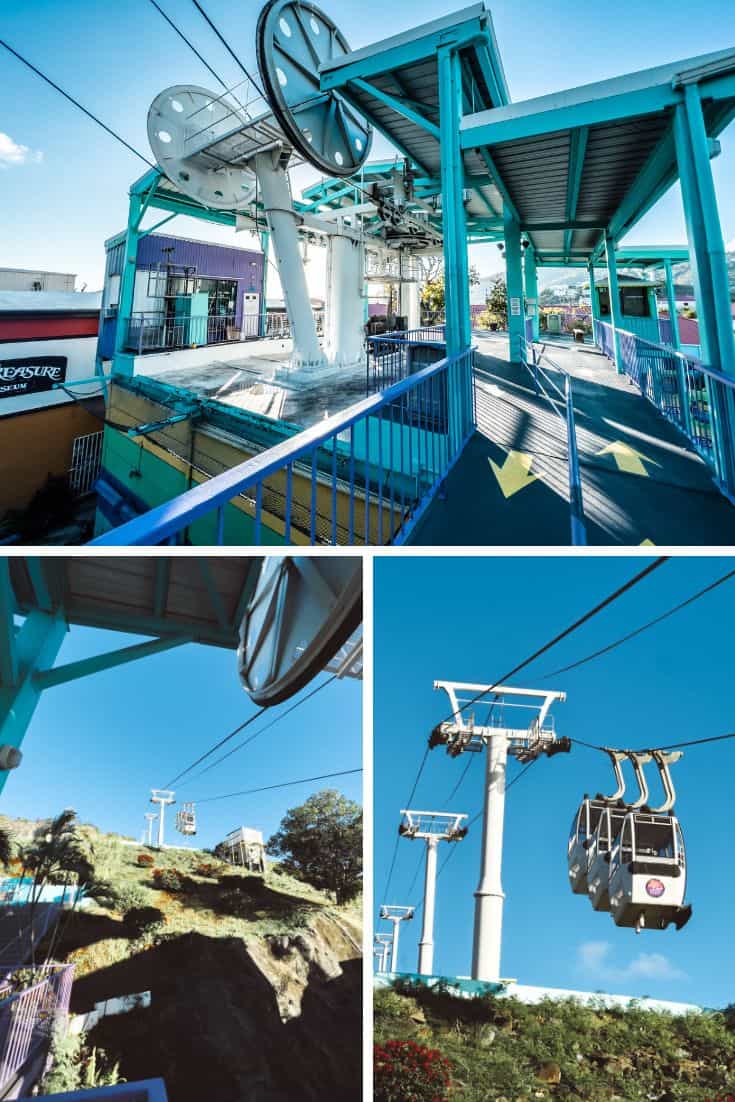 Paradise Point
At the top (Paradise Point) there is a restaurant to go with the amazing views. You can also get drinks and snacks.
For those with a car you can simply drive to the top as well.
Tip – When in the US Virgin Islands I recommend renting a car to get the most out of your experience. It would be difficult to see all the beautiful places in the islands without a car. Reserve a car here.
What to do at the Top pf Paradise Point
Walk on the Skywalk
Eat at the Paradise Point Restaurant
Shop at the local souvenir shops
Enjoy the spectacular views
Grab a drink and lunch
Paradise Point Restaurant St. Thomas
Once you arrive at the top, you can grab a drink and relax at the on-site restaurant. It serves up terrific terrace views; as well as the island's signature Bushwacker, a particularly potent, coffee-flavored rum cocktail.
Other Amazing Viewpoints
There are other places that you can get a good view of the island, at Drake's Seat or the Charlotte Amalie Overlook, those you can get via rental car or even taxi. Recommend checking them out as they are each free. For noting, you will be at Paradise Point at the top of this gondola.
If you do take the gondola up to the top you will find that you are looking down at the town. There is a restaurant up top.
Is it scary?
Was it nerve-racking? If you've never been on a gondola maybe a bit as each little bump and adjustment of the car can make you think it is falling off of the track though it's not.
I've seen kids get nervous, but in general most people find it fun.
Location
The bottom beginning of the St Thomas skyride is in the middle of Charlotte Amalie, and it's really close to the cruise port.
How to get to the US Virgin Islands
Most people get to the US Virgin via cruise ship. This limits them to one or two quick excursions on the islands (still amazing). For those looking to spend more time, flights are available, though they can be a little bit tricky.
The main airport is on the island of St. Thomas generally has flights from the biggest US airline hub cities (New York, Atlanta, Miami, etc) which means that if you don't live in one of those cities you have to connect probably have spend a little bit more. Further, lots of these flights only operate on certain days of the week. This means that if you are looking to book a flight and you don't see options, or it is obscenely expensive try changing the day of the week!
The US Virgin Islands are generally a little bit more expensive across the board than other places in the Caribbean.
The only real budget airline offering flights is Spirit Airlines from Orlando and Fort Lauderdale. I know people love to hate Spirit Airlines, but when we flew them on the quick flight down from Florida we saved a ton!
Remember that if you want to go to St. John you are still going to have to fly into St. Thomas.
There is no commercial airport on the island of St. John, but there is frequent and fairly cheap ferry service (car or passenger). You can read about the ferries here.
For those wanting to go to St. Croix, you will have to book one of the even less frequent and quite expensive flights in from the mainland, as it isn't close enough for regular ferry service.
Conclusion
Is this the most exhilarating attraction? No, but it doesn't mean it isn't fun. I would prefer to see one of the beaches on St. Thomas, but if you've had your fill then maybe you should consider the gondola to a cool viewpoint.
Best beaches in St. Thomas (best to worst)
Lindquist Beach – My #1 favorite beach on St. Thomas! This beach is absolutely unreal! Very underrated IMO. Check out this video and you will know exactly what I mean.
Magens Bay – This beach is just absolutely stunning! There is so much space, it has all the amenities, plenty of parking and taxis and well as numerous bathrooms all along the beach. The only hit this one takes is the water was not as 'glowing' turquoise as Lindquist or Coki Beach. Also, it is much more crowded.
Coki Beach – This is my 3rd favorite & my husbands least favorite. Ha. I loved the snorkeling and the BRIGHT turquoise water. He did not like that there was not a lot of sand and it was crowded. As well as people doing drugs on the beach (when we were there). I didn't mind. Definitely more of a party beach.