Looking for a cool vantage point of the island of St. Thomas? From above, the geography of this island is stunning! The rugged mountains and clear turquoise water look extra alluring from up high.
It's no surprise that directly next to this viewpoint multi-millionaires have built mountain villas that share substantially similar views as Drake's Seat. While you don't get the villa, you can enjoy the same view for free. Make sure you have you (or your drive) stop so you can quickly take in this breathtaking view.
Drake's Seat Quick Tips:
Other Names: Drake's Lookout
Known for: views of the entire north side of the island of St. Thomas
Facilities: just a pull off the side of the road parking lot
Parking: only a handful of spots, but everyone will be in and out quickly
Cost: free
Other: go to the next door and better views at the Charlotte Amalie Overlook Instead
Hours: 24 hours a day, but realistically only worth stopping at when the sun is up
History of Drake's Seat
There are a few amazing viewpoints, but one of the most popular is Drake's Seat. This is named after Sir Francis Drake, who if you aren't familiar, was basically just an explorer and pirate that England deputized to act on their behalf. Sir Francis Drake has a complicated history with slavery and wars against the Spanish.
This is supposedly the spot where Sir Francis Drake looked out the seas to see incoming vessels.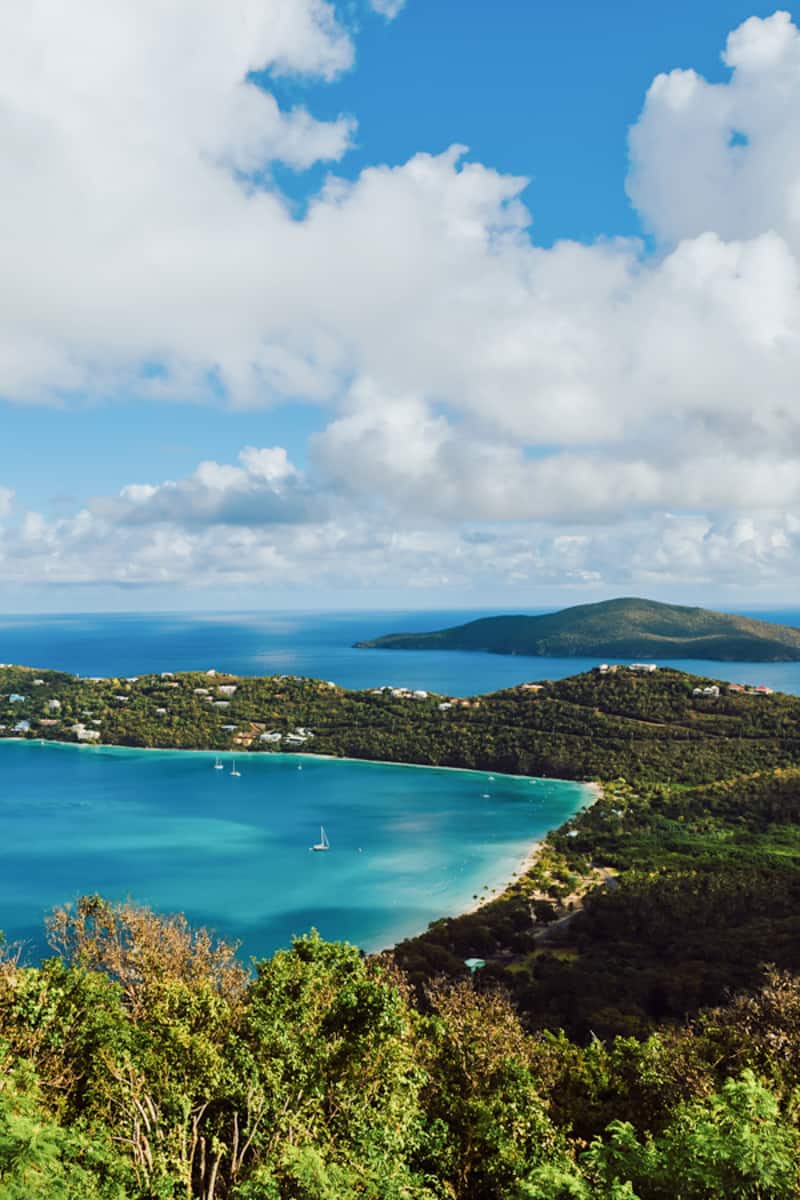 How to Get to Drake's Seat
It is really easy to access Drake's Seat on the island of St. Thomas. If you are have a car all you have to do is drive straight up the mountains to one of the highest vantage points. From the airport it will take you less than 15 minutes and from the cruise port it will take you less than 10.
There are plenty of taxis available at each, and it isn't really out of the way if you want to go to Magens Bay Beach (incredibly popular excursion).
Most taxi drivers are willing to stop by for a couple minutes without making you pay anything extra.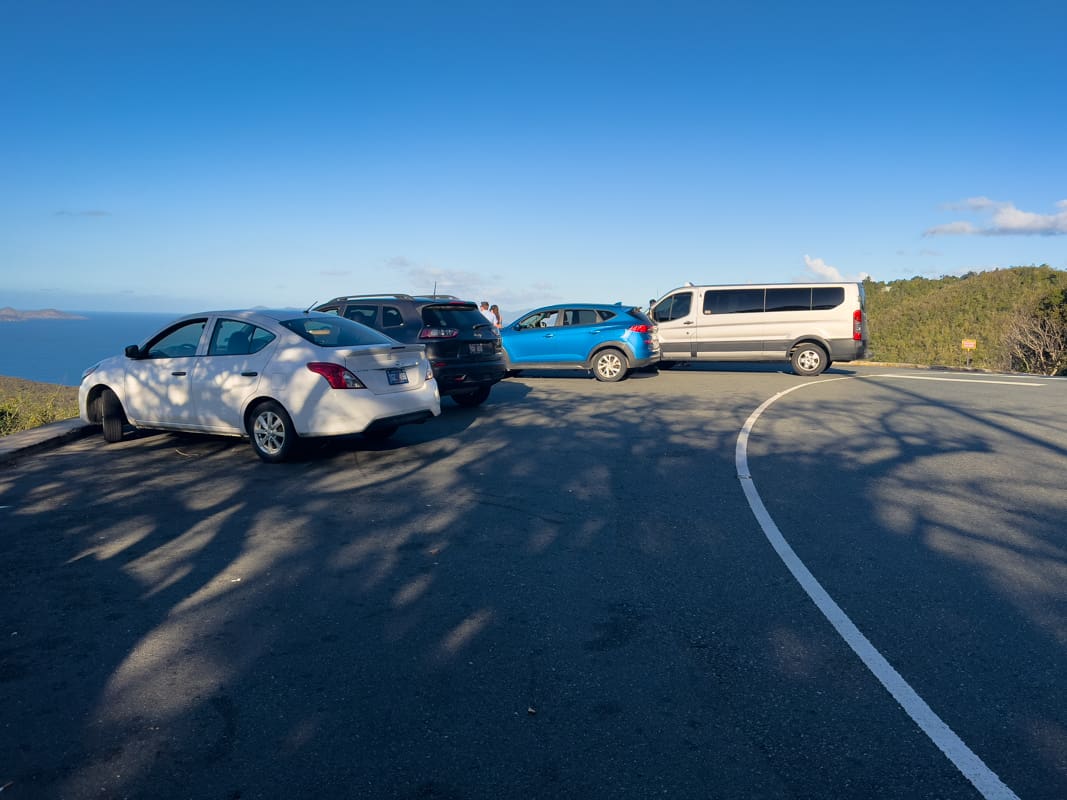 Warning on Driving
For those who are traversing the island in their own rental car beware. The roads up and over the island are quite steep! The locals are familiar with all the twists and turns so they will be going much quicker than you will probably feel comfortable matching.
Also remember that in St. Thomas you drive on the left side of the road, but in a car where the steering wheel is still set up on for driving generally done on the right side (it is a bit of an adjustment to get used to).
Things to do near Drakes Seat
Magens Bay – Amazing beach, highly recommend. 8 minute drive away
Conclusion
Drake's Seat viewpoint is nice and worth a quick photo! That being said, there is a better view less than 1 minute away. If you only have time for one then go to the Charlotte Amalie Overlook instead. It has views of the other side of the island that include the city of Charlotte Amalie as well as the harbor and surrounding islets.
Best beaches in St. Thomas (best to worst)
Lindquist Beach – My #1 favorite beach on St. Thomas! This beach is absolutely unreal! Very underrated IMO. Check out this video and you will know exactly what I mean.
Magens Bay – This beach is just absolutely stunning! There is so much space, it has all the amenities, plenty of parking and taxis and well as numerous bathrooms all along the beach. The only hit this one takes is the water was not as 'glowing' turquoise as Lindquist or Coki Beach. Also, it is much more crowded.
Coki Beach – This is my 3rd favorite & my husbands least favorite. Ha. I loved the snorkeling and the BRIGHT turquoise water. He did not like that there was not a lot of sand and it was crowded. As well as people doing drugs on the beach (when we were there). I didn't mind. Definitely more of a party beach.
How to get to the US Virgin Islands
Most people get to the US Virgin via cruise ship. This limits them to one or two quick excursions on the islands (still amazing). For those looking to spend more time, flights are available, though they can be a little bit tricky.
The main airport is on the island of St. Thomas generally has flights from the biggest US airline hub cities (New York, Atlanta, Miami, etc) which means that if you don't live in one of those cities you have to connect probably have spend a little bit more. Further, lots of these flights only operate on certain days of the week. This means that if you are looking to book a flight and you don't see options, or it is obscenely expensive try changing the day of the week!
The US Virgin Islands are generally a little bit more expensive across the board than other places in the Caribbean.
The only real budget airline offering flights is Spirit Airlines from Orlando and Fort Lauderdale. I know people love to hate Spirit Airlines, but when we flew them on the quick flight down from Florida we saved a ton!
Remember that if you want to go to St. John you are still going to have to fly into St. Thomas.
There is no commercial airport on the island of St. John, but there is frequent and fairly cheap ferry service (car or passenger). You can read about the ferries here.
For those wanting to go to St. Croix, you will have to book one of the even less frequent and quite expensive flights in from the mainland, as it isn't close enough for regular ferry service.