The Road to Hana is a highway on the island of Maui (Hawaii) that crosses over 50 bridges and passes more than 18 Maui waterfalls across 54 mesmerizing miles.
While some of the waterfalls on the island may require a challenging hike, there are many that are just a short step off the main highway.
Don't get me wrong; I've enjoyed a lot of long hikes to get to a waterfall. If that's what you're looking for, then rest assured that more stimulating hikes are available in Maui.
These waterfalls make for the perfect Maui adventures because they're ideal for those who aren't capable or don't want a four-day treks. Many can even been seen from your car.
What to Pack? Before traveling to Maui, make sure to read my Hawaii Packing List guide so you can know exactly what you need to bring to Hawaii.
How We Chose The Best Waterfalls Maui Offers – Easy Access
Most times, when you want to see a waterfall it takes a ton of effort to get there. One of the best things about a lot of Maui waterfalls or Maui waterfall hikes is that you can easily access so many of them with just a short walk. If you do choose one that involves a slightly longer hike, you'll often be treated to plenty of waterfalls along the way.
Most are easily accessible without long drives, meaning you can get to multiple waterfalls in one day.
To Avoid Crowds – Maui Hikes Are Better Later in the Day…
Sometimes these waterfalls can get crowded – likely to their ease of access. However, later in the day, usually just before sunset, we were shocked to have a couple of these entirely to ourselves! The early bird doesn't always get the worm with Maui waterfalls.
Related article: 11 Cool Things to do in Maui Hawaii
6 of the Best Waterfalls in Maui
You won't have to hike more than a mile to get to any of these waterfalls.
1. Twin Falls Maui
Despite being sold as underrated by many guide books, Twin Falls with its multiple swimming pools and Tarzan-esque rope swing is one of the best things to do in Maui with kids.
Many are put off by the usually busy parking lot, but because the falls are located in a spacious area. Even when the parking lot is packed the waterfalls are often don't feel crowded.
Twin Falls is not the only waterfall in this area; you can keep going along the trail to find several other waterfalls that are great for swimming.
Follow the little river to find a series of different pools to swim in as well as smaller falls that get quieter and quieter as you move away from the main swimming area.
Lots of people don't go beyond the first pool, which is probably why it was so PACKED – the busiest of any of the waterfalls we visited. We did go on a Sunday afternoon in high season though.
Where to Find Twin Falls Maui:
Located around mile marker #2, Twin Falls Maui is the first easily accessible falls on the road to Hana when heading from north to south. The parking lot is big, and there are vendors selling fresh local fruit.
Getting to the main pool is a super easy 0.5-mile walk along a well-cut jungle path alongside the Ho'olawa Stream. At the half-mile mark, the track will split off into two footpaths.
The path to the left will take you to the main waterfall – called the 'Caveman' because of its rope swing – and the right-hand route to a series of smaller waterfalls and pools along the river.
Book your tour: 5-Hour Waterfall & Rainforest Hike with Picnic Lunch
2. Upper Waikani Falls (Aka the Three Bears)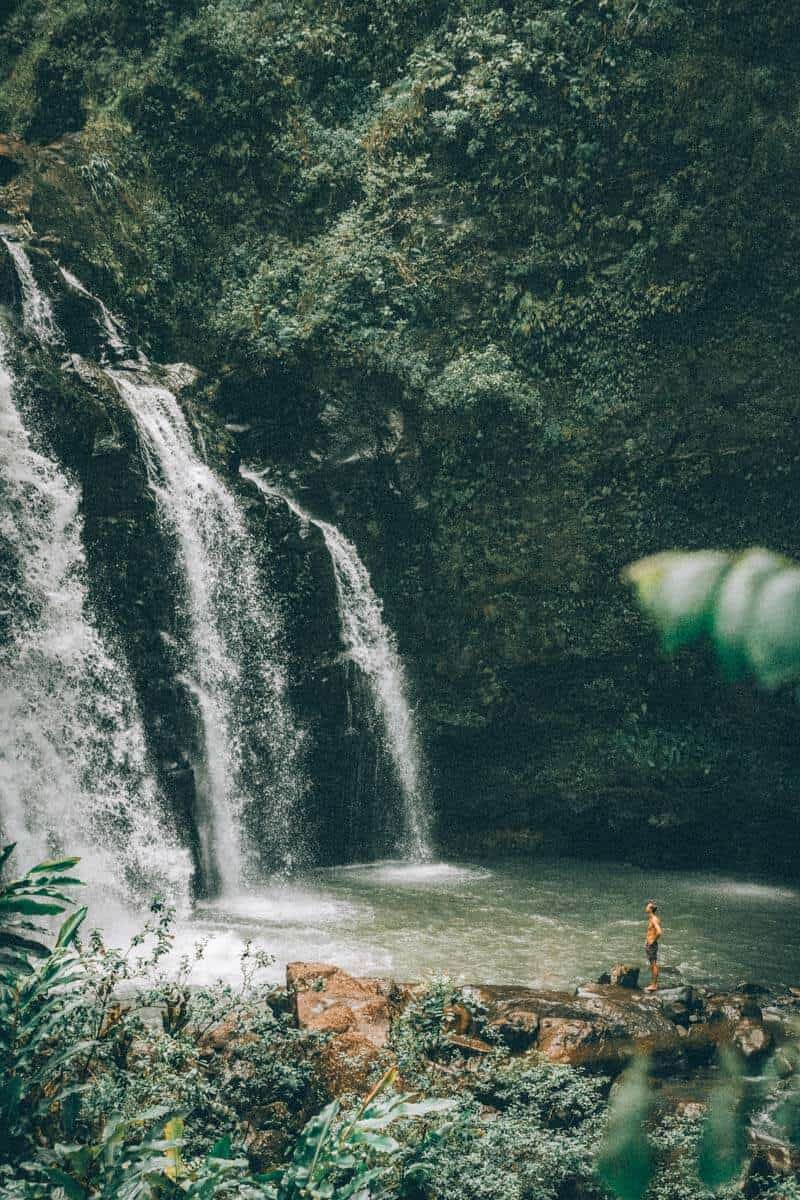 One of the Hana Highway waterfalls, the Upper Waikani Falls – also known as the Three Bears because of its three separate waterfalls of different sizes – is an extraordinary triple waterfall with a plunge pool. Water cascades from 70 feet into the Wailua Nui Stream below.
Despite being one of the best waterfalls in maui you can drive to, the lack of parking and ease of roadside viewing means few people feel the need to walk down. As the falls are just off the road, many people don't actually stop in at the waterfall. They just take pictures from the bridge and drive off, so there are not always as many people swimming.
For those that do venture down, the Three Bears are great to swim in, with beautiful, crystal-clear water. The water isn't deep enough to cliff jump in because there are rock hazards. But if you have your heart set on diving in, don't worry, there are others!
Where to Find Waikani Falls:
Situated just past mile marker #19 on the mountain side of Hana Highway, Waikani Falls is a drive-up waterfall, and undoubtedly one of the best waterfalls in Maui. If you'd like to stop and swim here, you'll find a parking lot just behind the falls, located about 1/10 mile past them.
When Upper Waikani is at a safe flow rate, you can take a short hike down to the waterfall and swim. Getting down to the trail requires a bit of a steep jump from the bridge, so watch your footing as you're stepping down towards the pool!
After parking you'll have to walk back along the road, which is narrow and has no shoulder to walk on. It can be dangerous in a way you might not be expecting, as the road can be busy, so be careful!
3. Makapipi Falls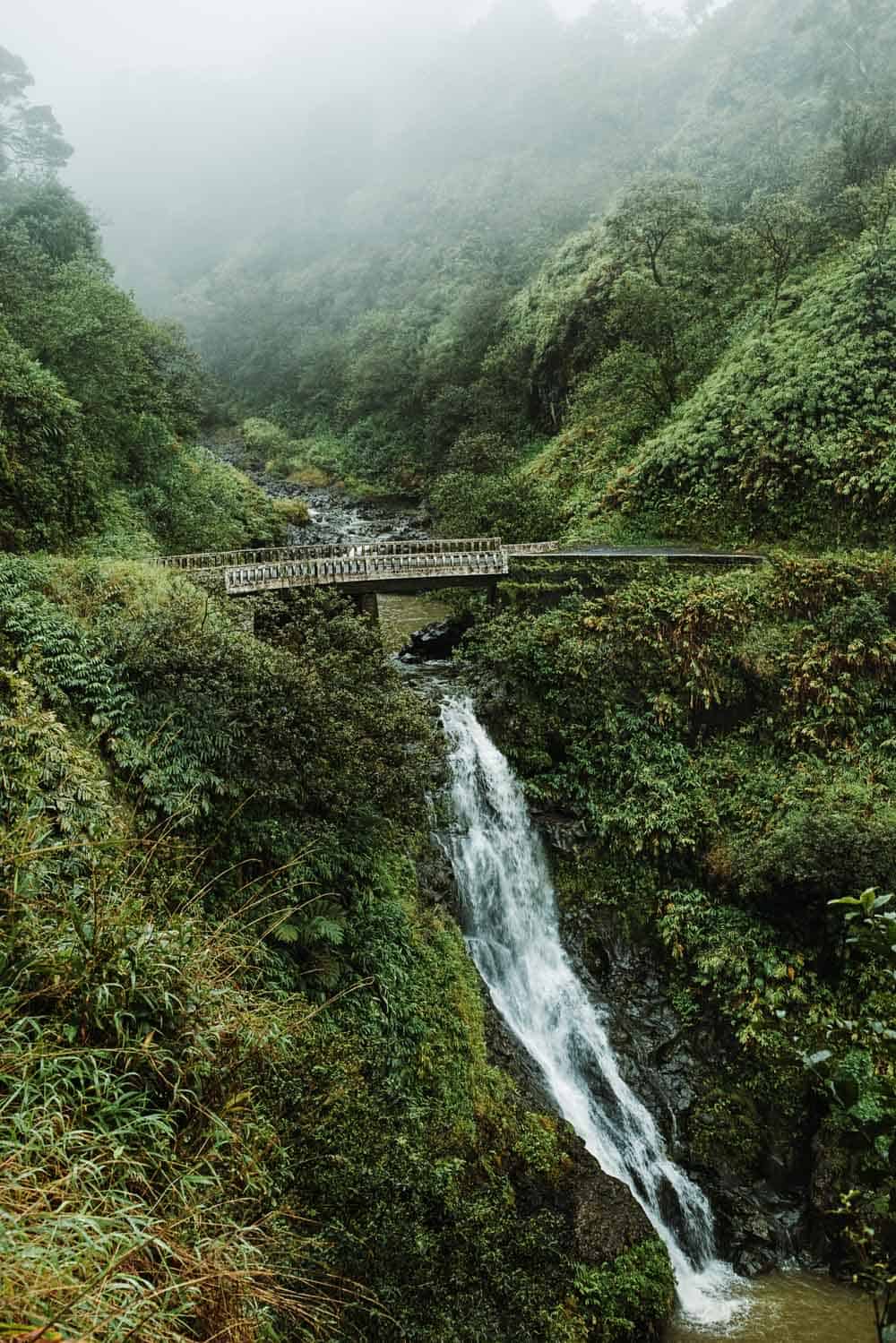 Makapipi Falls is another roadside waterfall. It's utterly unique because, unlike any of the others, you're able to look down on this 40-foot waterfall from above.
Tucked away beneath the bridge leading across the Makapipi Stream, you'll get an amazing and unique view of these mighty falls as they tumble into the pools below. This waterfall in Maui is seasonal, which means the amount of flow depends on the amount of rainfall – dry season = no waterfall.
Where to Find Makapipi Falls:
Located just after mile marker #25, Makapipi Falls is another Maui waterfall that's immediately off the road to Hana. Park your car on the side of the road and walk around to view the waterfall over the railings.
4. Pools of Ohe'o (Seven Sacred Pools)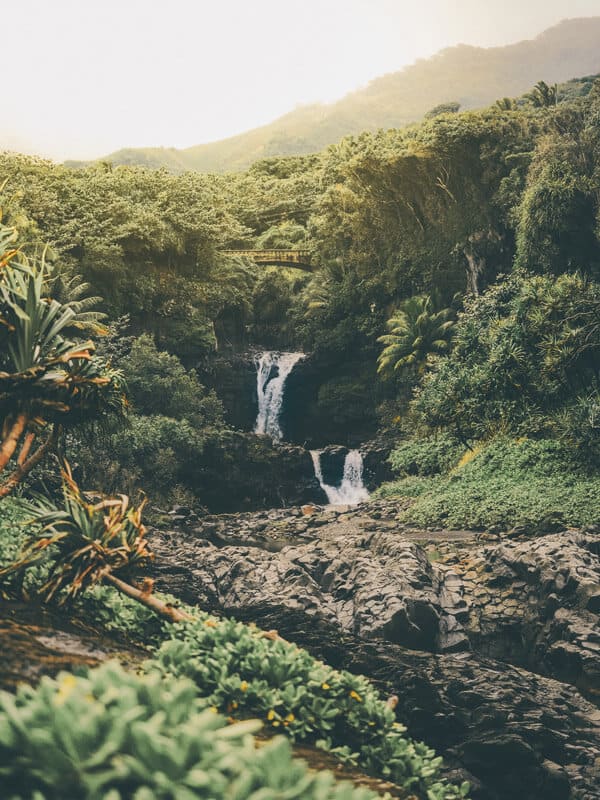 The Pools of Ohe'o is the most popular attractions in East Maui. This is mainly because of is exhilarating cliff-jumping opportunities. A picturesque series of tiered waterfalls cascade into a series of scenic swimming holes called the 'Seven Sacred Pools.'
The waterfalls are super popular, so expect to be joined by plenty of people, but they're big enough that it won't feel crowded. Weaving your way through the trees you'll come across the most amazing Bamboo forest hike Maui has to offer.
This is one of the best waterfalls in Maui that you can swim in.
The pools are perfect for both swimming and cliff jumping; this waterfall is one you can hang out at for a while. Like lots of places in Hawaii, they have signs up that say no jumping, but everyone seems to ignore them. It feels like the law requires it, but park officials don't really care about enforcing it. I was content to watch people jump rather than cliff jumping myself!
The Pools of Ohe'o are not super close to lots of the main hotels in Maui, so we'd recommend heading to the pools and the Bamboo Forest Maui if you're staying nearby or planning to do a big island loop or a road trip along the road to Hana.
We had read that these pools were closed recently, but it wasn't true for us when we visited in March 2019 – it's definitely open, though it will be closed after heavy rains.
Book your tour: 3-hour Rainforest & Waterfall Adventure for Families
Where to Find the Pools Oh Ohe'o:
Located at mile marker #42, the remote Pools of Ohe'o are located at the far end of Maui, beyond Hana, yet they're still very popular.
From the car park, you'll walk a loop of half a mile along the Kuloa Point Trail to reach the waterfall, which takes around 10 minutes.
As the waterfalls are located inside Haleakala National Park – home to the best Maui Volcano Hike – you'll have to pay a national park fee.
The Pools of Ohe'o are one of the few where you have to pay to get in, which is annoying, but at $15 per person (or $25 per car) it isn't too bad.
5. Wailua Falls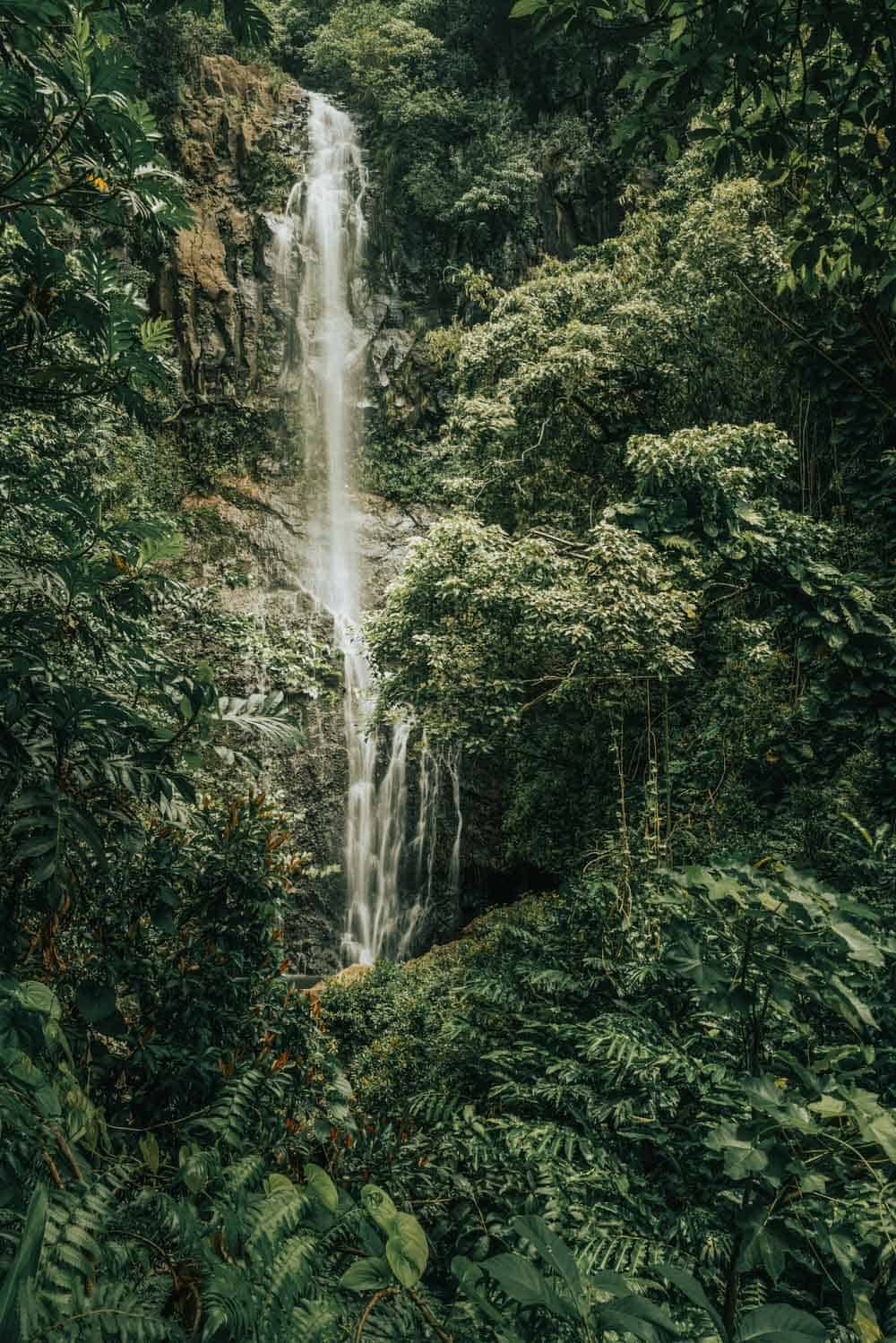 Wailua Falls is a remarkable waterfall set within the Maui rainforest that's visible from the Hana Highway – you don't even need to get out of your car to see it!
Tumbling down a backdrop of Hawaiian jungle into a crystal-clear plunge pool, this 80-foot high waterfall is nicknamed 'Maui's most photographed waterfall,' for obvious reasons. Because of its photogenic nature and roadside visibility, this waterfall is often very crowded. But as most of the crowds come in the form of tour buses, if you time it right, you can have the waterfall pretty much all to yourself later in the day!
Where to Find Wailua Falls:
Wailua Falls is another side of the road waterfall located just after mile marker #45 on Honolewa Stream (not Wailua Stream, which is just before it) at the end of the famous road to Hana.
The falls can be found just beyond Hana – you can't miss it on the side of the road! Clues that you've arrived at the right place: you'll be able to see the waterfall, and there'll likely be loads of people taking pictures of it on the bridge.
Unlike many other waterfalls on this list, Wailua Falls has plenty of parking, which is probably why it's so popular.
The waterfall is absolutely amazing to see, but it's not the easiest of the Maui waterfall hikes to get to. While many people stick to viewing the waterfall from the road, you can take the short but wet trail down to the plunge pool for an energizing swim.
6. Honokohau Falls
Honokohau Falls is the tallest waterfall in Maui and the most extraordinary to see. With water thundering down over 1,100 feet, this two-tiered cascade is unfortunately not a waterfall that can be hiked to.
It's hidden away on the slopes of the West Maui Mountains (and supposedly requires you to cross private land).
So why did I include it? Well, because you can access it via an astonishing helicopter ride! I didn't get to do this one, but I've heard it's incredible and hope to tick it off the bucket list next time.
Book this tour: Maui and Molokai Scenic Helicopter Flight
Where to Find Honokohau Falls:
Unlike the other waterfalls mentioned in this list, Honokohau Falls is not found on the Hana Highway. Instead, it lies within the lush greenery of an inaccessible mountain valley in western Maui, and there are no west Maui hikes that can reach it.
Visiting Honokohau Falls by helicopter may be easy on your knees, but not on your pocketbook! It's definitely worth it though if you have the cash to spare.
Whether you're looking for the best hikes in Maui or things to do in Maui with kids, you'll find a plethora of great waterfalls on this one-of-a-kind Hawaiian island!
What are your favorite waterfalls in Maui?
What to Pack for Maui