The islands of Japan are full of picturesque towns and photogenic landscapes. With the length of the archipelago being covered in a variety of climates, foliage, and mountains, there is something beautiful in every glance. Nature and cityscapes mesh together perfectly, so whether you are seeing the sights from a shinkansen window or are hiking around on foot, you're going to want to have your camera ready for the most beautiful places in Japan.
Need help planning your trip to Japan? Check out 5 Ways to Save Money Planning a Trip to Japan
Most Beautiful Places in Japan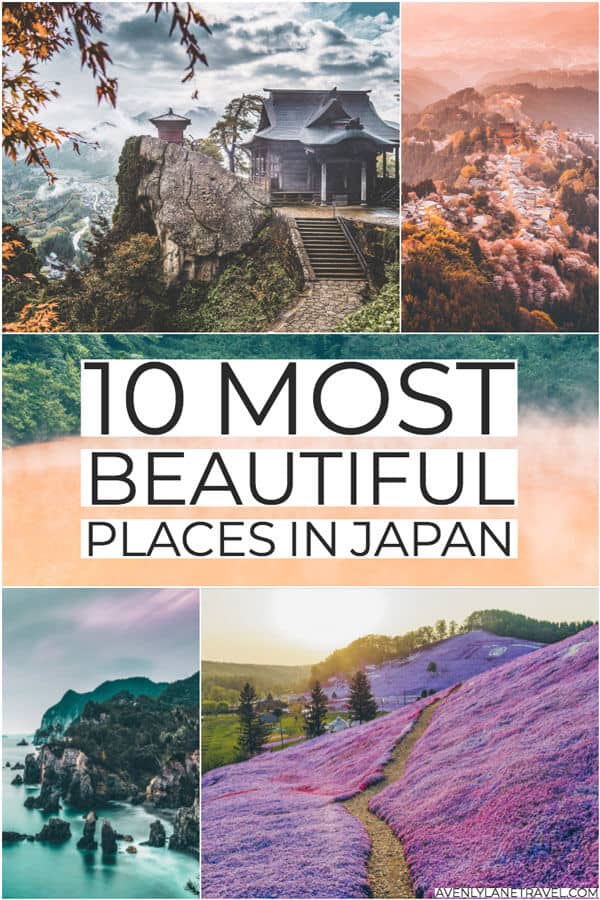 Kochia Garden at the Hitachi Seaside Park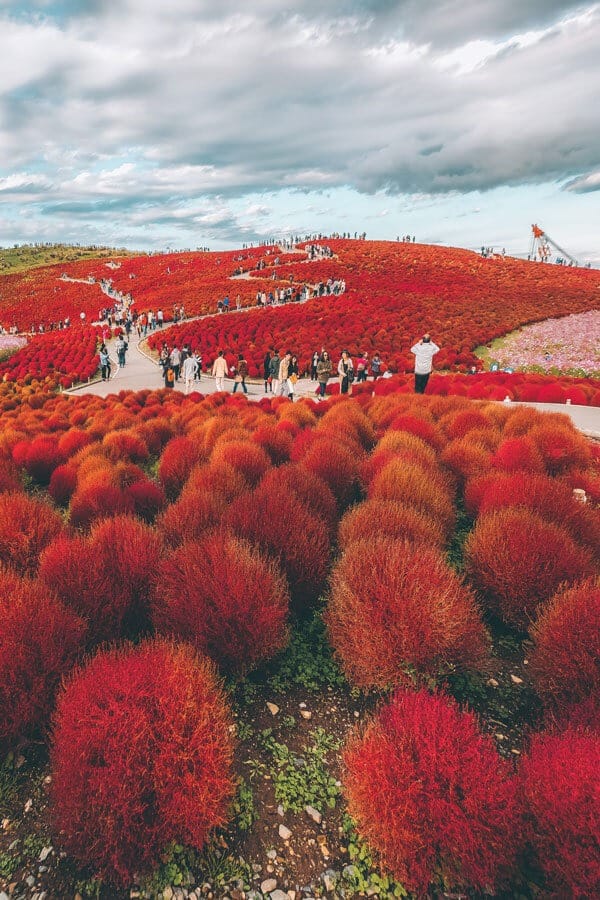 Though Hitachi Seaside Park is famous for the beds of baby-blue nemophilas flowers that blanket the rolling hills in the springtime, another season's emergence reigns supreme. In autumn, the park is covered in a bright crimson, thanks to the blossoming bassia bushes (known as kochia in Japanese). However, whenever you choose to visit, Hitachi Seaside Park has over 470 acres (190 hectares) of bright flowers, ocean views, and more to explore.
Takachiho Gorge, Miyazaki
Steeped in Japanese mythology is Takachiho, and amongst one of these ancient places is the Takachiho Gorge, which was carved out by the Gokase River many years ago. There's two ways to see the gorge in full: rowing a boat down the river to see the cliffs from below, or walked the bridges and pathways that run along the edge of the gorge. Be sure to stop by Minainotaki Waterfall and Takachiho Shrine for astounding views of the area.
Omijima, Yamaguchi
Are you ready for epic sunsets, rock formations, and beaches? Then Omijima in Yamaguchi Prefecture is the place to visit. The coastline is riddled with jaw-dropping cliff sides known as the "Alps of the Sea." Since many of the rocks are unusually shaped above and below the ocean, scuba diving is also a popular pastime in Omijima.
Nachi Falls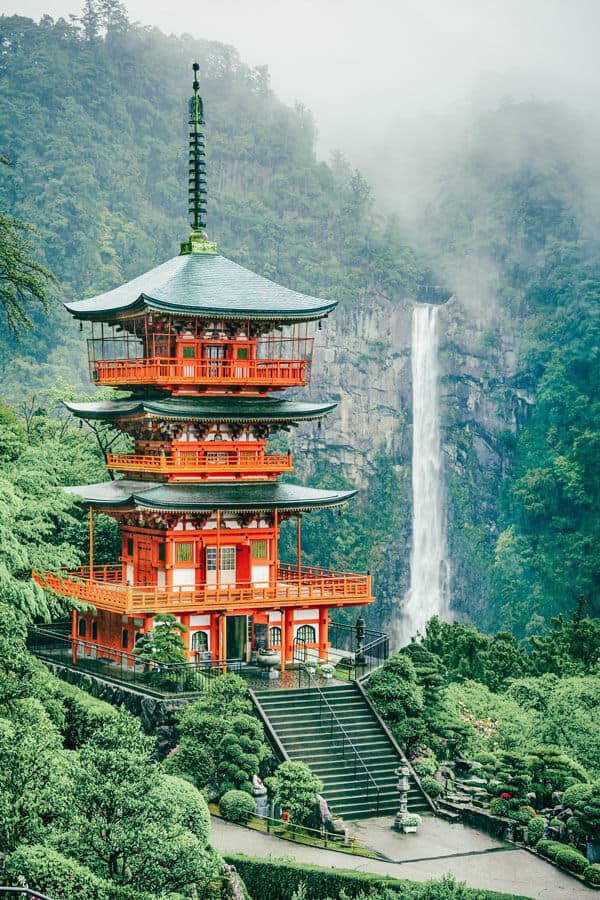 The tallest waterfall in the country, Nachi Falls, is located in Wakayama prefecture. The water rushes from a sharp cliff to drop 436 feet (133 metres) into a surging river. Overlooking the river is the stunning 1,400 year old Nachi Taisha Shinto shrine, making a visit to the Nachi Falls both atmospheric and undeniably Zen.
Read Also: 10 Best Things to do in Kyoto
Yoshinoyama, Nara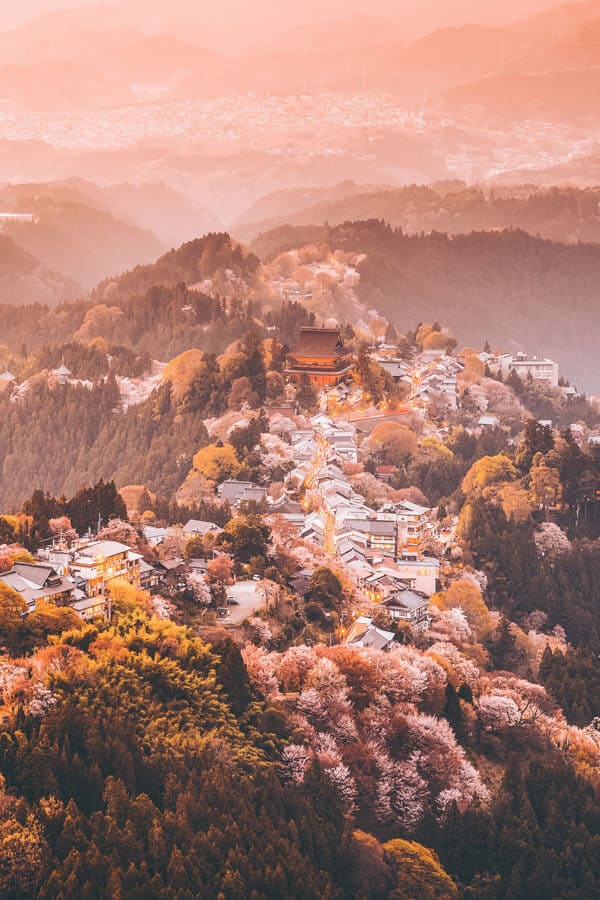 Yoshinoyama, also known as Mt. Yoshino, is one of the most famous cherry blossom viewing places in the entire country. With over 30,000 blossoming sakura trees covering the winding paths up to the mountain peak, this is one hike you're definitely going to want to experience. This town is a personal favorite of mine and easily made the list of the most beautiful places in Japan!
Other sites to check out on Mt. Yoshino (where you can get a photo like the above!) would be Hanayagura Observatory and Yoshimizu-Jinja Shrine.
You might also be interested in: The 7 Best Cities to Visit in Japan
Yamadera Mountain Temple in Yamagata, Japan
What I would give to have this view from my home anywhere in Vegas. This is one of the most beautiful temples in Japan!
Blue Pond, Biei, Hokkaido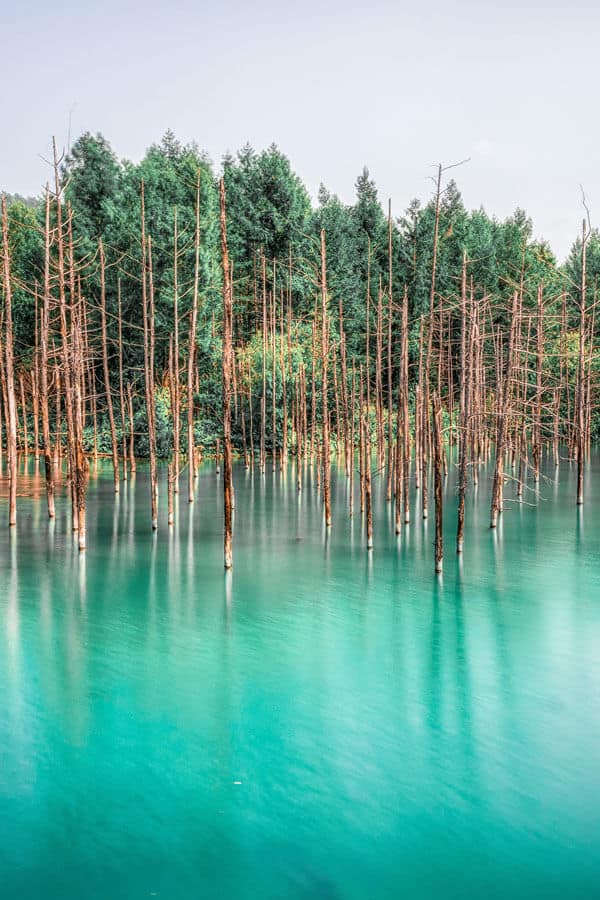 The Blue Pond, also known as Aoiike, is a man-made wonder that happened all by accident. When an erosion control system was created for the mud flows from nearby Mt. Tokachi, the minerals in the ground seeped into the water. We're thankful they did! The dessicated trees emerging from these unearthly blue waters creates an image that is breathtaking throughout the year. Whether you come in the winter or summer, the Blue Pond is an amazing sight to behold.
Shiba Sakura in Hokkaido Japan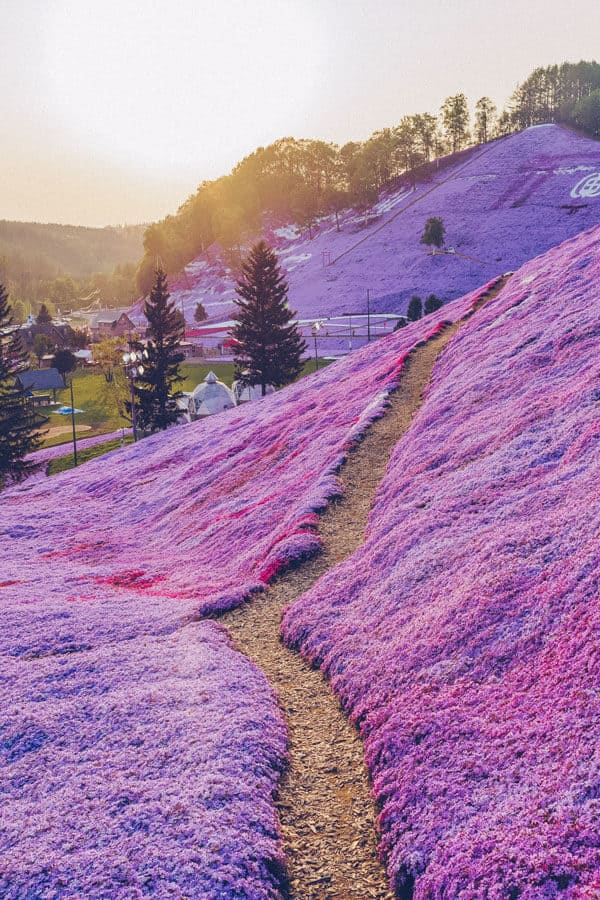 Shibazakura Park is so beautiful sometimes I wonder if it is actually real?! Has anyone been?
Wajima, Japan – Shiroyone Senmaida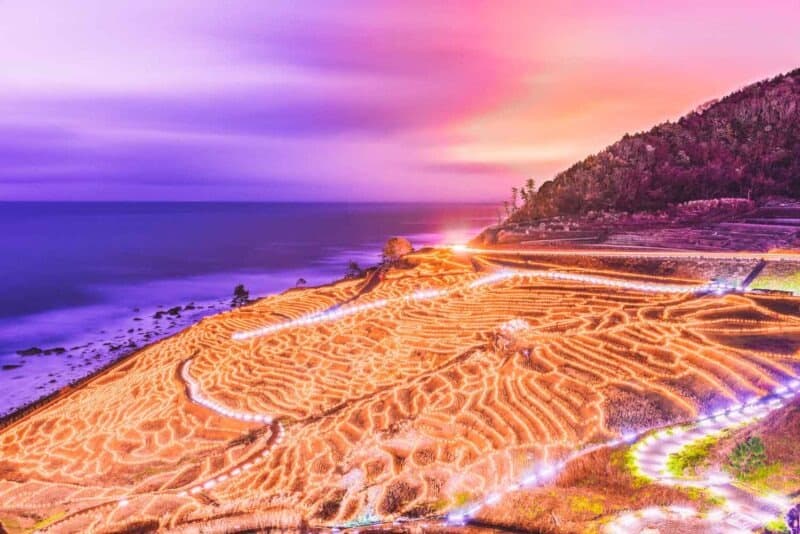 Japan's illuminated rice field is one of the best holiday displays out there. LED lights run along each of the field's 1,004 individual rice paddies. This tradition started 7 years ago as an attempt to attract visitors during the colder winter months. Shiroyone Senmaida is about 7 hours north of Tokyo, and worth the journey to see these spectacular lights.
If these beautiful places in Japan have not convinced you to visit then I am convinced nothing will. Where is your favorite place in Japan?