Vancouver is one of those cities where your face is pretty much glued to the window the whole time; the views are incredible!
2 Days in Vancouver – Weekend Packing List
The weather there is pretty mild most of the year, but it still can get quite cold in the winter. We were there in September and October and it was in the 60's and sunny…much warmer than we were expecting! All we needed was a light sweater or jacket, but I would definitely bring a waterproof jacket in case it rains.
Lot's of layers
Let's get straight to it, whether you are there in the winter or summer you need to make sure you pack lots of layers.
The weather can change quickly and with rain most likely coming and going all day you want to make sure you can add a layer or take one away depending on the changing skies.
We got lucky and didn't hit any rain while there but I still needed to wear lots of layers. It was significantly colder in the mornings than during the day. And even though it got warm during the day it remained freezing at night.
Fleece Lined Leggings
If you are looking for some great layering leggings I recommend these 90 degree fleece lined leggings from amazon. They are so comfortable and you can wear them for a variety of occasions.
Perfect to wear in Iceland or any cold weather destination.
Travel Toiletries List: Personal Items I packed
Sunscreen (I never travel without it)
Dry Shampoo (always)
Plumbing Powder
Organic Avocado Oil (I use this in place of body lotion). It works AMAZING.
Travel containers for liquids
Shampoo + Conditioner
Body+ Face Soap
Clothes to wear in Vancouver:
Tennis Shoes – These are always great to bring on any trip. I love that you can wear them with jeans on a hike or walking around the city, or use them to go for a bike ride or workout on your trip. Buy here.
Hiking boots – For a weekend trip to Vancouver you may not be doing a ton of crazy hikes (at least we didn't) but if you love the outdoors you may want to bring some hiking shoes. It definitely can get muddy on some of the trails.
Jeans
Sweaters for layering (Or a sweatshirt for hiking and other outdoor activities.)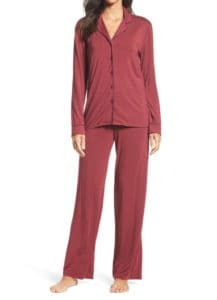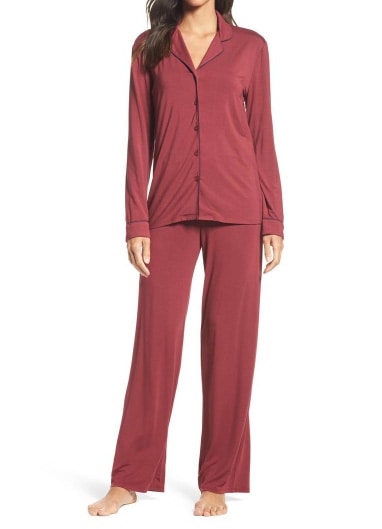 These pajamas basically ruined me. I was always okay just buying the cheapest pajamas I could find (Hi, Old Navy Pajamas). I would have never dreamed that I would one day be okay spending $65 on a pair of pajamas.
I found these on sale for $40, tried them out and now I can never go back. I have 3 pairs and it is taking all the self control I have not to buy a fourth pair! They are literally the softest women's pajamas you will ever wear. Shop all Moonlight Pajamas & Sales here.
Here is a link to the shorts version.
Also, for those who are looking to get them on sale they almost always have them on sale now! You just have to be okay buying whatever color is on sale.
Waterproof Clothes to Pack
Waterproof Jacket – I recommend a waterproof jacket that you can take on and off no matter what time of year you go.
Charles River Waterproof Rain Jacket
This is one of my favorites and it comes in a ton of different colors. I also love that it comes with a hood as I prefer to just put up my hood or wear a hat rather than having to carry around an umbrella the whole trip.
My favorite waterproof backpacks:
Waterproof Backpack – You will also want to make sure you have a dry bag or a waterproof backpack to carry around. Since there is a good chance it may rain frequently throughout your trip you don't want any of your valuables, lunch, camera etc. to get wet. Especially since the majority of your time will be spent outside.
For the price, you really can't beat these.
Business Laptop Backpack, Anti Theft Waterproof Travel Backpack with charging port – I love this one because I always travel with my computer, noise cancelling headphones, and cell phone. So having a built in charging port is a really nice added bonus. Check prices here.
Sport Waterproof Lightweight Packable Durable Folding Travel Hiking, Trekking, Camping, Cycling, Foldable Ultralight and Handy Daypack Backpack
This one is perfect if you are planning on doing a lot of outdoor activities in Vancouver.
A Dry Bag
Earthpak dry bag – These are a life saver and alleviate so much stress about whether the rain will soak through your bag and ruin electronics. I basically don't ever take a trip without this. I also love that it comes with a waterproof phone case. Buy here.
Packing Essentials we recommend to make your life easier and more organized for quick trips:
Free Rhythm Packing Cubes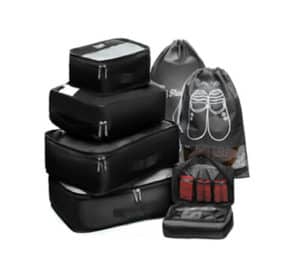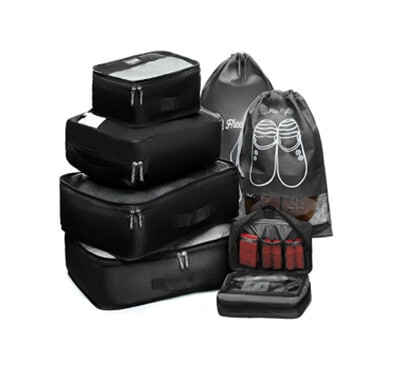 Packing Cubes Travel Set – These are the best packing cubes for travel. I never travel without packing cubes. I am way to messy of a person for that.
Portable Travel Hard Make-up Case
This is the best way to store your make-up, hair accessories & jewelry.
This is waterproof, shake proof, anti-wear and spill-proof interiors. There is nothing worse than your make-up spilling all over everything. Or any eyeshadows, face powders, etc. breaking all over the place.
That is why I prefer a hard case over the soft ones they sell. These tend to protect your make-up a lot better from breaking or spilling. You can also use this to store your electronics.
Check current prices on Amazon.
Travel Camera Gear
Most of these are not necessary. But since we take a lot of photos on our trips we always bring our camera equipment and tripods.
What else would you recommend packing for a 2 day trip to Vancouver?
If you enjoyed this post don't forget to share it with your friends! Thank you so much for reading.
Read Next: