Wondering what to see in London?
This travel guide will cover the top 14 things not to miss in London.
London is one of the most popular cities in the world. It is famous as a world financial center, but also as a tourist hot spot and center of culture.
Many travelers (especially Americans) will go to London for their first international experience (not just because the British speak the same language with cool accents, though that helps) but also because of the huge historical and cultural connections between the countries.
The history of the British Empire means that most parts of the world have connections to London, which probably contributed to most of the world loving all kinds of things that came out of London (Shakespeare, James Bond, Sherlock Holmes, architecture, genres of music, etc..).
London has way too many things to do and see to fit into this one post. This post serves as a primer to show some of the top spots that people instantly recognize as "London."
The city is extremely accessible to foreigners, and locals are very friendly and accustomed to tourists.
What to see in London: 14 Things you Can't Miss When Visiting London for the First Time
Read on to see the 14 best things to see in London.
1.

Tower Bridge
Tower Bridge, or as I call it the Peter Pan bridge (if you don't know why just google Peter Pan bridge and find out) is another immediately recognizable landmark of London. It often gets called the London Bridge, but that is actually a different bridge crossing the same river, though it isn't as iconic as Tower Bridge is.
You can walk across Tower Bridge for free, but if you want to cross the high-level deck or through the towers you have to pay for a tour like this one here. I haven't paid for the tour, but I've definitely posed for pictures in front of this bridge (it's bigger than it often looks in pictures).
Of all the London attractions, Tower Bridge was my favorite.
I also recommend a dinner cruise on the Thames River. The Thames cuts through the heart of London, so you inevitably will get to see a ton of different landmarks while relaxing on a boat. More on this below.
If the evening, dinner cruise doesn't fit into your itinerary I recommend the afternoon sightseeing cruise instead! Tea included, you can't get more British than that.
2.
London Eye
The London Eye is a humongous Ferris wheel situated right on the shore of the River Thames in the heart of London. It is definitely one of the best places to visit in London!
When constructed, the London Eye was the tallest Ferris wheel in the world (recently beaten out by the High Roller in my current home city of Las Vegas, you can read more about that here).
The wheel is so big that passengers don't just on the traditional bench seats, but ride around in pods that can fit up to 25 people.
This allows you to hang out with friends as the wheel turns, which is probably why this is now the most popular paid tourist attraction in London.
The entire ride takes about half an hour, which gives you plenty of time to enjoy expansive city views.
The wheel is lit up at night, though the coloring often changes, so the wheel stands out as a beautiful landmark
Make sure to buy your London Eye admission ticket in advance. Reserving your tickets in advance makes it so you can skip all the lines and not waste your precious vacation waiting your turn. The good news is that your tickets are refundable up to 24 hours before.
3.
The Making of Harry Potter Studio Tour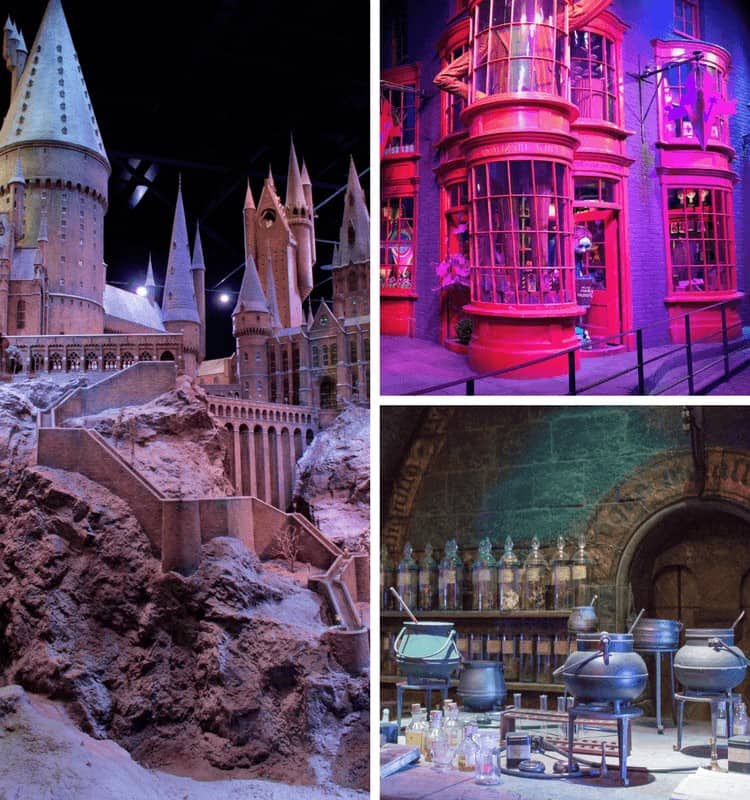 For those of you who are "Pottophiles" this spot is a can't miss. This site is not a theme park like they have in Orlando Florida but a behind the scenes tour of the making of the movies.
Harry Potter fans will love seeing the exquisite details that went into the film making, discovering many things they missed while watching. I actually haven't had a chance to do this studio tour, but if you are a Harry Potter fan at all, the way that visitors rate it immediately makes it a can't miss on a trip to London.
I recommend the Harry Potter Tour of Warners Bros. Studio (with transport included) for first time visitors. It's rated the highest and you actually get to see see original sets, props, and costumes! You can also find other options here.
Extra – 3.5 – Magical London: Harry Potter Guided Walking Tour
Okay one more for the true Harry Potter fans. London is full of places that were in the movies or helped inspire the series.
If you are really into HP films then you will want to go on the Magical London Harry Potter Walking Tour.
This tour helps you find spots that were in the movies that you could never find by yourself. My favorite is the views of the bridge that the death eaters destroyed in Harry Potter and the Half Blood Prince.
4. Explore Windsor Castle (The weekend home of Queen Elizabeth II)
Most people don't need to be told what they will see at Windsor Castle. It is currently the oldest and longest continually occupied castle in the world (most people agree) and definitely worth seeing. The opulence of the grounds and buildings truly are fit for a queen.
It was originally built in the 11th century by William the Conquerer, but there have been numerous renovations, upgrades, and expansions since then. Somehow they feel historic and crisp and new at the same time. Seeing for yourself really is a must!
Located on the outskirts of London it is relatively easy to get out and back to the city center. There are plenty of transportation options and tours available (check here). If you plan on going, you have to buy a ticket. If you don't, you can't really see anything. Skip the lines by purchasing in advance.
Buy your Windsor Castle admission ticket in advance here. Tickets are refundable up to 24 hours before.
Another awesome tour to try is – Stonehenge, Windsor Castle, and Bath from London
5.
Buckingham Palace
In case you did not know, Buckingham Palace is where the King of England lives.
Even though the King is a figurehead rather than a full time leader, the British royal family is still an incredibly important symbol for the United Kingdom.
This royal palace still functions as a residence, but is an obvious tourist attraction due to the fact that it is known worldwide, has beautiful gardens, tours like an art gallery, and once again is obviously a palace!
6. Hyde Park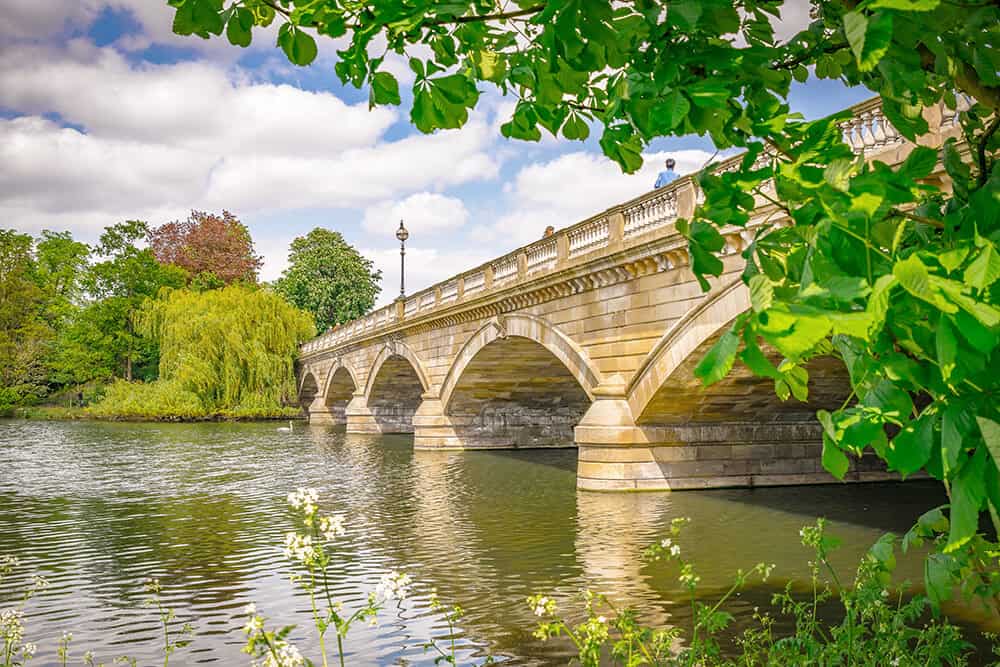 This large park is in the middle of the city offers a stark contrast from bustling city life (similar to Central Park in New York). It is situated very close to Buckingham Palace, but open to the public.
Due to it being open to the public is often a location where protests are staged.
What I think is most interesting about this park is that it was a common site for duels to take place and dozens of individuals died defending their honor.
Free concerts are often played in this park, so be sure to check to see if there is some band there you would like to see.
7.
Palace of Westminster (Big Ben)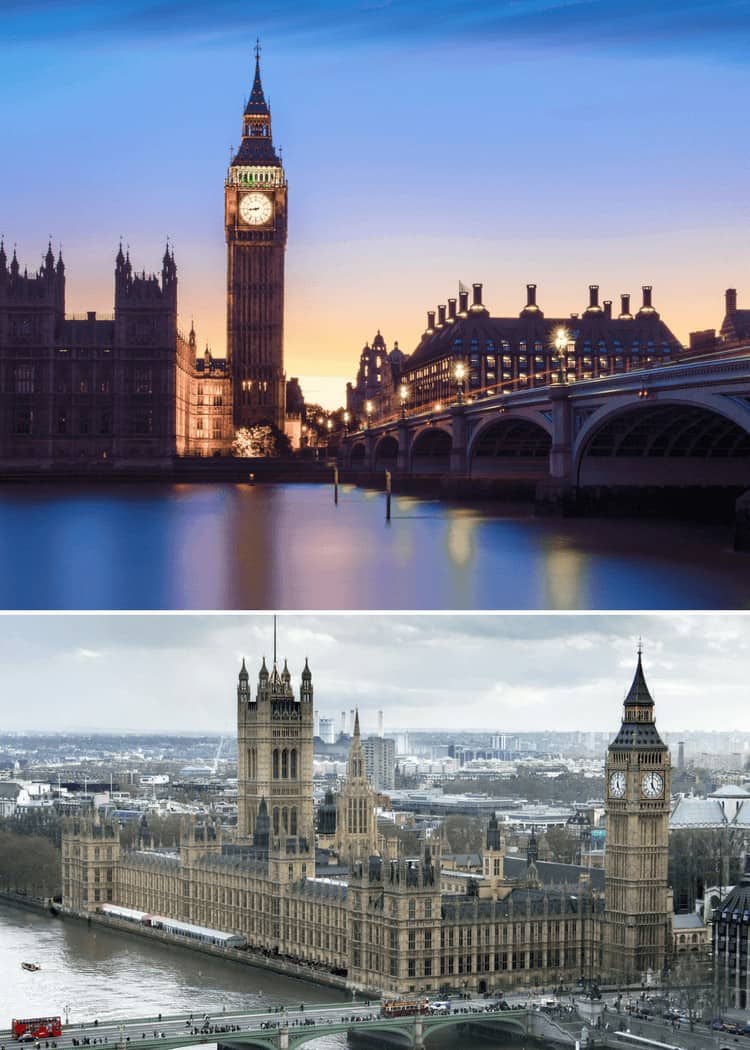 Many people have no clue what the Palace of Westminster is, or they often call the entire building Big Ben.
The Palace of Westminster is the home of the two houses of British Parliament (for Americans, this is the equivalent of the Capitol Building where the House of Representatives and the Senate meet).
In the United Kingdom the Palace of Westminster houses the House of Commons and the House of Lords. The term Westminster in general has come to mean UK Parliament.
The iconic clock tower on the end of the Palace of Westminster is another symbol of London, and though the clock is often called Big Ben, the name of the main bell is actually Big Ben rather than the tower or the building. This is another can't miss site along the River Thames.
8. Red
Double Decker Busses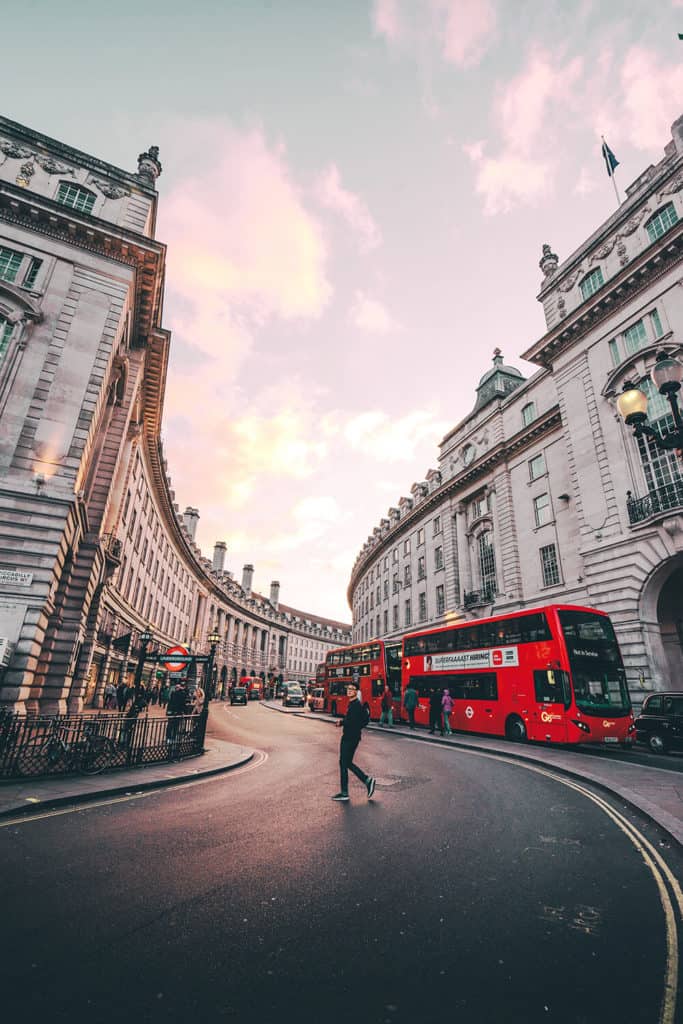 Most countries in the world today drive on the right hand side of the road, but the United Kingdom is one of the few that drives on the left.
Make sure you know this and look both ways before crossing a road to make sure you don't get hit by one of London's famous red double decker busses. London isn't the only city that has these, but I do think that they are the most famous user of them. When a passenger upstairs on one I'm perpetually afraid of ramming into an overpass, though of course that hasn't happened to me yet.
9. Take a day trip from London to The Cotswolds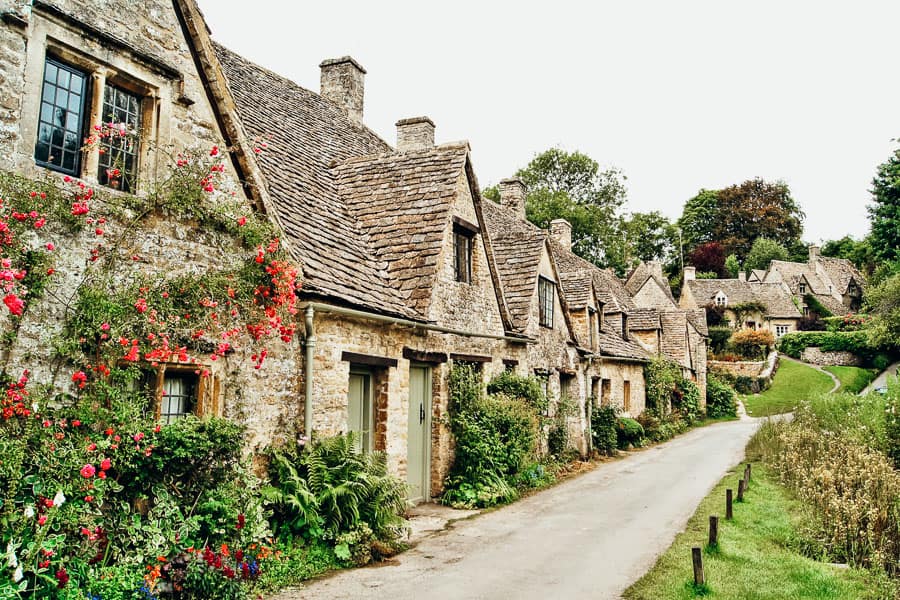 Okay, okay, I know I said this was a London themed post but I can't resist calling out an opportunity to visit one of the most beautiful places on earth. The Cotswolds is a region in southern England that is famous for it's gorgeous rolling green hills and quaint villages of days gone past.
This full day Cotswold tour takes up most of the day, but includes transportation from London (approximately a 2 hour drive each way).
If you want to see the area as a day trip from London I highly recommend you take this tour. Experienced guides will be there to show you the best spots, but still leave you with a ton of free time to explore things at your own pace.
Book your tour: From London: Full-Day Tour of the Cotswolds
10.
King's Cross Station (and Platform 9 and ¾)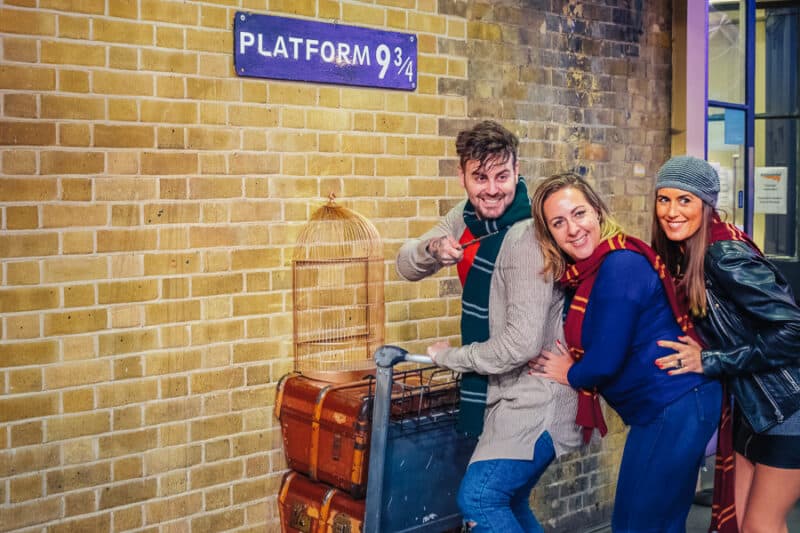 It would be hard to miss King's Cross station on a trip to London even if you wanted to.
The central location of this train and tube station (subway) make it an immediate gateway to a ton of the tourist hot spots.
The tube is definitely the easiest and cheapest way to get around London, and I recommend just buying a day pass to hop around.
If you need to go farther out, then there are trains constantly taking off in all directions. Also, for the Harry Potter fans again this is the site of Platform 9 ¾. My husband is a huge nerd that couldn't help but love seeing this!
11. Enjoy a Relaxing Dinner Cruise on the Thames River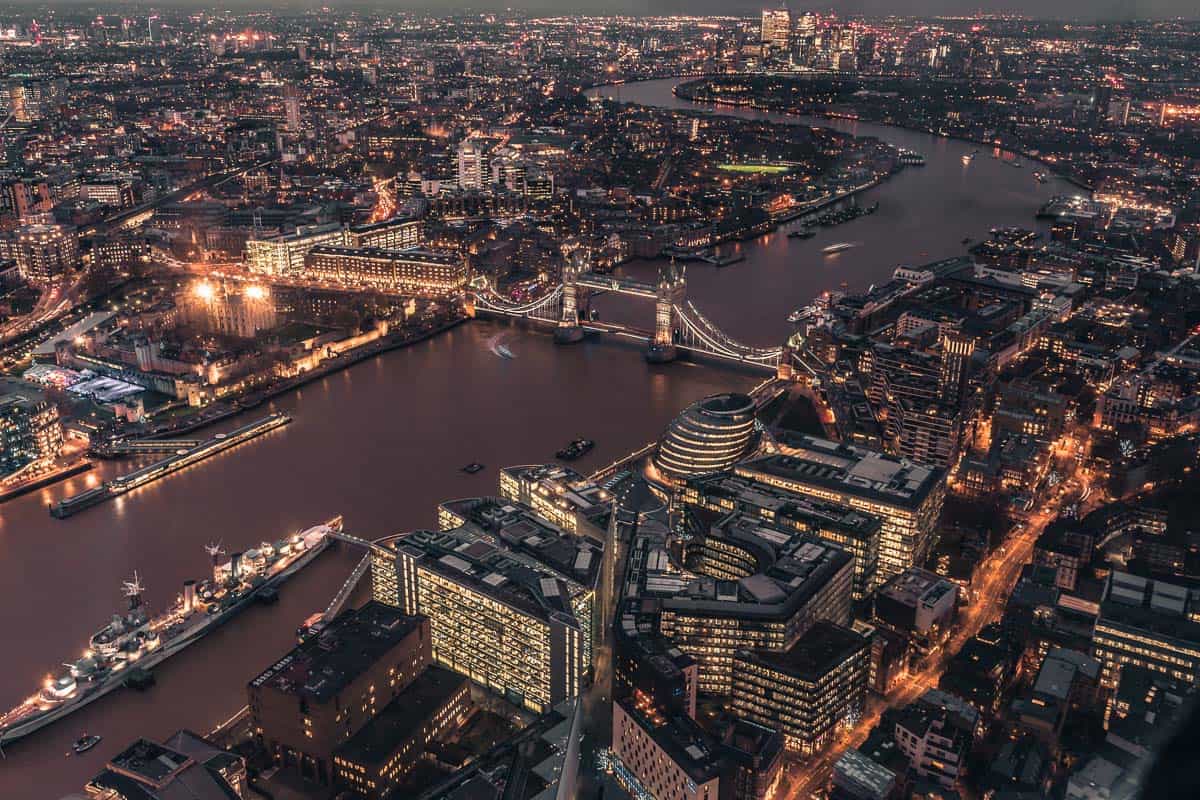 If you aren't familiar with London you might not realize that The River Thames cuts straight through the heart of the city. Most of the most famous attractions line the shore of this river.
This Dinner Cruise is a fantastic way to enjoy a delicious meal while taking in London's top spots. You will get a chance to see Westminster, the London Eye, Tower Bridge and many others while floating along.
Not only do you get to enjoy a four course meal, but the boat also features live entertainment via a cabaret singer.
Book your tour: Dinner cruise on the Thames River
If you don't want to commit to a full evening and dinner, you can take the cheaper afternoon version instead while sipping afternoon tea and seeing the same spots! Book your tour here.
12.
Trafalgar Square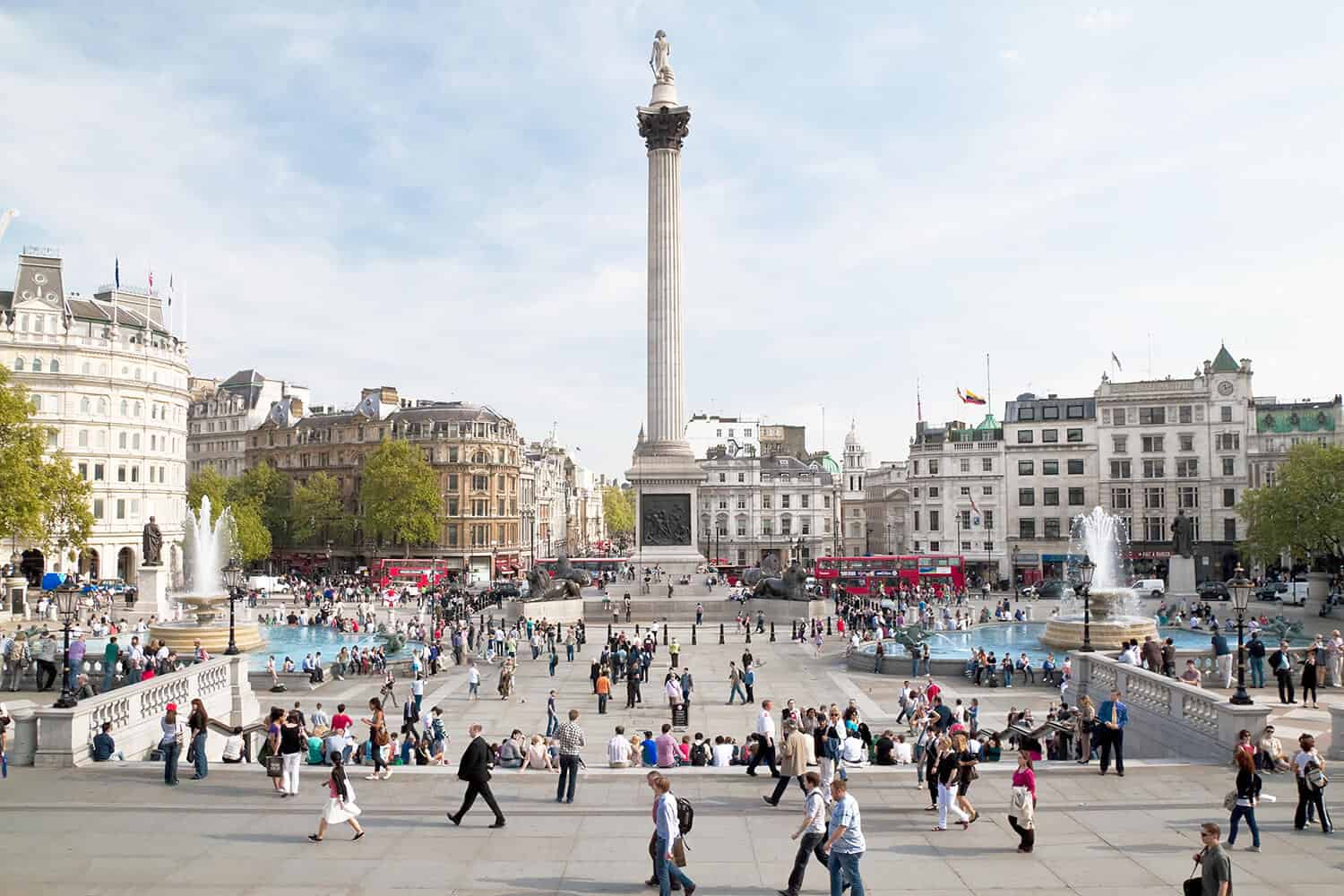 Trafalgar Square is immediately recognizable as a European landmark. The name commemorates a British navy victory in the battle of Trafalgar in the Napoleonic Wars against France and Spain.
Today the square features tons of sculptures, art, fountains, and even commonly protestors. You can learn a lot about British history just by walking around the square and reading all the plaques.
I recognize Trafalgar Square from the New Year's celebrations, kind of like they use Time's Square in New York (though I totally do NOT recommend going to New York City for a New Year's Eve celebration – do you know how hard it is to find a bathroom in those situations?)
13.
Tower of London
The Tower of London is not really a tower at all, but a castle located in the middle of the city also immediately off of the River Thames. It's history goes back over 1,000 years, and its previously served as a royal residence, prison, armory, treasury, and even a zoo.
One of my favorite things about it is that it has land and water gates, and a moat, but don't get your hopes up too high because the moat currently isn't filled with water.
This castle has definitely seen its fair share of attacks! It also is the current home of the Crowne Jewels, and many other things that make it another one of London's most popular attractions.
Book your tour: Best of London Including Tower of London, Changing of the Guard, with a Cream Tea or London Eye Upgrade
14.
Soccer/Football Stadium

s

I included this in here largely because of my husband. Any times he visits an English soccer stadium he immediately lights up like a kid in a candy store. His favorite is Stamford Bridge, home of Chelsea FC (football club), but you can go to the stadium of a number of top London teams to get a similar experience.

The atmosphere around an English football match is electric.

The British are extremely passionate about their teams, and simply being around the stadium on game day gives you a chance to observe this.

If you want to make friends immediately show up in the colors of the home team and root for a win. The celebrations will continue in the streets or local pubs long after each match, but be careful because people can definitely get rowdy.
15.
Westminster Abbey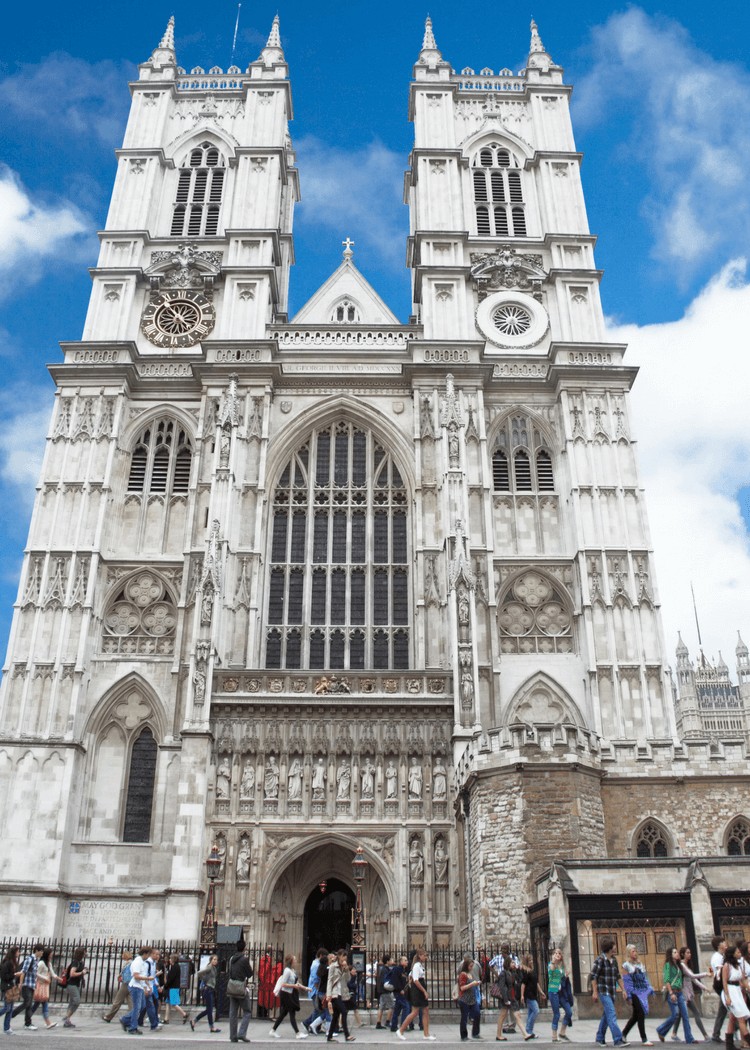 Westminster Abbey is one of the most famous churches in the world. Originally it was a Catholic church, but now belong to the Church of England (interesting history worth looking up if you aren't familiar with the transition).
The gothic architecture is incredibly old, but this famous building has been the site of countless coronations, funerals, and royal weddings (yes, this is where Prince William and Kate got married).
Where to Stay in London:
Park Inn By Radisson London Heathrow Airport (The exact hotel we stayed in). If you are transferring through and need a hotel, you can't beat this. It offers easy access from Heathrow – and with as big as London is half the hotels that claim easy access from London Heathrow airport aren't. Even with this one still have to take a quick bus ride.
The hotel was nice clean, for a cheap hotel, but if we were to do it again would have booked a hotel that was one or two tube (subway) rides away instead since that is what we took to get around town. That being said, hopping on the bus back to the airport, and then the tube was still easy, and only added about 15 minutes. Book here on booking.com.
What else do you think a first time visitor shouldn't miss?
If you only have 2 days to spend in London make sure to check out this London Itinerary here!