Punalu'u Beach (also known as Black Sand Beach) is the Big Island's most well-known black sand beach (more about the Big Island's top attractions here).
This famous stretch of midnight-black sand is lined by towering coconut palms and the lapping waters of the North Pacific.
It is a popular spot to sunbathe, swim, snorkel, and spot sea turtles (we saw 4 while there!).
This black sand beach is easy to reach without a strenuous hike – or even a short walk – it's a lot more touristy than some of the Kona beaches. But visiting this unique beach of black sand is worth it, even if only for the memorable photo opportunity.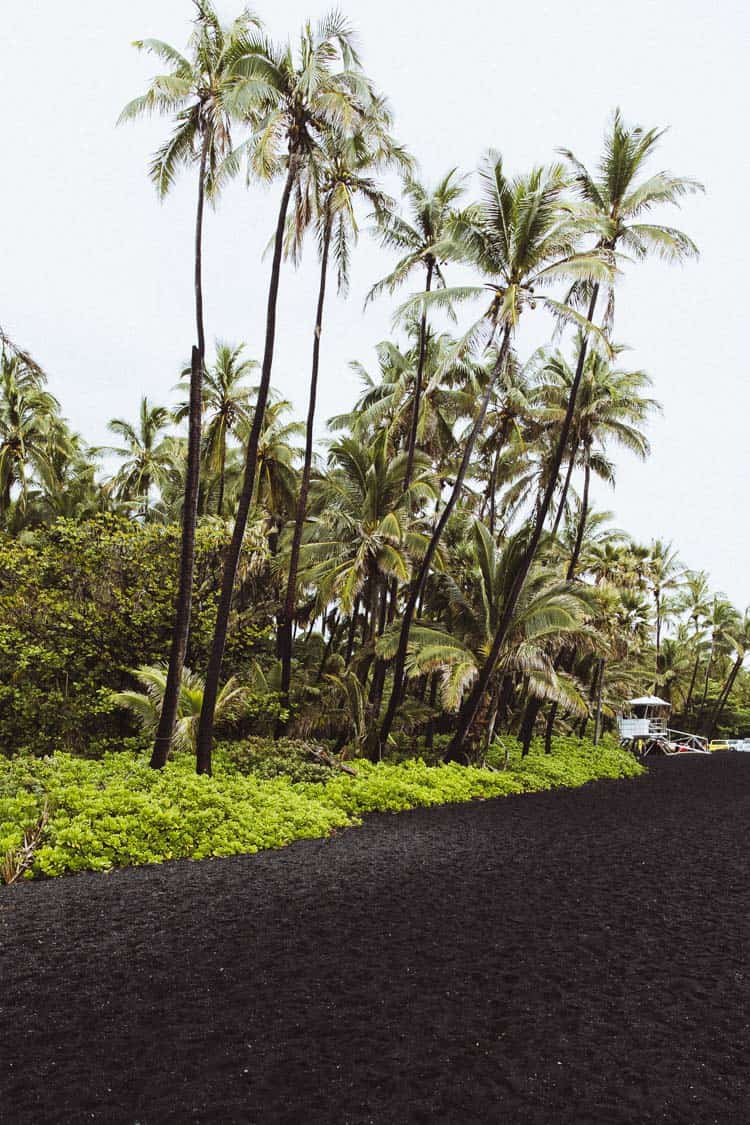 What You Need to Know When Visiting Punalu'u Black Sand Beach
Here's everything you need to know about visiting Punalu'u Black Sand Beach on the Big Island, Hawaii.
What Causes the Black Colored Sand?
The unusual jet black sand at Punalu'u Black Sand Beach is the result of thousands of years of volcanic activity, crushing and grinding the lava rock into tiny, fragments.
With a beach made up entirely of lava rock; it's exciting to think that they were once molten lava before drying into the black rocks scattered along the shore.
We'd previously been to some pretty magnificent black sand beaches in Vik, Iceland, but it was a whole new experience to be on a warm black sand beach, not one north of the Arctic Circle. Click here to see what a cold black sand beach looks like.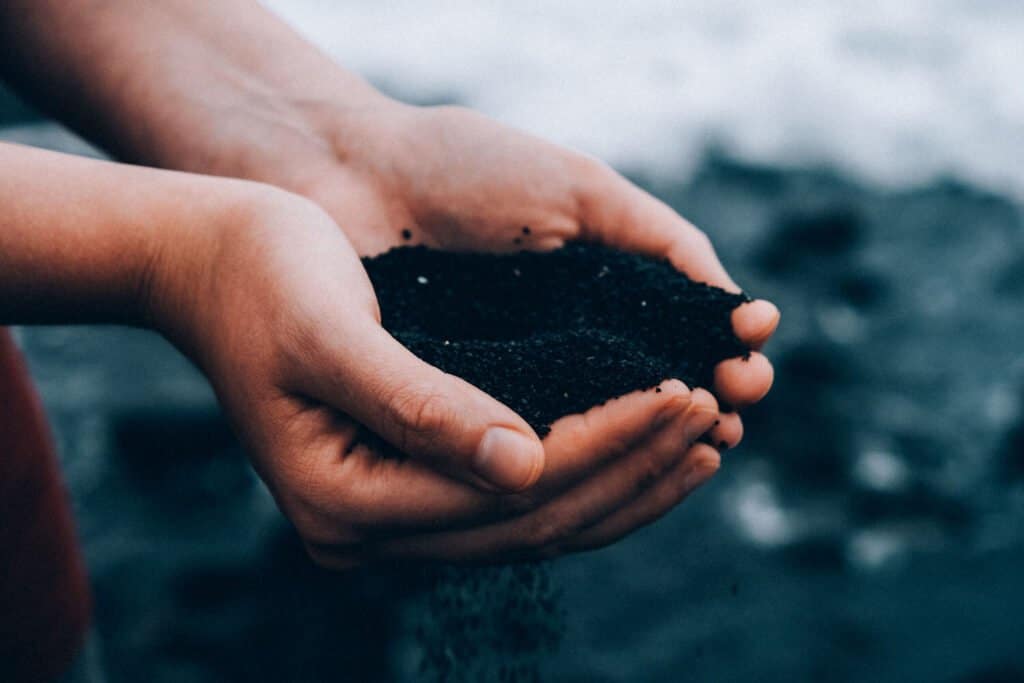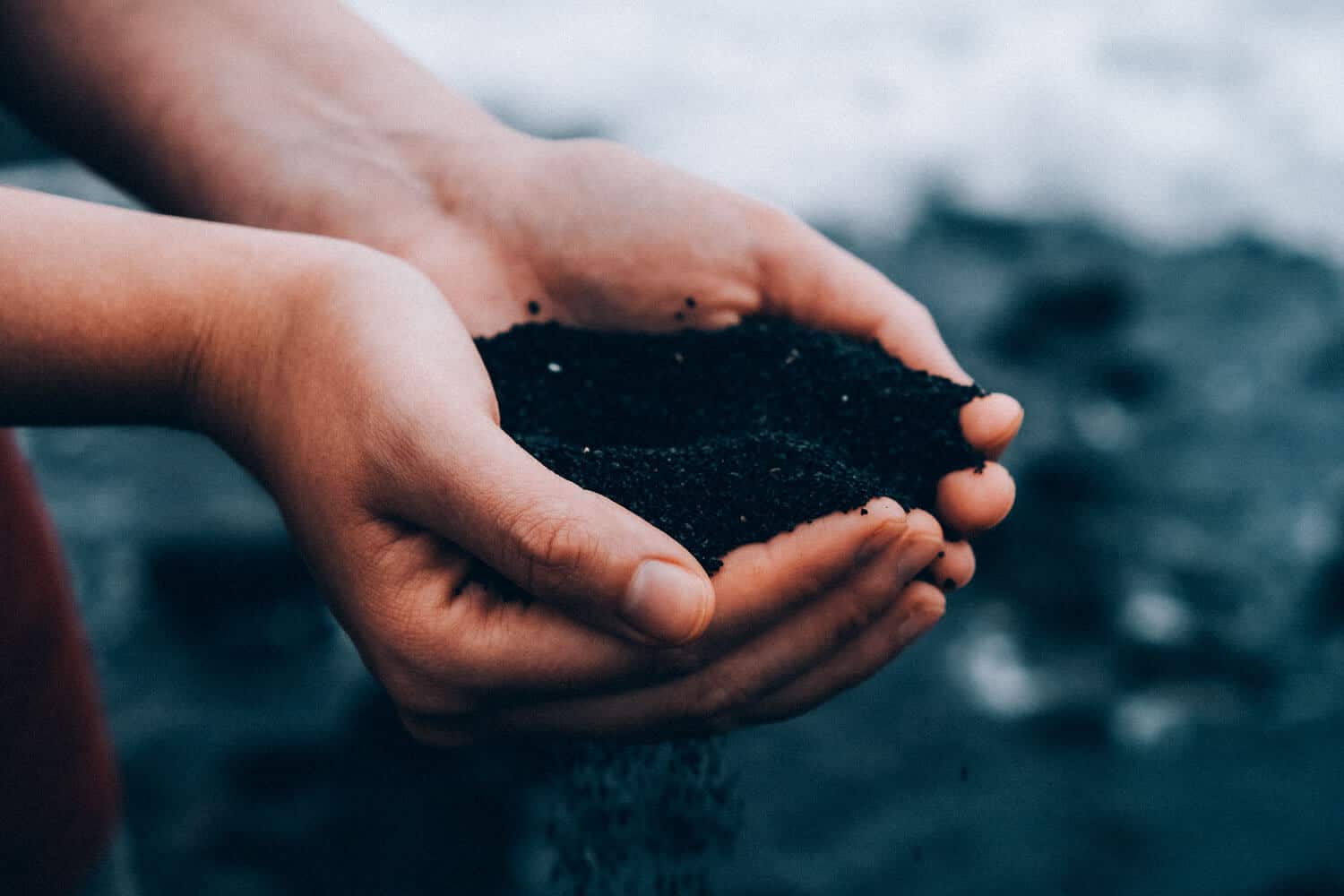 Getting to the Black Sand Beach
Black Sand Beach is easy to access, but it does require a bit of a drive to get to it. The beach is located about an hour and 45 minutes from Kona, and about an hour and 15 minutes from Hilo. However, unlike many other Big Island Hawaii beaches, no long walk or hike is needed to reach it.
If you're heading towards the town of Kona, Punalu'u Beach can be found just off highway 11 between mile marker #55 and mile marker #57 on Alanui Road. There is a parking lot where you can leave your car. You can also access the beach easily from the Hawaii Volcanoes National Park.
When on the Big Island, you'll definitely want to rent a car – driving is simple and safe, as well as affordable. There are plenty of rental car options helping keep prices low. Having your own car means you can explore all of the other nearby Big Island attractions in one easy day trip.
Nearby Attractions to Punalu'u Black Sand Beach
Black Sand Beach Big Island is situated close to a range of exciting landmarks and attractions, such as Green Sand Beach – also known as Papakolea – as well as South Point, the southernmost point of the USA, that's famous for its fishing and cliff-jumping opportunities.
As we mentioned above, Black Beach is also located close to the Volcanoes National Park, which makes sense because, of course, the beach of volcanic black colored sand would have to be close to active volcanoes. Spending time on this rare stretch of beach is an excellent way to relax on the volcanic Island of Hawaii.
Facilities
You can find restrooms, a picnic area, an outdoor shower, and ample parking space at Black Sand Beach Big Island Hawaii. There are facilities on-site where you can change your clothes, but it can get crowded. There are no lifeguards on duty at the beach at any time.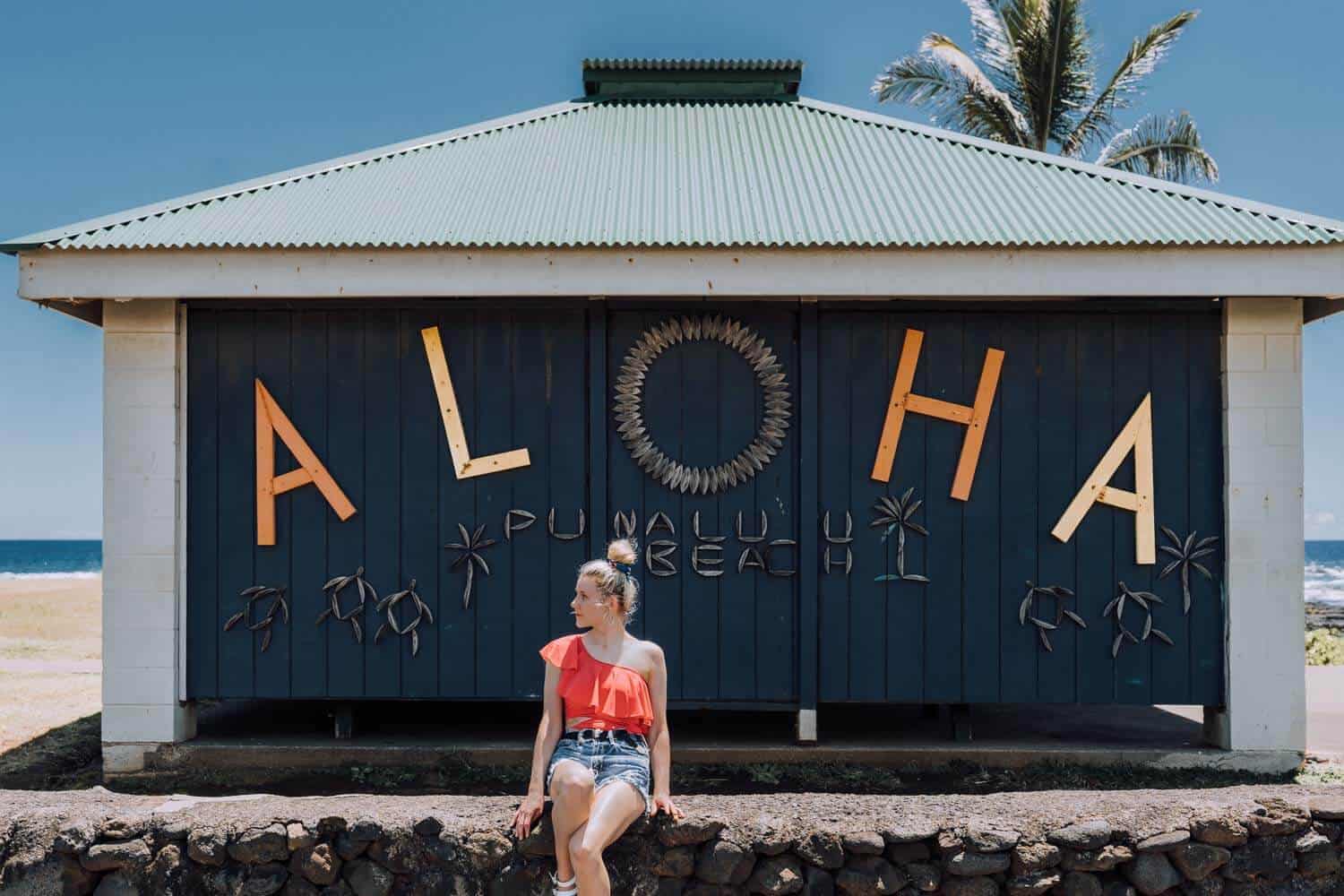 Spot Endangered Sea Turtles
Not only is the Black Sand Beach Big Island a great place to enjoy the sun while relaxing on the shore, but it's also a fantastic spot for wildlife watching. This stretch of volcanic sand is famous for Hawaii's huge green sea turtles, but you may even spot some rare Hawksbill turtles in the ocean here if you're lucky.
We didn't think we would be fortunate enough to see them, but there were four on the beach when we arrived!
The state of Hawaii goes to great lengths to protect these endangered sea turtles, so make sure you help them with those goals. The law requires that you stay at least 10 feet (three meters) away from the sea turtles at all times and that you don't feed them, or touch them.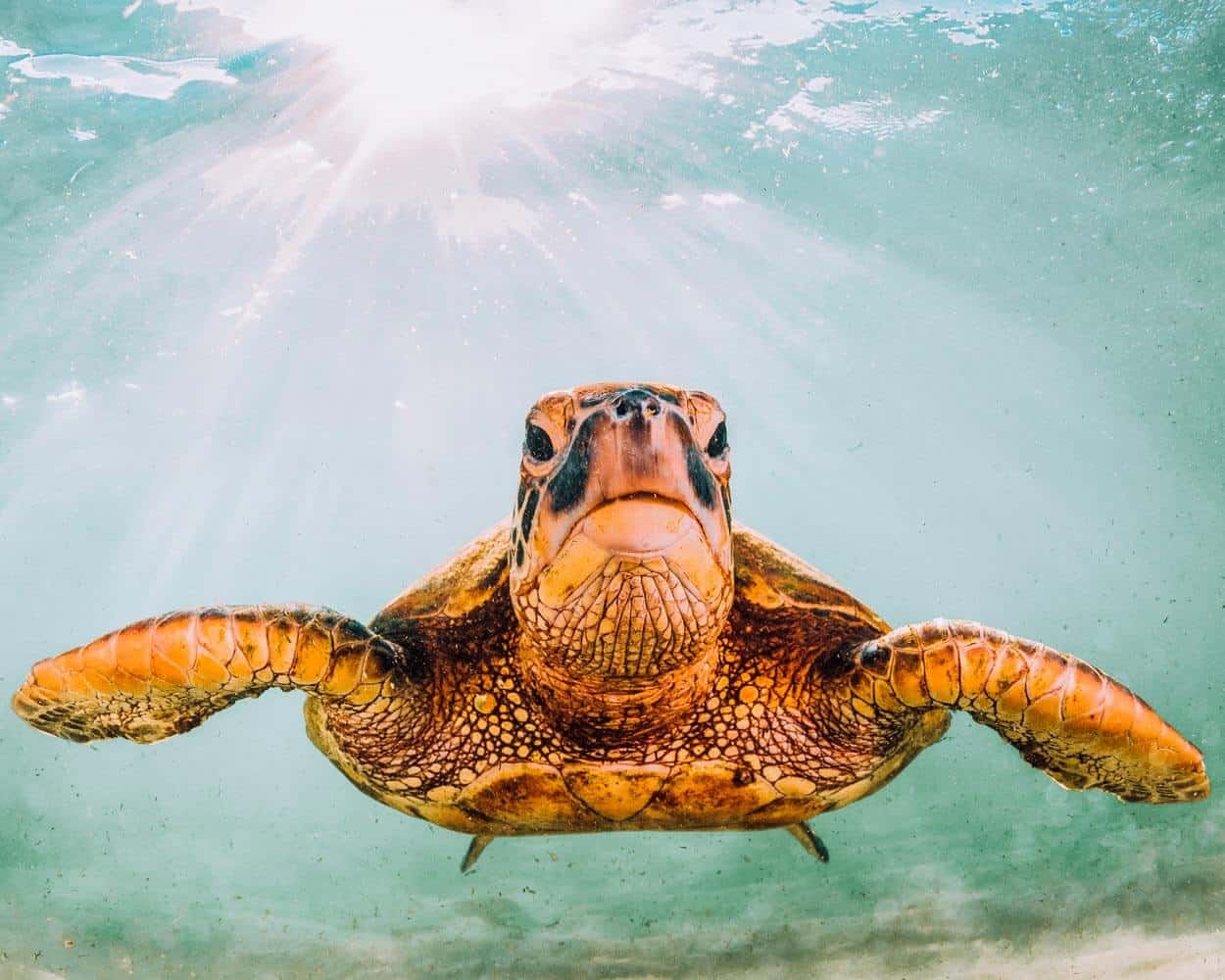 The Drawbacks of Punalu'u Beach
Punalu'u Beach is not the easiest beach to swim at, and the black sand isn't as soft as other Big Island beaches. Plus, as the sand is black, it also absorbs and holds onto more heat than white sand, so it can get very hot.
Wearing water shoes is recommended on the beach and in the ocean, as walking barefoot on the hot sand or the sharp pieces of lava rock in the water can be painful.
Can you swim at Punalu'u Beach?
While you can swim at Punalu'u Beach, there are lots of crashing waves which can come in pretty strong, so it isn't one of the best beaches Big Island offers for swimming. I found it fun, but if you aren't a strong swimmer, you need to be aware of possible rip currents.
Snorkeling at Ninole Cove
Black Sand Beach is a fantastic spot for snorkeling. However, if you want to snorkel here, keep in mind that you don't want to do it right on the beach where the currents are strong and there are sharp rocks. Instead, there is a great snorkeling spot just up the beach known as Ninole Cove that's fit for the purpose.
If you're standing on the beach facing out into the ocean, Ninole Cove can be found down to your right – you'll find a path here that leads you to the cove with a five-minute walk.
Black Sand Beach Big Island's experience of both black sand and rare sea turtles can't be beaten! If you enjoyed it, then Waipio Beach, another black sand beach that isn't as well known on Big Island, is just as worth seeing. Have fun!
I hope you enjoyed this post! If you have any questions let me know in the comments below! For those who have been to Punalu'u Black Sand Beach what did you think?
Where to Stay on the Big Island:
*Best Overall: Royal Kona Resort (the exact hotel we booked) – Honestly, we did not have high expectations for this hotel as we ended up having to book it last minute. We were pleasantly surprised by how nice it was. Yes, the actual property was a little bit older, but was meticulously maintained and positioned in an awesome area. It was NOT on a beach, but it was right on the water and rocky shore that was beautiful to walk along and watch the sunset. Our hotel even had its own lagoon you could swim in. Super easy access from the airport.
Book the Royal Kona Resort here on Booking.com