Want to know what to wear in Vegas? It may seem like you only need a swimsuit and a clubbing dress, but traveling to Las Vegas and coming up with the perfect Vegas packing list can actually be harder than expected.
What to Wear in Vegas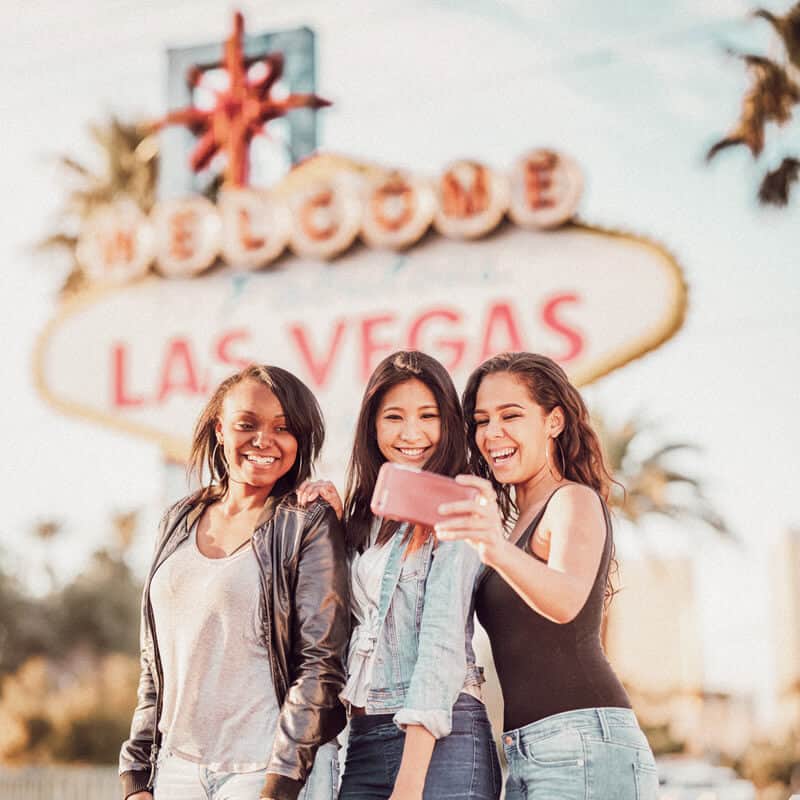 A lot of people come for a few days and never leave The Strip, but there are also a lot of nearby outdoor activities that are worth visiting if you get the chance! These activities obviously require a different sort of packing.
What to pack for Las Vegas will vary depending on your itinerary so here are a few questions to ask yourself before going.
Are you planning to leave The Strip? Are you planning to explore some of the more unique things to do in Vegas?
Do you plan on taking any Las Vegas day trips to the Valley of Fire or Red Rock Canyon? Will you stay at the hotel pool all day and clubs all night? Will you balance it out with some of the best shopping on the strip?
What to Wear during the day in Vegas
If you are planning on leaving The Strip to do some outdoor activities you will want to make sure you pack a tank top or t-shirt, cut off shorts, hiking shoes or comfortable walking shoes, a hat and definitely don't forget your sunblock. The sun is strong here; you will get scorched if you spend all day outside without protecting your skin.
Did you know the Las Vegas Strip is 4.2 miles long?
That is a long way to walk in high heels. If you are planning on grabbing lunch and doing some shopping on The Strip then you will want to pack some casual day wear and comfortable shoes.
Take advantage of the athletic wear trend and pack some sneakers and a sport back pack or fanny pack. (Yes, fanny packs are making a major comeback!)
If you are not quite ready to embrace the fanny pack trend, then I would go for a sling bag. I just bought 2 from Urban Outfitters and I am obsessed!
When choosing what to wear in Vegas always don't just choose fashionable, but try to include practical as well. It is nice that you can now have both and do not have to choose one or the other.
Dresses for Las Vegas
Casual dresses for Las Vegas are always a good idea during the day. Whether you are by the pool or shopping on The Strip dresses are so easy to put together.
ASOS is always one of my go to shops when I am looking for a good day dress. Urban Outfitters is a close second.
What is your favorite place to shop for dresses?
What to wear to a pool party in Vegas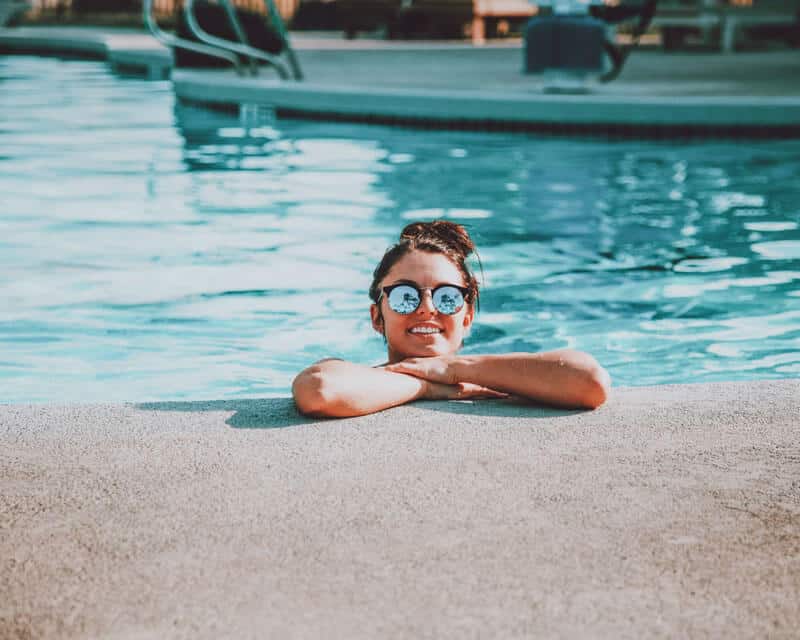 Have you ever bought one of those swimsuits that has a warning on it saying "do not get wet". I didn't even know such a thing existed until I did some online shopping, bought a swimsuit (for swimming) and then saw a big warning tag saying that it would not do well in water. Hmm…
While I personally prefer wearing swimsuits that you can actually swim in, a swimsuit that can't get wet is the exact type of thing you would see someone wear to a pool party in Vegas. When here you will see high heels, swimsuits that are not made for "getting wet", nice cover ups, and jewelry that I am sure also "cannot get wet".
You might also enjoy: 14 Unique Things to do in Las Vegas
What to wear in the pool
If you plan on just lounging around and swimming you will want to pack a swimsuit, sunscreen, headphones for relaxing and sunbathing, and sandals that can get wet. DO NOT FORGET SUNGLASSES, you will regret it.
Shop my favorite antioxidant sunscreen with SPF 50 here.
Don't worry about bringing a towel as the hotels provide plenty.
I have been loving the LeSpec brand of sunglasses recently! You can get them at Nordstrom or Nordstrom Rack. High quality but with a cheaper price tag then some of the other popular sunglass brands. These new all black aviators are so cute.
Las Vegas Tips – Free pools in Vegas
Want a free pool in Vegas? Almost any hotel you stay at on The Strip will include an awesome pool with your hotel stay.
If you want to check out multiple pools and hotels while you are in Vegas, you could try booking one hotel for a night or two and then stay at another hotel the next night.
If you don't mind the hassle of switching hotels, this will give you a chance to experience different hotel rooms, gaming, decorations, amenities, and more free pools in Vegas to relax in.
What are your tips for what to wear in Las Vegas?
Where to Stay in Las Vegas
Overall Favorite: Bellagio Hotel & Casino – A Luxury resort with five pools in a courtyard setting. The rooms are the ultimate luxury. This hotel features a free water show with fountains synchronized to music is right in the middle of the Strip. The inspiration for this property was Lake Como in Bellagio, Italy.
Most Luxurious – Aria Resort and Casino (Our honeymoon hotel) – One of the newer hotels on the strip (opened December 2009). This was the hotel that my husband and I chose to stay in the night we got married, before heading out on our honeymoon to Iceland. It can be pricey, so if you are going to stay here make sure to take advantage of all the features of City Center has to offer. The shopping, restaurants, pools, and spas cannot be beat.
Family Choice: Circus Circus – This property's location is right off the Strip, so you have immediate access to any of the big casinos, yet you can book Circus Circus at an extremely low rate. On more than one occasion I've had family with little kids book this for $19 a night.
Circus Circus also features its own INDOOR amusement park, Adventuredome.Adventuredome is a cheap way for kids to get to experience smaller versions of all the rides at a typical amusement park (roller coasters, bumper cars, boat swings, etc). My nieces and nephews thought this amusement park was just as good as Disney Land (it's not), but it is a fraction of the cost.
Budget Choice: The Golden Nugget – Located off of Fremont Street, or what many people now call Old Vegas. This hotel recently received a complete renovation, and now the rooms feel brand new, and are beautiful. My favorite feature of this hotel (other than the price) is the waterslide that goes straight through a shark tank. Seriously, a water slide that goes within inches of huge sharks! I have literally booked this hotel for friends at a rate of $25 per night, though in high season and on weekends it is more expensive.
Read Next: Want to know what you should pack in your carry-on to make your flight more enjoyable? Check out our Carry-on Packing List