Las Vegas is a truly unique city. Nowhere else in the world is there a gambling mecca of blazing neon lights in the middle of a normally inhospitable desert.
Not surprisingly the casinos offer every type of game you could imagine: poker, blackjack, slot machines, sportsbetting, and on and on. Even though Las Vegas is known predominantly for its casinos and general party environment, there is so much more worth seeing.
Top 10 Must do things in Vegas for First Timer's
Planning your first trip to Vegas? There are a few things that everyone will want to do, and then beyond that there is a niche for everyone, even those who are not looking to gamble or partake of the sleezier side of Vegas.
Now that I'm a Vegas local most of the things on this list have lost their appeal, but when friends or family come for the first time, this list is exactly what we take them to do…
1. Bellagio Fountains
The Bellagio Resort and Casino features an 8 acre man-made lake in front of it designed with water fountain shows that synchronized with powerful music. The show is different every 15 minutes, and the results truly are beautiful.
This is the spot that was glorified in Oceans 11 (Brad Pitt and George Clooney could make anything glorious). The gardens in the lobby are also exquisitely decorated and maintained for each season. It features some of the most unique plants and flowers in the world. Even as a local I make a point to go down each year to see the gardens decorated with a Christmas theme.
Book a stay at the Bellagio Resort here.
2. Shopping – Miracle Mile Shops, Fashion Show Mall, Outlet Malls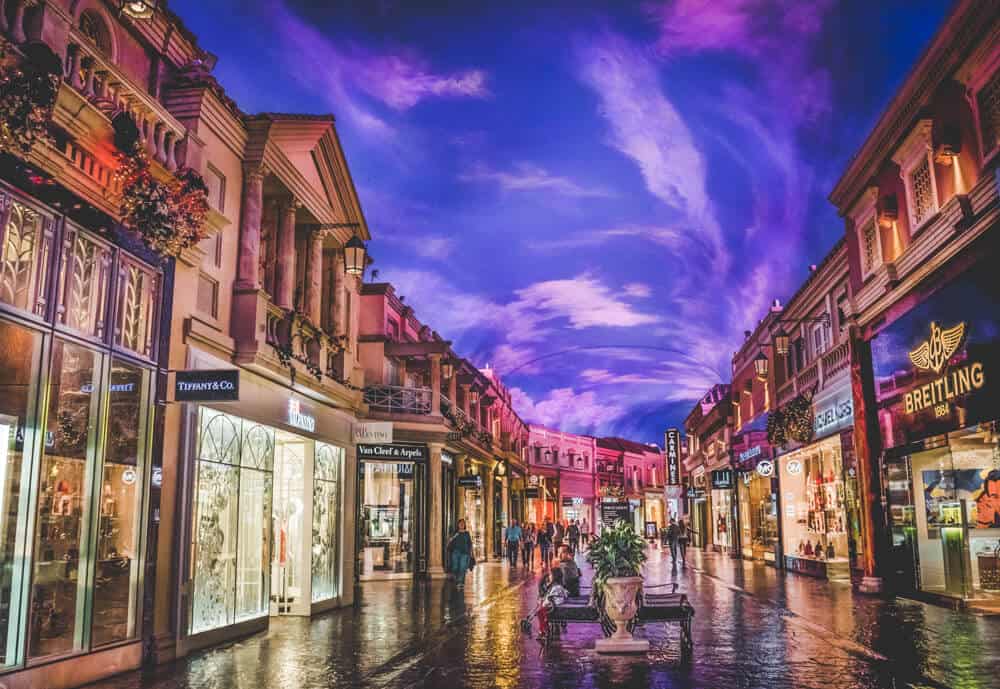 You may think that you have shopping that is just as good as what is available in Vegas, but you are probably wrong. Not only does Vegas feature a number of high end malls directly on the Strip (Fashion Show, Forum Shops, Miracle Mile) but it also features a ton of different outlet malls where you can find incredible deals.
If shopping is your flavor, you should considering bringing an empty suitcase to take back all of the deals you found.
Check out more of our Las Vegas tips:
3. Walk the Strip (visit themed hotels)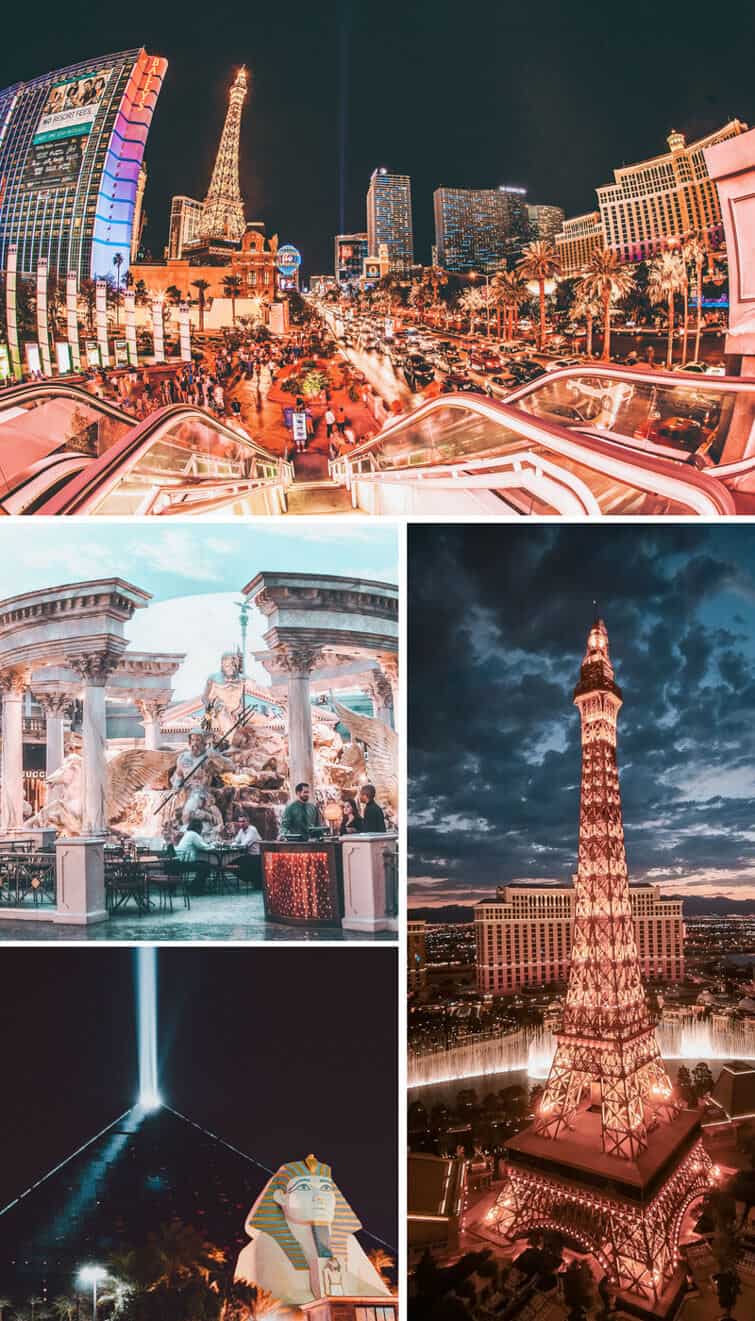 Ever wanted to travel through time to visit ancient cities? See the pyramids? Or even Caesars Palace? All possible in Las Vegas…okay not really, but many of the Strip casinos are based on a location or theme from somewhere else in the world.
The Paris features its own Eiffel tower and really is reminiscent of Paris (including tours to the top), the Venetian is based off of the canaled streets of Venice, the Luxor is based off of ancient Egypt, Caesar's Palace is based off classic Rome, the Imperial Palace shouts out to Imperial Japan, and New York New York is pretty self-explanatory.
Obviously visiting a casino is not a substitute for seeing these places, but I recommend exploring more than just the one you stay in as it is fun to see what elements from around the world have implemented in Vegas.
Want to go for a ride on a roller coaster on the Vegas strip? The Big Apple Coaster, located in New York New York hotel takes you through the New York New York Hotel and it is a blast. Highly recommend if you are looking for fun things to do in Las Vegas. Buy your tickets to ride the Big Apple Coaster on the strip here.
Skip the line and buy your tickets in advance – Las Vegas: Eiffel Tower Viewing Deck Entrance Ticket
4. Stratosphere Rides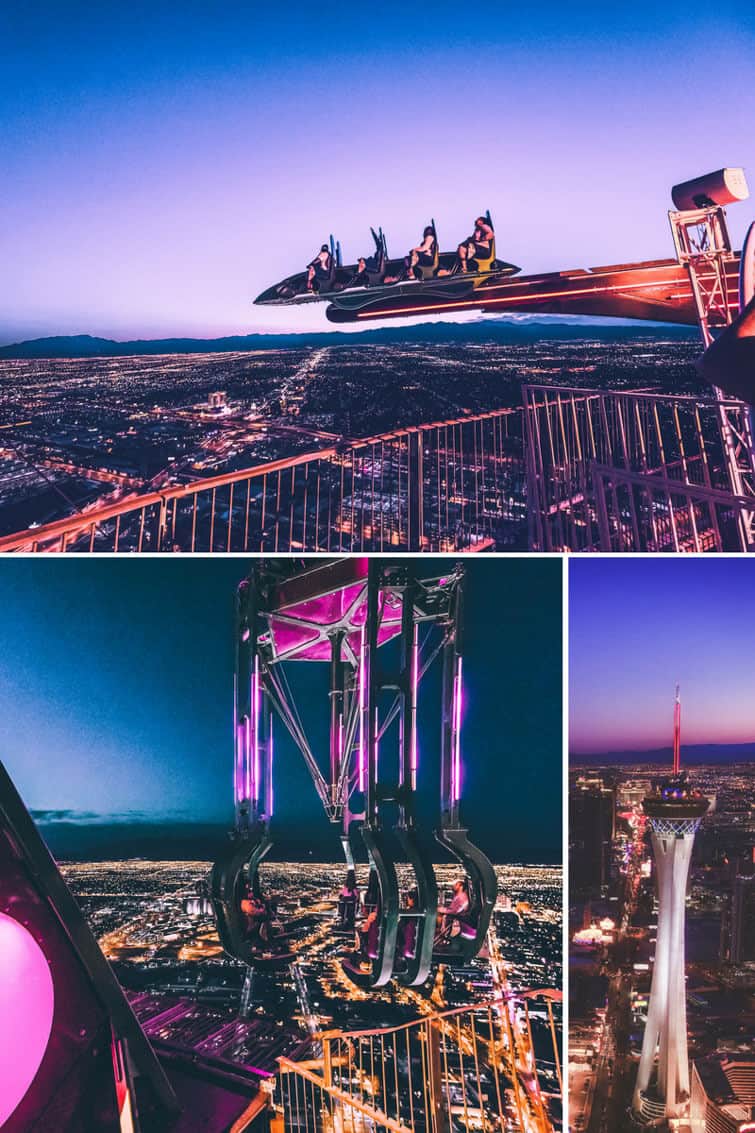 The Stratosphere (The STRAT) is a hotel and casino that towers over the North end of The Strip. The Stratosphere is most famous for its views of The Strip and hair-raising rides.
It is by far the tallest building in Vegas and the rides up top are NOT for someone who is afraid of heights. My favorite is the Big Shot, which shoots your seat straight up the top of the tower and into the sky. Buy tickets to ride the Big Shot here. If that isn't gutsy enough for you, you can jump off the top via controlled cables to the bottom.
They have a new ride called the STRAT Skyjump (Buy your ticket in advance here). It is basically where you jump off the end of the building! If you are feeling super daring I definitely recommend it. These rides can sell out in advance so I recommend booking at least a week or so in advance.
Get your tickets to the STRAT Tower: Thrill Rides Admission Tickets
5. Selfie in Front of the Welcome to Vegas Sign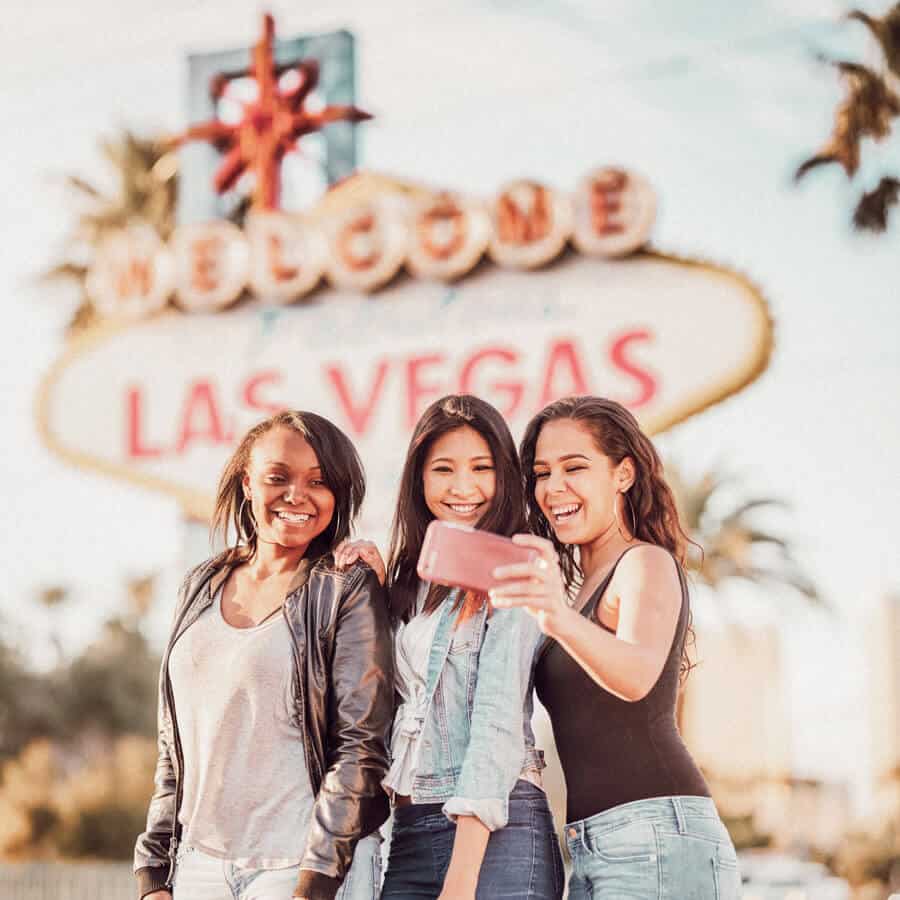 Taking a picture at the Welcome to Las Vegas sign is a rite of passage for vacationers. Whether you are here for a bachelor party, work convention, or just escaping cold winter temperatures this sign on the South end of The Strip is a perfect way to begin your trip. It is free and easy to access, so there is no reason not to stop by.
6. Eat at a Buffet
All you can eat crab, prime rib, or lobster tail sound good? You will find options like this all over the city. These restaurants used to charge as little as $5, but most are now more expensive. Regardless, you can still get a TON of amazing food at many of the properties.
There are a few super cheap options off of Fremont Street, but my favorite is the buffet at the Aria – I feel like I gain 15 pounds in one sitting.
7. Ride on The High Roller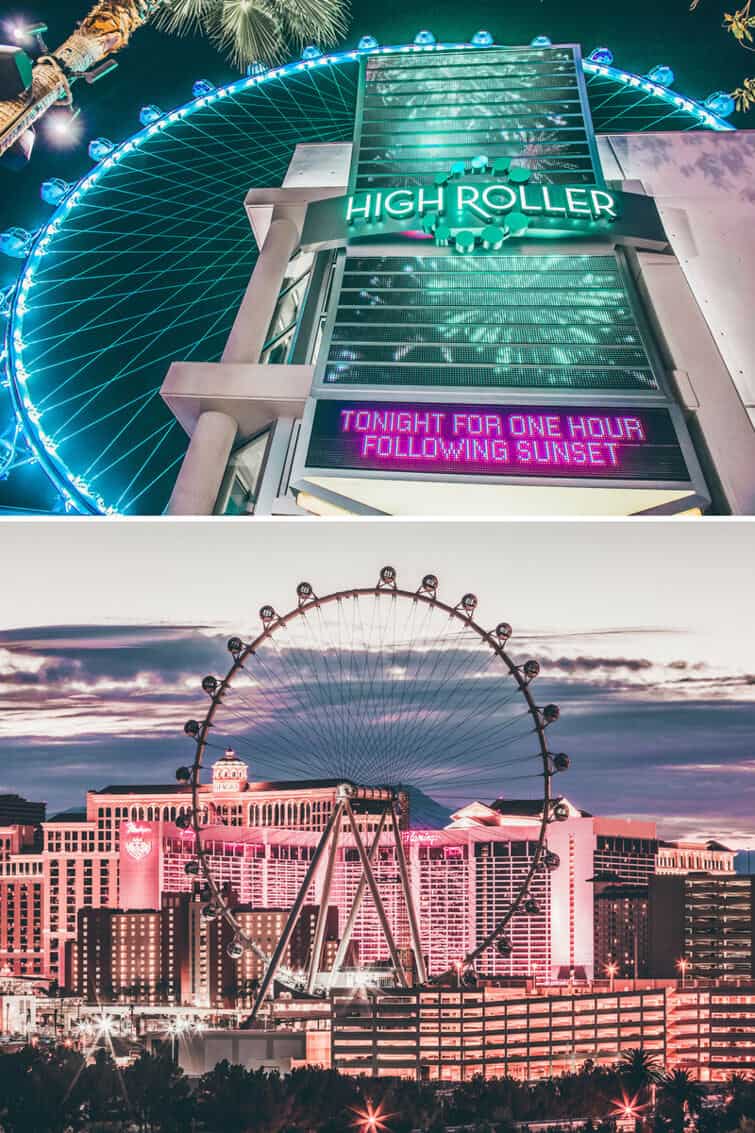 This gigantic observation/Ferris wheel is brand new to Las Vegas. It is like the London Eye, but bigger. Surprisingly it really is a fun ride as pods are big enough to feature whole groups of friends, and even your own bar and bartender. Skip the lines and buy your tickets in advance here.
8. Hiking in Vegas (Valley of fire, Redrock Canyon, Gold Strike, etc)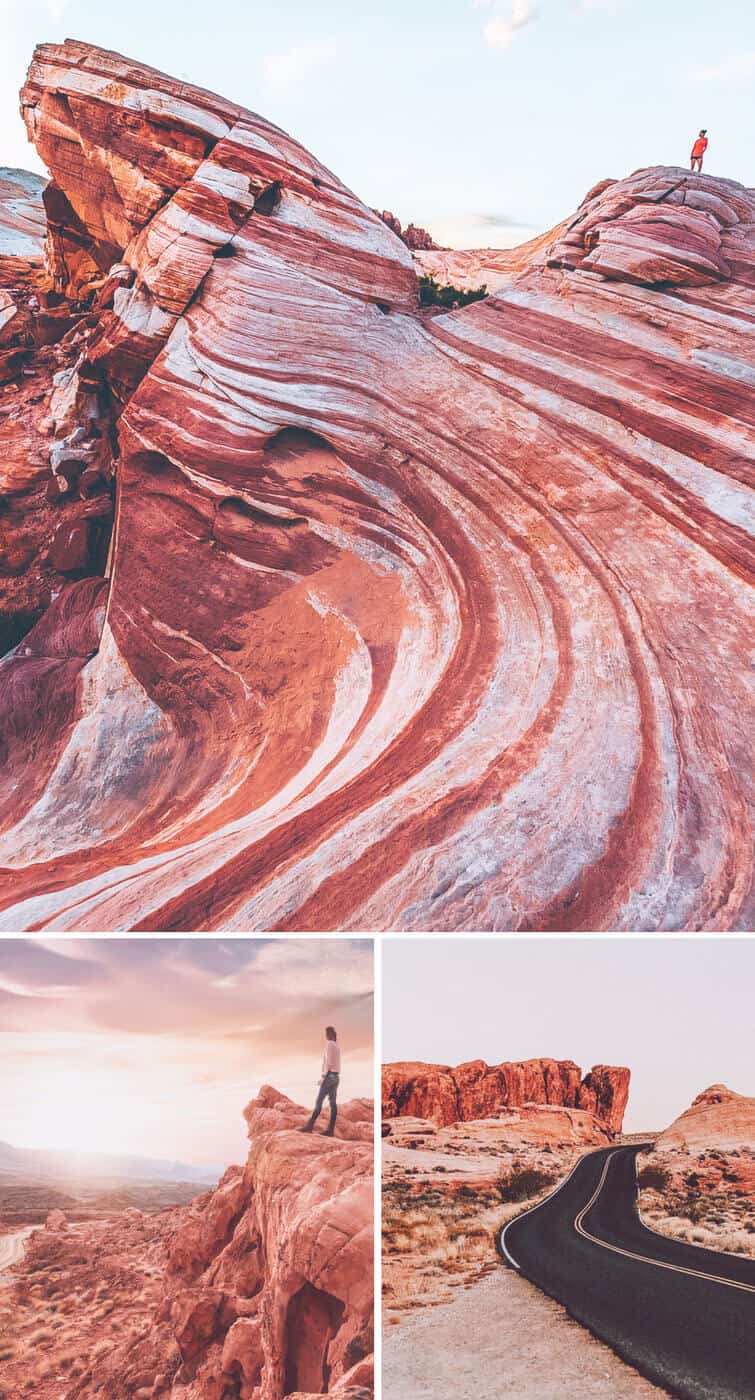 Many people don't realize that Vegas is completely surrounded by world class hiking. I get that hiking doesn't go with the vibe that many people want on their Vegas vacation, but escaping the hype of the Strip is a great way to catch your breath.
My favorites and all doable in a day trip are the Valley of Fire, Redrock Canyon, or the hot springs at Gold Strike.
Book your tour: Valley of Fire Hiking Tour from Las Vegas
9. Relax by Your Hotel Pool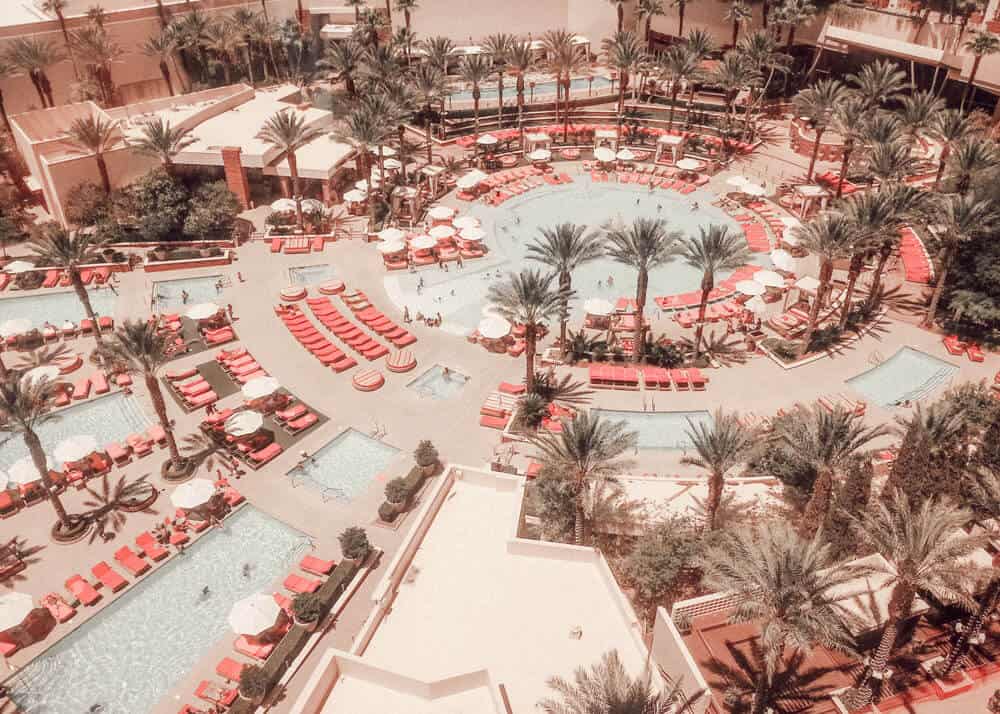 The pools at your hotel in Las Vegas are not like other hotel pools. Deejays, poolside gambling, lazy rivers, cabanas, swim up bars, and man made beaches are all common place in Vegas.
Certain pools advertise being "day clubs" and the ruckus environment confirms it. There are a ton of hotels with awesome pools, but my favorites for lounging are Mandalay Beach at Mandalay Bay, or the Golden Nugget's pool which features a water slide through the middle of a shark tank.
Tip – If you book a stay at the hotel you will get free access to their pool.
10. Go to a Cirque Du Soleil show
If you don't know what a Cirque Du Soleil show is you need to book one immediately! They feature unimaginable acrobatic feats, wild and zany costumes, and unique artistry. They truly appeal to people of all ages.
These incredibly popular shows are typically hosted by one casino at a time, and have multiple showings a night. My favorite is "O", a water themed show at the Bellagio, but you cannot go wrong with any of them. As a local, I'm even willing to go to a new Cirque show. Buy tickets in advance here to the O show before they sell out.
Most popular Cirque Du Soleil shows in Vegas:
I put these shows in order from my most favorite to my least favorite.
Where to Stay in Las Vegas
Overall Favorite: Bellagio Hotel & Casino – A Luxury resort with five pools in a courtyard setting. The rooms are the ultimate luxury. This hotel features a free water show with fountains synchronized to music is right in the middle of the Strip. The inspiration for this property was Lake Como in Bellagio, Italy.
Most Luxurious – Aria Resort and Casino (Our honeymoon hotel) – One of the newer hotels on the strip (opened December 2009). This was the hotel that my husband and I chose to stay in the night we got married, before heading out on our honeymoon to Iceland. It can be pricey, so if you are going to stay here make sure to take advantage of all the features of City Center has to offer. The shopping, restaurants, pools, and spas cannot be beat.
Dirt Cheap – Family Choice: Circus Circus – This property's location is right off the Strip, so you have immediate access to any of the big casinos, yet you can book Circus Circus at an extremely low rate. On more than one occasion I've had family with little kids book this for $19 a night. Yes it is a little bit tired, but for the value offered it works.
Circus Circus also features its own INDOOR amusement park, Adventuredome as well as free indoor circus shows. Adventuredome is a cheap way for kids to get to experience smaller versions of all the rides at a typical amusement park (roller coasters, bumper cars, boat swings, etc). My nieces and nephews thought this amusement park was just as good as Disney Land (it's not), but it is a fraction of the cost.
Budget Choice: The Golden Nugget – Located off of Fremont Street, or what many people now call Old Vegas. This hotel recently received a complete renovation, and now the rooms feel brand new, and are beautiful. My favorite feature of this hotel (other than the price) is the waterslide that goes straight through a shark tank. Seriously, a water slide that goes within inches of huge sharks! I have literally booked this hotel for friends at a rate of $25 per night, though in high season and on weekends it is more expensive.
Read more on Las Vegas:
Pin it for later!