The Road to Hana is a mesmerizing coastal road that travels 60 miles through lush Maui rainforest, past beautiful waterfalls and unusually colored beaches of rust red and midnight black sand.
You need to plan to complete this scenic road trip while you're in Maui, Hawaii. We've got the lowdown on the best Road to Hana stops along the way.
Wondering what to do and how to get there? Our Road to Hana Tour Guide has everything you need to know before you go, including a Road to Hana map.
What to Pack? Before traveling to Maui, make sure to read my Hawaii Packing List guide so you can know exactly what you need to bring to Hawaii.
What is the Road to Hana?
So, you're planning your Maui vacation and you're reading everywhere that you have to do the 'Road to Hana.' But what exactly is it?
I had no idea about the Road to Hana drive before I planned my trip, but I do know that I heard about it endlessly. I was curious to find out why this stretch of road was so famous, and why every tourist simply has to drive down this road while in Maui.
For those that don't know, Hana is actually a village on the southern end of the island of Maui. The Road to Hana is the one you have to take to get there. The journey is a scenic 60-mile stretch that travels down the south-east coast of Maui in Hawaii.
Remarkably photogenic, the Road to Hana Maui travels through tropical jungle along the coast and the mountainside. You can expect some of the most stunning views of the ocean, as well as cascading waterfalls, epic Maui hikes, and multicolored beaches.
Road to Hana Drive – What You Need to Know
At 60 miles long, you might think you could easily cover the road to Hana drive in an hour, but you can't. The speed limit is much lower than you would expect. Even if you could go faster, you wouldn't want to with all the twists and turns in the road. Not to mention the beautiful stops you might miss along the way!
Realistically, the road takes about 2.5 hours without stops – but trust me, you are going to want to stop! As you'll see on a map of the Road to Hana, the roads are very windy. There are over 600 curves in the road (watch our video to see what it's like).
Map of the Road to Hana
A map of the road to Hana drive shows that if you travel the total distance, you will go over 59 bridges, most of which consist of only one lane. This means you're going to need to wait if there are cars already crossing the bridge from the other direction. Allow plenty of time for the unexpected.
The drive along the winding roads is still worth it even if you're prone to carsickness. There's so much to see along the way that you'll have plenty of breaks from the nausea. There are plenty of places to stop and get a breath of fresh air should you need it.
Wondering what to pack for Hawaii? We got you covered with our extensive Hawaii Packing List!
Is a Road to Hana Tour Worth it?
In order to properly enjoy the Road to Hana I highly recommend you rent a car. There are simply too many attractions and activities to choose from. If you do a Road to Hana tour with a travel company, you are guaranteed to miss some of the ones you really want to see if they're not included on the standard itinerary.
Plus, having your own car means you can stop at the places where a typical Hana tour won't go. Believe me, having these natural wonders to yourself makes them even more magical!
We were in Maui during Spring Break, so there were tons of people on the roads. The driving was slower than normal, but it was still amazing. And there are enough Hana stops that the crowds were spread out between them. We still got to see everything we wanted to – and more!
Best Road to Hana Stops
From red and black sand beaches to astonishing Maui waterfalls you can view from above and below, there are so many things to do along the Road to Hana. We've narrowed the list down slightly to include some of our favorite Road to Hana stops below.
See a Rainbow Eucalyptus Tree (mile marker #2 and #7)
Rainbow Trees
The most well-known grove of gorgeous rainbow eucalyptus trees in Maui can be found near mile marker #7, but you can see them in a number of different places too.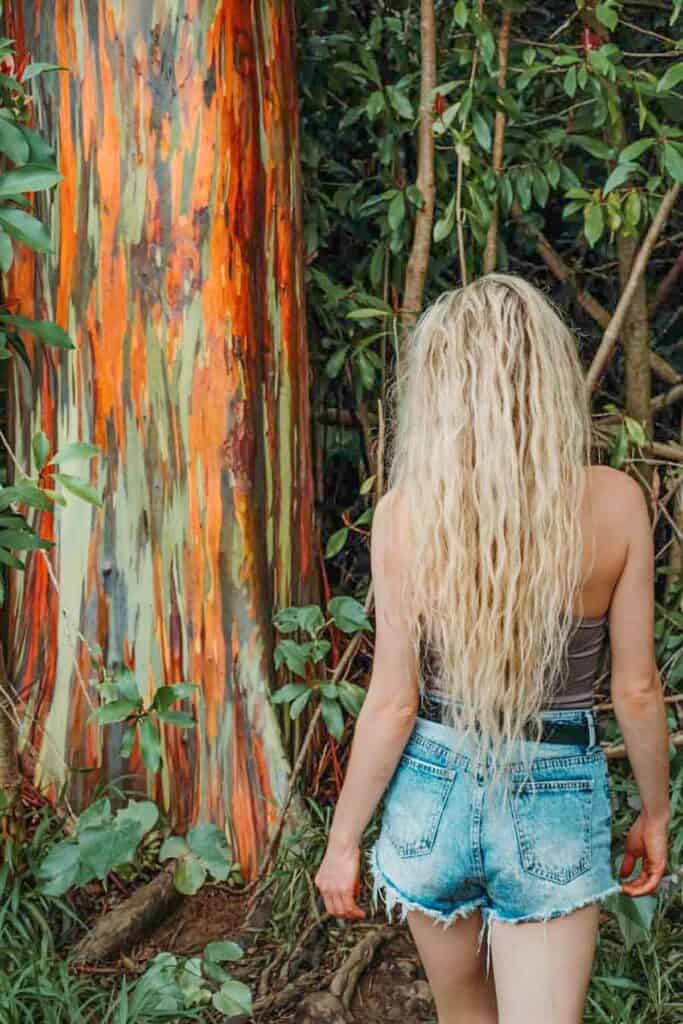 Our favorite spot was right next to Twin Falls Maui at mile marker #2. From the entrance to the falls, carry on another 100 yards south-east on the Road to Hana, and you'll see these unusual rainbow trees on the eastern side of the road. Believe me, the colors on the trees really are as vibrant as they look in the photos!
Twin Falls (mile marker #2)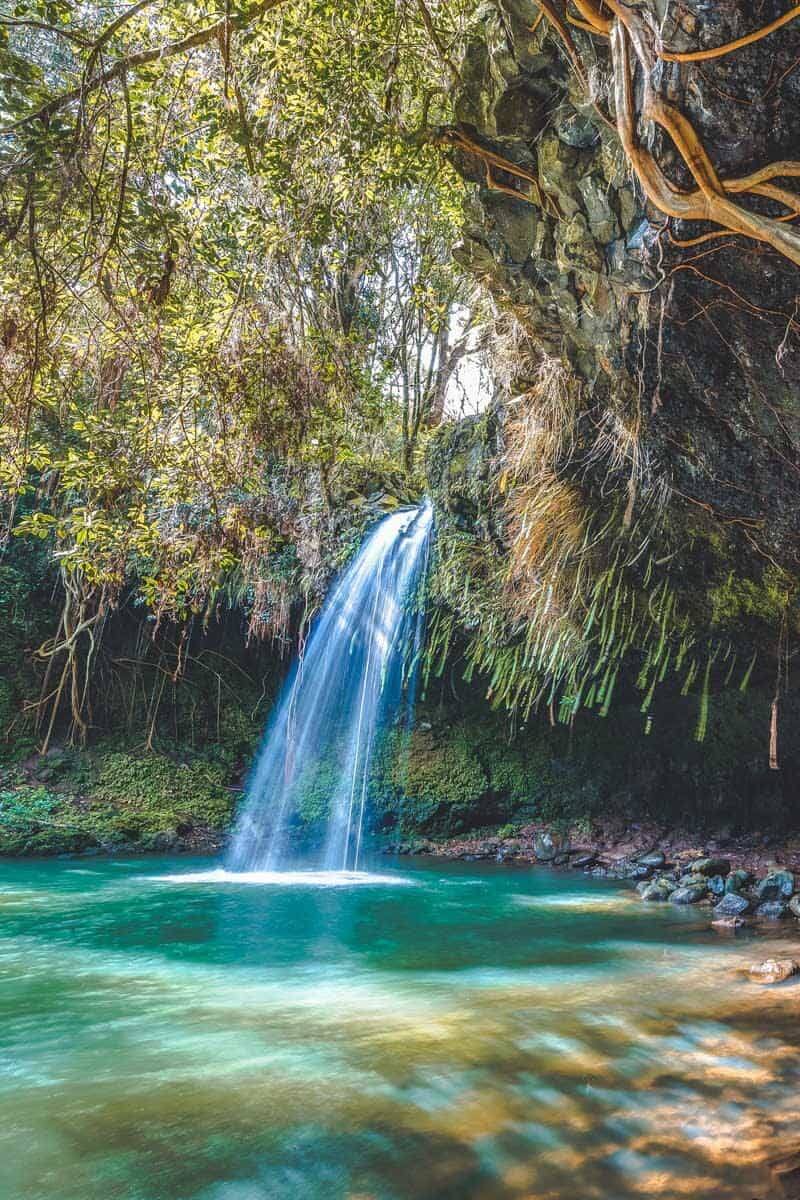 Twin Falls Maui is a lovely waterfall with its multiple pools and Tarzan rope swing is one of the best things to do in Maui with kids. Don't be put off by the busy parking lot; just take a stroll down the trail to find secluded waterfall pools without the crowds.
Upper Waikani Falls AKA the Three Bears (mile marker #19)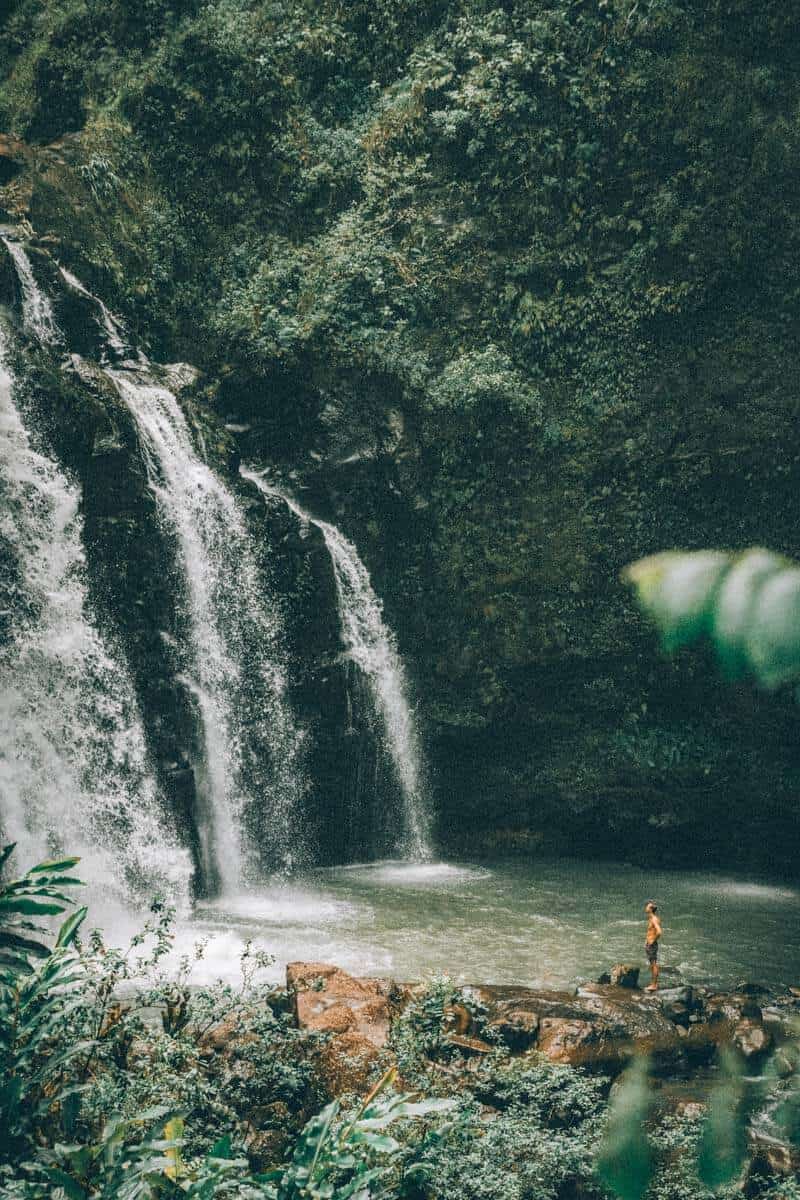 Also known as the Three Bears because of its extraordinary triple waterfall, the 70-foot high Upper Waikani Falls is one of the best Road to Hana waterfalls. You can drive right up to it!
Feeling adventurous? Why not climb down from the bridge for a swim in the pool at the bottom – not many people do!
Check out the best Maui Waterfalls like Upper Waikani Falls here.
Makapipi Falls (mile marker #25)
Another roadside waterfall, Makapipi Falls can be viewed on most Road to Hana tours. It's one of the best waterfalls Maui has to offer because unlike many of the other falls, you can look down on this one from above.
Pools of Ohe'o (mile marker #42)
The Seven Sacred Pools are a series of tiered waterfall swimming holes that offer some seriously exciting cliff-jumping opportunities. The Bamboo Forest Maui is one of the best Maui waterfall hikes and definitely worth exploring while you're here!
Wailua Falls (mile marker #45)
This is one of the best waterfalls in Maui, and for good reason. Plunging 80 feet, this waterfall can easily be viewed from the road – and the view is truly astonishing. Not sure where it is? Just look out for the crowds on the bridge.
Red Sand Beach (south of Hana Bay)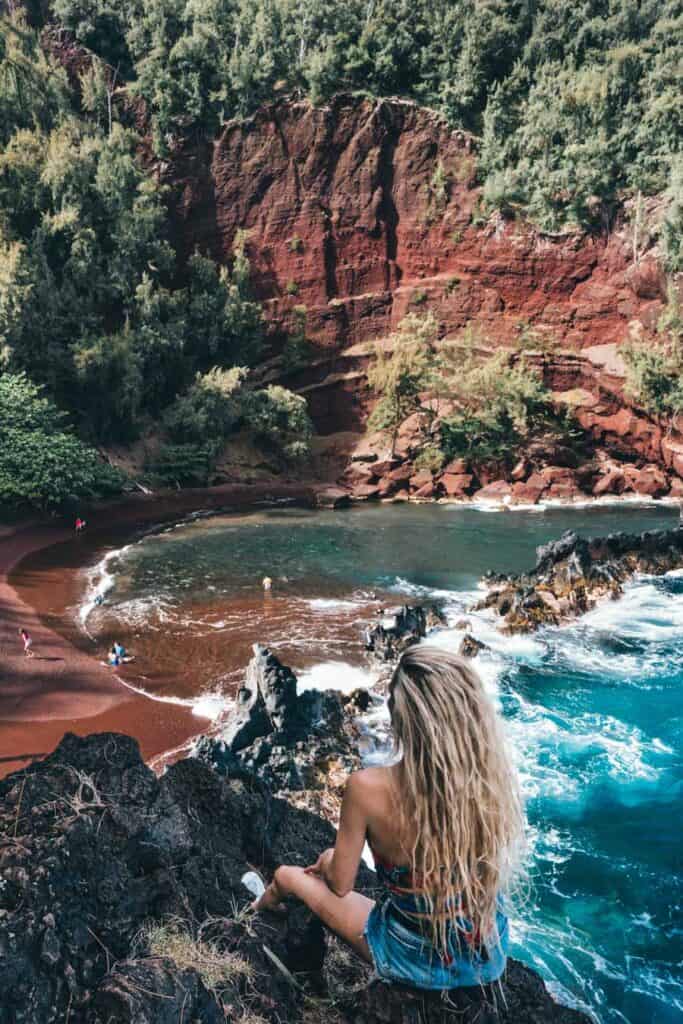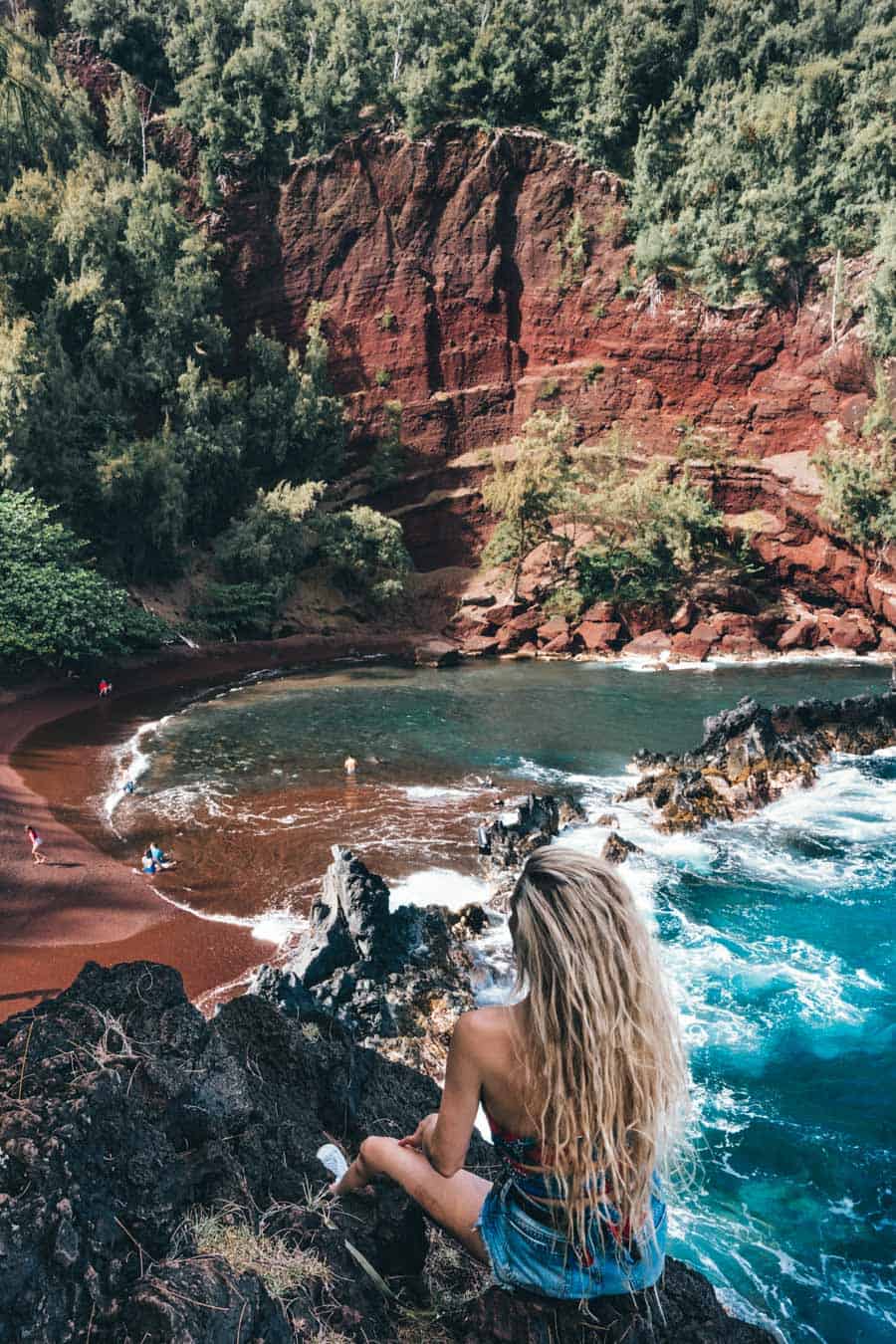 Also known as Secret Beach because it's so tricky to get to, Red Sand Beach is one of those rare hidden gems.
The trail leading to the beach is one of the best hikes in Maui. While the climb down may be difficult, the beach is definitely worth it! After all, there are not many places in the world where you'll find rusty red colored sand alongside a bright turquoise ocean!
Even better, most Maui tours don't go here, so it's rarely crowded.
Read more about this incredible Red Sand Beach here.
Waianapanapa Black Sand Beach (mile marker #32)
You may think that black sand beaches can only be found on Big Island, but Maui has a few worth seeing too! Made up of crushed volcanic rock, you simply have to experience a black sand beach while you're here. And conveniently, there's one located next to Hana!
The Road to Hana Black Sand Beach in Waianapanapa State Park is fantastic to see. Surrounded by rocky cliffs on each side with waves crashing on shore onto the gorgeous midnight black sand, it's a truly unique sight. There are even caves to explore!
Waianapanapa Black Sand Beach itself is not that big, and the sand isn't that soft for lounging, but it's absolutely a must-see. Parking is easy in this state park, but you will find it near the end of the drive to Hana, so come prepared with a picnic. Read more here.
Tips for your driving your Road to Hana Itinerary
Rent a car. Believe me, it's worth it!
Take your time – don't try and do it all in one day. The longer you have to explore, the more you'll be able to see – and trust me, there are loads of things to do on the Road to Hana!
Head off with a full tank of gas. There are no gas stations between Pa'ia and Hana.
Pack road trip snacks and a picnic lunch to enjoy at one of the waterfalls. There are roadside fruit vendors scattered about near main sights, but don't expect a McDonald's drive-through.
Pack a rain jacket – even in the 'dry season.'
Start and stay late to get ahead and behind the the crowds.
With its black sand beaches and roadside waterfalls, following our Road to Hana map is one of the best Maui adventures. It's a journey that has to be experienced to be believed. We hope you enjoy it as much as we did!
Planning a trip to Maui? Here are our best MAUI BLOG POSTS:
My husband and I have been to Maui a couple times and have written up more blog posts to help you plan your trip. These are my most popular blog posts and Hawaii travel guides to help you plan your trip. I hope it helps!
Maui general trip planning
Maui Beaches
Maui Hikes & Lookouts
Maui Waterfalls
Everything else