Red Sand Beach – or Kaihalulu Beach in Hawaiian – is one of the best beaches Maui offers. Maui beaches all seem to be amazing, but this red beach is a perfect piece of tucked away beachfront paradise.
It may be just a stone's throw from Hana, but this little hidden gem remains one of the best beaches in Maui.
Also known as 'Secret Beach,' mainly because it's so difficult to find and the trail leading to it so tricky to navigate, hiking down to the secluded Red Sand Beach is not exactly easy.
What to Pack? Before traveling to Hawaii, make sure to read my Hawaii Packing List guide so you can know exactly what you need to bring on your trip to Maui.
Kaihalulu Beach (Red Sand Beach)
But with rust-red colored sand contrasted by a brilliant blue sea and a reputation as a clothing-optional beach, the views are certainly worth the hike! (We didn't see any naked people, but don't say you weren't warned.)
Red Sand Beach Location
GPS: 20.752948, -155.981601
How to get to Red Sand Beach (Kaihalulu Beach)
Multi-colored Maui beaches are nothing new in Hawaii, but red sand beaches are extraordinary.
Hidden below a crimson cliff, this unusual beach may not be the easiest to access, but one thing is certain: get there now before it becomes overrun by tourists!
Luckily, you won't struggle to find the trail like we did. Just follow our directions to one of the best beaches in Maui and read our tips for planning your day trip. Have fun!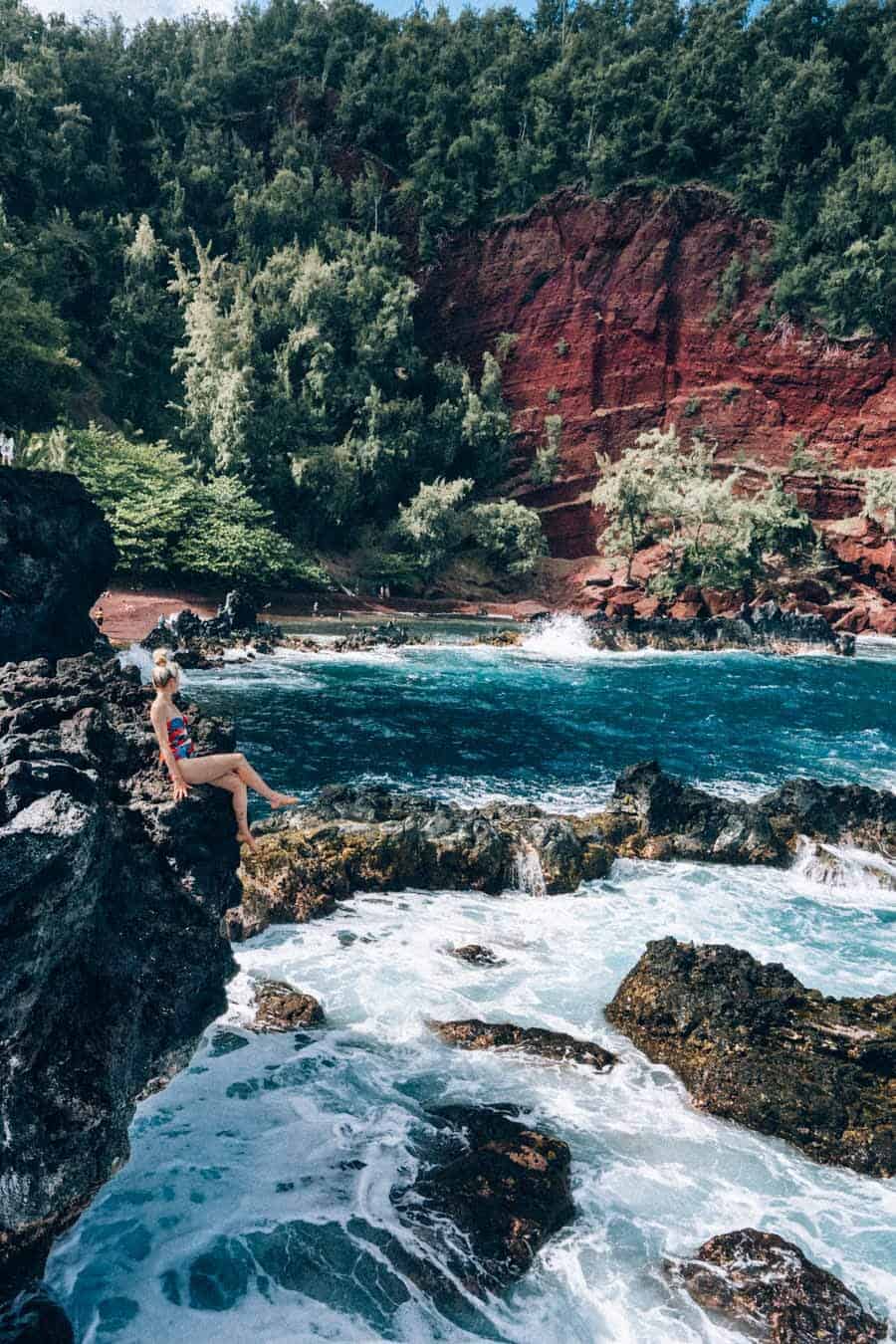 Red Sand Beach can be found at the end of a two-hour windy road to Hana in Maui, Hawaii. As with the best attractions in Maui, there are no signs to guide you; you just have to know where to look.
Drive along Hana Highway until you get to Hana. Turn left (east) into Hauoli Road and follow the road until it intersects with Uakea Road. This is as far as you'll go by car.
Red Sand Beach Parking
Get here early to find parking, as space is limited. Park along the street outside the Travaasa Hotel or by Hana Ballpark and walk.
As the area near the beach is suburban, you have to be respectful of the locals. Be careful when parking and don't obstruct traffic or entranceways as you'll get a parking ticket (we got one, but it was still worth it!).
Finding the Red Sand Beach Trail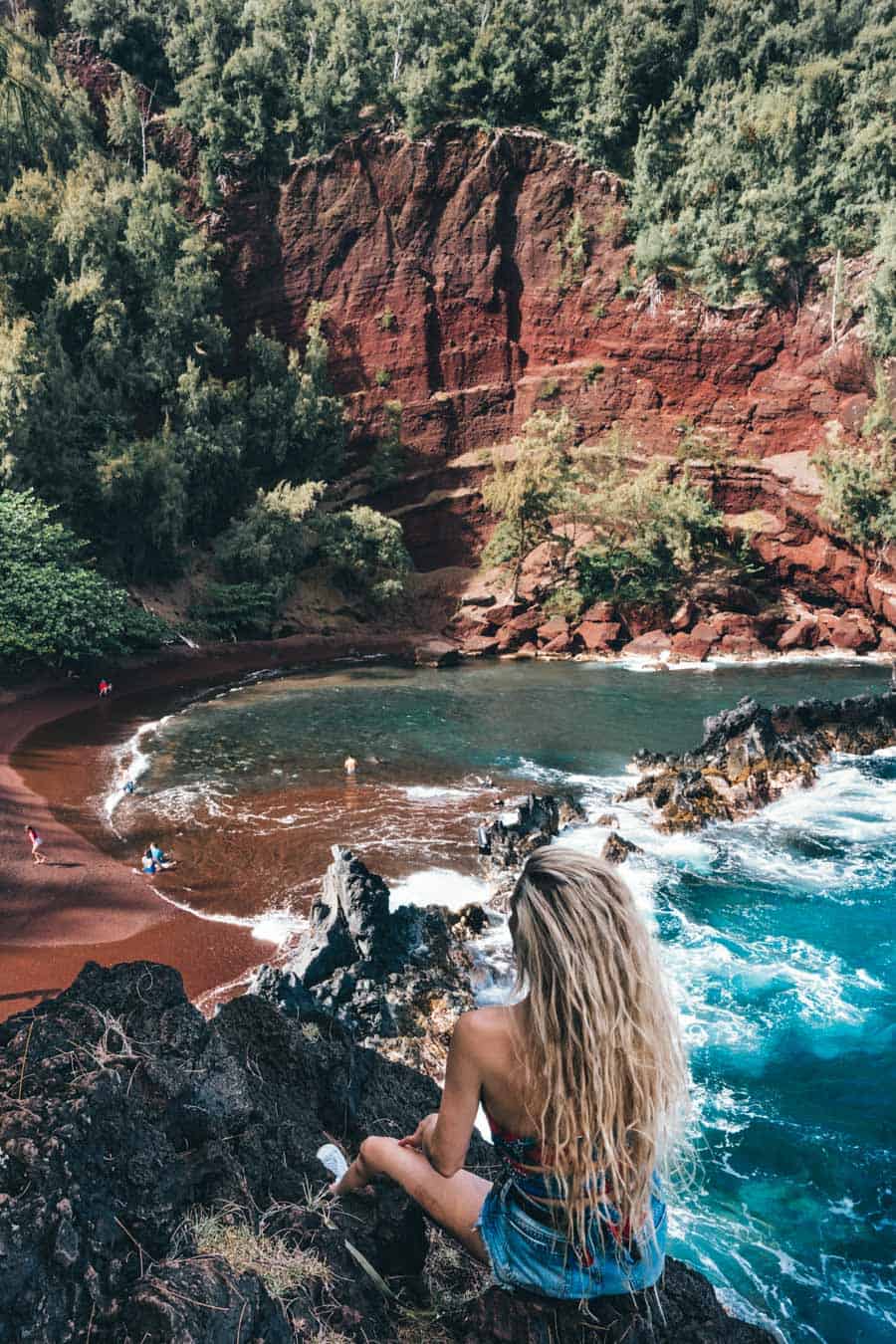 On foot, you'll walk across the Hana Community Center field looking for a path on the right-hand side. There are a lot of Maui hiking tours, but this one is special.
The hidden trail takes you to one of the best beaches in Maui and is only about a 15-minute hike around the edge of a cliff. It's fun, but you have to be careful.
Watch our video on hiking to Red Sand Beach, Hana, it's not too scary and it goes by pretty quickly!
Follow the narrow dirt trail down to an old ironwood tree.
You have two options:
Take the pathway to the right. This route is recommended by guidebooks but has been affected by landslides and what remains of the path is extremely narrow. It may be short, but it's the most hazardous of these Maui hikes.
Take another trail leading down to the shoreline, bypassing the narrow section. If you reach the Japanese cemetery, you've gone too far. Backtrack and take one of the paths leading downhill, walk along the shoreline, then climb back up to re-join the trail when it widens out.
Be careful when hiking to Red Sand Beach. Not only is the trail made of loose cinders that fall away easily but it's covered in slippery pine needles. Maui hikes vary in difficulty, and for this one we recommend the Maui hiking trails down to Red Sand Beach for experienced, sure-footed hikers, not anyone with mobility issues or an extreme fear of heights.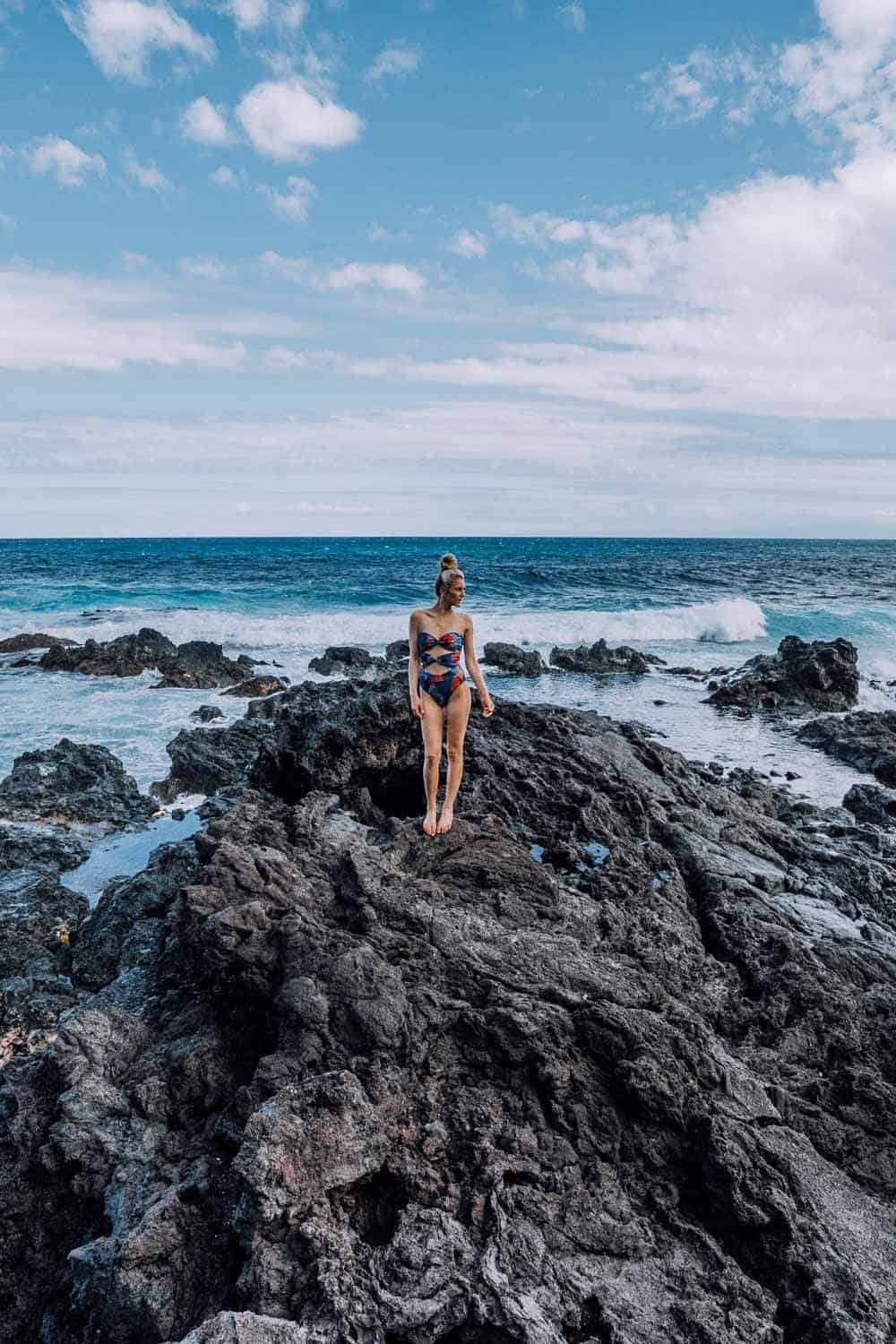 Yes, Red Sand Beach Maui is a Beach with Red Sand
The crescent-shaped Red Sand Beach is dug into the side of the Ka'uiki Head, which means 'roaring sea.' What makes this beach spectacular is not only the unusual red colored sand, which is undeniably beautiful, but the way it contrasts with the luminescent blue waters of the Pacific.
Yes, the sand really is that red and the water really is that blue! And if you're wondering why the sand is red, we'll tell you: Red Sand Beach is tucked beneath a crumbling crimson cinder cone that's rich in iron and erodes into the red colored sand the beach is so famous for.
While Red Sand Beach is popular with locals, it's not too crowded, as most are put off by the drive and dangerous trek, even though it's one of the best hikes in Maui. The reward for navigating the cliffs is the chance to soak in crystal-clear waters and have the beach pretty much all to yourself!
The Best Snorkeling in Maui
Apart from the beach, the hike promises another great perk you may not be aware of. Sheltered by a wall of lava rock, the cove's conditions offer some of the best snorkeling in Maui! We saw people snorkeling here but be careful as the water is rough outside the protected lagoon.
Red Sand Beach may not be the easiest to get to, but it's worth it. Even with the drive and the hike to get there, we would happily go again. When you're on the island of Maui in Hawaii, make sure you take the trek down – you won't be disappointed!
Tips for Red Beach, Maui
Wear decent hiking shoes. Any kind of tennis shoes would work. These Nike high tops are my current favs. Warning – your shoes might get muddy so don't wear shoes you care about keeping clean.
Come early – it'll be easier to find parking, and you'll have more time on the beach. We wish we could have stayed longer but the sun was setting!
Beware with kids – the trail is steep and potentially dangerous, and the beach is supposedly popular with nudists.
If you feel nervous about the hike, consider joining one of the Maui hiking tours.
Mark the location on the GPS. While it feels as though Red Sand Beach is in the middle of nowhere, we had phone service the entire time.
Pack snorkeling gear for snorkeling Maui.
Take snacks – there are no services or facilities on the beach.
Keep it clean – there are no trash cans so take your trash with you; be sure to leave the beach cleaner than you found it.
What to Pack for Maui
Planning a trip to Maui? Here are our best MAUI BLOG POSTS:
My husband and I have been to Maui a couple times and have written up more blog posts to help you plan your trip. These are my most popular blog posts and Hawaii travel guides to help you plan your trip. I hope it helps!
Maui general trip planning
Maui Beaches
Maui Hikes & Lookouts
Maui Waterfalls
Everything else