Maui is a magical place. Unlike the busy, crowded islands that attract thousands of tourists to beaches and beautiful scenery, Maui is a tropical wonderland waiting to be explored by the most daring of island adventurers.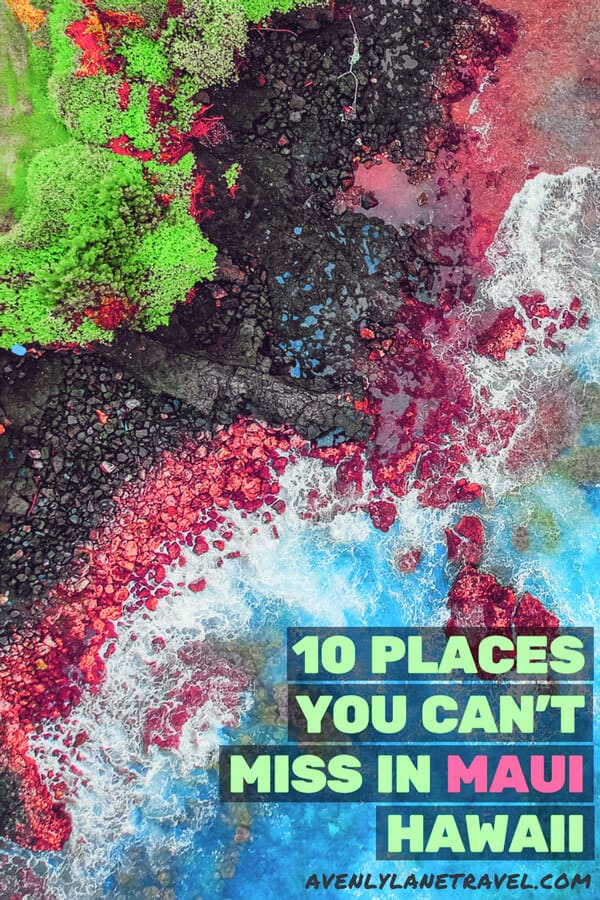 Although you can enjoy the most opulent of luxury in Maui, the majority of people visit the island to see its untamed beauty. Whether you are walking along side a volcano, surfing the waves, or taking the most exhilarating drive of your life!
Read on to learn about the best places to stay in Maui, as well as some fun and free things to do in Maui.
Don't forget to comment below and let us know where your favorite spot in Maui is!
What to Pack? Before traveling to Maui, make sure to read my Hawaii Packing List so you can know exactly what you need to bring to Hawaii.
10 Cool Things to Do in Maui
Looking for more inspiration to add to you Hawaii bucket list? Me too! And I have always felt that you can make almost any trip affordable.
We went to Iceland after everyone was complaining about how expensive it was, it wasn't for us. We brought granola bars and fruit to eat, made sure our hotel had free parking, free wifi, and most importantly free breakfast.
I am not saying a trip to Hawaii or Iceland is going to cost you nothing. But it doesn't have to be as expensive as you think. There are so many cool things to do in Maui that are completely free or really cheap, starting with a few of my favorite hikes and waterfalls!
Swim in the Seven Sacred Pools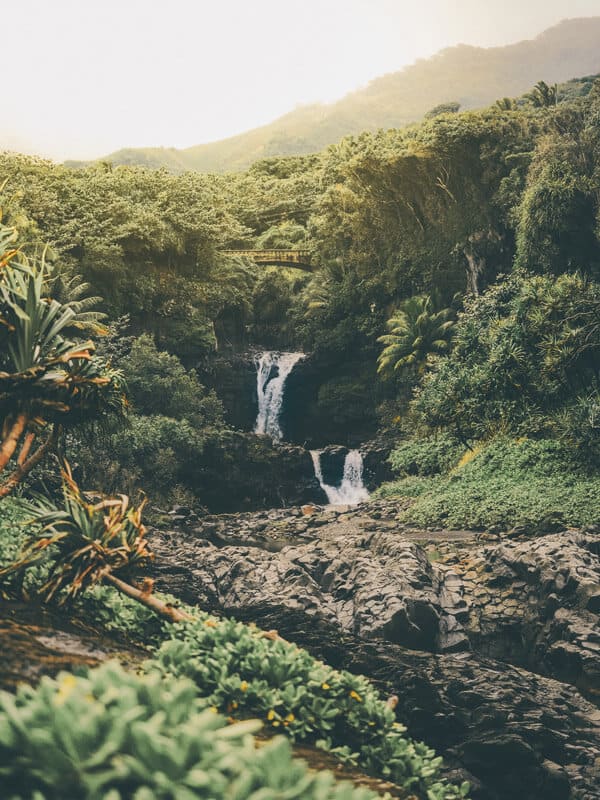 The Seven Sacred Pools are one of the most popular attractions in Maui. This beautiful park has pools for swimming and waterfalls. Even though it is prohibited, you will often see people jumping down the waterfalls.
If you have a chance to go, make sure to get there as early as possible as it can get quite crowded later in the day.
Related Post: The 6 Best Easily Accessible Waterfalls in Maui
Take a Helicopter Tour of the Island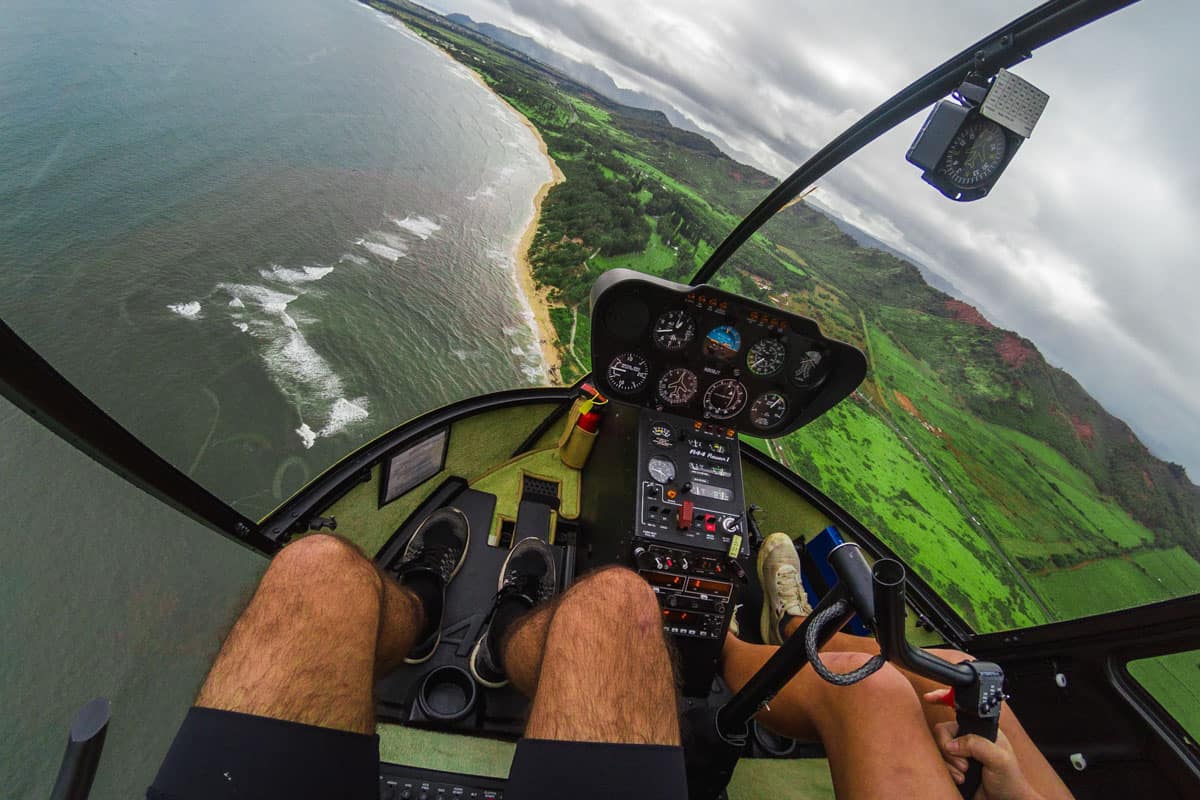 Drive the Road to Hana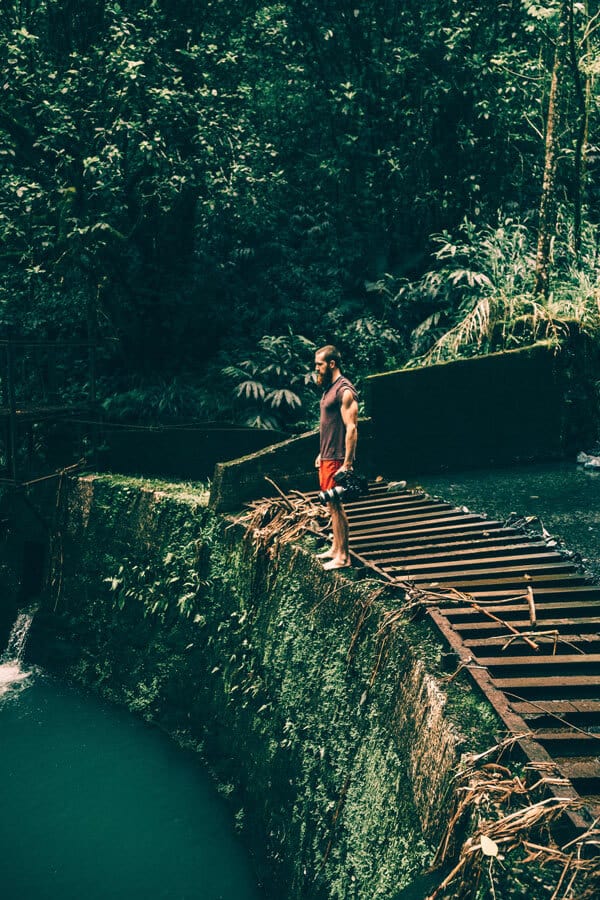 You will probably feel like you're about to die during every one of the 600 hairpin turns on the Hana Highway. However, you won't regret the awesome photo ops—or the dinner waiting for you at Mama's Fish House once you arrive. How many miles is the road to Hana?
Just over 64, but you'll have plenty of interesting stops along the way.
Check out the Waikamoi Nature Trail, Upper Waikani Falls, Waianapanapa Black Sand Beach in Maui and the incredible area of Haiku-Pauwela.
Rainbow Eucalyptus Trees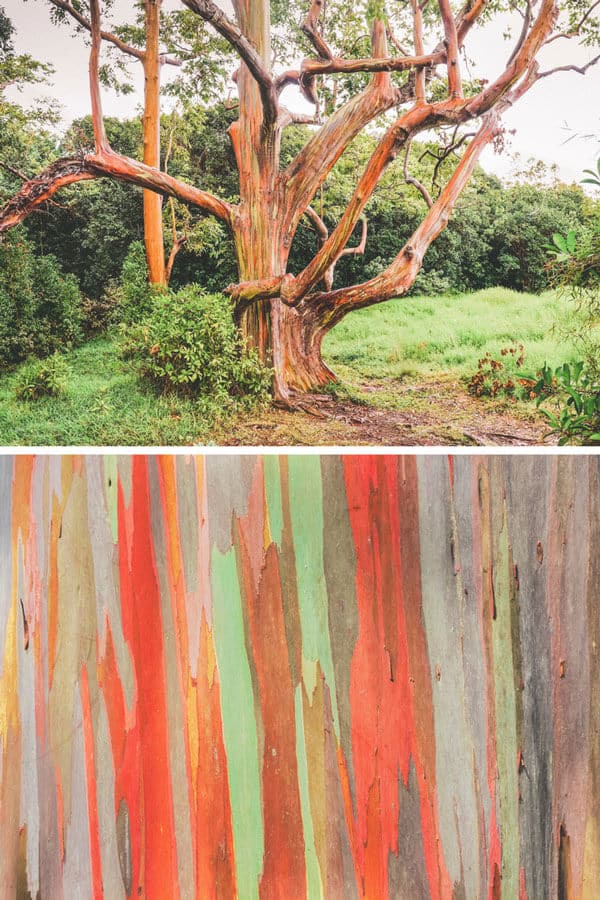 Am I the only one that had no idea these trees even existed? Rainbow tree bark on the Eucalyptus trees! The various colors form due to the outer layer of the tree continually peeling away and changing colors.
Kaihalulu Beach – Red Sand Beach Maui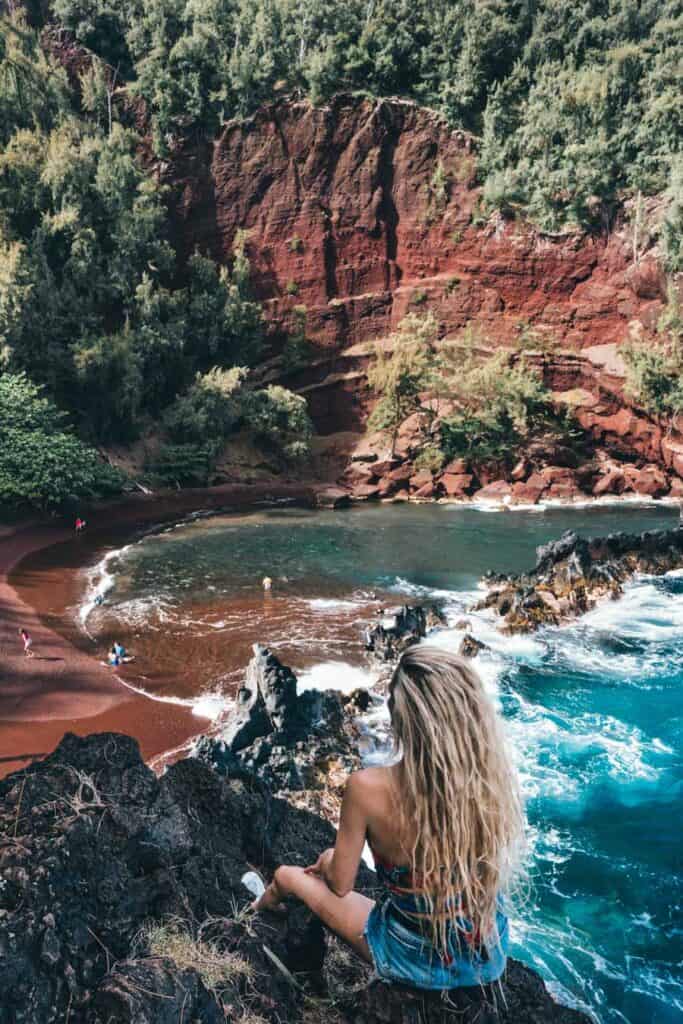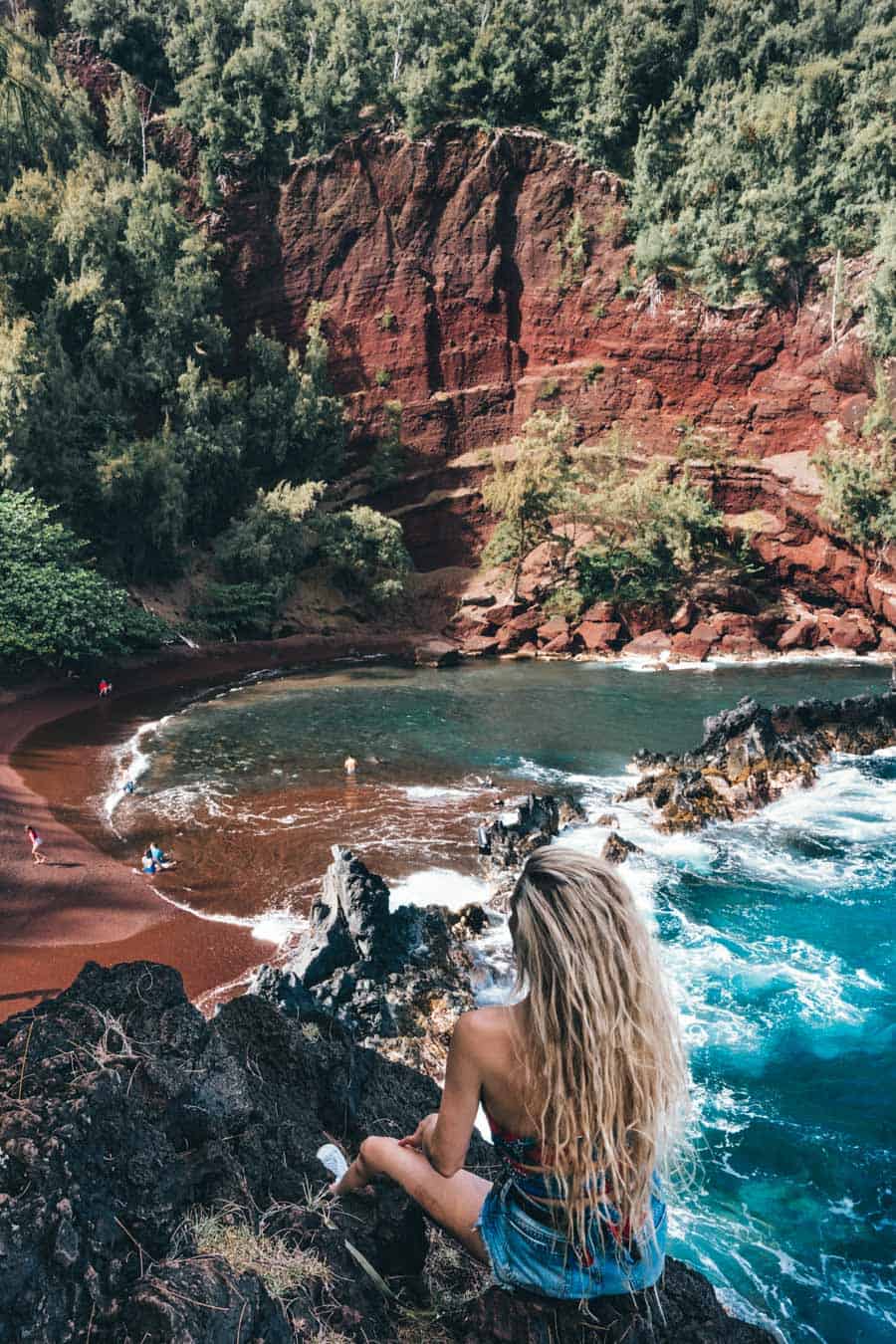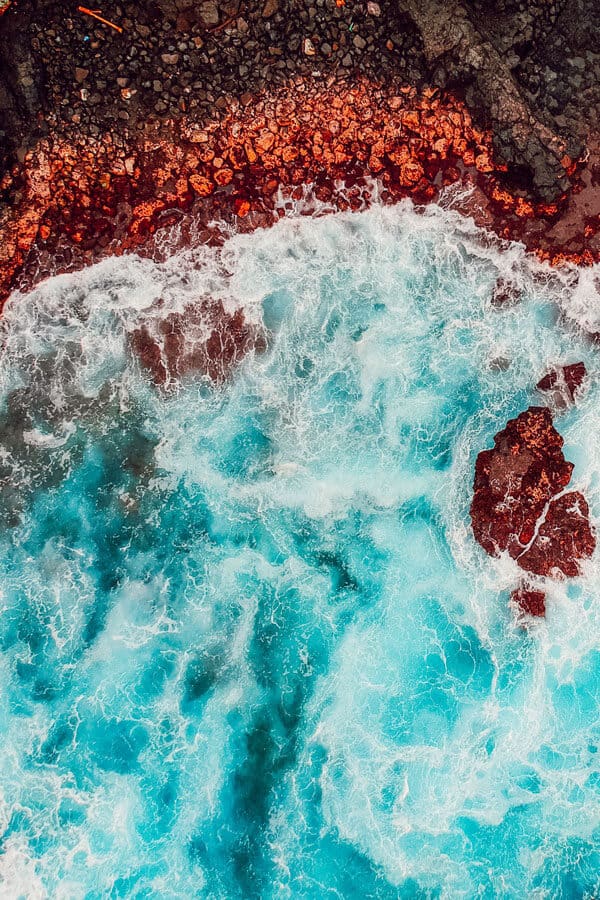 Most people are surprised to learn that Hawaii features some exquisitely beautiful red sand beaches. Kaihalulu Beach in Hana, Hawaii is one place where you can observe this phenomenon, but be prepared for a decent hike to uncover this gem.
This is one of the best beaches in Hawaii but it can be a little tricky to get to as the trail is pretty steep. Make sure if you go you bring proper shoes and take extra caution if it is wet or raining.
Also worth noting is that due to the secluded nature of this little piece of paradise, Kaihalulu is known unofficially as a clothing-optional beach. So don't be surprised if you end up seeing some things you weren't quite prepared for.
Related: What you need to know before visiting the Red Sand Beach, Maui
Maui Zip Line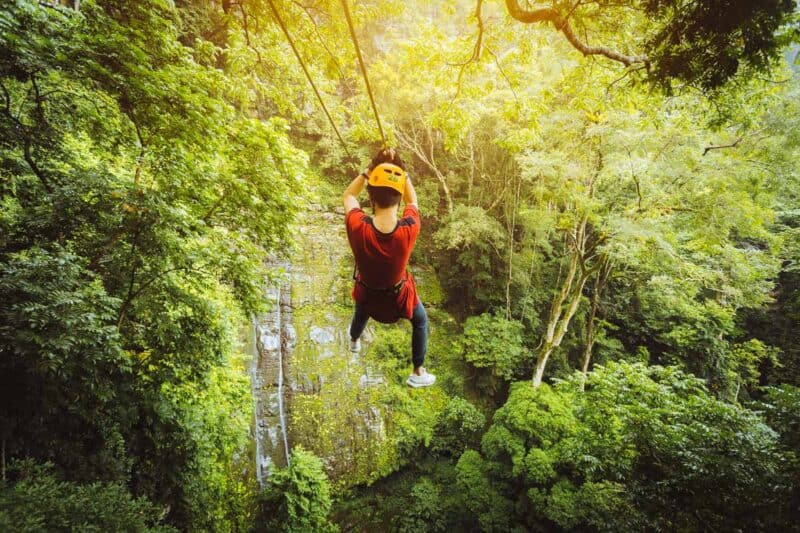 Though there are many places on Maui that you can zipline above and climb up platforms via rope bridges through the dense rainforest canopy. Haleakala 5-Line Zipline Adventure is one of the best. They feature ziplines, atv rides, rappelling, and suspension bridges. Book your zip lining tour here.
More of the most popular Maui Zipline tours:
Waimoku Falls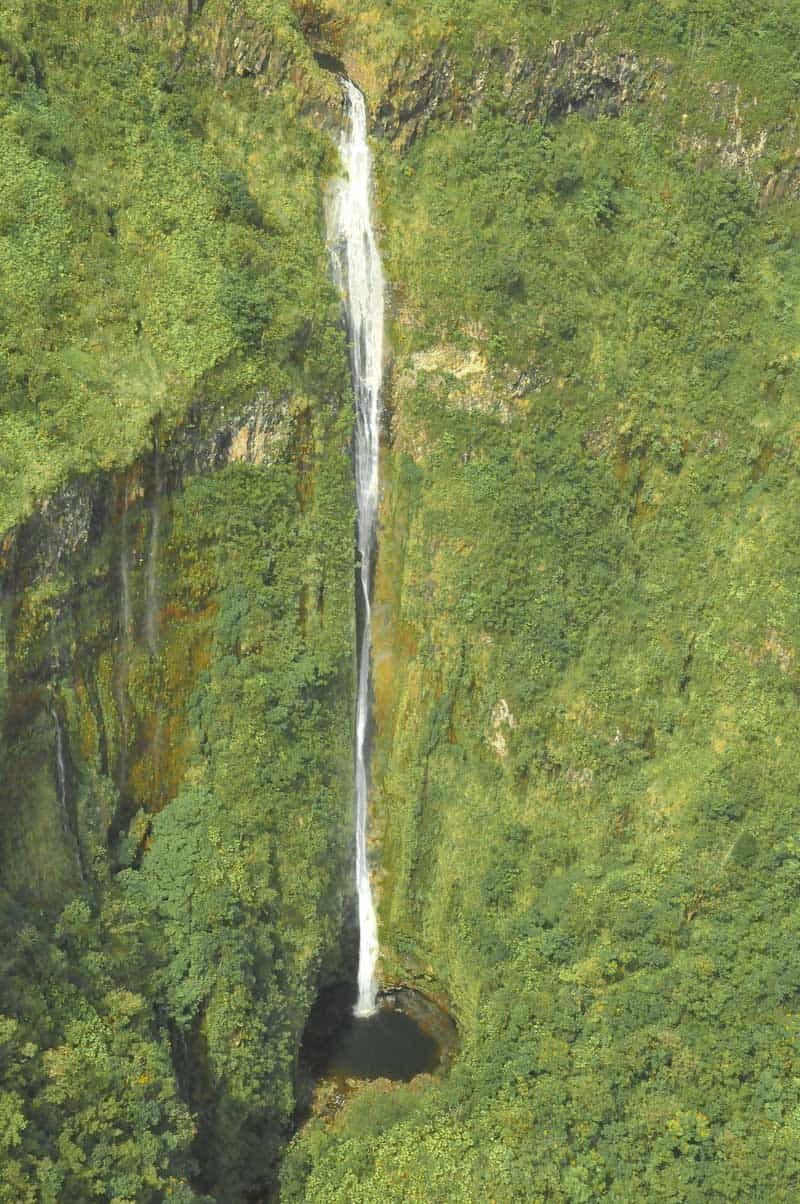 If you take the Pipiwai Trail on the Road to Hana, you'll end up at Waimoku falls. A long hike of a few hours will bring you to a thundering sheet of water cascading down a sheer volcanic rock face. Stunning!
Haleakala Summit
Haleakala National Park is one of the best cheap things to do in Maui. You won't find any beaches or tropical vegetation here—just the moonlike landscape of a dramatic volcano!
Book your tour: Haleakala, Ia'o Valley & Lahaina Tour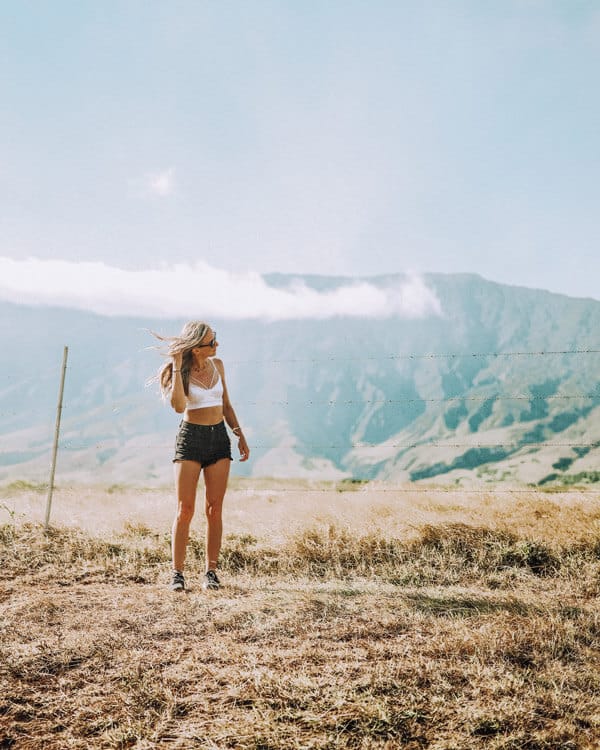 Haleakala Crater
Hiking Haleakala Crater is a tough climb, but it's worth it. The views here are incredible!
Heart Shaped Rock Hike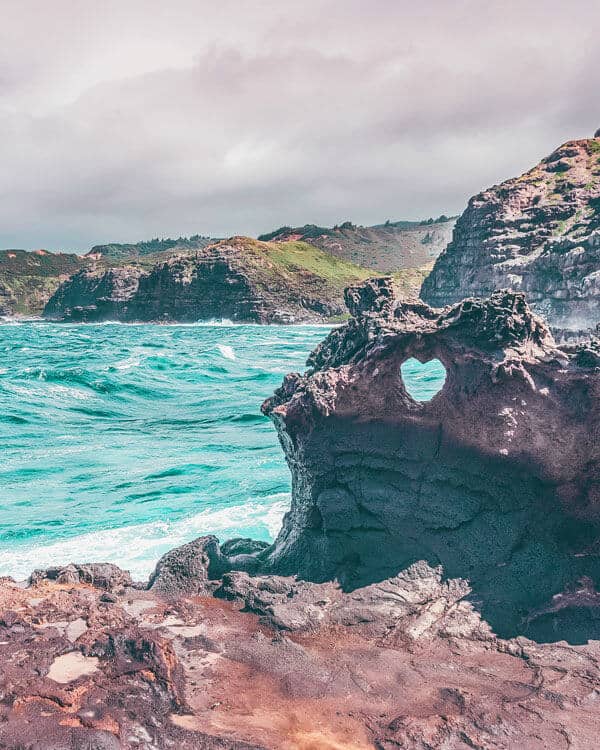 Although most people call this the heart shaped rock, it is more of a heart shaped hole. Either way, this romantic spot is definitely worth a visit. It is located right by the Nakalele Blowhole. Which just so happens to be our next point, so keep reading!
Nakalele Blowhole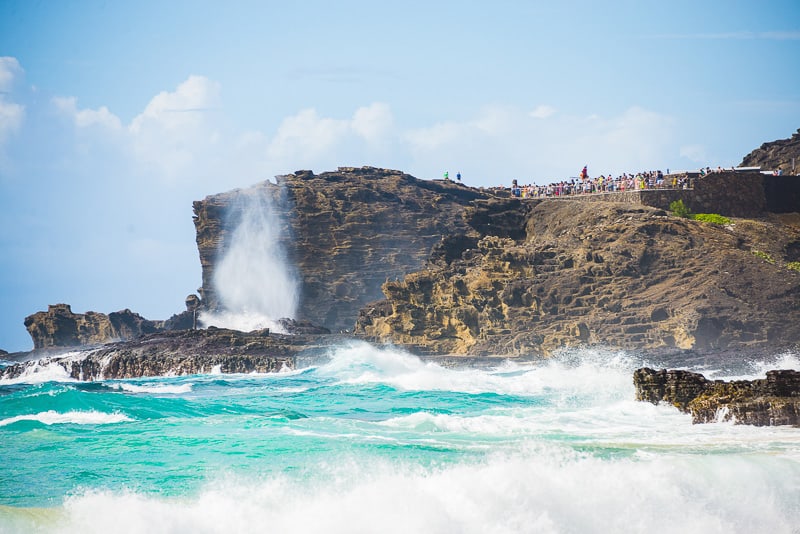 You (probably) won't see a volcanic explosion while in Maui, but the Nakalele Blowhole is the next best thing. This is a geyser of seawater that explodes from a rock beside the ocean. Water spewed from the blowhole can rise as high as 100 feet in the air. Be sure to bring your camera!
Go for a swim at Twin Falls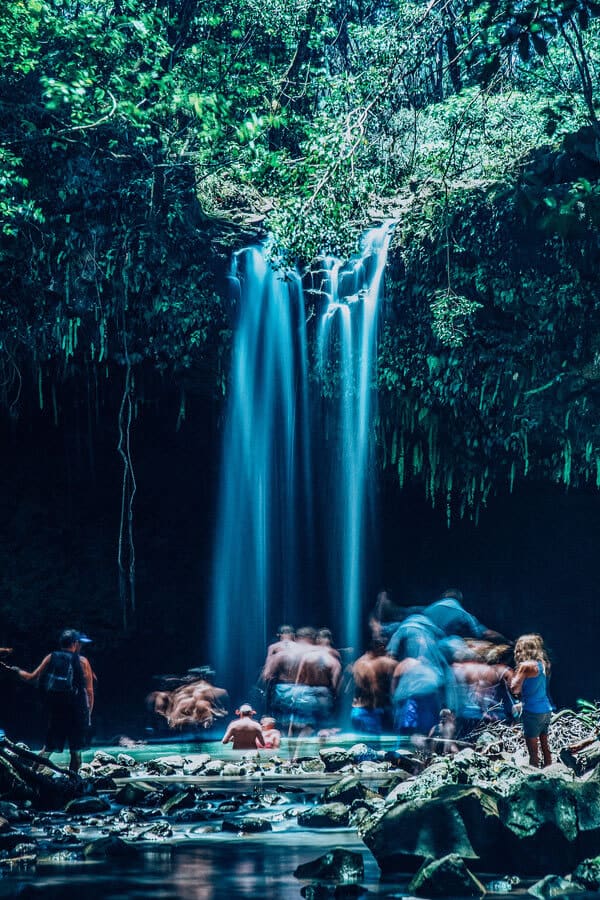 There are so many incredible waterfalls in Hawaii, Twin Falls is just one of my favorites. Make sure to also check out the Twin Falls Maui Farm Stand before hitting the trails. There is nothing more refreshing than some fresh coconut water straight from the coconut itself.
Black Sand Beach in Maui – one of the best beaches in Hawaii!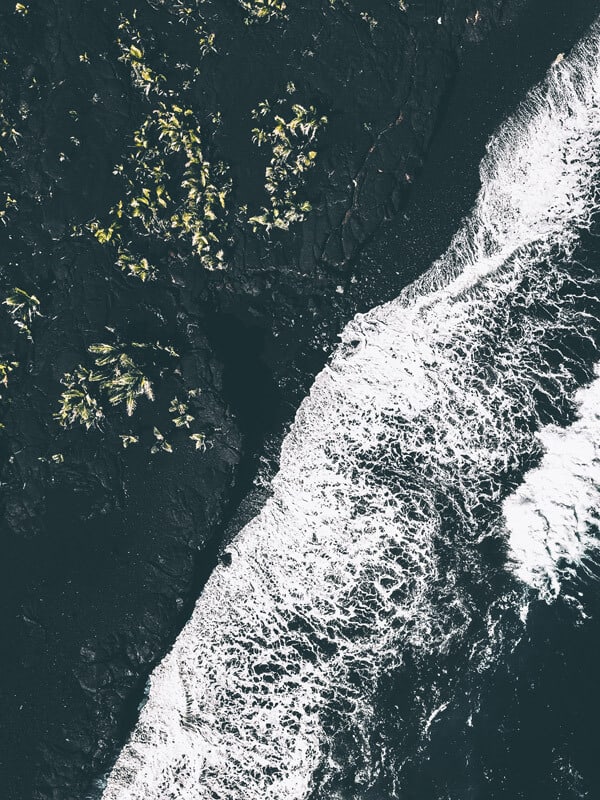 What to Pack for Maui
Quick Dry Travel Towel – This quick dry towel is amazing to travel with. It really will come in handy when you need extra room in your suitcase.
Tank tops – Free people is my go to place to buy cute and affordable tank tops (Depending on the style of course). I have this tighten up tank in almost every color.
Dresses for Hawaii – Packing a few good dresses is essential for Hawaii. Dresses have become my go to on trips to help quickly put an outfit together.
Shorts – Anyone who is traveling to Hawaii needs a good pair of shorts. Khakis are great for guys. For women, cute athletic shorts or denim shorts are perfect for a breezy summertime look. These denim shorts are my current favorites! These high waisted athletic shorts have gone viral on instagram and for good reason, they are AMAZING.
Beach cover-up – Having at least one good cover-up is essential on any beach trip. Amazon actually has amazing ones at really affordable prices. If you aren't a fan of buying clothes off Amazon I recommend ASOS, Nordstrom and Revolve as well.
Hat – essential. Shop the newest hats at Nordstrom.
Sandals – LOVE these Birkenstocks.
Tennis Shoes – I guess you could wear sandals hiking this trail but I would recommend tennis shoes. It can get narrow and slippery in parts. These Nike high tops are my current favs. They look so cute with shorts too!
Snorkeling gear – for obvious reasons.
So those are a few of our favorites, now over to you guys! Comment below and let us know what would you add to the list of the best things to do in Maui?!
Where to stay in Maui
Four Seasons Resort in Wailea – This is one of the more expensive resorts on Maui, but it's also one of the most fantastic. The hotel overlooks Wailea Beach and has 3 swimming pools and 3 restaurants on-site. If you are looking for the ultimate service, food, and pampering, then you should stay here. Check current pricing here.
Hotel Wailea – This hotel is fairly small, with under a hundred guest rooms. This, and the fact that it is far away from the road and any other noise pollution, makes it the perfect place to stay in peace and quiet.
You definitely don't need to stay in a Maui vacation Villa to have a great stay in Maui.
The Inn at Mama´s Fish House – Mama's Fish House is the famous restaurant on Maui, but most visitors have no idea that you can actually stay there. The suites and beach houses are very affordable. It is one of the best places to stay in.
Hyatt Regency Maui Resort & Spa – Another amazing hotel and resort you are guaranteed to love.
Co-Author Breana Johnson
Thank you so much for reading! If you enjoyed this post don't forget to share it with your friends to Pinterest, Facebook or Twitter!
Check out more of the latest posts on Hawaii below!