Kyoto is another amazing Japanese city that until recently one I knew next to nothing about. I know that Japan as a country is amazing, but I it wasn't until I saw some truly amazing pictures on Pinterest that I decided to find out more about Kyoto specifically. I found out that even though Kyoto is a huge city in itself, it's actually one part of three different cities that grew into one mega city.
The entire area has 20 million people and is called Keihanshin; it is made up of the cities of Kyoto, Kobe, and Osaka. The entire metro area is another ultra-modern tech hub with some of the coolest looking skyscrapers; dotted around the city are a number of sites attracting millions of visitors.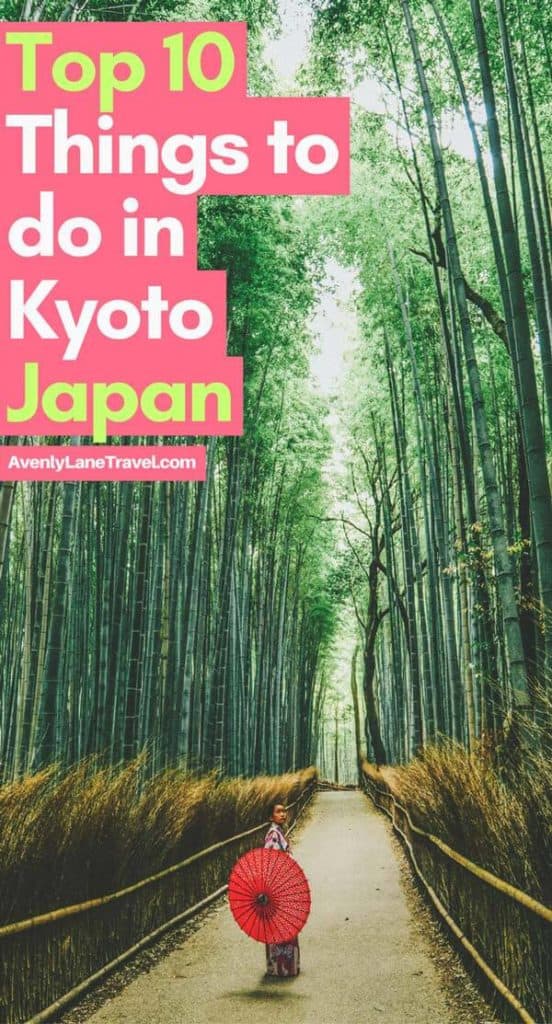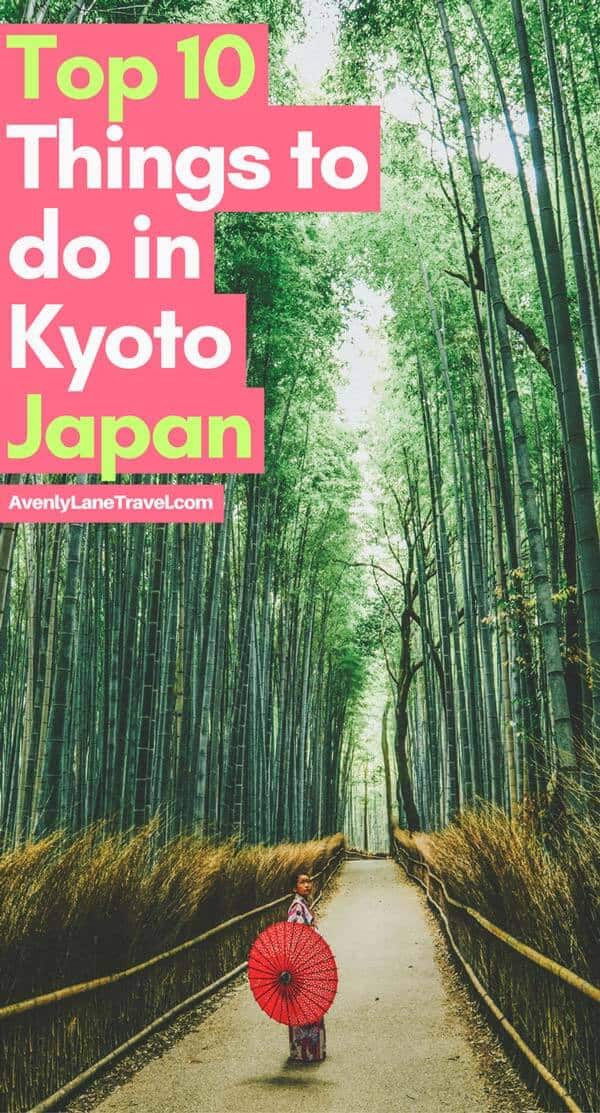 How to get to Kyoto
When booking a trip to Kyoto make sure to remember that Kyoto does not have its own international airport, but is instead served by one of Osaka's.
There are plenty of public transportation options to get you from the Osaka airport to Kyoto, so don't worry about having to find expensive and time consuming transportation options, and know it only takes about an hour to get there.
Kyoto itself is a big city and the most popular sites are pretty spread out, so make sure to plan how you are going to get around. Keep reading to see the top things you should do in Kyoto…
Also, if you've never been to Japan before, see my post on Things to Know Before Traveling to Japan to help make the most of your trip.
10 best things to do in Kyoto, Japan
Iwatayama Monkey Park – Monkey Mountain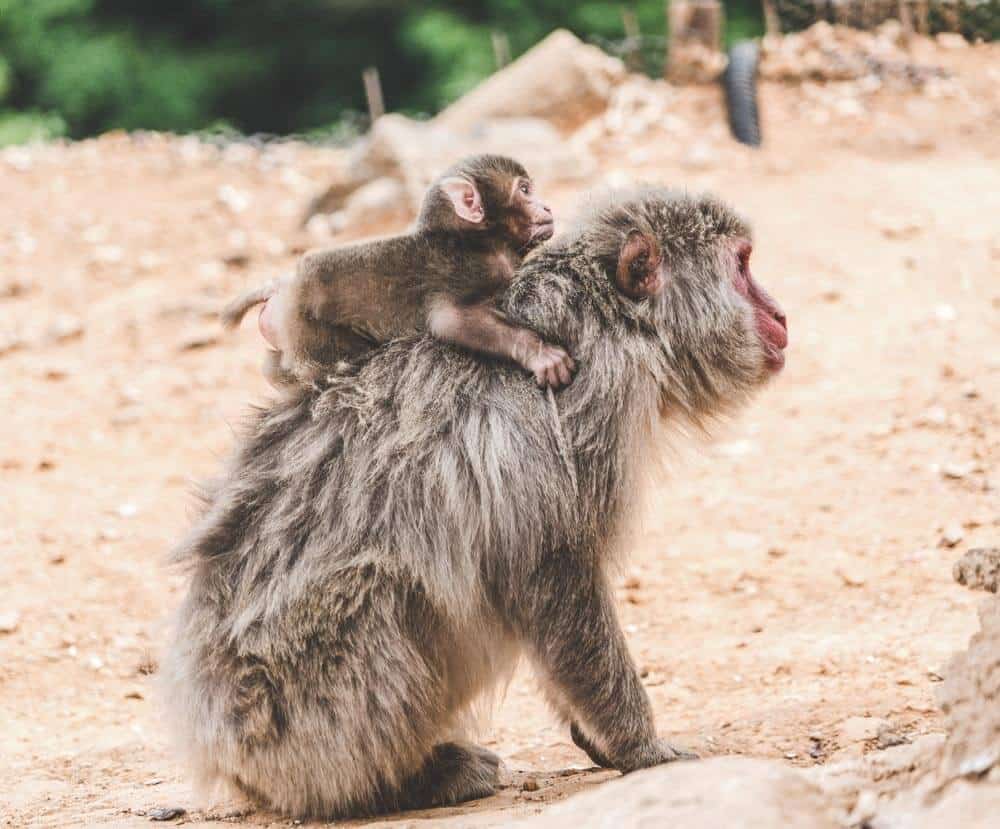 It is crazy to expect that you can find a beautiful mountain hike leading to a park with hundreds of wild Japanese Macaques/Snow Monkeys frolicking around incredibly close to downtown Kyoto, but that is exactly what you find at the Iwatayama Monkey Park.
The monkeys are super cute and opportunities to feed them directly are available if you like. Also, there are over 100 monkeys there, so don't worry that you will only see one or two if you decide to go.
Wander through the Gion District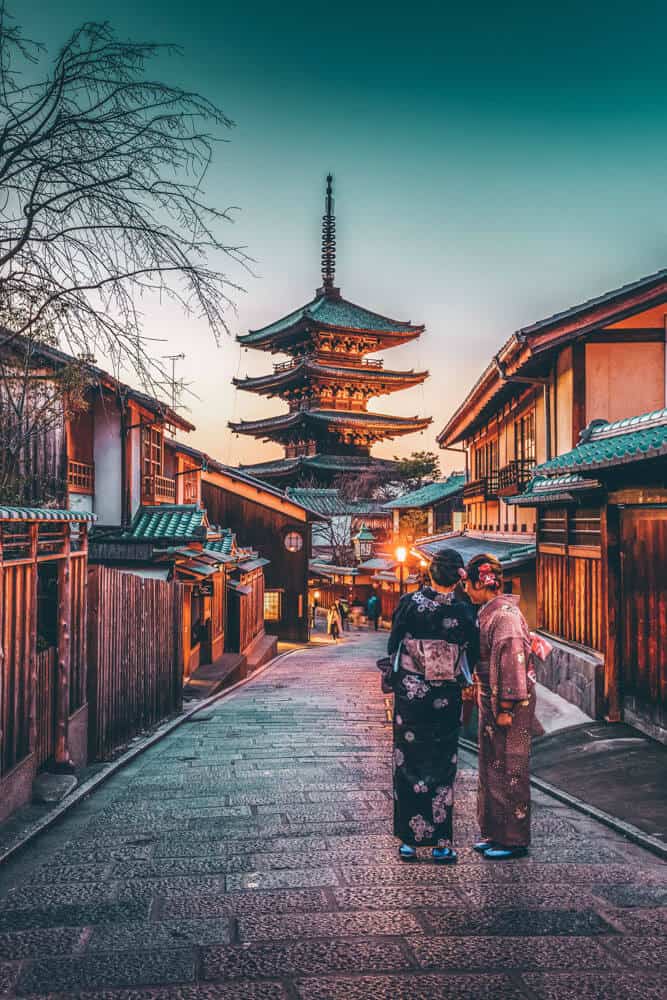 The Gion district of Kyoto is one of the most historic districts in the city, and is most affectionately called the geisha district (a geisha is NOT a prostitute). A geisha historically dressed in a kimono, wooden sandals, powdered white face and entertained dinner guests by singing and dancing.
Today you can hire a geisha for those purposes in the Gion District, but know that it can be pricey. Also, in this part of the city the geisha are often called geiko.
Read also: 7 Best Cities and Town in Japan
Daigoji Temple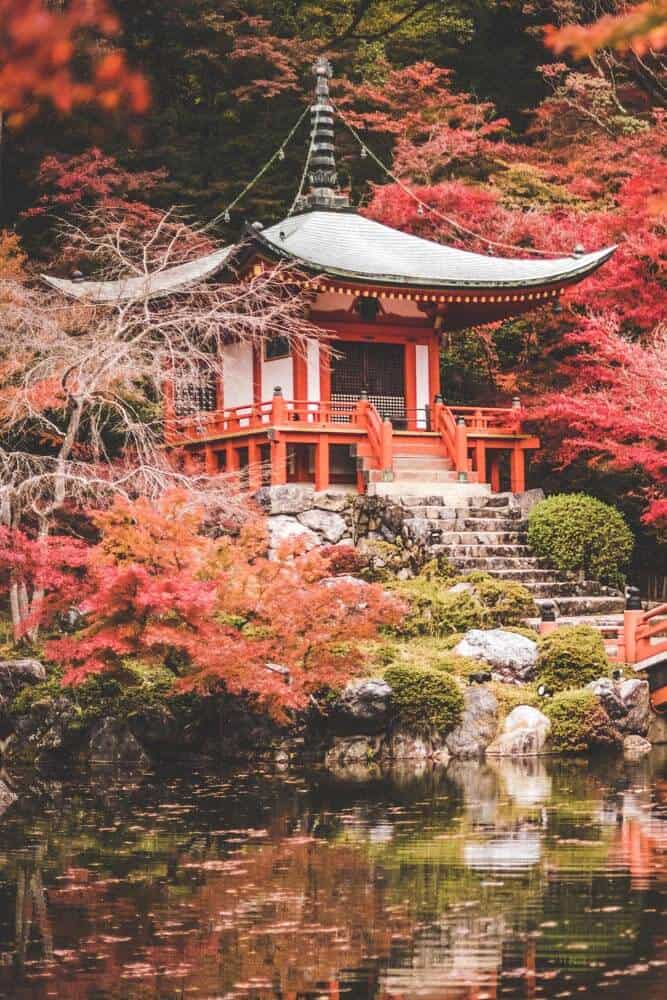 This Buddhist temple is incredibly old; it was first constructed 874 and pictures can't do it justice.
The complex features multiple amazing structures, but my favorite is the 5 story pagoda (a pagoda is the curved roof feature). If you go at the right time of year, it is a perfect place to see the cherry blossoms in full bloom.
Bamboo Forest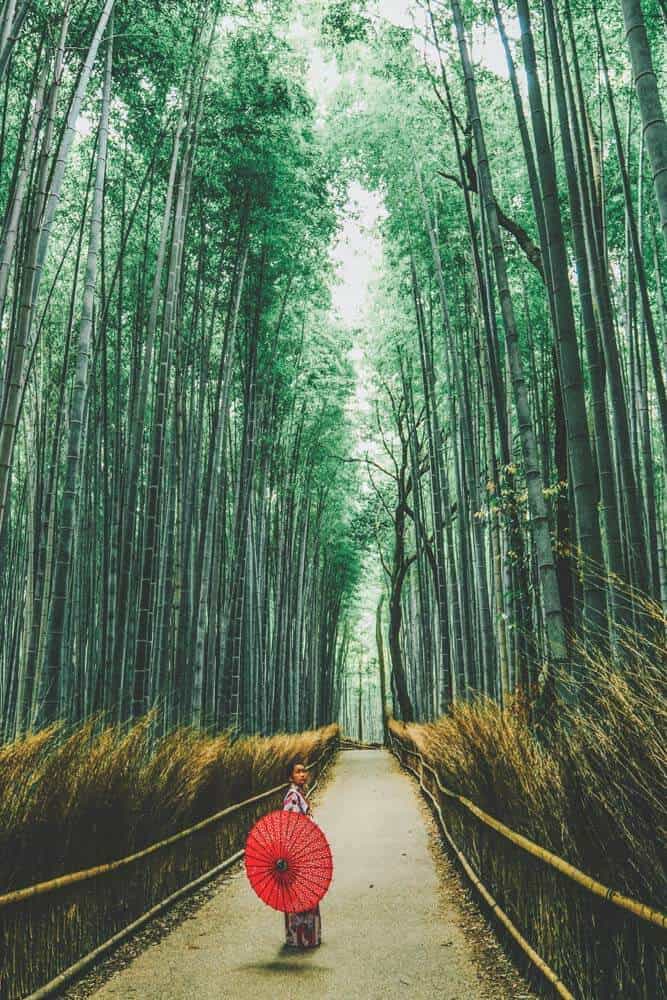 On the edge of Kyoto in Arashiyama you will find the amazing bamboo forest. The incredibly tall bamboo stalks sway peacefully in breeze. This path is obviously a photographers dream, but try to get there early to avoid the crowds.
Fushimi Inari Shrine
This famous shrine has close to 10,000 orange painted torii gates situated along a 2.5 mile long path that leads up a mountain and to the other buildings in the complex.
Inari is the ancient kami (spirit) of agriculture and industry, and people gathered to pray for bountiful harvests.
Kinkakuji (Golden Pavilion)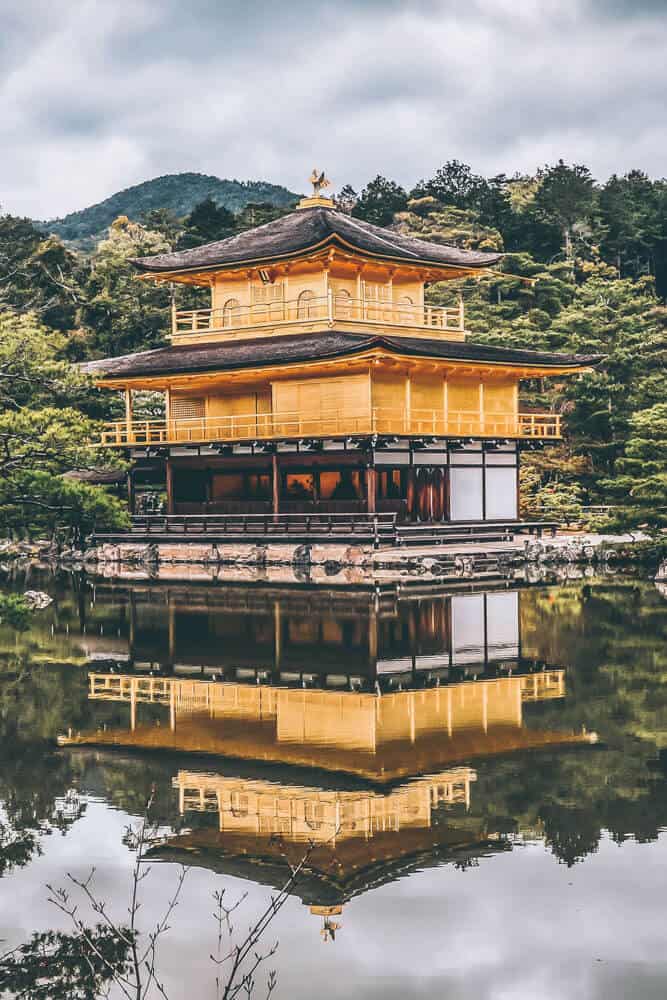 This amazing Buddhist temple was first completed in 1397 (though it has been burned down and rebuilt a couple of times since). This historic building sits beautifully on a lake, but the most striking feature is the second and third stories that have been coated in real goal leaf.
Japanese old town, Ine-cho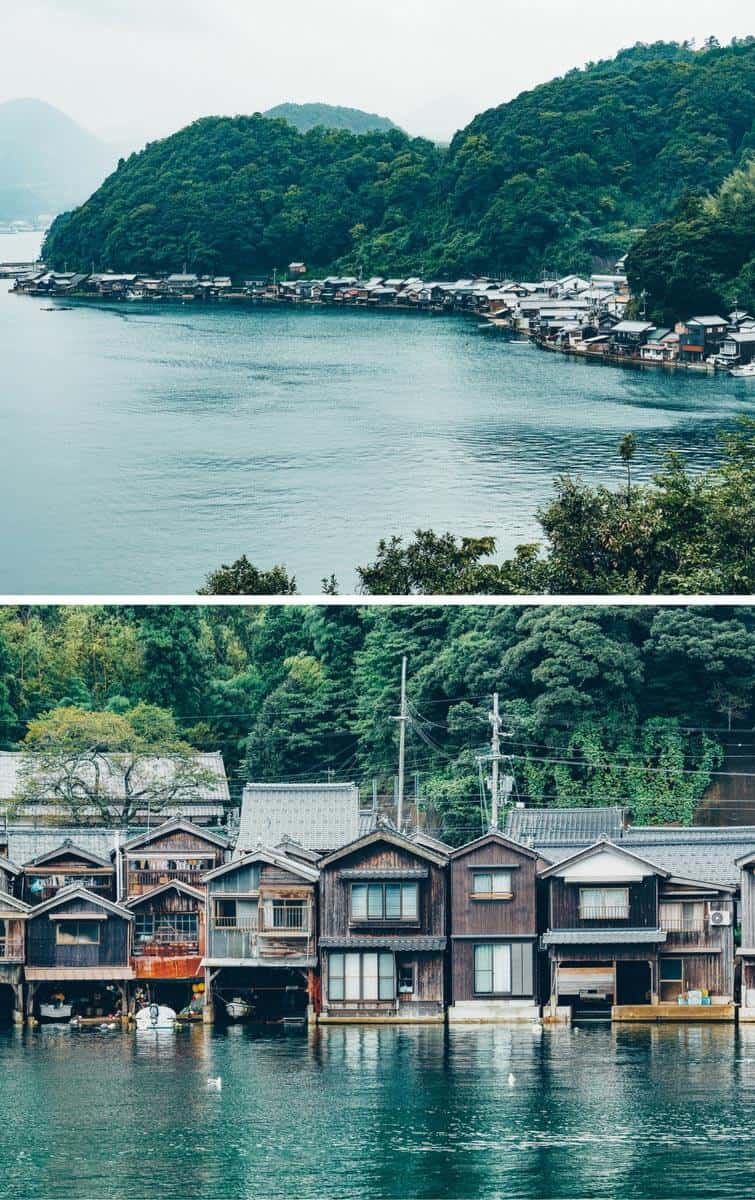 Fishing has been and continues to be an extremely important industry in Japan. Ine-cho is a perfect example of a historic Japanese fishing village.
The funaya, or Japanese fishing houses, were built directly over the water so the fisherman could dock their boats underneath and go directly upstairs into their houses.
Today a number of funaya are available as hotels. If you book you will enjoy the peaceful views of the water, a refreshing change from the towering skyscrapers of the city.
Maruyama Park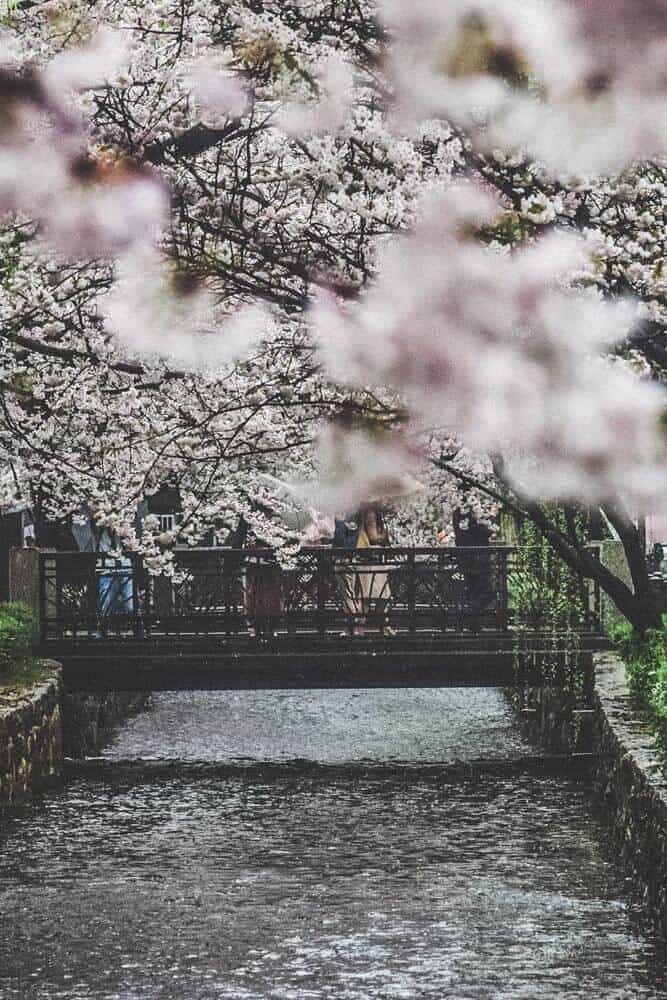 Maruyama Park is known as the best place in Kyoto (and many say Japan) to view blooming cherry blossoms. Cherry blossom season is a big deal in Japan that is appreciated by the locals as well as the tourists.
Locals keep track of and predict the ideal time to view the blossoms, with the best time usually being in early spring. Washington, DC brags about their cherry blossoms, but their original ones were a gift from the Japanese in 1912.
Kiyomizu-dera Temple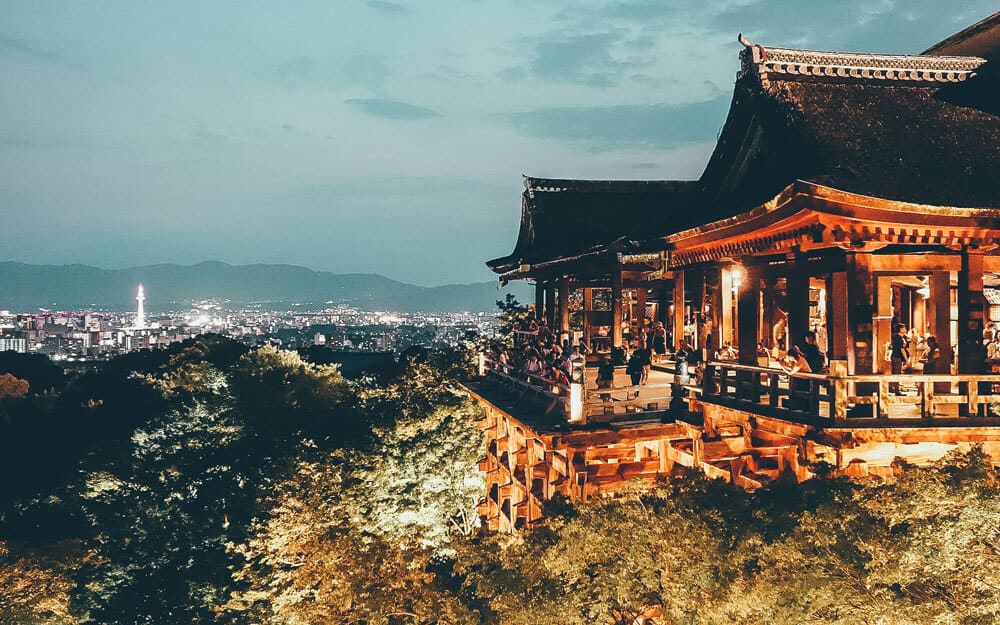 This Buddhist temple located in eastern Kyoto is one of the most famous landmarks in the city. The temple's main building features a large "stage". Historically people would jump off this stage (approximately 45 foot drop) and if they survived their wish would be granted. Evidently lots of people used to jump, with most but not all surviving. I definitely don't recommend jumping, but do recommend taking in the extraordinary city views and adding this top spot to your Kyoto itinerary.
Kansai International Airport
I know this may seem lame to include on this list, but this is no ordinary airport. What did the city do when they ran out of space and wanted a bigger airport? They literally built their own island in the middle of the Osaka Bay to put the airport on (DUBAI LINK- Dubai isn't the only place making their own islands).
When flying in the approach of the city and water is amazing, so be sure to request a window seat. Even though the airport is officially in Osaka, it is the main one that serves visitors going to Kyoto. The airport cost over $20 billion to make.
Mt. Kurama Hot Springs
Japanese people love their onsen (naturally heated hot springs). These bath houses are the perfect place to relax up in the mountains, and the one on top of Mount Kurama is one of the most famous and accessible from Kyoto. It is a perfect activity to relax in after viewing nearby shrines and temples.
If you enjoyed this post don't forget to share it! Thank you so much for reading and following along.