Before going on a trip I do a ton of research. I usually have an exact plan of what we will see and when we will see it. Yes, I'm bad at relaxing and doing nothing on a trip. When searching for cenotes Yucatan vacations offer I didn't even come across Cenote Saamal. This may make you wonder how I ended up there…
What to Pack?: Before you head off to Cancun, make sure you read my Cancun Packing List guide so you know what essentials you need to enjoy your tropical paradise.
Cenote Saamal (like Cenote Ik Kil, but less crowded)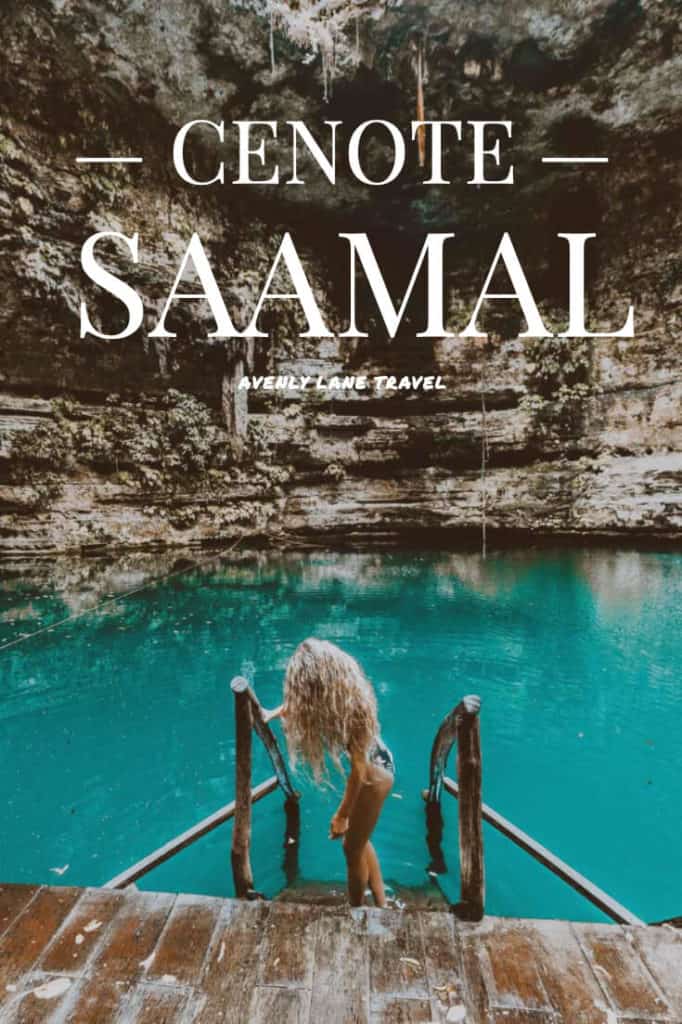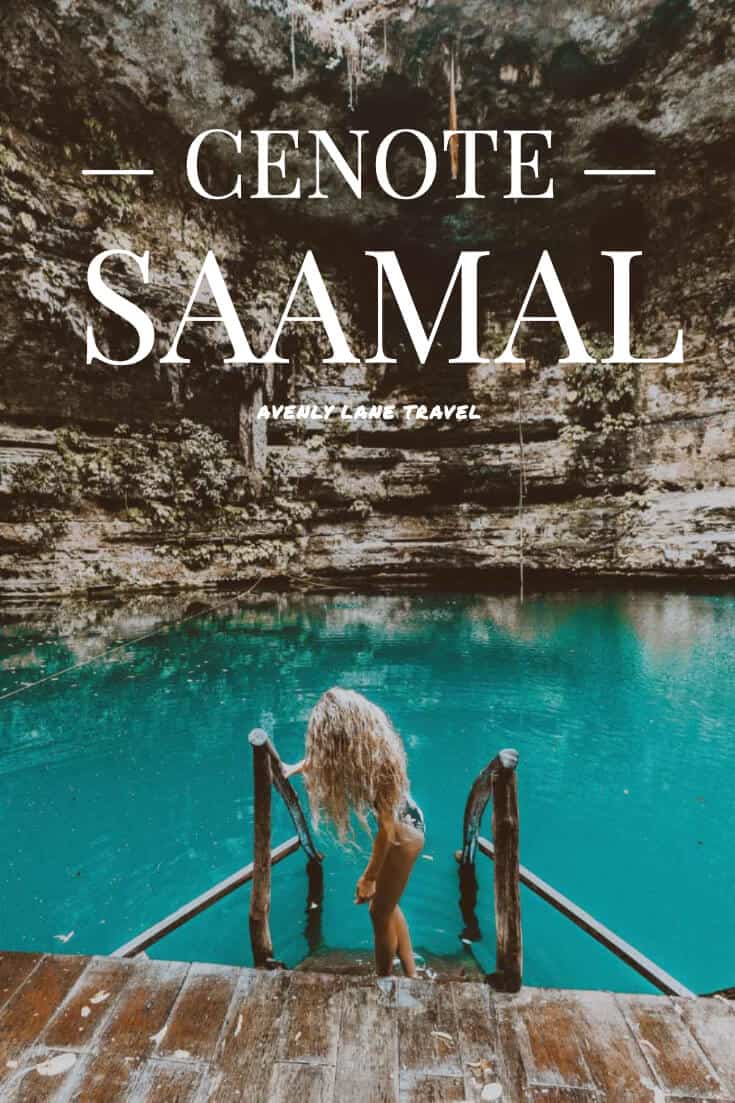 On the drive to Cenote Samula I saw a sign and that said Cenote and then something that started with an S. Even though I thought we had a little bit farther to go, I figured the GPS was delayed and turned in immediately. It wasn't until we were at the ticket counter I realized it was a completely different cenote.
Can you blame me? Samula and Saamal are pretty close. Also, you will see it spelled Cenote Saamal and Cenote Samaal. I still mix the spellings up, but the signs all say Saamal!
NOTE – Scroll to the end (or head over to our youtube page) to check out a short video of Cenote Saamal in person! Amazing!
Cenote Saamal Quick Info
Opening hours: Open daily from 08:00AM – 06:00PM.
Entrance fee: 80 pesos (about $4.25USD).
Good for swimming: Yes (must wear life vest)
Bathrooms: Yes
Car parking: Yes
Hacienda Selva Maya is in same location as Cenote Saamal
This happy accident turned out great! The cenote and entire park are amazing. I think the reason Cenote Saamal didn't come up in our research is that on maps it is usually listed as Hacienda Selva Maya rather than Cenote Saamal. Hacienda Selva Maya is the name of the buffet restaurant in the same park as the cenote.
If you are looking for it but can't get it to come up in Google Maps, put in the restaurant Hacienda Selva Maya instead. The location is the same.
Location of Cenote Saamal
Cenote Saamal is almost exactly two hours west of the Cancun hotel zone. It is just a couple miles beyond the town of Valladolid Mexico, but not quite to Chichen Itza. Valladolid is a great place to stop on your way to the most famous Cancun ruins. Adding in Cenote Saamal wouldn't take you out of the way at all.
If you want to visit additional cenotes it is extremely close to Cenote Samula and Cenote Xkeken (aka Cenote Dzitnup). It is only about 1 mile north of those cenotes and on the exact same road.
Cenote Saamal Price
Like most cenotes the entrance fee was very reasonable. It only cost 80 pesos (about $4.25). If you want to eat at the buffet it only cost 170 pesos (about $9.00). The food is supposed to be regional dishes that I don't dare to spell mixed with some more common foods associated with Mexico.
What to Expect
As you can see Cenote Saamal is an open air cenote featuring tall rock walls and vines reaching into the water. There are wooden platforms of stairs that felt safer than some of the slick stone stairs at other cenotes.
One thing that was annoying (but probably a good idea) is that cenote rules required everyone who wanted to swim to wear a life jacket. We dipped our feet in, but since we planned on continuing down the road to Cenotes Xkeken and Samula, we held off on swimming.
Another great feature of this cenote was that it features full restrooms and changing areas so you don't have to get back into your car wet.
The Water at Cenote Saamal
Even without getting all the way in we could tell that like most cenotes the water is cool and refreshing. It had the piercing blue hue to it that I can't help but take endless pictures of. For those looking for more Cancun adventures they can jump off the one platform that is about 20 feet high.
While there it started to rain. I worried this would ruin the experience, but it added to it by increasing the flow of the small waterfalls running into the cenote.
Cenote Saamal is like Cenote Ik Kil, but less crowded
Cenote Saamal has a very similar look to Ik Kil, but was way less crowded. There were a couple tour buses there when we went, but most of the people were in the restaurant rather than down at the cenote.
Our stop immediately before this cenote was Cenote Ik Kil where we had to fight through throngs of people, so having a similar cenote almost to ourselves was an awesome change of pace. It was honestly so crowded we didn't even really enjoy ourselves.
Why is Cenote Saamal less Crowded?
Part of the reason Ik Kil is so crowded is because it is just a 7 minute drive from Chichen Itza. Cenote Saamal is 36 minutes from Chichen Itza.
Even though it isn't as big as Cenote Ik Kil the views are similar and I enjoyed not having to be around tons of people.
Is Cenote Saamal good for diving?
Yes. Even though I don't scuba dive, reviews say that this was a good cenote for diving.
Hacienda Selva Maya Restaurant
We didn't try the restaurant, but reviews say the food is great if you want a buffet.
So which cenote would you choose? Bigger but with more crowds at Ik Kil? Or smaller but more likely to have less people Saamal?