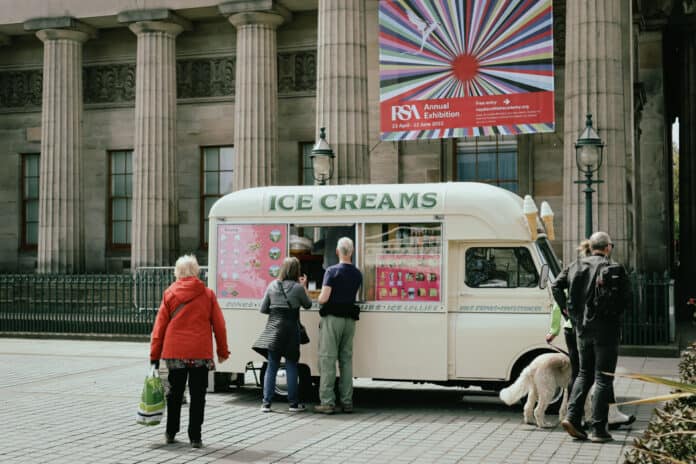 Edinburgh Food Tours
Scottish food might not be the most famous cuisine in the world – in fact, some may associate the country with less than appetizing fare.
But delve a little deeper and look beyond the cliches and you will find that Edinburgh is a wonderful city for any gourmand, with plenty of foods to try from the very traditional to the avant-garde.
What food is Edinburgh famous for?
When people think of Scottish food – haggis is likely to be the first thing that springs to mind. But Edinburgh is increasingly branching out from the traditional Scottish fare, and offering a range of tempting morsels to tempt every palate.
Modern Scottish cuisine is vibrant and varied – borrowing heavily from the hearty meals of yesteryear but updating things too with a fresh, modern taste on favourites new and old alike.
From home-grown, local produce, to heritage meats and fresh fish and other seafood from the Firth of Forth and the nearby North Sea coast you will find plenty of delicious delicacies in the Scottish capital. You will find both local specialities and plenty of the ordinary international fare.
What is a food tour?
Food tours are tours that focus on food. As the name suggests – food is the focal point of any such excursion. You will typically get to sample some kind of food as you explore.
Most food tours will focus on a particular food or food and drink. You will typically taste test various things as you head out on a food-themed adventure.
What to eat in Edinburgh
While there are plenty of other things that you might eat in Edinburgh, I would always recommend that tourists, travellers and locals alike focus on fresh, local, seasonal food.
Fortunately, there are many options. While in Edinburgh, I highly recommend trying some local fish and chips, either in the city or over the Forth in the pretty coastal villages of East Fife, where the best chippies in Scotland are found.
I'd also strongly recommend that you discover one of the city's fresh food markets, and make yourself a picnic to enjoy as you explore the city – in Princes Street Gardens, or in The Meadows, perhaps, or on Arthur's seat…
Eat delicious breads made with local heritage wheat, paired with fresh fruits and veggies, and perhaps some of the great local cheeses. Then finish it all off with some local pastries or another sweet treat.
Haggis will not be to everyone's taste, but there are plenty of other traditional meals and modern fusions to explore throughout the city, including plenty of sustainable options for vegans, vegetarians and conscientious meat-eaters who care where their food comes from.
6 Best Edinburgh Food Tours (that are truly worth it!)
You can definitely discover the best of Edinburgh's food and drink independently. However, food tours are a fun and sociable experience, and great for getting an introduction to certain specific venues and foods.
Here are some of the best Edinburgh food tours to consider:
Calling all chocolate lovers! This one is for you!
Make your own Scottish-themed chocolate and then sample a wide selection of chocolates in the tasting room.
This is a great option for families on rainy days and a must-do for chocoholics visiting this city.
On this Edinburgh walking tour you will get to delve into Scotland's culinary heritage and history, with stops at five establishments throughout the Old Town and the New Town, where you can sample the food and, at three of them, have drinks too.
On this three hour long walking and tasting tour, you will get the chance to enjoy authentic Scottish foods including of course haggis and whisky, as well as tasty treats and desserts, cheeses, tea and scones and more… and you will see some sites of the Old Town as well as tasting the local foods.
If you are a beer lover then this is the Edinburgh walking tour for you.
As you explore the old town and Southside you will get the chance to sample many local brews, and learn more about the history of the country through the beers you try.
If you are someone who cannot get enough cheese, then this quirky tour of Edinburgh could be perfect for you.
You will take a walking tour and visit a number of the city's top cheesemongers, enjoying generous tastings and Prosecco along the way.
For some, Scotland is synonymous with whisky.
If you love a wee dram, then you might consider a tour that will take you far beyond the city to some of the most famous distilleries in the country, on the island of Islay off the west coast.
On this unique four day adventure you will tour the Islay distilleries and Oban, the gateway to the Isles. Meals are not included but you are sure to be able to sample plenty of great local food too during this trip.
Best places to eat in Edinburgh
Get a full Scottish breakfast at Loudens in Fountainbridge, where you can not only enjoy a traditional meat-dish but can also find vegetarian and vegan options.
For some fresh seafood, head to Fishers in Leith to sample the seafood platter in an award-winning restaurant in a 17th Century watchtower.
Want to sample some traditional haggis? Get some at Deacon Brodie's Tavern – a warm and cozy establishment with dining upstairs above the pub.
Of course, there are also plenty of other great places to eat various dishes – traditional and less so – around this beautiful city.
No matter what you eat and don't eat, you should find plenty of great food and drink to suit you in Edinburgh's busy and vibrant streets.
READ MORE ON SCOTLAND:
Traveling to Scotland was a dream come true. These are my most popular blog posts on Scotland to help you plan your trip.