From the windswept St Arthur's Seat, to the lively bustle of Princes Street, the the cobbled streets and secret hideaways of the Old Town, to the castle perched on its craggy mount, Edinburgh is a great place for a romantic trip.
To help you plan your adventure, here are just some of the Romantic things to do in Edinburgh, and romantic day trips to take from the city.
21 romantic things to do in Edinburgh for couples
1. An Early Morning Hike on Arthur's Seat
A walk to the summit of this hill is a wonderful way to start your day. Not many cities can boast a volcano right at their heart but Edinburgh can, and it's truly one of the most romantic things to do in Edinburgh.
Okay, so the volcano is dormant and green, and the walk is not particularly adventurous, since you can walk up over Salisbury Crags and onto the summit of Arthur's Seat on a well-formed (if rather steep in places) path. Once you reach the summit, the views over the city to the Firth of Forth, and the Kingdom of Fife beyond are something special.
Peaceful Holyrood Park is particularly lovely as the sun in rising. So consider an early start.
An early morning hike here is one of the most romantic things to do in Edinburgh, and the overview of the city will give you some insight into the delights to come.
2. Chocolatarium Tour, Tasting & Chocolate Making
After an early morning hike, you won't feel so guilty about indulging a little. Another of the fun things to do in Edinburgh for couples is a Chocolatatium tour.
You can tour a chocolate factory, and enjoy tastings and chocolate making, and indulge in some sweet treats to fortify you for further exploration.
3. A Stroll Up the 'Royal Mile'
Couples in Edinburgh should certainly brave the crowds and stroll up the famous Royal mile.
There are numerous romantic hidden spots along the edges of this historic road up to the castle.
A number of tour providers offer tours through some of the now hidden closes and alleyways of Edinburgh' old town. This tour takes you underground (beneath the Royal Mile)! Pretty cool.
I always like booking tours to see sights that you can not access otherwise. Makes me feel like I am getting my money's worth.
This is one of the best ways to bring the true and grim history of these places to life.
You will find people in costume and otherwise touting these tours along the royal mile and it is highly recommended that you take one of the tours – one that appeals to you.
Some are simple tours that explain the history, while others are 'haunted tours' with actors in full historic dress. As well as visiting Mary King Close and alleyways, you should also consider taking a tour of the City Vaults on nearby South Bridge.
A series of chambers beneath the arches of the bridge became a notorious red light district and slum and site of nefarious goings on in the mid 19th Century.
Edinburgh is a city of underground secrets and there is much more to discover if you have the time… and if you dare brave them together.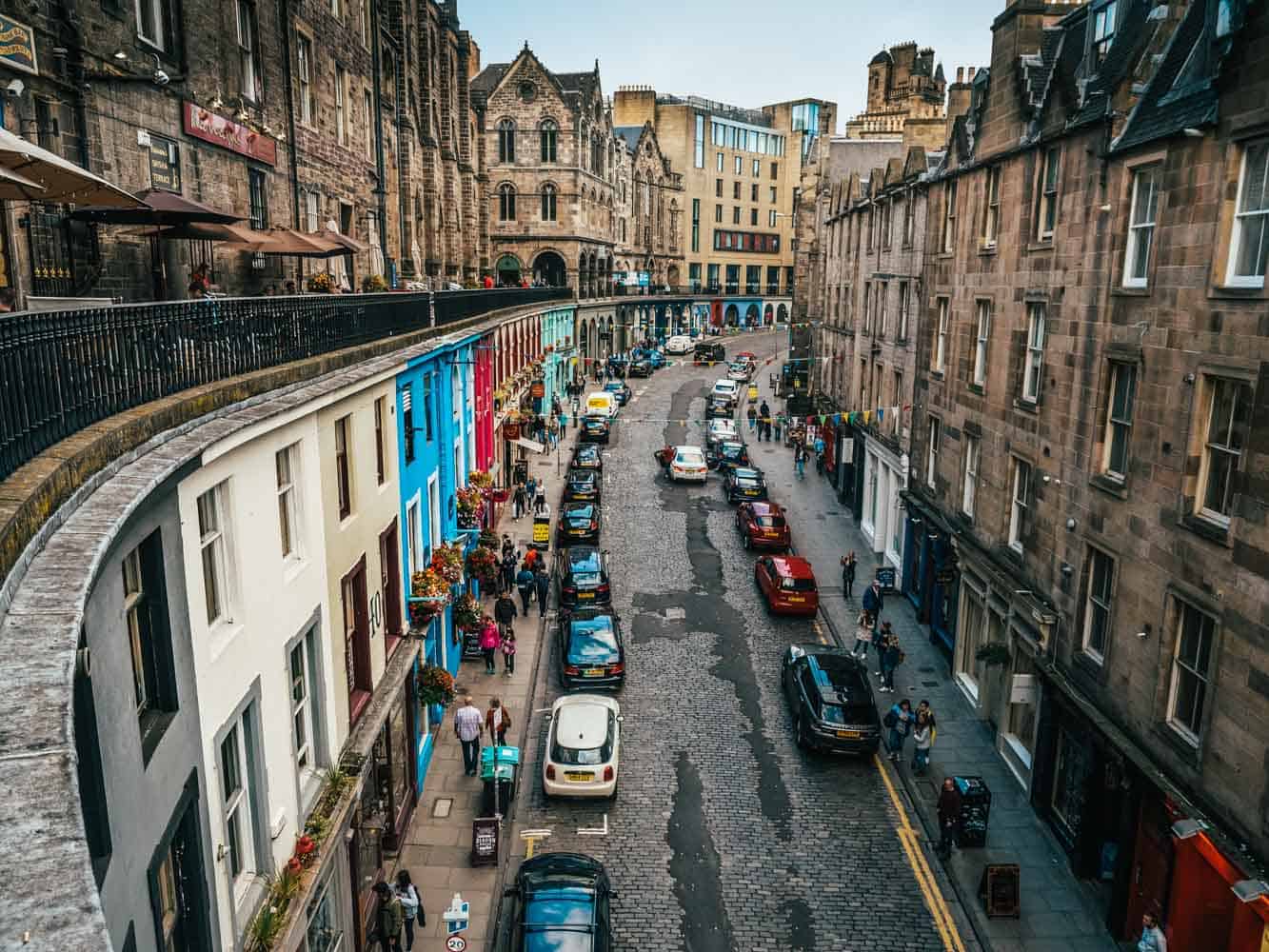 4. The Real Mary King's Close Guided tour
Explore Edinburgh's hidden history beneath the Royal Mile on a fully-guided tour of the Real Mary King's Close. Learn about what life was like for the people who lived, worked, and died on the Close.
There is actually a good level of restoration and preservation throughout this tour.
Book your tour: Real Mary King's Close Guided Tour
5. A Romantic Interlude at Edinburgh Castle
Edinburgh Castle is without a doubt the crowning glory of Edinburgh's historic sites and is one of the most important tourist attractions in all of Scotland.
The castle is often used as an emblem of Scottish identity.
It stands on the plug of an extinct volcano and has been occupied since at least the Iron Age (around the 2nd Century AD). There has been a royal castle on the rock since the 12th Century and it continued to be a royal residence until 1633. By the 17th Century it was primarily used as military barracks.
Over the centuries this key stronghold has played an important role in many conflicts, including the Wars of Scottish Independence and the Jacobite Uprising of 1745. It has been the most besieged place in Britain and one of the most frequently attacked in the world!
Revel in the romance of history here at this iconic site. And enjoy gazing out from the castle over the town below, and out to the landscape beyond. Get your skip the line tickets in advance here.
6. Harry Potter Magical Guided Walking Tour
There are plenty of themed tours helping visitors discover the delights of Edinburgh's Old Town. To revel in the magic and mystery, couples who are fantasy fans should consider taking a Harry Potter themed tour to discover the place where the famous character was 'born'.
The Elephant House coffee house at Edinburgh, famous for being one of the places where JK Rowling wrote the Harry Potter books.
7. A Picnic in One of Edinburgh's Beautiful Parks or Gardens
Below the castle, Princes Street Gardens are bustling and busy, but can be a great place for a picnic. For a more relaxed and studenty vibe, you might head to the Meadows, another pleasant green space.
There are other lovely parks in the New Town to enjoy. On a sunny day, picking up some local food and chilling out in one of Edinburgh's many green spaces is a great way for couples to enjoy some quality time and soak up the scene.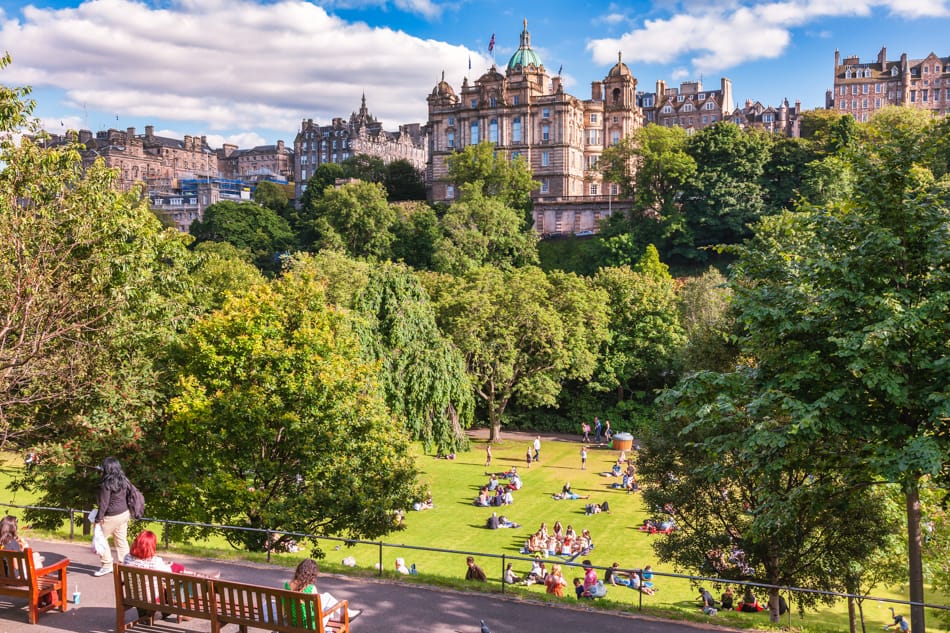 7. Enjoy the Lively Scene in Leith
There are just as many things to do in Edinburgh at night as there are to do during the day.
Through the Old Town and the New Town, there are numerous great restaurants, pubs, bars and clubs to enjoy, and wherever you go in this university city you'll find a vibrant nightlife.
But for young couples in search of a fresh and lively vibe, we suggest heading out of the city centre to Leith, where the area around the docks has been turned into a haven of markets, cafe-culture, top notch dining options and numerous bars.
This is a lively place to visit during the day, and a place to while away the evening hours.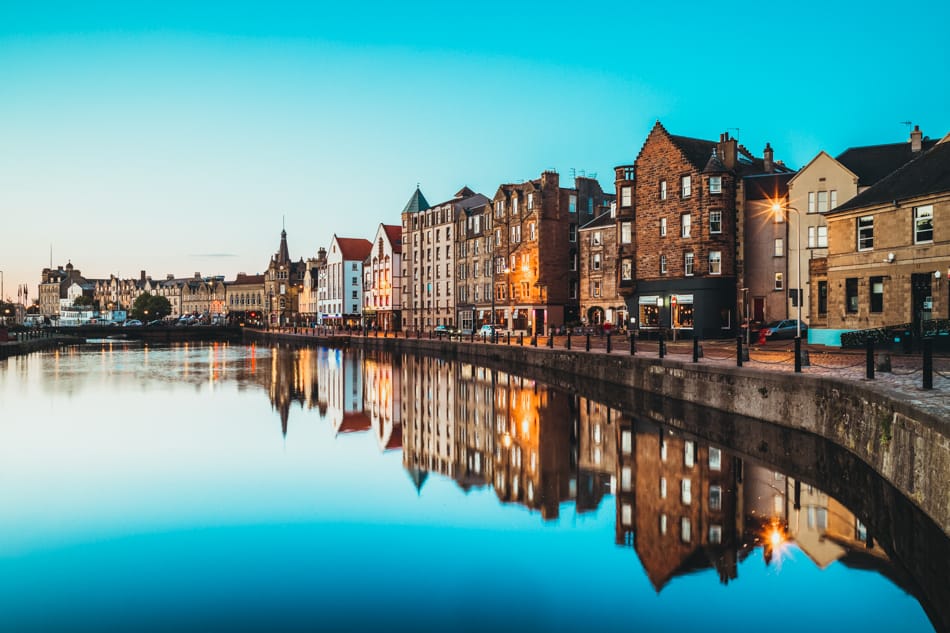 8. Take a Trip to the Beach
What could be more romantic than leaving the city behind and taking some time beside the sea.
A romantic trip to Portabello, Silverknowes or Cramond will allow you to spend some time on the beautiful coastline and revel in the romance of the waves.
You might even venture a little further along the coast from Edinburgh to North Berwick and Tantallon Castle – other wonderful romantic spots in the vicinity.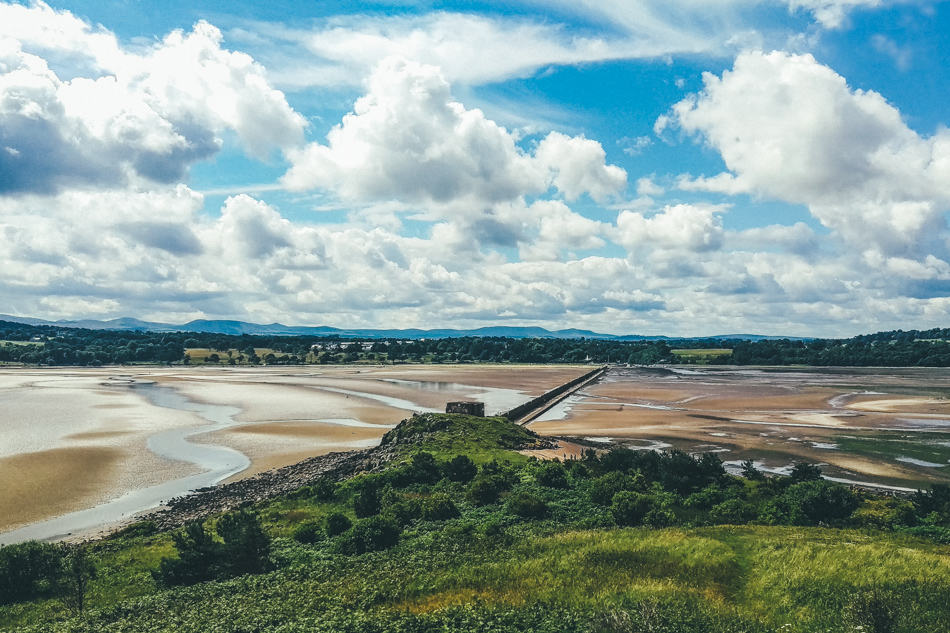 9. Art Appreciation in Edinburgh's Galleries
Loved up couples may also enjoy some art appreciation at one or more of Edinburgh's many art galleries. Try the Scottish National Gallery, The Royal Scottish Academy, and the Scottish National Portrait Gallery, to name but a few.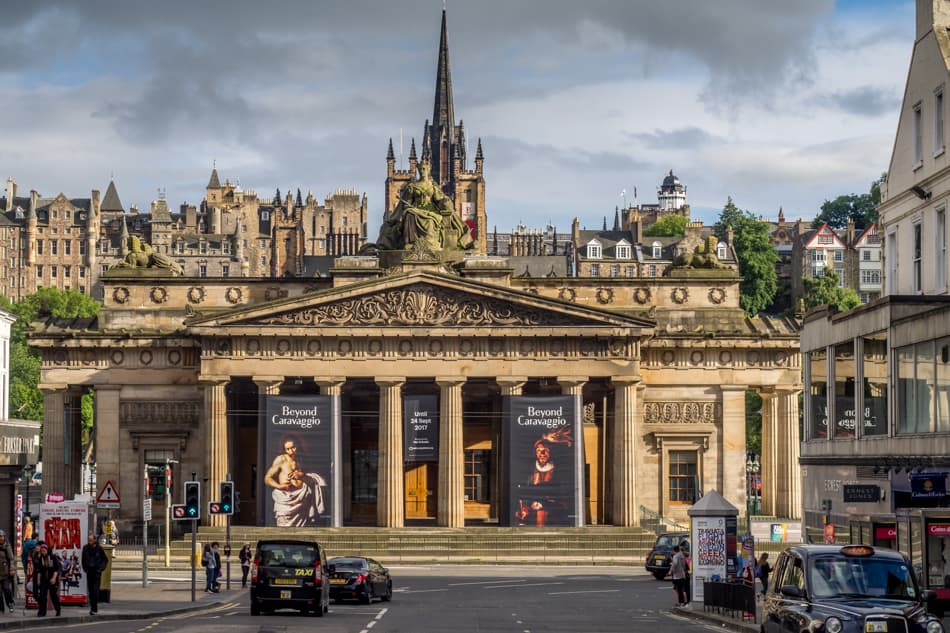 10. Take a Day Trip To See Scotland's Breathtaking Landscapes
A day trip to the Scottish Highlands is one of the most popular day trip options for couples staying in Edinburgh. On this whistle-stop tour, many will head north to catch a glimpse of rugged mountains, deep lochs, and gorgeous glens.
But to really see what Scotland has to offer, we highly recommend forging your own path and taking a trip by train or by car to explore this amazing country off the beaten track – getting away from it all to enjoy some Romantic time together.
11. Explore the Alleys and Bridges of Dean Village Along the Water of Leith
Dean Village is one charismatic part of the city – a place where time seems to stand still. Once a grain milling centre with more than 11 working mills, this is now a maze of alleys and bridges along the Water of Leith to the north west of the city centre.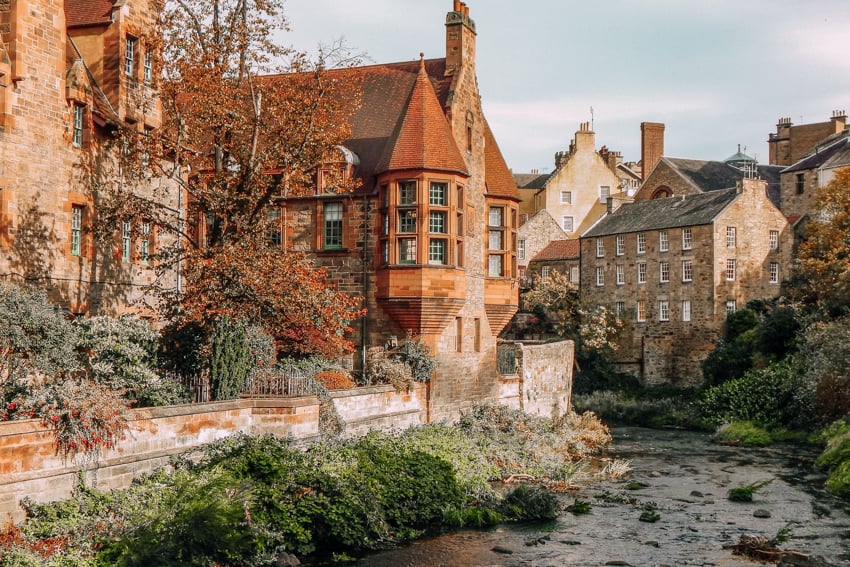 12. Take a Seabird Safari From North Berwick to Bass Rock
Bass Rock is a steep sided rock, volcanic in origin, that stands around 1.2 miles offshore, and is around 3 miles north-east of the town of North Berwick.
The rock is uninhabited by people, though was once home to an early Christian hermit and was later the site of an important castle, used as a prison after the Commonwealth period.
There is a lighthouse on the Bass which was constructed in 1902, and the remains of an ancient chapel can also still be seen.
The island today is best known, however, for its non-human inhabitants. The island is home to more than 150,000 gannets. This is the world's largest colony of Northern gannets.
Sir David Attenborough described the gannets on Bass Rock as 'one of the wildlife wonders of the world'.
Another great thing for couples to do is to head out from Edinburgh to North Berwick, where you can visit the Seabird Centre, and take a wild boat ride to see these amazing birds up close.
This is a great place to enjoy some romantic strolls in the 19th Century setting, as you make your way along the Water of Leith Walkway that runs between Leith and Balerno.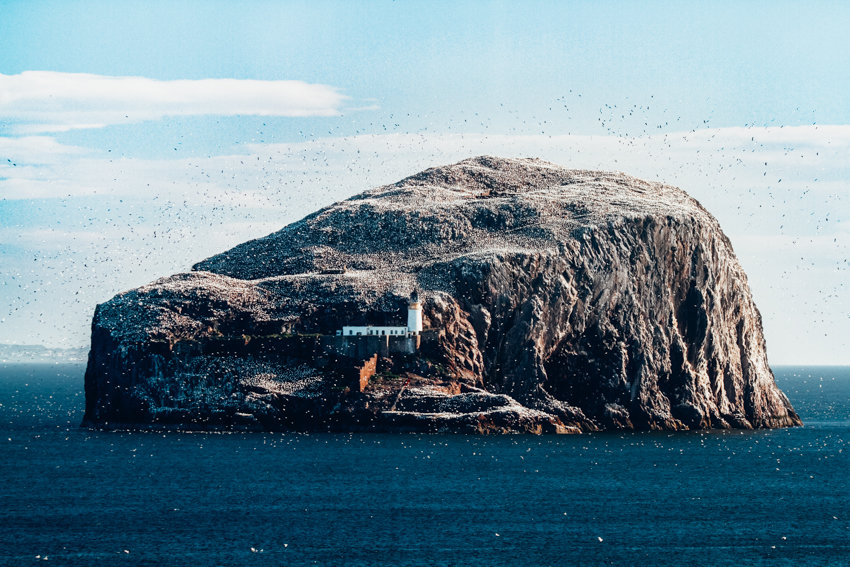 13. Explore the Royal Edinburgh Botantical Gardens
If you love plants, Edinburgh Botantical Gardens are another great place to go.
Here, you can stroll hand in hand, free of charge, in a site covering over 70 acres. The sites is beautiful year-round, even in winter, and there are plenty of hidden spots of secretive assignations.
For a fee, you can also access the glasshouses, where you can experience different climates and a further array of different plants. Get more info on the Edinburgh Botanical Gardens website.
Feeling a bit more ambitious? Consider taking a hike in the nearby Pentland Hills to really immerse yourself in nature and get away from it all.
14. A Night in the Grassmarket Area
The Grassmarket, one of the oldest parts of the city, has, in the past had many taverns and inns for drovers who came to the market here to sell their cattle. Still, today, it has many great pubs and other venues for couples who are looking for something to do in Edinburgh at night. Here, you can enjoy a drink and soak up the historic atmosphere.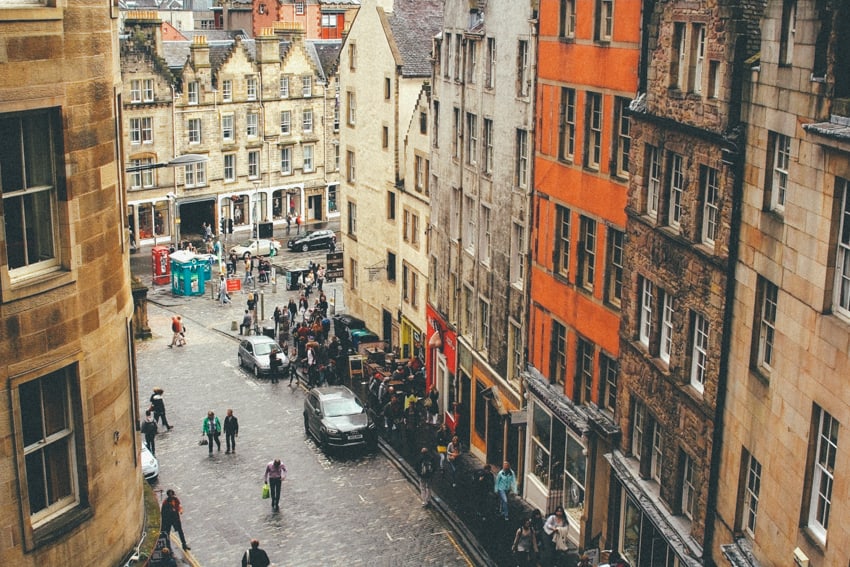 14. Mooch Around a Market For Local Wares
On Saturdays, Edinburgh's Farmer's Market takes place on Castle Terrace below the castle crag. Amid the crowds, you can certainly sample plenty of delicious, seasonal local foods.
In the winter, the Christmas market takes over Princes Street Gardens. And during the festival in August, there is the classy West End Fair. But beyond these well known markets, there are also other great markets to explore.
On Sundays, for example, head to Stockbridge Market, where fine foods and a range of artisan products are on offer.
Leith's Pitt Market on Saturday and Sunday afternoons and evenings is another great option, where buskers will serenade you at every turn and there is a party-like vibe.
Leith also has Leith Farmer's market – particularly great for vegans the first Saturday of each month.
15. Bridgend Farmhouse & Craigmillar Castle Park
Drop in to the sustainable community site of Bridgend Farmhouse so sit on the suntrap veranda at their wonderful volunteer-run cafe. And see what other events and courses are on at this eco-friendly site where there are often opportunities to build, make, craft or grow together.
Then make your way into Craigmillar Castle Park, where you can discover the romantic ruins of Craigmillar castle, a well-preserved mediaeval stronghold which dates back to the 15th Century, surrounded by gardens and pastureland.
Mary Queen of Scots fled here after the murder of Rizzio, and it was here that the plan to murder her husband, Lord Darnley, was hatched.
13. Take To the Waters From South Queensferry
Venture out onto the waters of the Firth of Forth for a romantic voyage of discovery.
From South Queensferry, learn about the UNESCO listed Forth Rail Bridge, and the new Queensferry Crossing, as you set out across the waters.
Consider making your way to the beautiful Inchcolm Abbey, located on its island. The romantic abbey takes from the 12th Century and is one of the best-preserved groups of monastic buildings in Scotland.
15. LGBTQ+ Friendly Edinburgh at Night
Edinburgh is a welcoming and inclusive city. And one area of the city, at the top of Leith Walk and on Broughton Street, is known locally as the 'pink triangle'.
This is a haven for the LGBTQ+ community, with a lively vibe and welcoming feel for couples, whatever your orientation.
16. Watch the Sun Set From Calton Hill
At the end of the day, there are plenty of beautiful locations in Edinburgh from which to enjoy a stunning sunset. But Calton Hill is well known as one of the best.
This popular romantic spot provides great views throughout the day, but is particularly pleasing as the sun is going down.
19. Venture Into the Kingdom of Fife
Another wonderful day trip for couples from Edinburgh involves heading into East Fife.
Take a bus to St. Andrews, the historic university city, where the royal love story between Prince William and Kate began. Or head to explore the quaint coastal villages of the East Neuk.
20. Take a Day Trip To See Scotland's Breathtaking Highland Landscapes
A day trip to the Scottish Highlands is one of the most popular day trip options for couples staying in Edinburgh. On a whistle-stop tour, many will head north to catch a glimpse of rugged mountains, deep lochs, and gorgeous glens.
But to really see what Scotland has to offer, we highly recommend forging your own path and taking a trip by train or by car to explore this amazing country off the beaten track – getting away from it all to enjoy some Romantic time together.
What would you add to the list of romantic things to do in Edinburgh?
READ MORE ON SCOTLAND:
Traveling to Scotland was a dream come true. These are my most popular blog posts on Scotland to help you plan your trip.