Heather in Scotland – Guide to finding the best spots in Scotland
Scottish heather is world famous because it is everywhere in Scotland. From the Northern Highlands to right outside of Edinburgh, you can find heather.
Heather is native to Ireland, Scotland, Scandinavia, Russia, and northern North America.
5 best places to see Heather in Scotland
Here is a list of the 5 best places to see Heather in Scotland.
When does heather bloom in Scotland
Heather blooms at its best in late summer, peaking in August. If you visit Scotland during August, it'll be hard not to see heather. Especially if you are in areas
1. Pentland Hills Regional Park
If you want to see fields of heather in Scotland one of the best places to visit is located just outside of Edinburgh, Pentland Hills Regional park.
Specifically Loganlea Reservoir and Castlelaw Hill inside Pentland Hills is a great spot. Another awesome spot for heather spotting is Lammermuir Hills.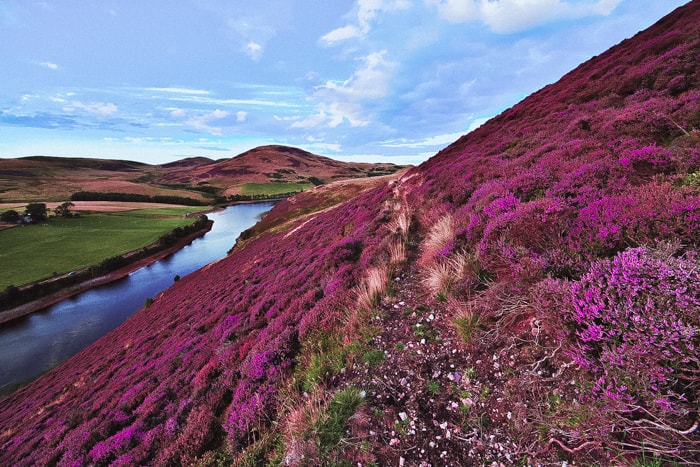 If you are in Edinburgh, Pentland Hills Park is only a 30 min drive! Check out the map below for more details.
2. Lammermuir Hills
Another great spot to find heather in Scotland is the Lammermuir Hills, located about an hour outside of Edinburgh.
Cairngorms National Park in Northern Scotland
The largest national park in Britain, you will find plenty of Scottish heather here. I recommend driving through Cairngorms National Park to see rolling hills and fields of Heather.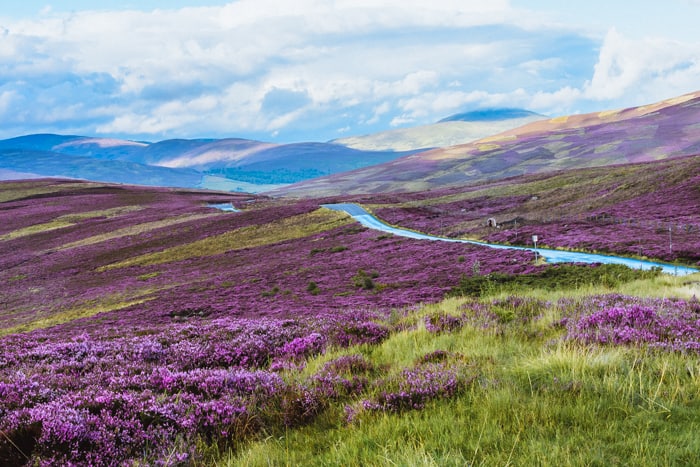 3. Scottish Heather in the Highlands
You can see Scottish Heather in the highlands during later summer, peaking in August. If you go anywhere north of Ullapool, you'll see Scottish heather. If you are in the northwestern Highlands, heather is everywhere. Pretty much unmissable.
4. The Scottish Borderlands
A border separating Scotland and England which runs almost 100 miles. The surrounding area is sometimes referred to as "the Borderlands" and its a great place to find Scottish heather.
I recommend checking out the coastline around Eyemouth, St Abbs and Coldingham on Scotland's southeastern coast if you don't have time to travel to Northern Scotland.
5. Tail Burn at Grey Mare's Tail waterfall near Moffat in the Scottish Borders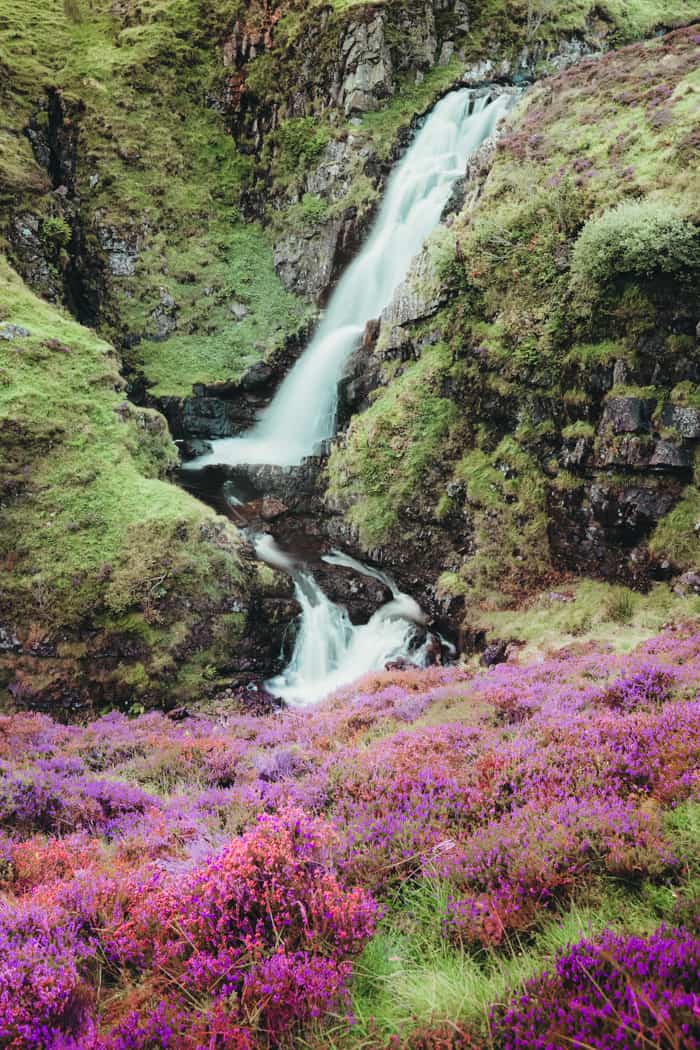 What does Heather smell like?
Heather smells mossy and woody.
Map of the best spots to see Heather in Scotland
Have you ever seen Scottish heather in Scotland? Where were the best spots that you found?