After a long day of hiking through brisk mountain air you may think there is nothing better than soaking your bones in a pool of hot water. Actually, there is something better!
At Miette Hot Springs you can soak in natural warm waters while getting to experience awesome views of the Canadian Rockies.
Miette Hot Springs are commercially developed hot springs located near Jasper. The pool is outdoors and very popular, as you can see from the photo below.
Miette Hot Springs are the best way to relax after a day in Jasper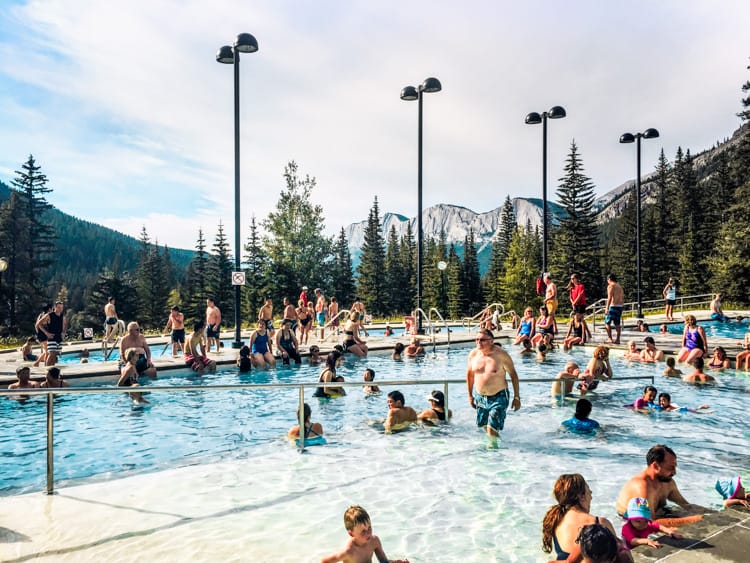 This mountain retreat features what look like several large pools. They look like big hot tubs in the mountains, but the amazing part is that the facility doesn't actually heat the water up.
The water pours out from a natural geothermal hot spring and is actually cooled down to a temperature that won't burn you. If you want to do the short hike up to the spring source you can as well with the trails clearly marked.
Naturally HOT Water!
The natural spring has water coming out at 130 degrees F (54 C), but it is cooled down to about 104 degrees F (40 C). If you think that may be too hot for you, there are also cold pools on the grounds that you can go back and forth from.
Miette Hot Springs Jasper
The Banff Hot Springs are better known, but if your trip takes you to Jasper you can get a similar experience at Miette Hot Springs. Another benefit of these hot springs is that they aren't as crowded as the ones in Banff, but you still shouldn't expect to have them to yourself.
Jasper Hot Springs Location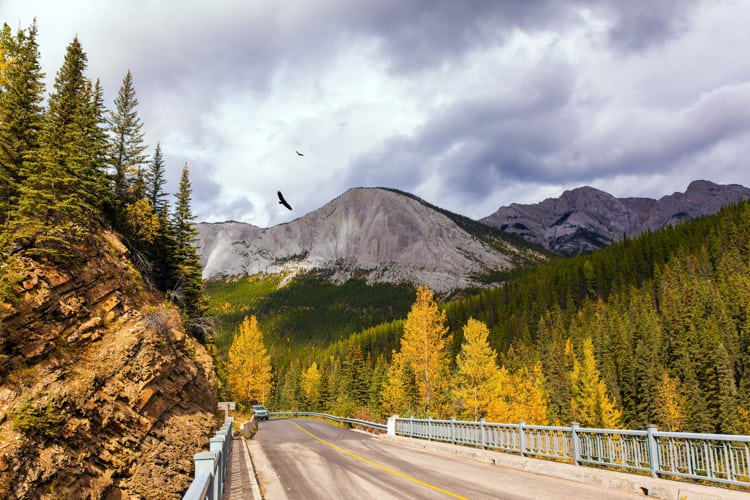 Miette Hot Springs, also known as the Jasper hot springs are 37 miles/60 km east of the town of Jasper. They are actually located pretty close to the east entrance to the park (the entrance if you drive in from Edmonton).
From the main road, the drive up a winding mountain road. The drive has some intense turns, so take your time. It takes about 20 minutes once you turn off the main road.
Miette Hot Springs Cost
It only costs $7.05 per person, with discounts available for children and seniors. If needed, lockers and swimsuit rentals are available for an extra couple bucks as well. I think given the experience you get, the Miette Hot Springs cost is much better value than some of the other Jasper attractions.
Miette Hot Springs Hours
One of my favorite things about the hot springs is that they are open relatively late (especially by mountain standards). The Miette hot springs hours vary by the time of year, but generally…
In May, September, and October they are open from 10:30 am until 9:00 pm.
In the peak summer months from June, July, and August they expand hours being open from 9:00 am until 11:00 pm.
Seasonality
Unfortunately, the hot springs are closed from the middle of October until the end of April.
See the exact schedule, which can vary by snowfall here.
Oh and one more thing – the changing rooms aren't the best, but you will soon forget once you step outside and dip yourself into the warm pools.
Where to Stay in Jasper National Park
Maligne Lodge (BEST location) – Everything in jasper is painfully expensive, but if you want to stay in Jasper National Park without paying a fortune the Maligne lodge seems to be the best you can do on a budget.
Why I recommend this hotel: Besides from the ideal location, by staying in Jasper itself you can beat the crowds to some of the best natural spots, which I was able to do and love. Jasper and Banff have similar feels downtown, I loved the restaurants, coffee shops, etc. There was a hot tub which was a major bonus for me! It wasn't anything special, basically like the kind people have in their backyard, but I loved it regardless after a day of hiking around in the cool Canadian rockies. I would absolutely stay here again. The rooms were nice enough – high end for a motel style hotel. Check availability here. (It books up fast in high season!)
MORE ALBERTA BLOG POSTS
My husband is from Alberta and totally has me drinking the Canadian Kool-Aid! I love everything from the mountains to the gorgeous turquoise lakes. These are my most popular blog posts and guides from Alberta to help you plan your trip.
Places you Can't Miss in Alberta: 10 Amazing Places to Visit in Alberta, Canada
Best Places to See in Jasper: Top 10 Things to do in Jasper National Park
The Best Waterfall in Jasper: Sunwapta Falls Travel Guide
Guide to Visiting the Columbia Icefield Skywalk: Why you Should Visit the Columbia Icefield Skywalk
Check out the most Most Underrated of All Jasper Attractions: Mount Edith Cavell (My favorite place in Jasper)