Sunwapta Falls is another picturesque waterfall in Alberta, Canada. Sunwapta is an Indian word for turbulent waters, so it's not hard to guess how it got its name.
What to see at Sunwapta Falls
This incredible Jasper Waterfall is another easy stop on your trip to Jasper National Park, or while covering the Icefields Parkway.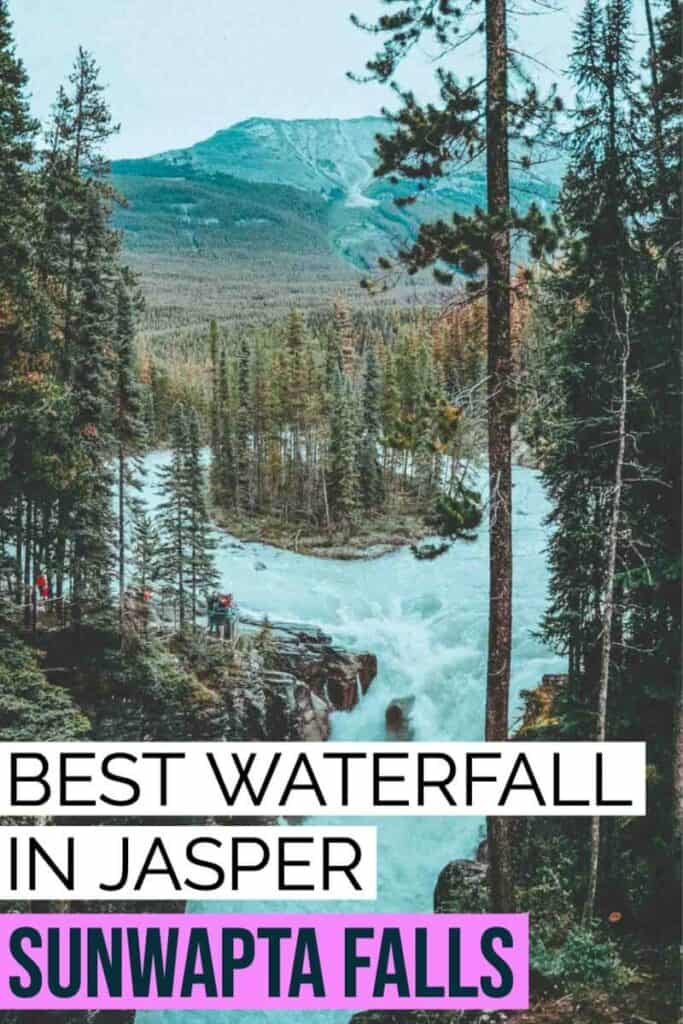 The Falls (Upper)
Sunwapta isn't the tallest waterfall, but its layout is awesome. Water flows up to this waterfall from the Athabasca Glacier. This runoff then divides around a small island comes back together and then immediately crashes down the falls.
The overall spectacle looks even better in person.
A bridge is built across the resulting gorge at the bottom of the falls. It perfectly squares the falls for pictures.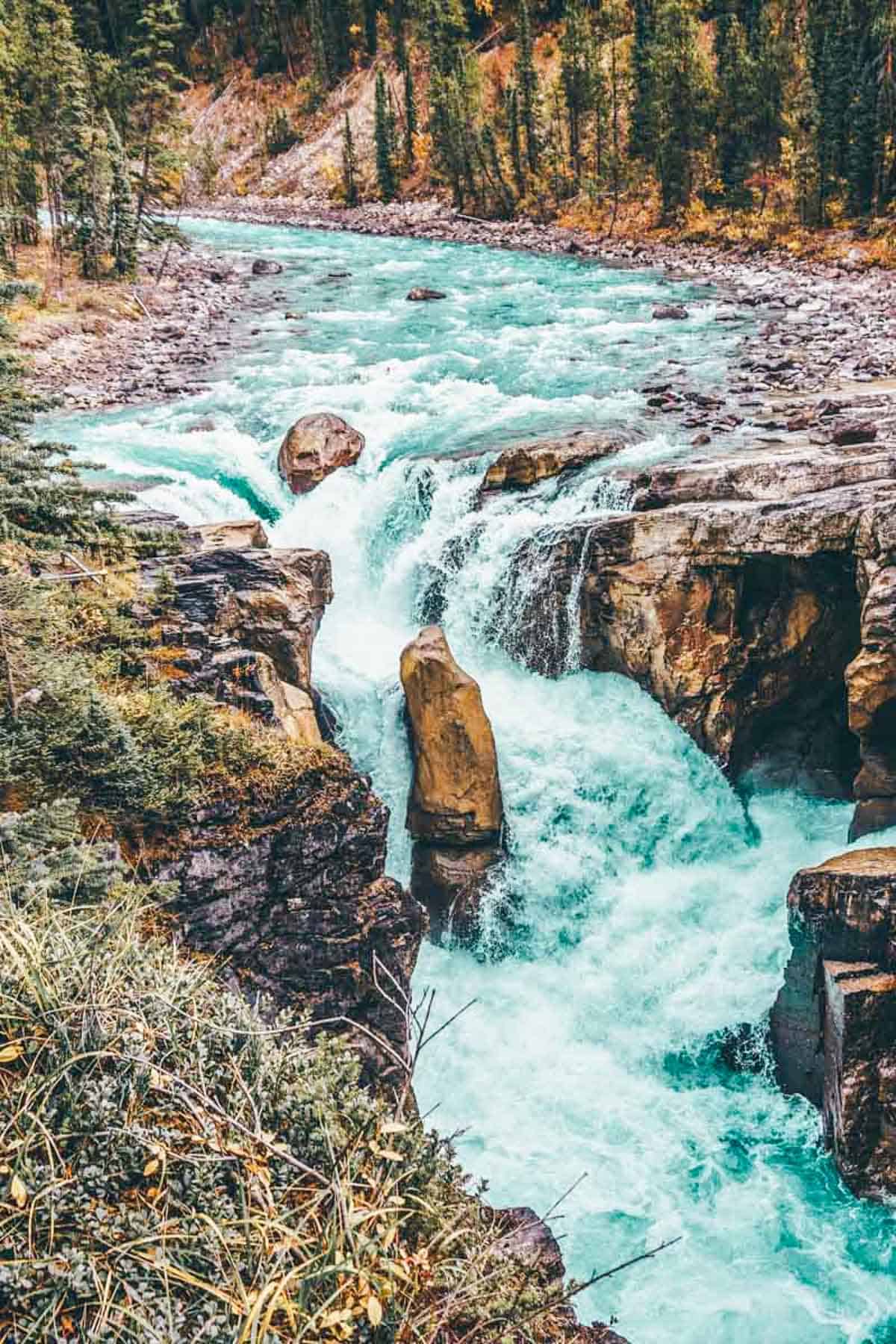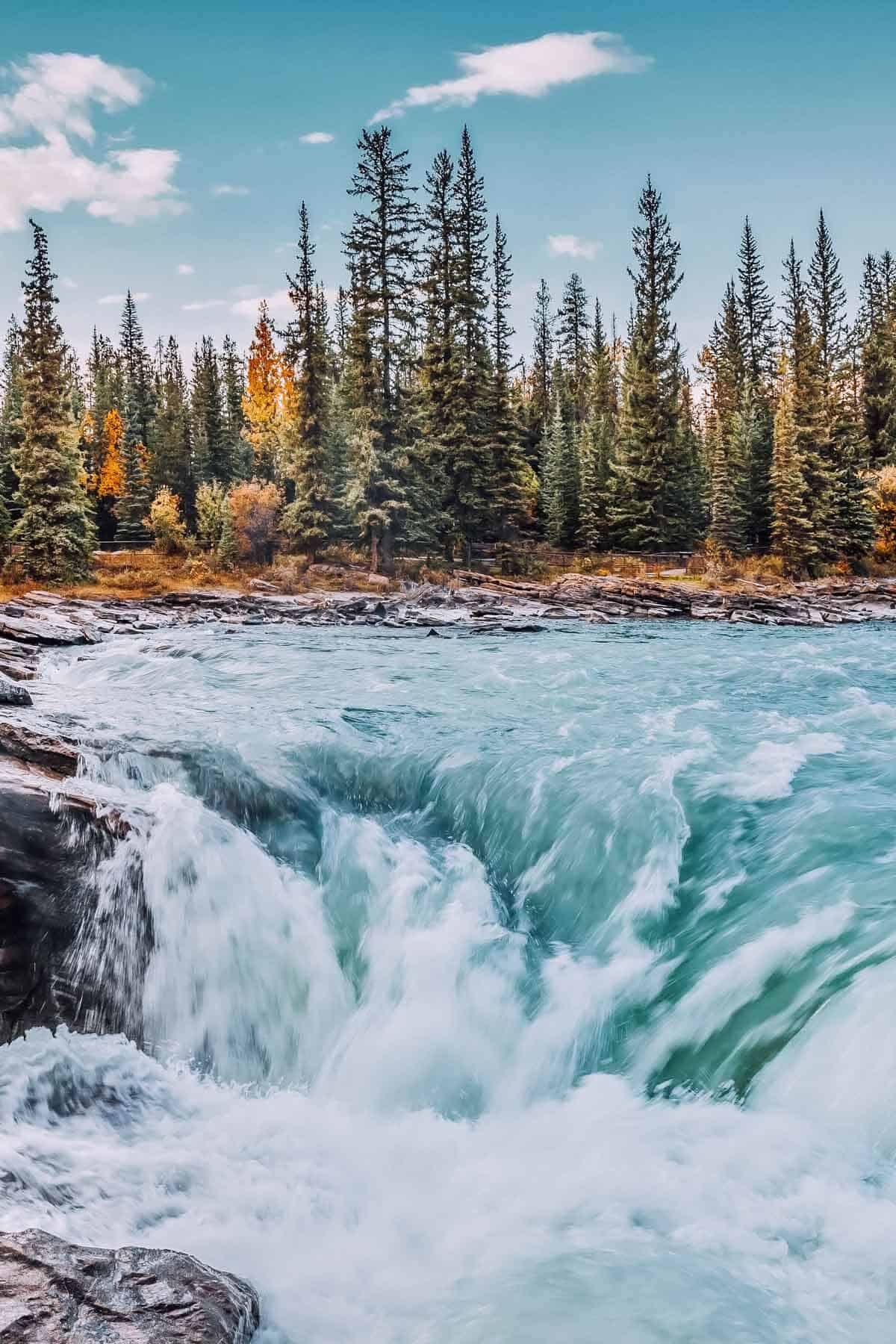 Upper and Lower Falls
Officially Sunwapta is a pair of falls, called the upper and lower. The lower falls require a mile hike to access, and they aren't as impressive as the upper falls. Regardless, the trail and accompanying scenery of the river meandering through the canyon makes for a great hike.
One FYI – if you've seen pictures of people standing on the slippery rocks at the top of the falls, know that there are now fences blocking off access.
Book your tour: Sunwapta Challenge Whitewater Rafting in Jasper (Wetsuits and equipment provided)
Sunwapta Falls Location
Easily located right off of Highway 93/Icefields Parkway, i.e. the road that connects Banff to Jasper. It is about a 45-minute drive straight north to get to Jasper, or about 3 hours from Banff.
Once there, no long detour or even hike is required; it is only a couple hundred yards from the parking lot to the falls. Many people park, snap a couple pictures, and then leave, though I recommend you spend more time.
Sunwapta Falls Cost
There is no cost to get in and park, you general ticket into Jasper or Banff National Park covers it. There are restrooms and picnic tables as well.
If you are in the area you definitely should stop by, even if really quick!
Where to Stay in Jasper National Park
Maligne Lodge (BEST location/Budget Choice) – Everything in jasper is painfully expensive, but if you want to stay in Jasper National Park without paying a fortune the Maligne lodge seems to be the best you can do on a budget.
Why I recommend this hotel: Besides from the ideal location, by staying in Jasper itself you can beat the crowds to some of the best natural spots, which I was able to do and love. Jasper and Banff have similar feels downtown, I loved the restaurants, coffee shops, etc. There was a hot tub which was a major bonus for me! It wasn't anything special, basically like the kind people have in their backyard, but I loved it regardless after a day of hiking around in the cool Canadian rockies. I would absolutely stay here again. The rooms were nice enough – high end for a motel style hotel. Check availability here. (It books up fast in high season!)
MORE ALBERTA CANADA BLOG POSTS
My husband is from Alberta and totally has me drinking the Canadian Kool-Aid! I love everything from the mountains to the gorgeous turquoise lakes. These are my most popular blog posts and guides from Alberta to help you plan your trip.
Places you Can't Miss in Alberta: 10 Amazing Places to Visit in Alberta, Canada
Best Places to See in Jasper: Top 10 Things to do in Jasper National Park
Guide to Visiting the Columbia Icefield Skywalk: Why you Should Visit the Columbia Icefield Skywalk
Guide to visiting the Miette Hot Springs in Jasper: Relax in the Jasper Hot Springs
Check out the most Most Underrated of All Jasper Attractions: Mount Edith Cavell (My favorite place in Jasper)
Which is better? Banff or Jasper: Should You Go From Banff to Jasper in Alberta Canada?