Sunwapta Falls is another picturesque waterfall in Alberta, Canada. Sunwapta is an Indian word for turbulent waters, so it's not hard to guess how it got its name.
What to see at Sunwapta Falls
This incredible Jasper Waterfall is another easy stop on your trip to Jasper National Park, or while covering the Icefields Parkway.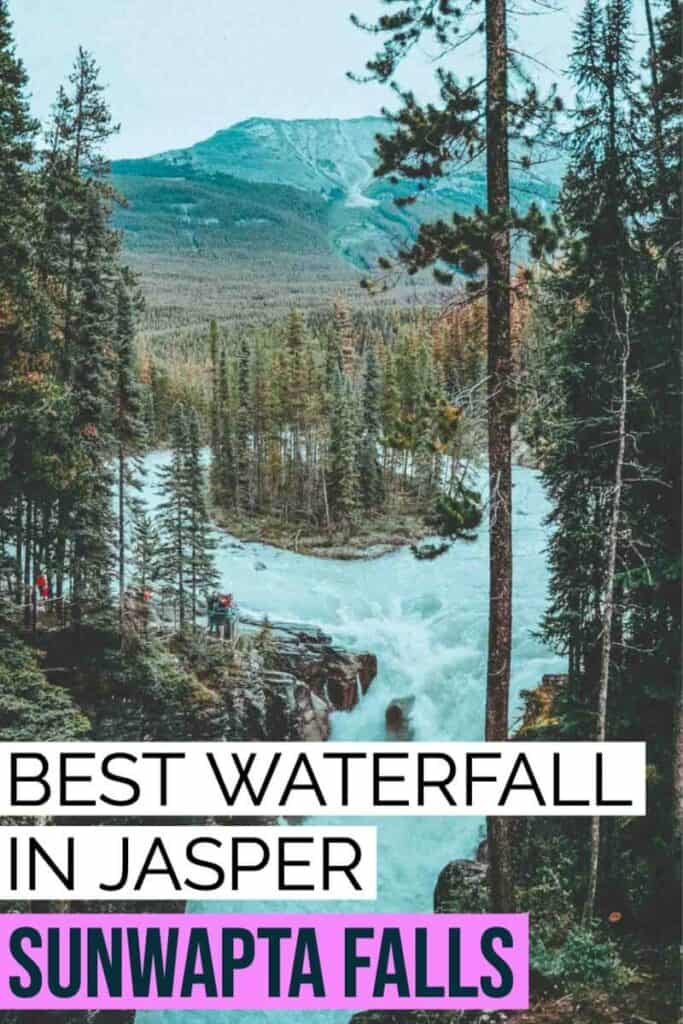 The Falls (Upper)
Sunwapta isn't the tallest waterfall, but its layout is awesome. Water flows up to this waterfall from the Athabasca Glacier. This runoff then divides around a small island comes back together and then immediately crashes down the falls.
The overall spectacle looks even better in person.
A bridge is built across the resulting gorge at the bottom of the falls. It perfectly squares the falls for pictures.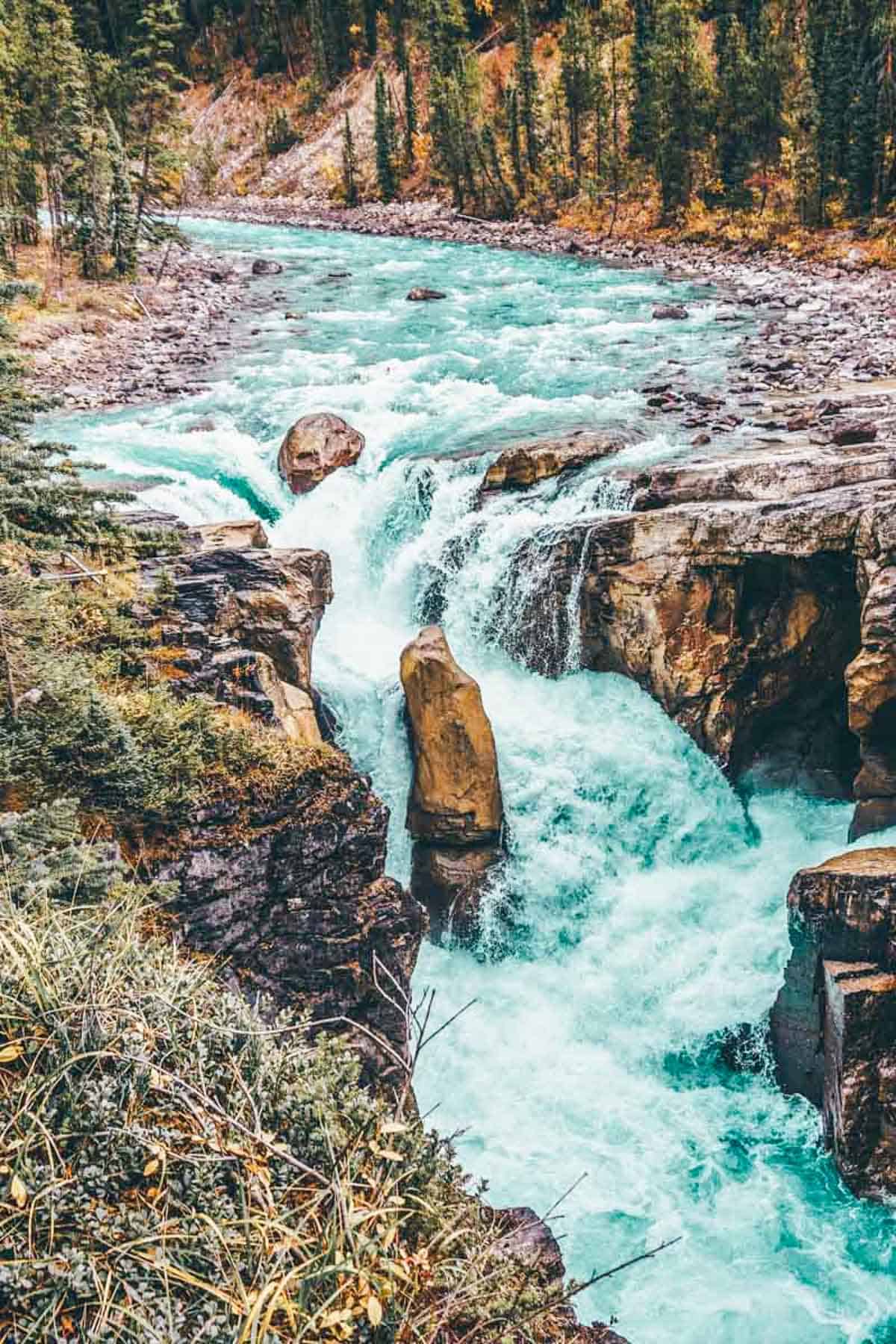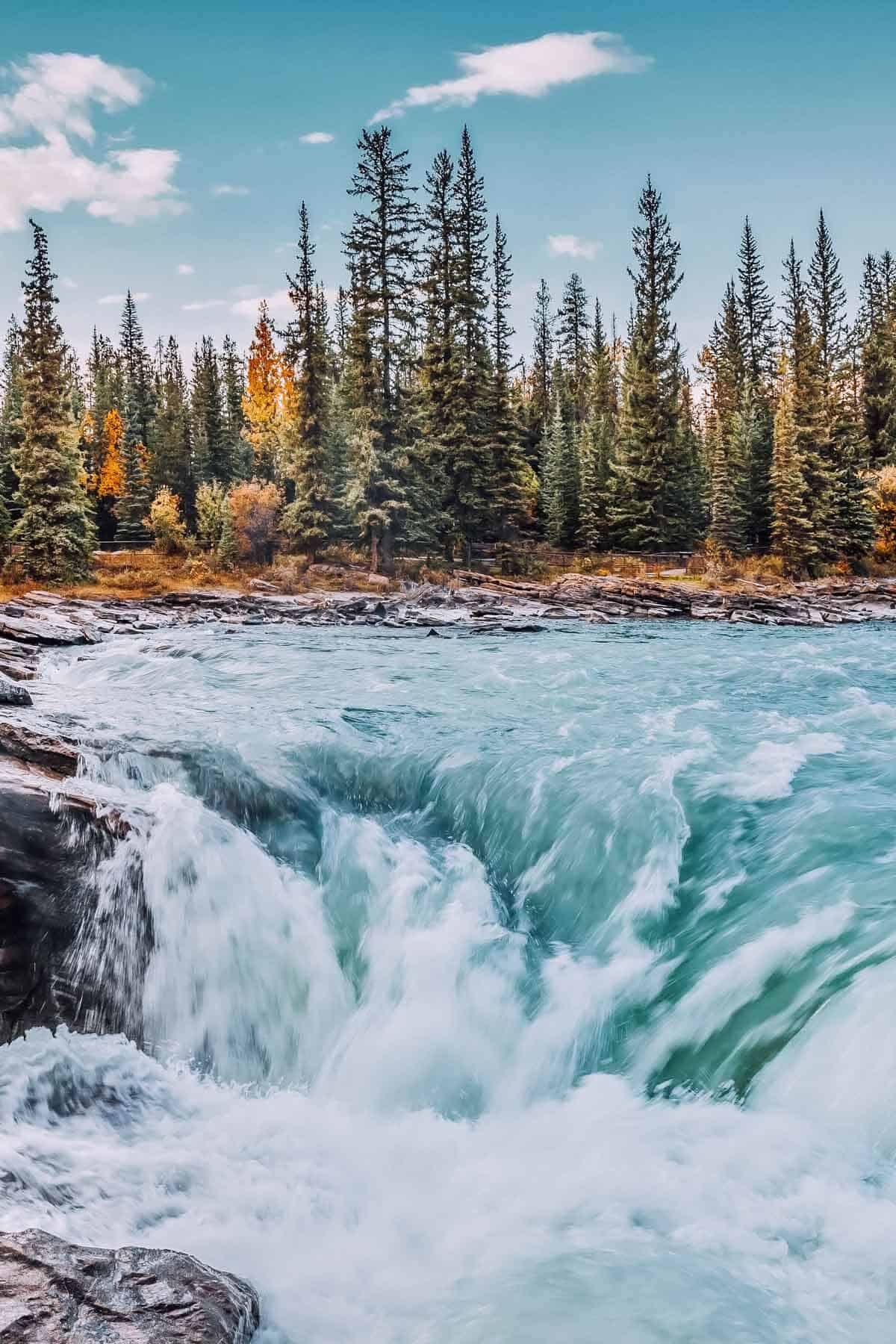 Upper and Lower Falls
Officially Sunwapta is a pair of falls, called the upper and lower. The lower falls require a mile hike to access, and they aren't as impressive as the upper falls. Regardless, the trail and accompanying scenery of the river meandering through the canyon makes for a great hike.
One FYI – if you've seen pictures of people standing on the slippery rocks at the top of the falls, know that there are now fences blocking off access.
Sunwapta Falls Location
Easily located right off of Highway 93/Icefields Parkway, i.e. the road that connects Banff to Jasper. It is about a 45-minute drive straight north to get to Jasper, or about 3 hours from Banff.
Once there, no long detour or even hike is required; it is only a couple hundred yards from the parking lot to the falls. Many people park, snap a couple pictures, and then leave, though I recommend you spend more time.
Sunwapta Falls Cost
There is no cost to get in and park, you general ticket into Jasper or Banff National Park covers it. There are restrooms and picnic tables as well.
If you are in the area you definitely should stop by, even if really quick!