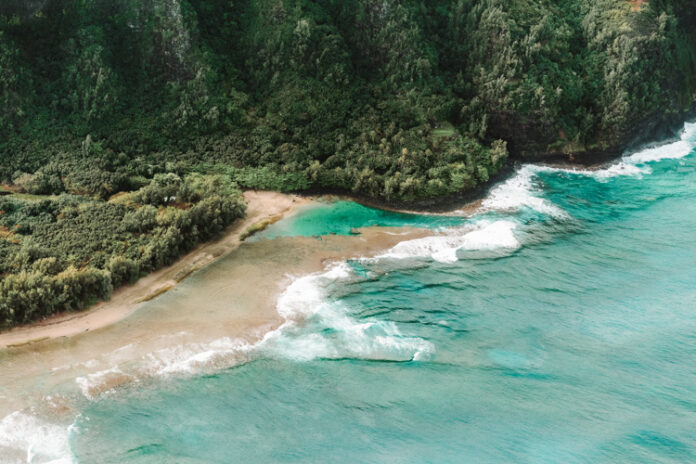 Ke'e Beach is easily one of the most beautiful beaches in Kauai
This tropical paradise is justifiably one of the most popular attractions on Kauai. It is gorgeous!! While Kauai has a lot of great beaches, Kee Beach stands out as extra awesome for a few reasons.
Kee Beach is located at the end of Kauai civilization and at the beginning of the Napali Coast. Even with other people around it feels like you've actually escaped to an undiscovered tropical paradise.
This intimate cove beach is perfectly framed with a gorgeous mountain rainforest backdrop.
Also, a reef protects the shoreline typically leaving the water a perfectly clear turquoise blue. The calm water and accompanying reef make it perfect for snorkeling (especially for beginners).
This beach is absolutely as gorgeous in person as it looks in pictures, BUT visiting it does come with a few pretty painful trade-offs.
Quick Facts about Ke'e Beach
Location – Inside Haena State Park on the north shore of Kauai
Good For – swimming, snorkeling, kids, filling memory cards with photos
Facilities – restrooms, showers, lifeguards
Reservations – yes, admission as well as parking or shuttle
Other Names – the beach at the start of the Kalalau Trail, Ke'e Beach
Proper Ke'e Beach Beach Pronunciation
For those of you that are like me and don't speak Hawaiian, you are probably mispronouncing the name. It's pronounced keh-Ay and not key.
How to get to Ke'e Beach
Kee Beach is located on the north shore of Kauiai at the end of the road, literally. If you could go further you would end up on the famous Kalalau Trail that takes you along the Napali Coast.
Kauai is not a big island but the drive to Haena State Park from the airport is about 1 hour and 15 minutes (without traffic).
If you are coming from the Poipu area you should plan on about 2 hours. The drive will take you along the coast of the island and through the Hanalei area.
The good news about this drive is that it will take you past a number of other awesome places that are worth stopping it.
Ke'e Beach is One of The Best Kauai Beaches
Plain and simply Ke'e Beach is one of the best Kauai Beaches. It is every bit as amazing as the pictures make it look.
The beach is smaller than I expected, but somehow looked even prettier than the pictures. The lush mountain backdrop really creates an intimate feel when you are lounging on the beach.
The reef blocks the wave and creates clear blue water that is perfect to snorkel in. I'm not the strongest swimmer, yet I felt perfectly comfortable swimming, which is definitely not the case at a lot of the Kauai north shore beaches.
When I was there the beach was full of a lot of families.
I think the protected cove and lifeguards makes the beach extra attractive for families with kids. Capacity restrictions guarantee that it won't be crowded, but definitely do not expect to be able to have it to yourself.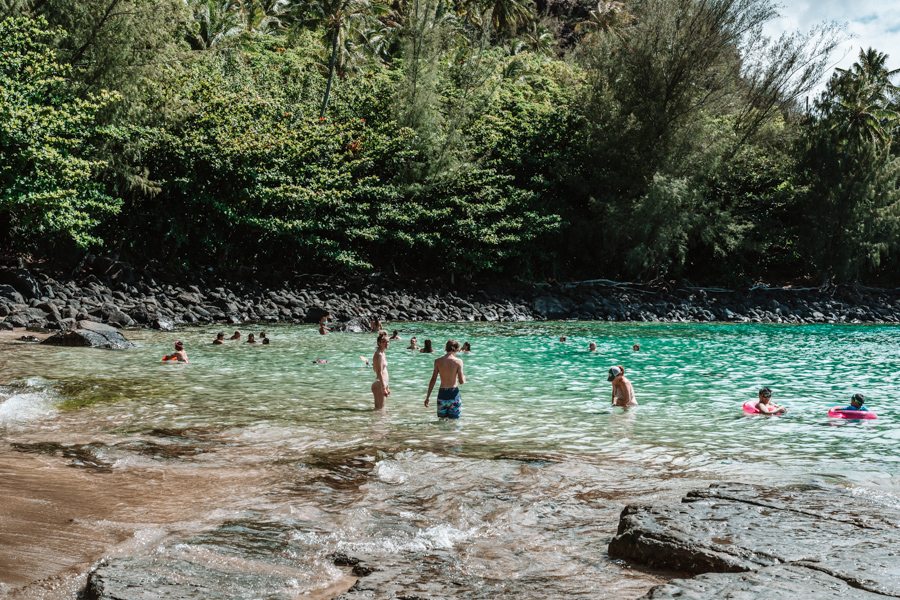 Another perk of the beach is that there is a lot more shade than most others. The gorgeous trees allow you to rest in the shade if you need a break from the powerful Hawaiian sun.
Exposed tree roots at the back of the beach add an extra flair.
What to Expect at Ke'e Beach
Water color: Bright turquoise blue in spots and darker in other spots.
Sand quality: Fine, golden sand (lots of coral reef in the water)
Swimming conditions: Calm, great for all swimmers
Crowds
Ke'e beach was surprisingly one of the busiest beaches we visited on the North shore. I thought it would be dead since you have to make reservations but it was the opposite. It ended up being a lot busier than other beaches in the areas. A lot of families and kids around.
Tunnel Beach is just around the corner and is just as beautiful, also has great snorkeling, calm shallow water and you get it all without the crowds.
Check out our guide on visiting Tunnel Beach here.
Ke'e Beach Snorkeling – Is it any good?
If you are looking for Kauai beaches for snorkeling Ke'e beach is perfect for that too!
The water is crystal clear and there is a ton of reef surrounding Ke'e beach making it a perfect snorkeling spot on Kauai. When we were there almost everyone else there was snorkeling as well.
I would say of all the beaches in Kauai we visited I saw the most snorkelers here (Ke'e Beach) and at Anini Beach. Of the two beaches I prefer the vibe at Ke'e Beach. It's prettier and more secluded and I really enjoyed the snorkeling here.
Anini beach has great snorkeling as well but it has more of a 'park' vibe.
Other good snorkeling beaches in Kauai:
---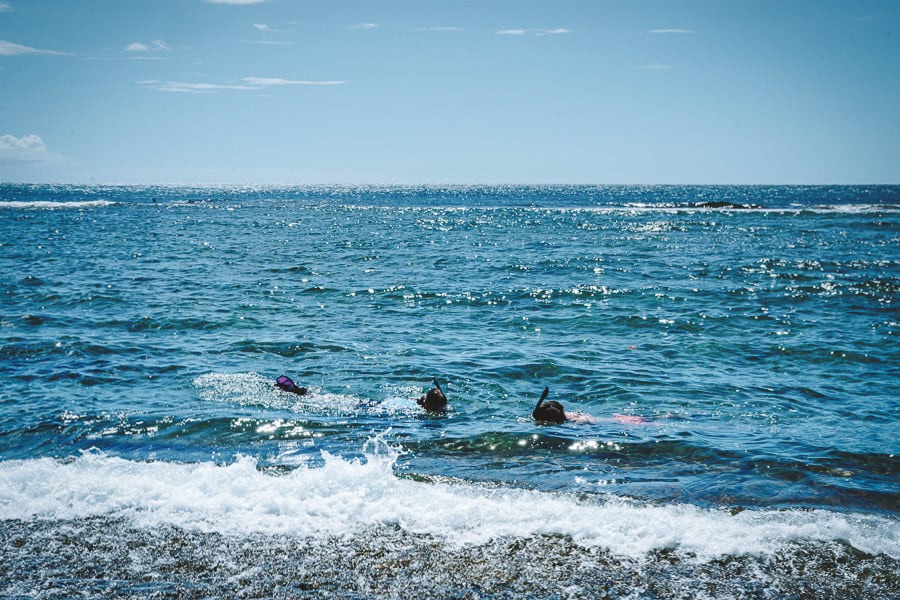 The Ke'e Beach Reservations Process
Full disclosure, the Ke'e Beach reservations process sucks. It is difficult, expensive, and confusing. The hassle will make you wonder if it is actually worth it.
Ke'e Beach is located inside Haena State Park and costs $5 per person to enter.
The problem is that they limit capacity and require a reservation made between 1 and 30 days in advance and most of the days sell out.
Also, your park reservation must be set at a specific time. If you aren't able to walk into the park, the situation gets even more complicated.
To be able to park at the beach you have to pay $15 and have an advance registration, which is also really difficult to get since they sell out in advance.
A shuttle is offered, but it costs $30 and not only requires an advance reservation, but it also requires you to plan to arrive at a specific time that will be strictly enforced.
Wow, that was a lot. Check the heading below for a quick summery.
Reservation Summary Details
Park pass reservations must be made 30-1 days in advance (very likely to sell out) and will be for a set time
$5 per person
$15 parking (likely sold out)
$30 shuttle (locked in to a specific time)
Not deterred? Make your reservations here.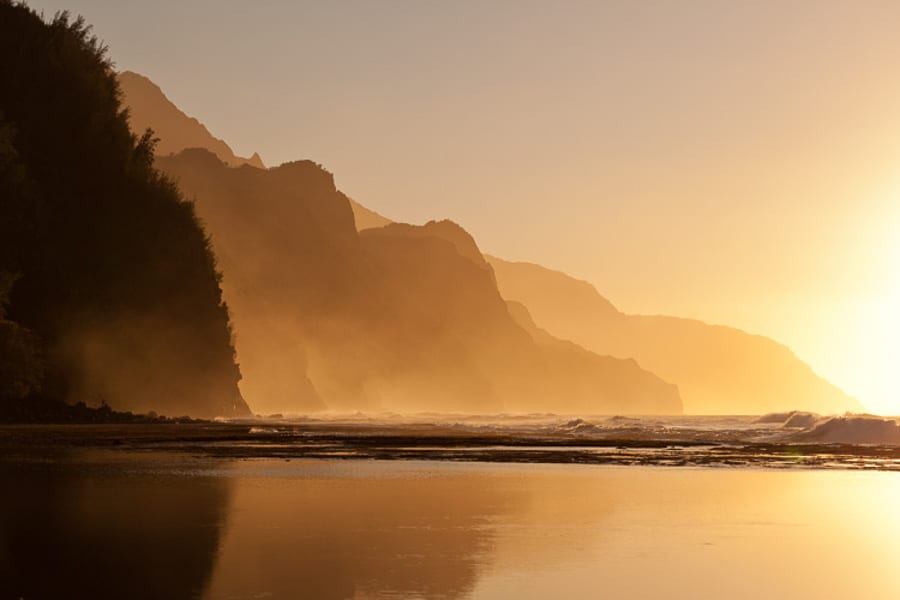 The sunsets here are next level!
Our experience trying to make reservations
We had no idea before going that you needed reservations. The reservation process is still fairly new.
We arrived in the evening and the parking lot for Ke'e Beach was basically empty. I thought, great! There's hardly anyone here.
We approach a security tower to before entering the parking lot.
He explains that we need a reservation to enter.
We say, oh okay, we're here for a week, how can we make reservations? He tells us that there are no reservations free for a 3 months and the slot was at 6 am.
Locals guide to getting into Ke'e Beach without a reservation
While we were in Kauai a local told us that we could just walk there from Haena beach. She said she does it all the time.
Ke'e Beach Hike – How to get to Ke'e Beach from Haena Beach
After parking at Haena Beach the walk will take you about 20 minutes. It's a pretty walk, we even saw a Monk Seal sleeping on the beach.
Don't wear flip flops – I was kind of miserable trying to do this walk in flip flops. There are two sections where you will have to walk through a bunch of rocks and my foot kept slipping.
I recommend wearing sandals that have straps, like these Teva sandals. They are perfect for hikes like this!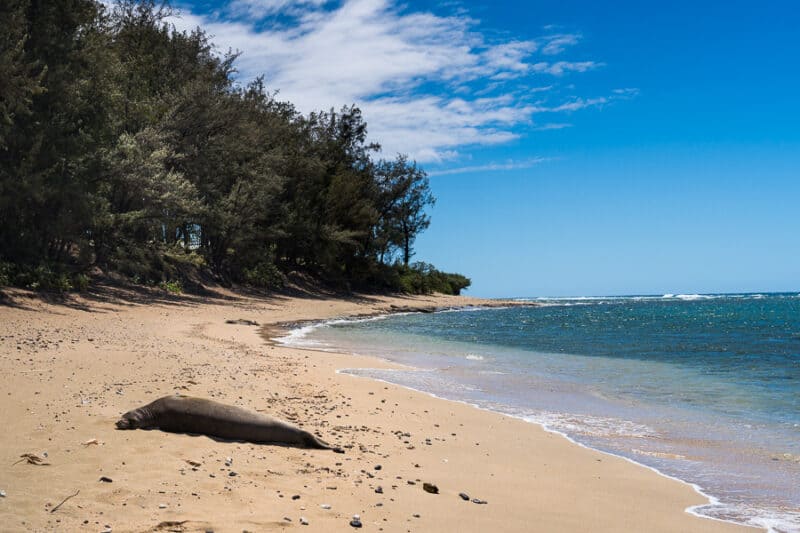 Is there a guard patroling Ke'e beach?
I was a little nervous because my husband (a rule follower) read online that there is sometimes someone guarding the beach so people can't walk over. But we were able to walk over just fine.
He got me all nervous for nothing!
Check out the map below for the exact route.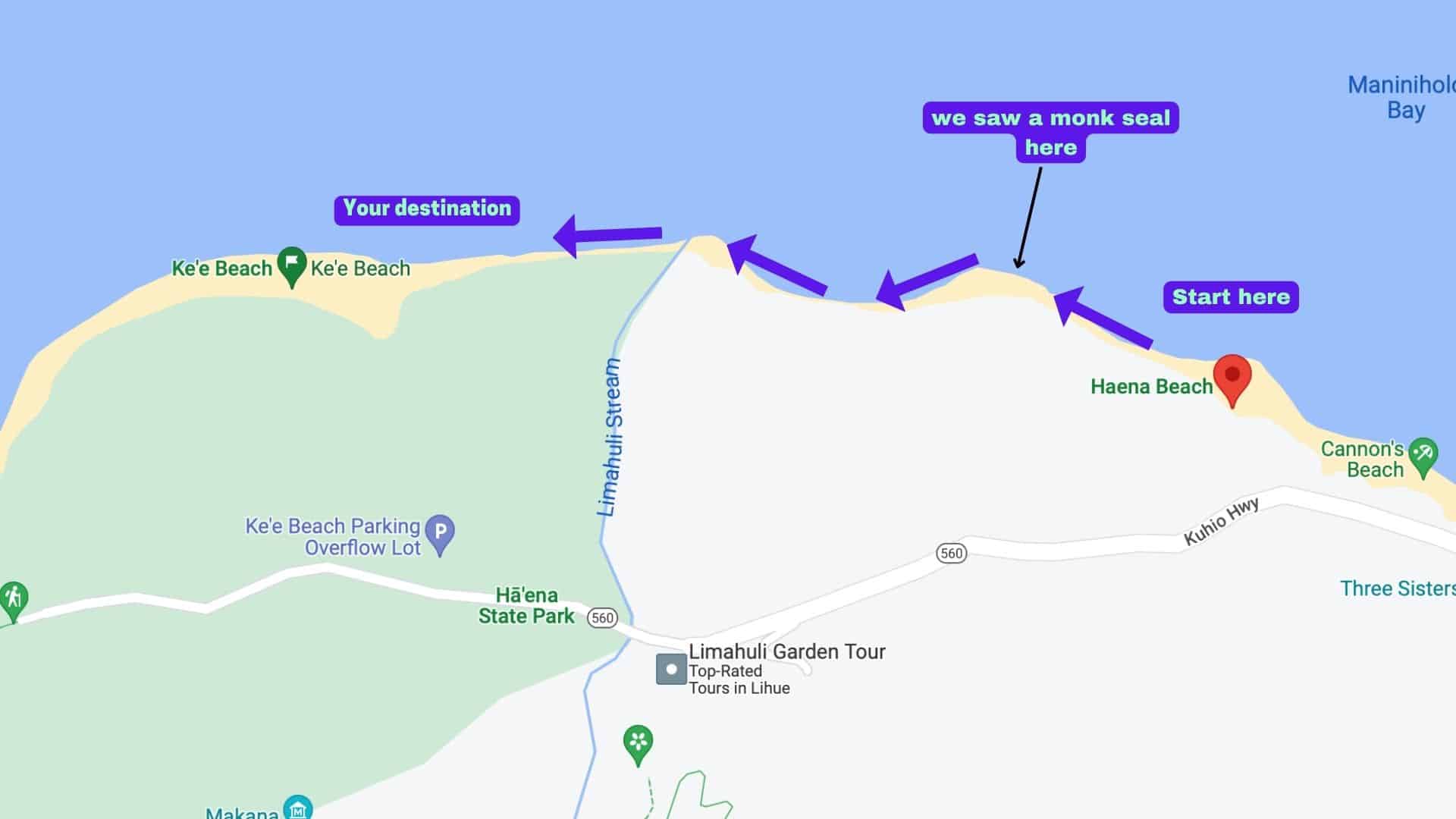 Pros and Cons of visiting Ke'e Beach
Pros
Truly stunning beach with mountain backdrop
Calm clear blue waters perfect for kids
Colorful reefs with amazing sea life that is even easy for a beginner snorkeler to access
Once you have a reservation, easy to park
Lifeguards on duty
Cons
Reservation process is an expensive nightmare
Shuttle is time consuming and difficult to match reservation time with arrival due to traffic
Long drive from most of the resort areas
Beach relatively small
Spotty cell phone service
Should you visit Ke'e Beach on your trip to Kauai?
If you can fight through the reservation process to get into Haena State Park and then Ke'e Beach, you won't be disappointed.
If you can't get a reservation or aren't able to commit to a certain time then you don't have to worry. Tunnels Beach is nearby on the Kauai north shore and it provides a very similar experience without the reservation and permitting requirements.
What to Bring to the Beach
Travel towel – So much easier to pack these quick dry microfiber travel towels than go without or be forced to buy one once there. We always travel with at least two of them.
Dry Bag – There are some lessons you just don't want to learn the hard way. Ruining your phone, camera, or other valuables at the beach is a very expensive lesson to learn. This dry bag is amazing and works for any and all water activities.
Reef-safe sunscreen – The sun here can be very strong. Make sure to wear a reef safe sunscreen or a rashguard.
Rash guard or long sleeve swim top – I wear the one from Skims and I love not having to worry about getting burned when I am out in the sun ALL DAY. Free people also has some amazing rash guards you can shop here.
Backpack or waterbottle sling – I am obsessed with my Beis travel backpack. I never travel without it. It is seriously the perfect size. Not too big, not too small. If you don't want to bring a full backpack this waterbottle sling is my absolute favorite. It fits a waterbottle, iPhone 14 pro max, plus some extra space for bars or snacks or your wallet.
Packable snacks – I always travel with these That's it bars from Amazon. OMG, they are sooo good and only have a few minimal ingredients.