Hideaway Beach on Kauai's North Shore
Hideaway Beach Kauai is legendary! It's dinky, it is a nightmare to park at, requires a treacherous mini hike, and you won't have it to yourself. Despite those things, it is still amazing and worth a stop!
So what makes this beach worth all the trouble? It's hard to describe but this intimate beach is a perfect escape. You feel like you are on your own deserted island. Not only is it one of the most beautiful beaches in the world, it also features a reef directly offshore that provides phenomenal snorkeling.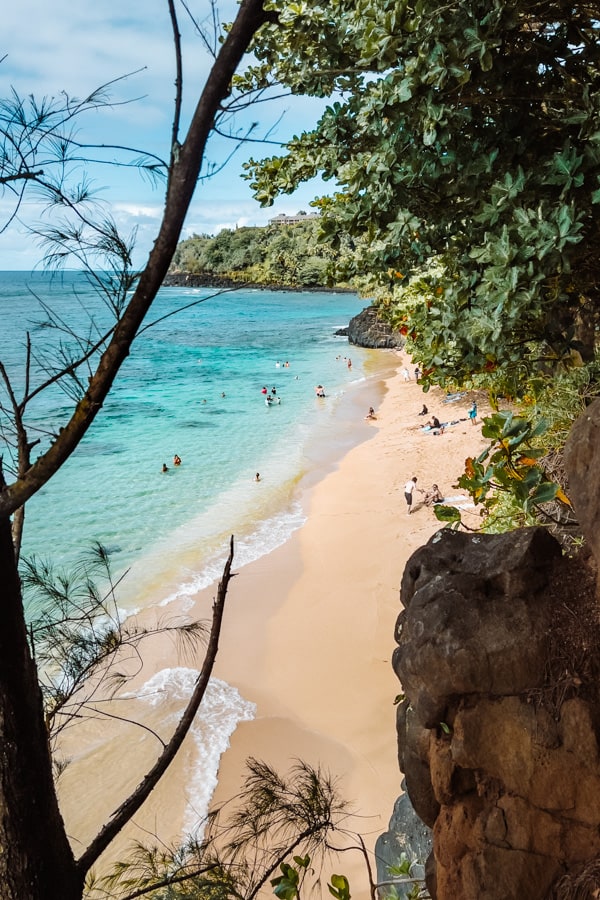 Quick Facts
Location: Hideaways Beach Princeville
Hideaway Beach is located in the Princeville Resort area of Kauai. If you aren't familiar, it's a fancy resort area on the north shore of the island of Kauai.
It takes about an hour to drive there from the airport (assuming traffic isn't too bad). It is about 20 minutes from the town of Hanalei.
Where to Stay on The North Shore of Kauai
There are two main areas where you can stay on the north shore of Kauai. Those areas are Princeville and Hanalei.
Princeville Resort Area – Understanding the basics of each area will help you book. Princeville is a super well manicured master plan type of community more than a town. Check out all the hotels in Princeville here.
Think of it like a country club golf community that just so happens to be on a few beaches. It's beautiful, perfectly manicured and maintained, and especially attractive to retirees and people looking for high end condos. You can get more info here.
Hanalei Resort Area – The Hanalei town area is the more "happening" place. There area tons of bars, restaurants (and food trucks), and shops in the area. Check out all the hotels in Hanalei here.
Hanalei also borders one of the biggest and all around beaches on Kauai (Hanalei Beach), though the downside is that it isn't as quiet or master planned and not as quiet as Princeville.
I love both areas, but for my tastes I'm willing to sacrifice a little bit of super upscale feel of Princeville for the walkability access to everything in the Hanalei town area. You can get more info here.
What To Expect At This Hidden Beach
This perfect beach provides opportunities to get away from everything. Not only does it usually have gentle waves and clear blue water, there is also plenty of shade in case you want to lounge out of the sun.
Parking
There is a small public parking lot just off the road. When I say small, I mean it probably only has spaces for about 10 cars. There are more than 10 cars worth of people who want to access this beach, so the struggle begins.
The surrounding streets have signs all over absolutely forbidding anyone from parking on them, and if that's going to be enforced anywhere, it's in the Princeville area.
The beach is one you will likely want to stay on for a while, so turnover in the small lot isn't fast (even late in the day).
Parking Hack
When the lot is fully (an unfortunate inevitability) there is an option if you are dying to go to Hideaway Beach. There is a golf club pro shop that sells day parking passes for $20. It's not ideal to have to pay, and you have to walk 3/4 of a mile to get there, but it is an option!
To find the exact spot, just type Makai Grill and Golf Pro Shop into your GPS. You will see it a little ways down the road. The walk isn't ideal, but it will get you to hideaway. It only took us about 15 minutes the last time we were there.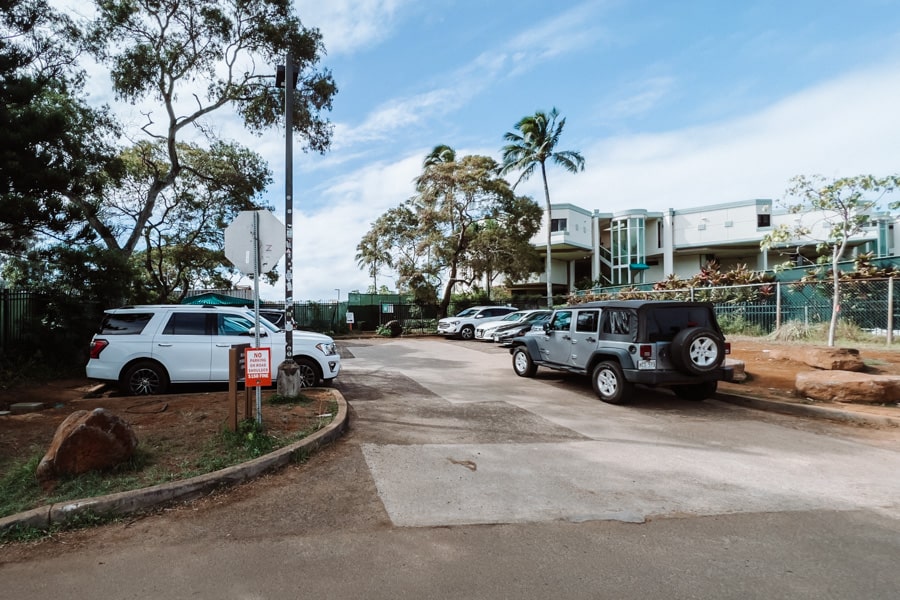 Mini Hike Required
To get to this beach you have to complete a mini hike. First off, don't confuse the trail down to the beach from the construction area. The trail actually leaves from the north side of the parking lot rather than directly from the middle. The path leading away from the middle of the lot leads directly to a construction zone.
(JULY 2023 update – the construction is now finished and the trail is easier to follow)
The mini hike has a couple of steep parts that require you to climb down into the beach. It only takes 3 minutes and can be completed in flip flops, but know that you will need to take your time on some fairly steep steps.
WARNING – you will lose cell phone service once you take the mini hike down to the beach. If you can't live without service know that you won't have it once you reach the water.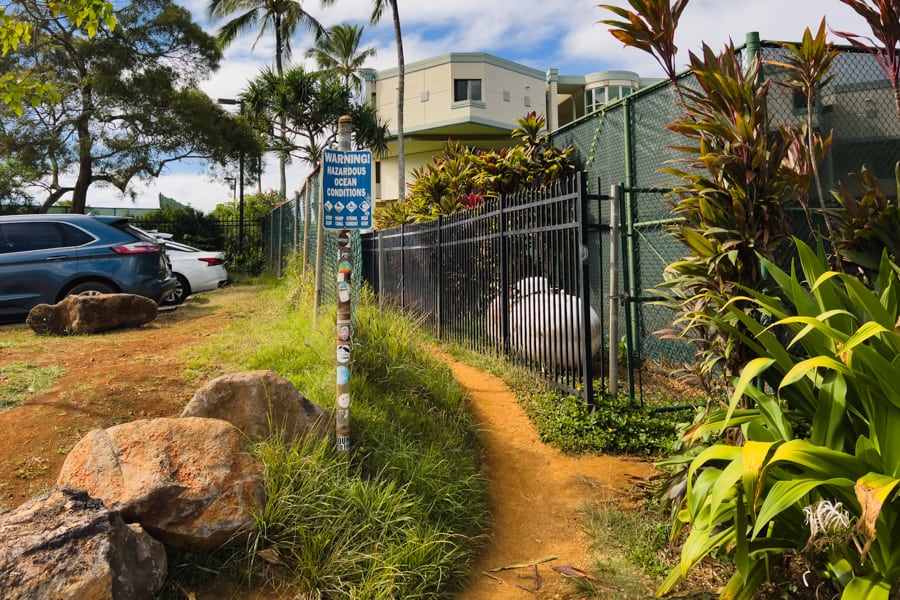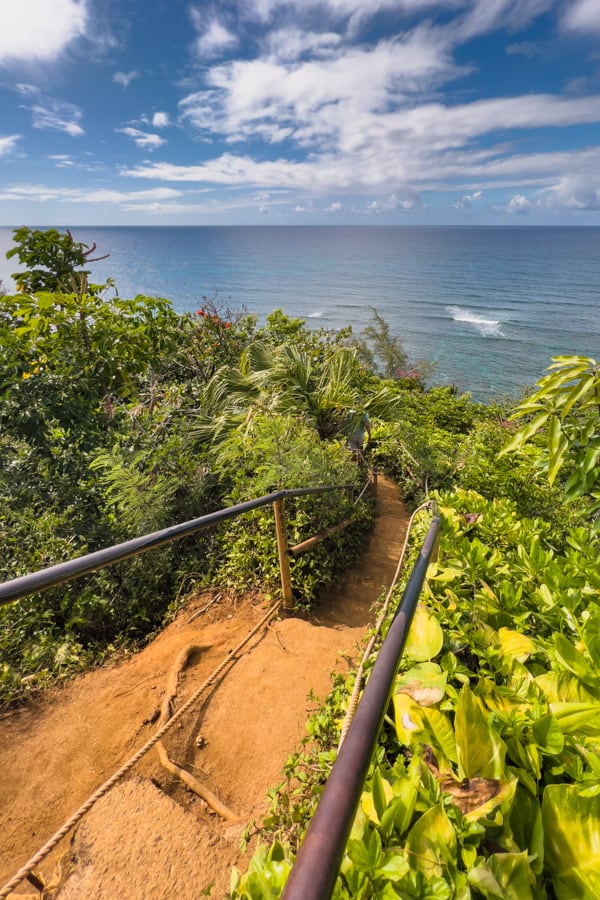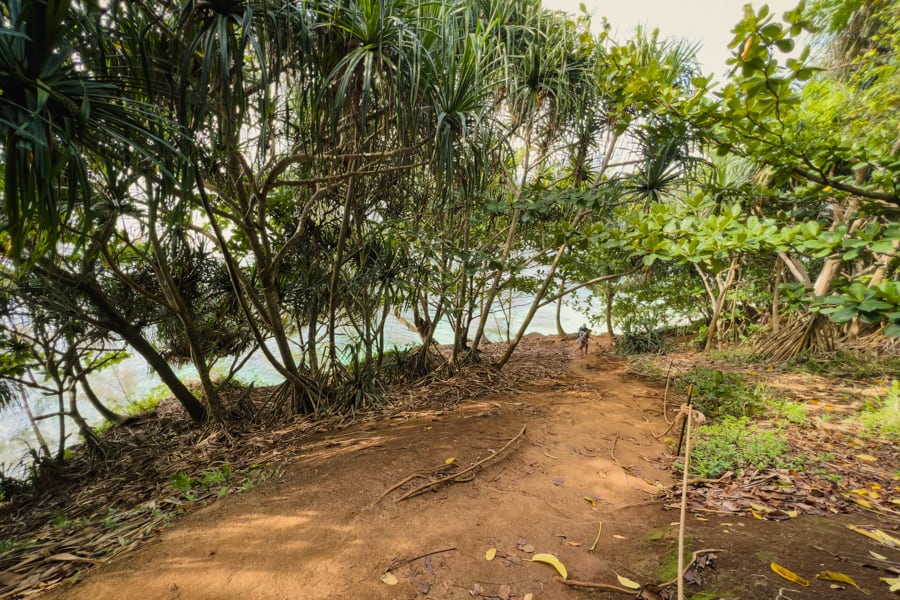 Hideaways Snorkeling
This is absolutely one of the best places to snorkel in Kauai. Aside from being able to be so close to the reefs and the water generally being more calm than most other places, the aquatic life you will see is awesome.
I think the location being slightly harder to reach than other places keeps tons and tons of people away, which helps the sea creatures stay.
A huge perk for those that aren't the strongest swimmers or kids is that the reefs begin directly off the shore. You don't have to swim far our to see the animals, though you can venture further out into protected waters.
Other good snorkeling beaches in Kauai:
---
Conclusion: Go To Hideaways Kauai
If you are in the area I highly recommend going to Hideaways Kauai to spend an afternoon. I loved relaxing out of the sun in the trees hanging over the sand and snorkeling directly off shore with the most vibrant fishies.
What to Bring to the Beach
Travel towel – So much easier to pack these quick dry microfiber travel towels than go without or be forced to buy one once there. We always travel with at least two of them.
Dry Bag – There are some lessons you just don't want to learn the hard way. Ruining your phone, camera, or other valuables at the beach is a very expensive lesson to learn. This dry bag is amazing and works for any and all water activities.
Reef-safe sunscreen – The sun here can be very strong. Make sure to wear a reef safe sunscreen or a rashguard.
Rash guard or long sleeve swim top – I wear the one from Skims and I love not having to worry about getting burned when I am out in the sun ALL DAY. Free people also has some amazing rash guards you can shop here.
Backpack or waterbottle sling – I am obsessed with my Beis travel backpack. I never travel without it. It is seriously the perfect size. Not too big, not too small. If you don't want to bring a full backpack this waterbottle sling is my absolute favorite. It fits a waterbottle, iPhone 14 pro max, plus some extra space for bars or snacks or your wallet.
Packable snacks – I always travel with these That's it bars from Amazon. OMG, they are sooo good and only have a few minimal ingredients.
Planning a trip to Kauai? Read everything we know about Kauai here:
My husband and I have been to Kauai many, many times and have written up more guides to help you plan your trip. These are my most popular blog posts and Kauai travel guides to help you plan your trip.
Kauai Beaches
Best Beaches for Snorkeling on Kauai
Best Cliff Jumping in Kauai
More awesome beaches
Kauai Hiking Guides
Read about all the hikes we have done in Kauai here.
Read all other posts on Kauai here.