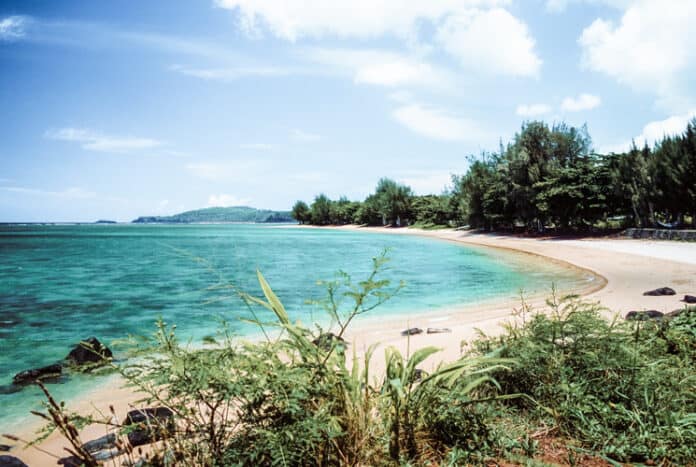 Kauai's Anini Beach (Popular For a Reason)
Anini Beach is one of Kauai's super popular north shore beaches. Its popularity is due to it having sand that stretches for over 2 miles and a lot of the shore is protected by a reef. Not only does this reef create a prime snorkeling spot, but it creates a perfect spot for other water sports like kite surfing, stand up paddle boarding, or windsurfing.
Don't let the fact that it is super popular deter you from stopping by. Kauai's Anini Beach is a lot bigger than most of the other Kauai beaches which will likely give you plenty of space to spread out and enjoy.
Where is Anini Beach located on Kauai?
Anini Beach is located on the north shore of Kauai right next to the Princeville/Hanalei resort areas.
Even though it is located in the vicinity of the famous Hanalei Beach, it isn't quite as crowded since it isn't immediately next to as many hotels/resorts.
Anini Beach Map
Remember that Kauai doesn't really have roads that cut across the island, so you have to circle around along the coastline to get there. If you are driving from the airport it will likely take you about 45 minutes to get here, and about an hour if you are coming from the Poipu resort area.
It's a bit of an oversimplification, but the Anini Beach map would show you on the top right corner of Kauai.
Anini Beach Parking
Another perk of Anini Beach is that there are a few different parking lots and access points. This means that it should be easier to find your own spot and space. Don't think you are limited to the one lot where your GPS takes you.
In fact, the main access point tends to have the thinnest stretch of sand, which makes some of the others better to park at if you don't mind not being right next to the facilities.
What to Expect at Anini Beach Kauai
Evidently Anini means dwarfish or stunted. I have no idea how it got its name because there is nothing dwarfish or stunted about this large fabulous beach. The only thing I could think of that is being stunted is the waves that the reef causes to break further from the shore.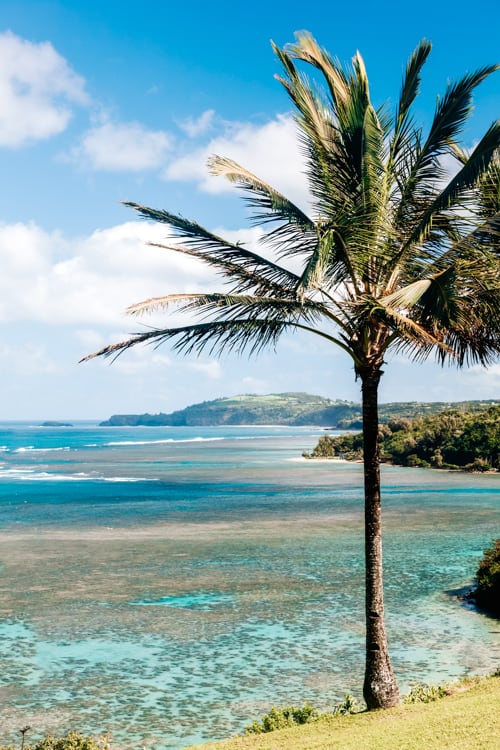 Anini Beach Facilities
While there are no lifeguards, this beach has all the other amenities you would want. There are restrooms, showers, and even pavilions and picnic tables.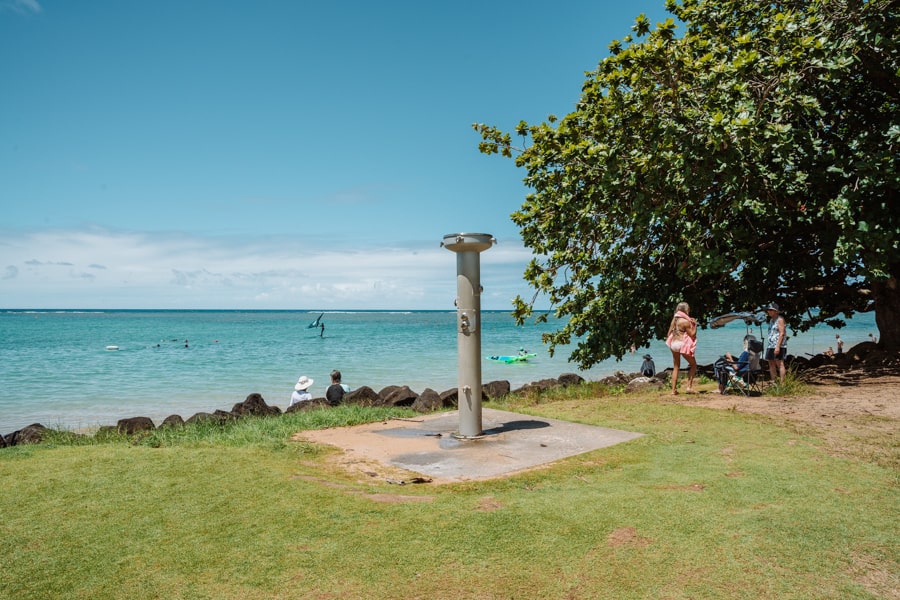 Showers, bathrooms, pavilions at Anini Beach
Anini Beach Snorkeling (Is it any good?)
The wide reef causing the waves to break further out create an awesome spot for snorkeling. Anini beach snorkeling is very beginner friendly and full of aquatic life. It is very beginner friendly.
That being said, the Anini beach snorkeling conditions do vary and at times the waves may be crashing in a lot closer to the shore where you want want to swim and snorkel (generally more in the winter).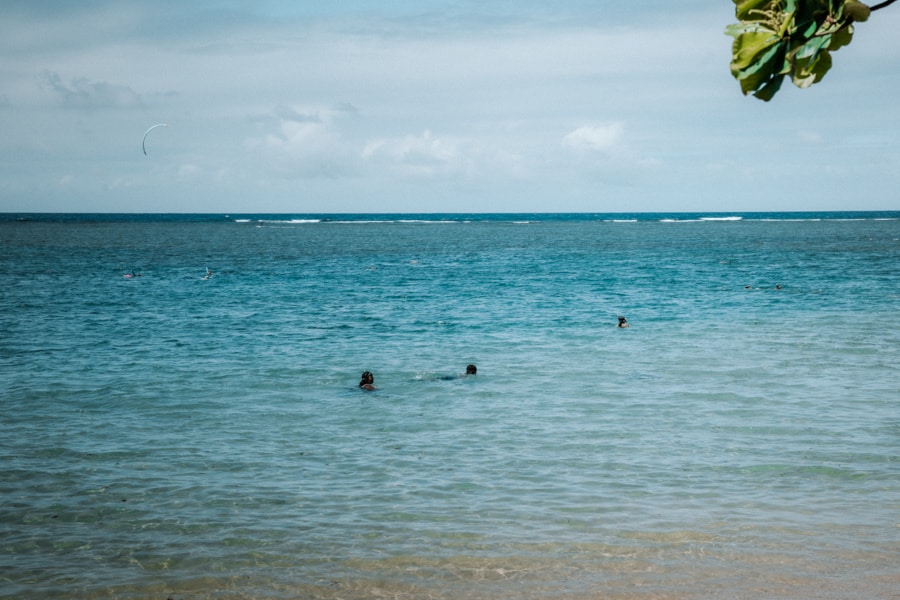 Other Extreme Sports
You will see many extreme athletes windsurfing, kitesurfing, or stand up paddle boarding in the area. If you are up for a try this is a good spot for those sports, but if you are like me you will even enjoy just watching them.
Anini Beach Campground
Another huge perk of this beach is that it has a few campsites available. When Camping Anini Beach is an awesome location as well as cost effective.
Pros and Cons of visiting Anini Beach Kauai
Pros
Phenomenal beginner friendly snorkeling
Over two miles of sand
Facilities/easier to park than other beaches
Convenient to resort area
Great for windsurfing, kitesurfing, or even watching these extreme athletes
Anini Beach Camping available
Cons
Waves break far out – not where you would want to surf
No lifeguard
Cell phone service is spotty
Depending on tides at certain spots the sand can be thin
Other things to do in the area
There are a number of other attractions in the area.
The Queen's Bath is just up the road along with the Princeville and Hanalei resort areas.
Hanalei is an especially great area to find a good restaurant or do some shopping.
Hideaway's beach (Another popular beach on the North Shore of Kauai)
Planning a trip to Kauai? Read everything we know about Kauai here:
My husband and I have been to Kauai many, many times and have written up more guides to help you plan your trip. These are my most popular blog posts and Kauai travel guides to help you plan your trip.
Kauai Beaches
Best Beaches for Snorkeling on Kauai
Best Cliff Jumping in Kauai
More awesome beaches
Kauai Hiking Guides
Read about all the hikes we have done in Kauai here.
Read all other posts on Kauai here.