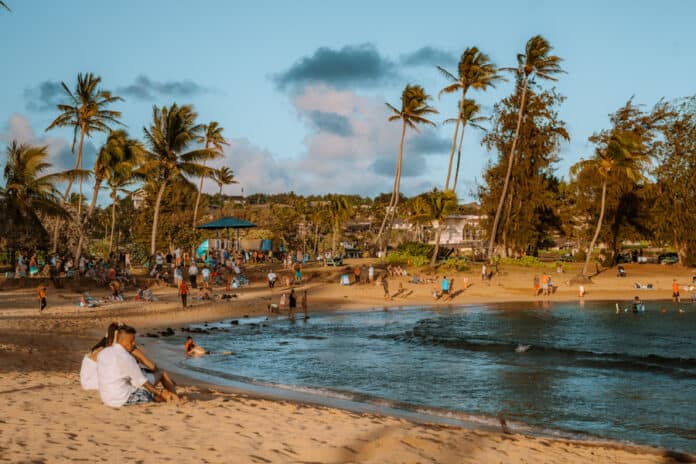 Poipu Beach Park
Poipu Beach has repeatedly been voted the #1 beach in America. Not surprisingly, this beach is a complete package, and exactly what you think of when you imagine the perfect Hawaiian getaway.
It features clear blue water, gentle rolling waves, and even lava rock outcroppings that are great to snorkel around. It's no surprise that one of Kaui's most popular resort areas sprung up around this amazing beach.
Poipu Quick Tips
Poipu Beach Location
Poipu is located on the southern coast of Kauia on the eastern side of the island. It is about a 25 minute drive from the airport.
What To Expect
Clear blue water and wide stretches of sand are not the only thing you will find on this amazing crescent shaped beach. Great snorkeling and lots of families.
Sandbar Creating A Perfect Swim Spot for Kiddos
There is a sandbar that cuts across the cove and blocks the waves from coming further in. While this does block the waves for those that are hoping to boogie board or surf, it creates a perfect shallow pool for the kids to swim in.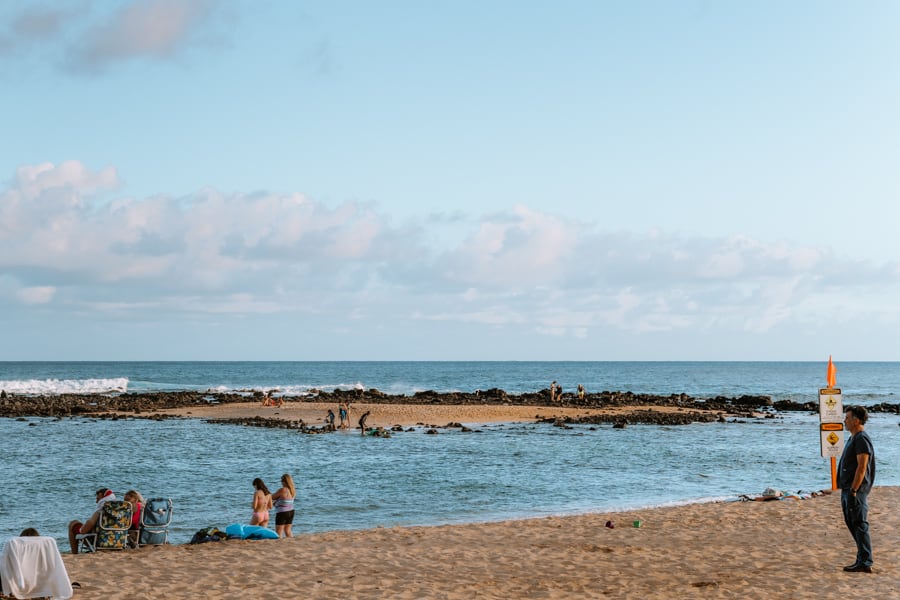 Rocky Outcroppings Create a Snorkel Opportunity
There are a couple of rocky outcroppings that attack all different kinds of sealife. While it isn't the best snorkeling in Kauai, it certain is a spot where you can put on your mask and find some unique sea creatures.
More Gentle Consistent Waves
If you are looking for intense waves to surf on, then this probably isn't your beach. The waves usually are much more gentle which can be great for beginning boogie boarders or inexperienced surfer though.
Poipu Beach Facilities
This beach has lifeguards, restrooms, showers, and picnic tables.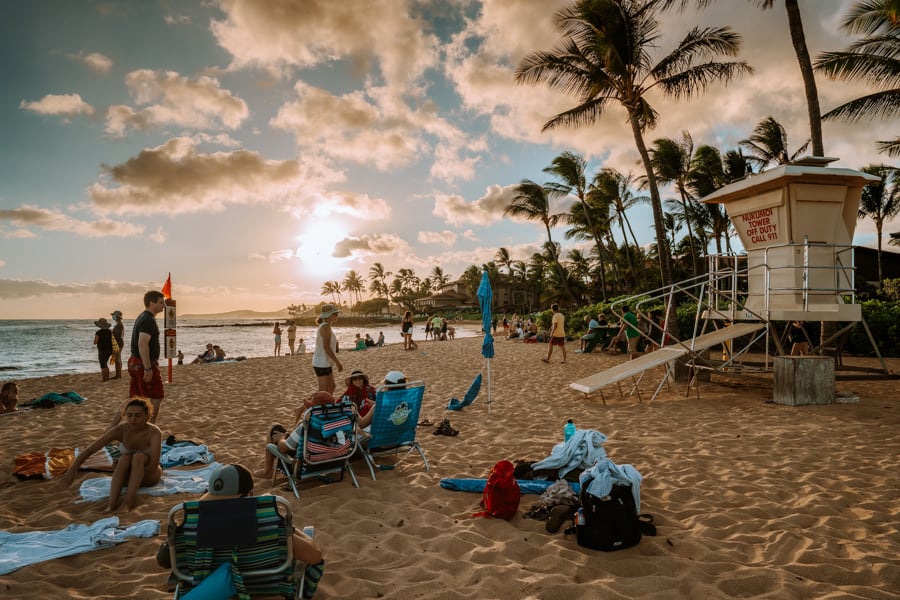 Poipu Beach Rentals
There are a number of shops just off of the shore if you want to rent your own surf or snorkel equipment.
Poiopu Beach Parking
This is where things can get a little difficult as so much noteriety attracts lots of potential visitors. There are a couple of general access parking lots across the beach, and there are a few non-private parking spots in the resorts lining the shore (Hawaii requirement).
While the spots often fill up, I've still been able to find one on busy weekend afternoon if I spent a little bit of time circling. Hopefully you stay at a nearby shore and can walk directly onto the sands.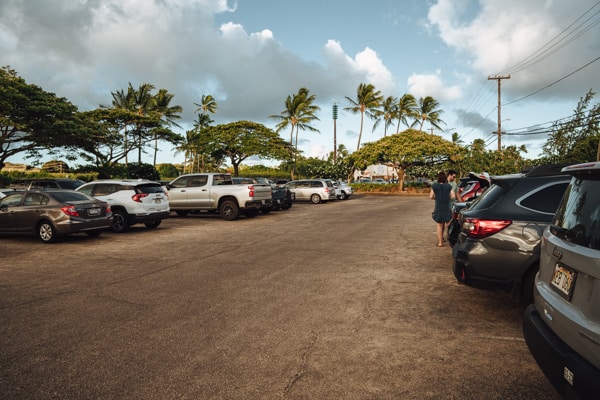 Poipu beach parking
Crowds
Unfortunately with all the noteriety this beach receives it makes a good amount of people want to visit. While you aren't going to be fighting for sand space like you sometimes have to on Waikiki in Honolulu, there will likely be more people here than on many of the other Kauai beaches.
Planning a trip to Kauai? Check out all our Kauai blog posts below.
My husband and I have been to Kauai many times and have written up more blog posts to help you plan your trip. These are my most popular blog posts and Kauai travel guides to help you plan your trip.
Kauai Beaches
Kauai Hiking Guides
Read about all the hikes we have done in Kauai here.
Read all other posts on Kauai here.