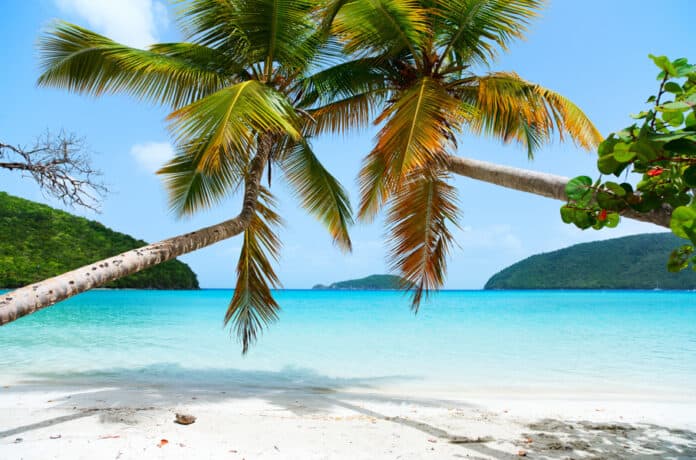 If you go to the island of St John in the US Virgin Islands there are a number of different and truly amazing beaches to choose from. Maho Bay Beach is one of those amazing choices.
Maho Bay St John would be way more famous if it wasn't surrounded by beaches are are just as beautiful and slightly more famous. Fine sand and shining blue water are just the beginning of what make these beaches awesome.
The experience at Trunk Bay, Hawksnest Beach, and Maho Bay are all similarly amazing.
The biggest downfall of Maho Beach compared to those two that it takes slightly longer to get there. Since almost everyone is coming from the ferry terminal the slightly longer access time though can actually be an advantage though.
Maho Bay Beach Visitor Information:
Other Names: Maho Bay, Maho Beach

Known For: Turtles!! soft white sand, clear blue water, and amazing snorkeling
Cost: free (advantage over Trunk Bay that is $5 per person)
Parking: small lot but plenty of street parking
Taxi Option: taxis stage in the area if you don't have a car
Crowds: slightly less than other nearby beaches
Close To: it is directly next to Cinnamon Bay Beach and also close to Trunk Bay
Location Maho Beach
The first step in getting to Maho Beach is getting to the island of St John. Whether you are a cruise passenger or not you probably aren't flying into St John as there isn't a commercial airport. You come over on a ferry from the island St Thomas.
Once you get to the island of St. John you aren't done yet. You can drive yourself or take a taxi, but you can expect about a 25 minute drive on some super steep windy roads. For those that get carsick, I'm sorry!
The beach itself is located on the north side of the island, and is also about 2 minutes from Cinnamon Bay and 7 minutes from Trunk Bay.
What to Expect At the Beach
The beach will literally look like a post card or Instagram post. The water is generally calm and a piercing clear blue. Like a number of St John beaches I literally felt like I was staring at a real life Instagram filter on this beach.
Maho Bay Snorkeling
The calm waters make sea animals comfortable swimming close to the shore, so it's easy to snorkel here and see them.
I'm not a strong swimmer, but loved snorkeling at the beaches on the north side of the island of St John for these reasons.
Crowds
In general, the longer drive will make this beach not as crowded as some of the others. That being said, it isn't as big as some of the others so it can feel crowded quicker than some of the others.
Facilities
Another huge advantage of this beach is that it has all the facilities you would want. There are restrooms, showers, concession stands, as well as a bar.
If you are looking for beach rentals that include things like snorkel gear or lounge chairs you can also get them here. The stands are quite small, but they have all of the essentials!
There are also usually taxis staged in the area so that you can get back.
Potential Negatives
As previously mentioned, this beach isn't as big as some of the others. If it is a crowded day you will feel it on this beach as there isn't as much space to spread out. Further, the strip of sand isn't quite as thick as some of the other beaches.
Conclusion: Is Maho Bay Beach worth the visit?
Not all of the St. John beaches have the gorgeous look and full facilities. If you come to Maho Bay you are likely to avoid the worst of the crowds and get the full facilities without having to pay for parking or the right to access unlike a number of others!
Best Beaches in St. John
We have visited almost every beach on St. John and St. Thomas. Below are a list of our favorites.
How to get to the US Virgin Islands
Most people get to the US Virgin via cruise ship. This limits them to one or two quick excursions on the islands (still amazing). For those looking to spend more time, flights are available, though they can be a little bit tricky.
The main airport is on the island of St. Thomas generally has flights from the biggest US airline hub cities (New York, Atlanta, Miami, etc) which means that if you don't live in one of those cities you have to connect probably have spend a little bit more. Further, lots of these flights only operate on certain days of the week. This means that if you are looking to book a flight and you don't see options, or it is obscenely expensive try changing the day of the week!
The US Virgin Islands are generally a little bit more expensive across the board than other places in the Caribbean.
The only real budget airline offering flights is Spirit Airlines from Orlando and Fort Lauderdale. I know people love to hate Spirit Airlines, but when we flew them on the quick flight down from Florida we saved a ton!
Remember that if you want to go to St. John you are still going to have to fly into St. Thomas.
There is no commercial airport on the island of St. John, but there is frequent and fairly cheap ferry service (car or passenger). You can read about the ferries here.
For those wanting to go to St. Croix, you will have to book one of the even less frequent and quite expensive flights in from the mainland, as it isn't close enough for regular ferry service.