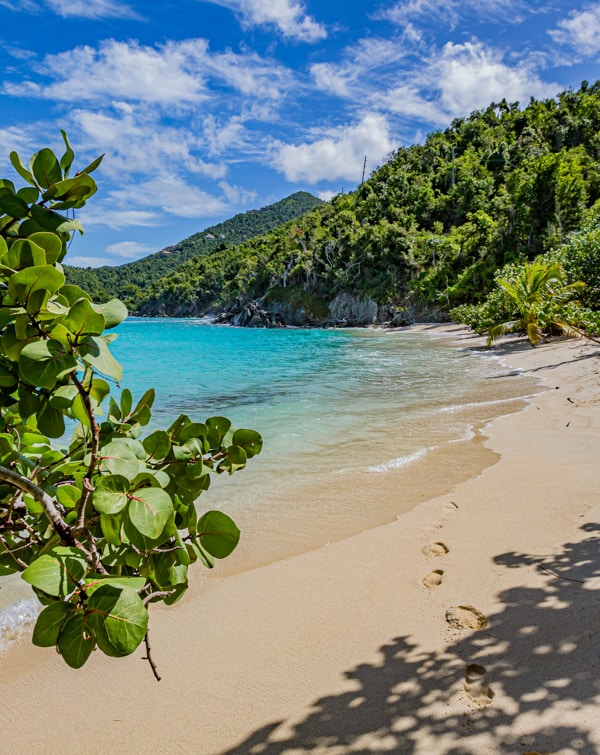 Did you make it all the way to the world famous Trunk Bay Beach in the US Virgin Islands only to find it super crowded? Don't be discouraged, there is likely still a way to enjoy this gorgeous setting without throngs of people!
Directly next door you can find nearly identical features, just with way less crowds and fanfare. Jumbie Beach is the little known neighbor of Trunk Bay.
You will be sacrificing some of the amenities of Trunk Bay, but if you really need those you can walk back agian.
Jumbie Beach Visitor Information:
Other Names: Denis Bay
Known for: proximity to trunk bay and relatively less crowds
Water Color: perfectly clear blue
Good for: snorkeling and enjoying the soft sand and perfect water
Not so good for: amenities
Facilities: none
Lifeguards: no
Parking: dinky lot with only about 8 spots (limited additional street side parking)
Cost: free
Location of Jumbie Beach
Jumbie Beach is just west of the world famous Trunk Bay Beach. They basically touch; there is a Rocky outcropping that you could swim around to transfer from once beach to the other.
If you are coming from the ferry terminal on the island of St. John you can expect about a 10 minute drive over 3 miles of super winding and hilly roads.
This beach is located in Denis Bay on the northwest side of the island of St. John.
Accessing Jumbie Beach
While you could walk there from the ferry terminal I don't recommend it. The 3 miles would be a little difficult since there isn't a trail or sidewalks, and the road is thin and winds back and forth.
A taxi each direction should only cost you about $10, though you may want to set up a driver to take you back, or plan on walking to Trunk Bay to find one waiting for passengers.
Parking at Jumbie Beach
When you pull up you will see small signs marking the entrance to Jumbie Beach. What you won't see is a big parking lot. There is a small dirt pull off lot that only has about 8 spots. While this can make it difficult to get a spot, you should also realize this will help keep crowds off of this beach.
Quick Trail Hike
From the parking area you will see a trail go off into the woods. Don't worry, it's not an actual hike required to get to the beach. You only need to walk about 50 yards for the trail to open up into the sandy shores of Jumbie Beach.
What To Expect At Jumbie Beach
This is not one of the bigger beaches on the island of St. John. One the east side it is frame by a rocky cliff that blocks access to Trunk Bay (unless you wanted to swim around) and on the west side it quickly ends in forest. Between those ends though is a gorgeous strip of sand that has gentle waters rolling onto the shore.
The beaches across the northern shore of the US Virgin Island of St John are some of the prettiest I've ever seen, and Jumbie beach is no different.
Jumbie Beach Snorkeling
The water is generally calm and clear. This makes it perfect to relax in, or snorkel in if you are so inclined. The rocks at the far end of the beach provide an excellent haven for sea creatures.
Facilities
There are none. Literally none. You won't find lifeguards, concessions stands, or even restrooms. This is a sacrifice you have to make when coming to this beach, but if you really want each of those things you can walk up the road to Trunk Bay. The walk between the two is only 1/2 of a mile.
Beach Vibe
Generally the people that make it to Jumbie Beach are quite relaxed and more chill than the other beaches. It seems to be the crowd that just wants to relax on the beach rather than play in the water. The limited parking situation helps keep the crowds away as well. I loved it.
Conclusion
Don't think that there isn't a way to escape the crowds if you end up on St. John on a busy cruise day. The breathtaking beach experience isn't only at Trunk Bay!
We have visited almost every beach on St. John and St. Thomas. Below are a list of our favorites.