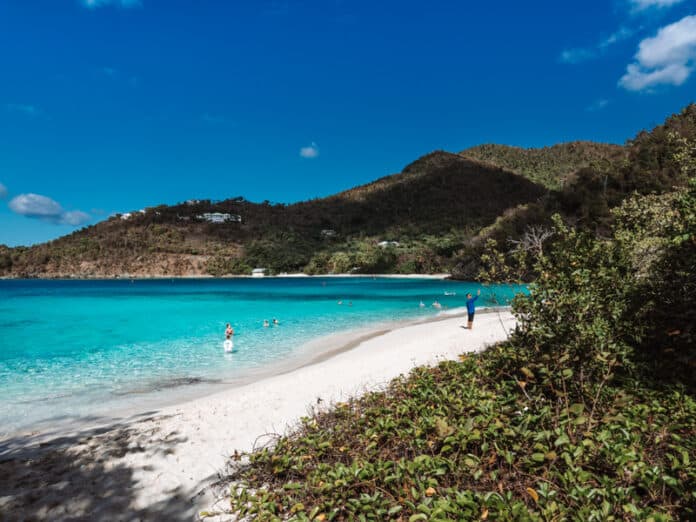 Arrived on the island of St John in the Virgin Islands and looking for a beach? There are so many amazing beaches to choose from that you really can't go wrong.
But if you are looking to get onto one as quick as you can you should consider Hawksnest Beach. There are other advantages other than being the closest beach to the Cruz Bay Ferry terminal.
By coming to this beach you are sacrificing some of the amenities, but likely avoiding the worst of the crowds.
Hawksnest Beach Quick Tips
Other Names: Caneel Bay Beach, Hawknest Beach (sp), Hawksnest Bay
Known For: soft sand, clear waters, and great snorkeling
Water Color: clear blue
Sand Color: soft white
Amenities: restrooms, showers, picnic tables (no concession stand or bar)
Lifeguard: No
Parking: medium sized lot directly to the side of the road
Cost: Free
Biggest Negative: thinner stretch of sand than some of the other nearby beaches
Where is Hawksnest Beach Located?
When you come into the island of St. John you are almost guaranteed to come into the ferry terminal. If you begin driving from here along the main island road the first beach you come to will be Hawksnest Beach.
The north side of the island is covered in little coves and nooks with gorgeous beaches.
If you go 5 more minutes you will reach the world famous Trunk Bay and then you can continue on to the also famous Maho Bay Beach.
The drive from the ferry terminal only takes about 7 minutes. It is about 2 miles away, if you really wanted to you could walk it, but the roads are quite hilly!
There are plenty of taxis in the area that will take you for about $10 per person.
What can you expect at Hawksnest Beach
St John in the Virgin Islands is home to a ton of stunning beaches! Hawksnest is one of them that features the world famous clear turquoise water with very gentle waves that help create a perfect snorkel environment.
Hawksnest Beach Snorkeling
This was one of my favorite beaches to snorkel at! t is great for kids and beginner levels and offers easy sandy beach entry to the water. The water stays pretty shallow and calm far out. The best snorkeling is by the rocky outcrop.
Facilities
There are restrooms, change rooms, pavilions, picnic tables, and barbecues.
There are no lifeguards, no restaurants, concession stands, or bars. There are also no snorkel or other water activity rentals.
A number of the neighboring beaches feature those, so this is definitely a sacrifice you have to make when coming here.
Negatives Hawksnest Beach
I hate even writing the negatives because this beach is so beautiful, but when comparing it to others in the area there are a few things that are not quite as ideal.
There are no bars or concession stands, or rentals for the water gear you didn't pack.
At high tide the stripe of sand gets a little bit thinner than other beaches.
Also, because I'm a phone addict I noted that I had full cell service at Trunk Bay and only intermittent coverage at Trunk Bay.
Tours in Area
There are a number of super fun tours in the area. Check them out here.
Caneel Bay Beach Clarification?
You will see this beach sometimes referred to as Caneel Bay Beach. The entire area that this beach sits in is called Caneel Bay. Technically there is another beach directly next door that gets called Caneel Bay Beach, but it's basically the same area.
There previously was a fancy resort named Caneel Bay Resort, but it was knocked out of commission during a hurricane and they are still in negotiations to try and reopen it. There is a preference in the Virgin Islands to keep more and more of the island set apart as a natural park, so I'm sure this complicates the discussion.
Conclusion
If you've packed your own lunch and aren't interested in renting snorkel equipment or other water toys then you might like this beach!
It has slightly less crowds than the more popular and neighboring Trunk Bay Beach, but it also doesn't have as many amenities.
Things to do near Hawksnest Beach
Little Hawksnest
Oppenheimer and Gibney Beaches share the same cove as well.
If you travel 5 minutes further you will reach the world famous Trunk Bay and then you can continue on to the also famous Maho Bay Beach.
Caneel Bay
Henley Cay
We have visited almost every beach on St. John and St. Thomas. Below are a list of our favorites.