Waipio Valley Black Sand Beach is one of the best-kept secrets of Hawaii's Big Island. The beach features jet-black colored sand lined by lush, rainforest-clad cliffs. It's so unbelievably beautiful that I'm shocked that more people don't know about it. It probably isn't as well known because it requires a 4×4 or intense hike, and the weather can be uncooperative.
The Waipio Valley is located on the eastern side of Big Island. The Hilo side (east) is a lot less developed than the Kona side (west), which might explain why this black sand beach isn't as well known as the other Kona beaches.
Crowds or no crowds, this gorgeous valley is home to what I think is the best black sand beach of the Hawaiian islands (and I've been to a few).
What to Pack? Before traveling to The Big Island, make sure to read my Hawaii Packing List guide so you can know exactly what you need to bring to Hawaii.
Here's everything you need to know about visiting the extraordinary Waipio Valley Black Sand Beach Big Island:
Waipio Valley Black Sand Beach – Hawaii's Best-Kept Secret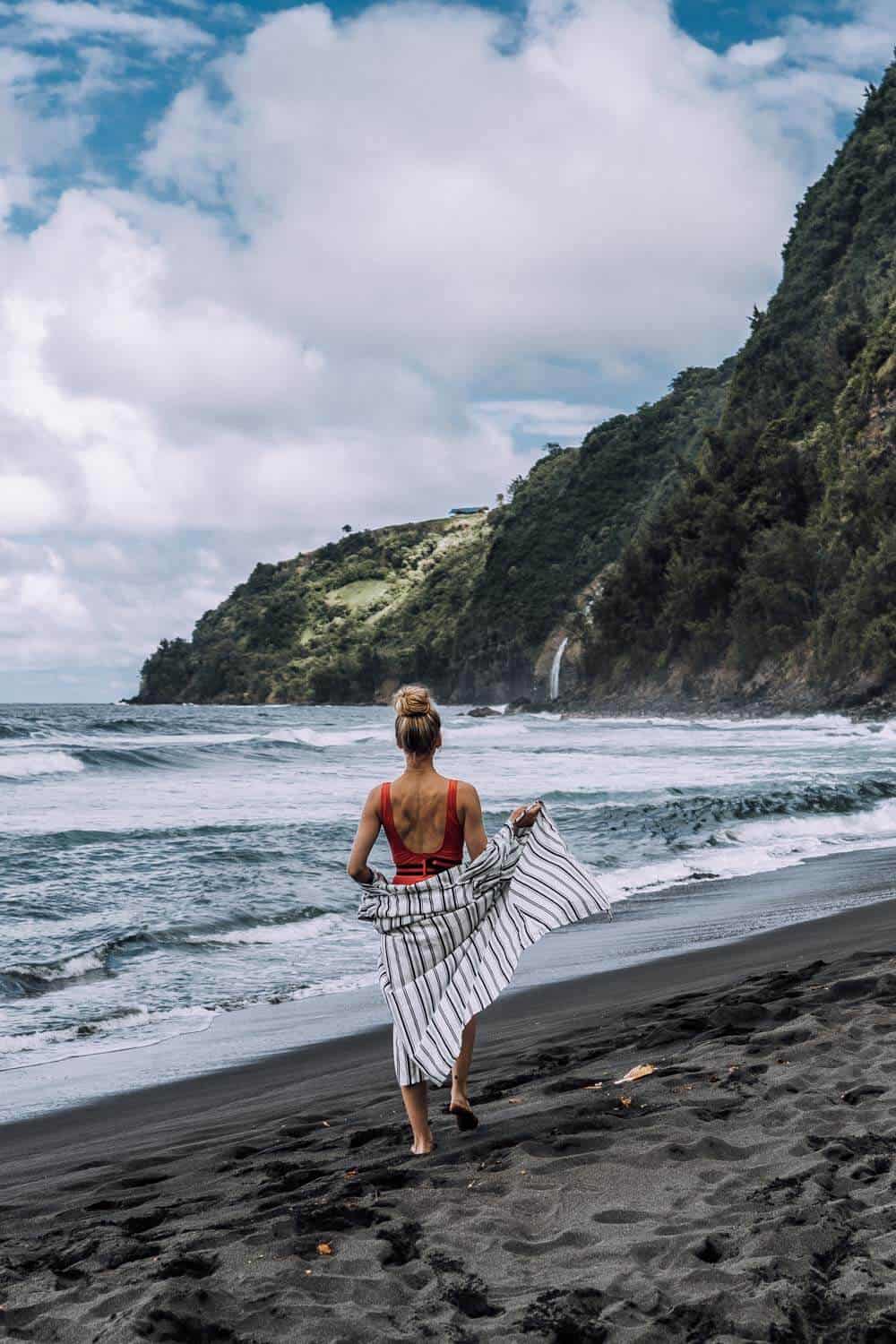 A Quick History of Waipio Valley Hawaii
Waipio Valley Hawaii was once the homeland of Hawaiian kings. This makes total sense when you're there. It seems like a location fit for a king.
Waipi'o – meaning 'curved water' – is filled with lush green jungle and a river that runs down the middle to form finger-like streams. These streams cut through the canyon. The tributary continues until it reaches the Pacific, where it divides the Big Island black sand beach into two volcanic sections – a northern and southern beach.
Getting to Waipio Valley from Hilo and Kona
The Waipio Valley is about an hour's drive from Hilo and an hour and a half from Kona. It's an easy drive from both directions, with epic views along the way.
If you're coming from the Kona side, you can incorporate a visit to Mauna Kea. This dormant volcano is the highest point in the state of Hawaii, and is a famous place to watch the sunrise or sunset. It's a famous tourist attraction, so you'll find lots of people doing it.
Even though the Waipio Valley is actually closer to Hilo than to Kona, many people tend to fly into Kona and take the longer 90-minute drive to the lookout and beach. It makes an awesome day trip. You can't beat hanging out on one of the best Big Island beaches and being at Mauna Kea for a sunset night hike!
Related: Green Sand Beach on the Big Island, Incredible!!
The Waipio Valley Lookout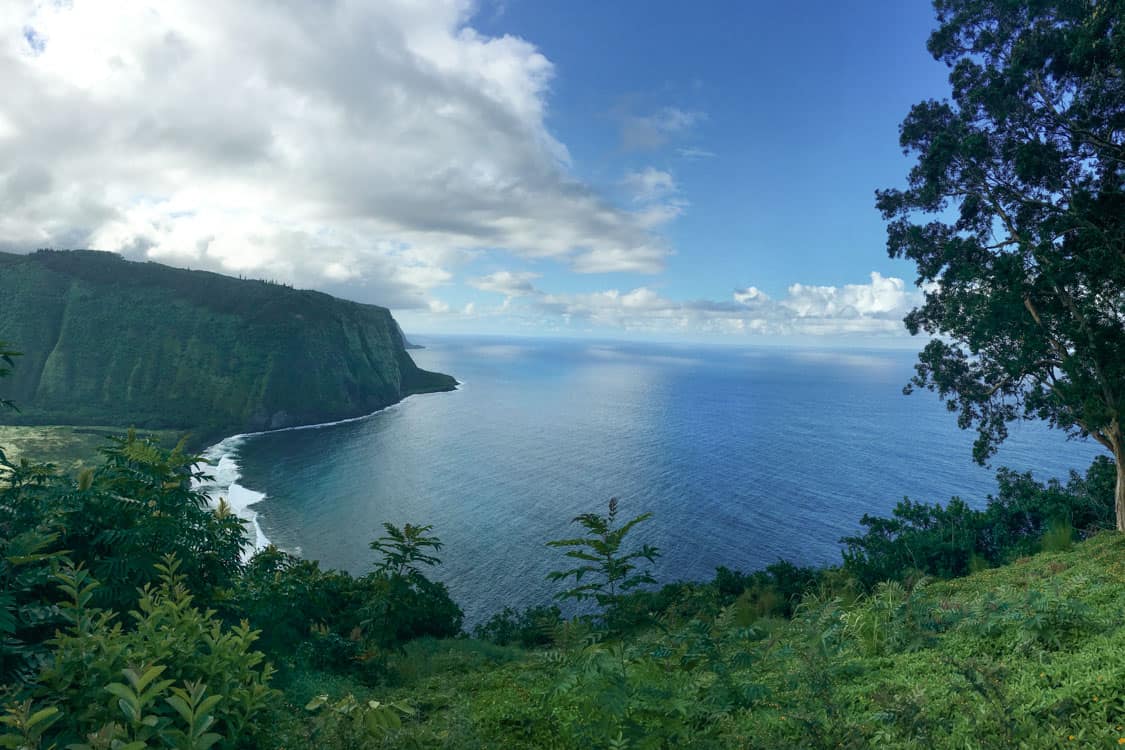 The views from the Waipio Valley lookout are absolutely gorgeous. You don't have to hike down to see the black sand beach, although we do recommend it. You'll be able to admire the lush green valley from above as well as the striking sea cliffs to the west just by stepping out of your car and strolling to the outlook.
There is plenty of parking available at the Waipio Valley lookout. You'll also find a picnic area and bathrooms at the top. There are no facilities down at the black sand beach on Big Island, so come prepared.
Driving Down to the Beach
From the lookout point, you'll notice the road leading further into the valley gets incredibly steep very quickly. In fact, it's supposedly the steepest road of its length in the United States! A two-wheel-drive rental car will not make it – it's open to four-wheel-drive vehicles only.
If you do rent a 4×4 for the occasion, you'll be taking the road at your own risk. I wouldn't feel comfortable driving down there myself as the road turns into a very steep off-road path with jagged rocks, fallen trees, and deep mud puddles. It is especially treacherous after it rains, and remember, it rains a lot!
The 4×4 vehicles that do attempt the road down usually have bigger wheels than a standard truck, so they're better suited to the terrain. Want to see how intense it is? Watch our video getting down here.
Pro Tip: We really wanted to go down to the black sand beach on the Big Island, but we didn't feel up for such a steep hike. We saw some locals driving down and offered them a few bucks to let us ride in the bed of their truck. Then we did the same going back. They were typical Hawaiians and so friendly that they didn't even want to take our money, but we insisted. So it's definitely worth trying your luck when you're there!
Waipio Valley Hike Down to the Beach
After seeing it for yourself, you may want to head down the steep road on foot instead. The trek down is enjoyable, but prepare for your legs to get tired. The hike down to the black sand beach in Big Island takes around 45 minutes. The hike up takes closer to an hour and 15 minutes. The views from the trail are absolutely amazing, so pack your camera!
The Waipio Valley hike is definitely doable and certainly a good workout. If it was the only way down to the beach, we would have done it. Luckily, we had an alternative.
If you're one of the brave few to attempt the climb, at least you can spend as much time as you like relaxing on one of the best black sand beaches Big Island has to offer before you have to head back up again.
Waipio Valley Black Sand Beach
Waipio Valley is the quieter of the Big Island black sand beaches. This is probably because it's harder to get to. But trust me, it's totally worth it! Not many people know about the beach, and the ones that do don't always attempt the hike down. They usually just take pictures from the lookout and leave again.
Due to its crashing waves and strong current, the beach is not the best for swimming and snorkeling. It's popular with experienced surfers though, who embrace the rough waves, and it's worth the trek for the scenic views alone. We loved hanging out on the beach and playing in the surf! Just bear in mind that black sand is not as soft for lounging on as you may be used to.
Unlike the other Big Island Hawaii beaches, Waipio Valley Black Sand Beach is very unlikely to be crowded, given how you access it. But even if it is, you can hike up your shorts and cross the river to the far side of the beach. There was absolutely no one on it when we were there!
Keep an Eye on the Weather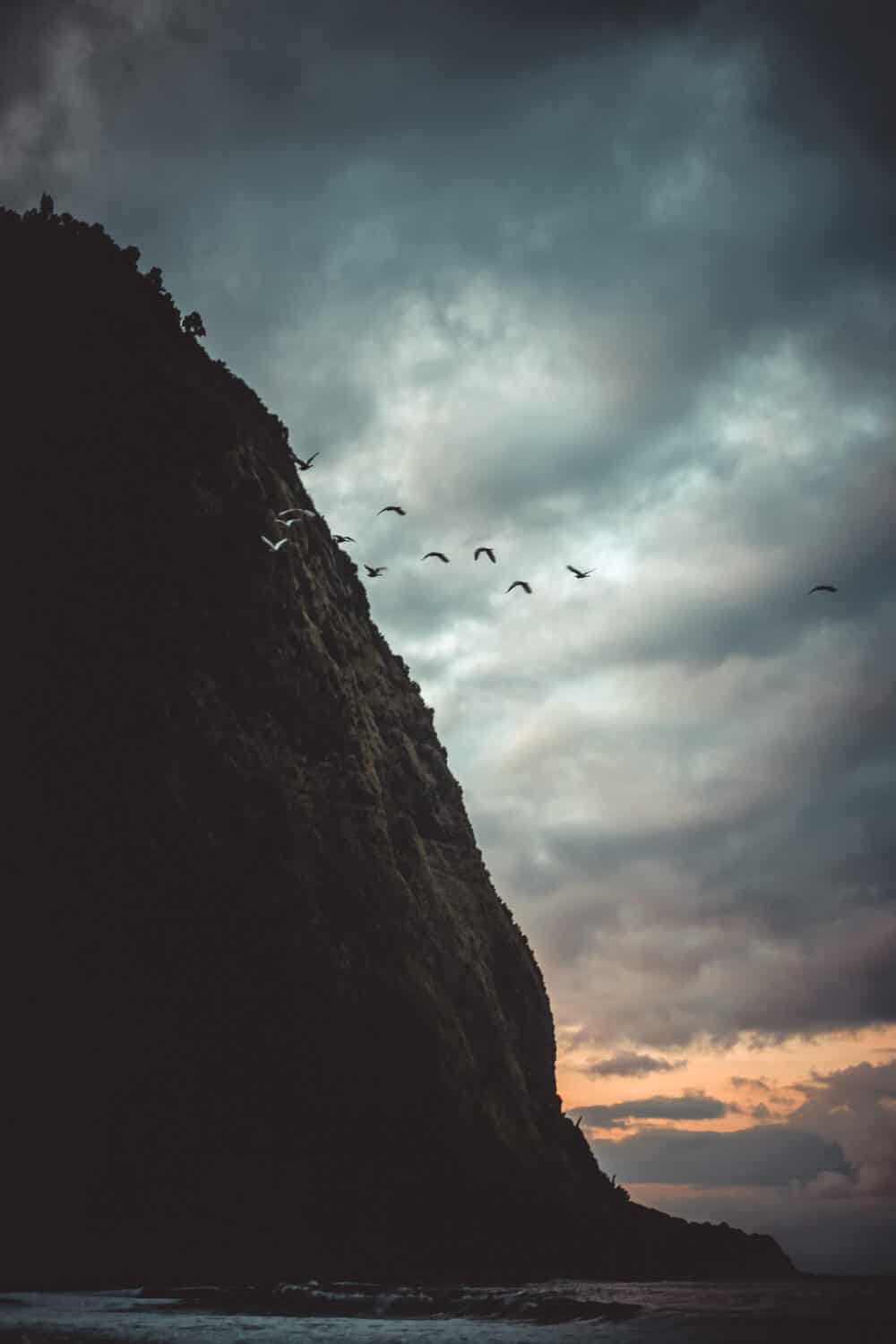 The Hilo side of Big Island, where you'll find the Waipio Valley Black Sand Beach, tends to get a lot more rain than the Kona side. You're obviously less likely to want to hike and lie on the beach in the rain, which is probably why this beach is nearly empty on most days of the year.
The beach is truly spectacular though, so if you do get a sunny day when you're on Big Island, make sure you enjoy it at Waipio Valley. You won't be disappointed!
Waipio Valley Vs. Punaluu and Other Black Sand Beaches
Most people know about Punaluu Black Sand Beach on Big Island, a great beach that's famous for its Hawaiian sea turtles! You may even know about Waianapanapa Black Sand Beach on Maui. But there are very few people who know about this black sand beach in Waipio Valley.
The reason we liked it so much more than Punaluu Black Sand Beach is that it's much bigger. It has the same midnight black sand, framed by tall green mountains, but it's not as well-known so is not nearly as crowded.
Unlike touristy Punaluu Beach, Waipio didn't seem to have that many tourists. It did have a decent number of locals, though, which is something we always enjoy when we're traveling. They always know best!
In comparison, Waianapanapa Beach on Maui is a lot smaller. It's a popular attraction on Maui because it's the only black sand beach on the island. But if you're on Big Island, you do have a choice, and the Waipio Valley beach is one of the very best.
Tips for Visiting the Waipio Valley Black Sand Beach
There are no facilities at the beach at all, so make sure you bring a packed lunch with you. A picnic area and bathrooms can be found at the lookout point.
Bring your swimming costume and a towel. After a 45-minute hike, you're going to relish a dip in the ocean!
Bring plenty of water as the hike is grueling and there's very little shade.
It's worth trying to catch a ride with one of the locals. They know the roads better than anyone, so it's much safer to head down the steep road with them at the wheel.
If you don't have a 4×4 and you're not keen on hiking, you may want to consider joining a tour. Large parts of the Waipio Valley are actually on private property. Guided Waipio Valley tours like the ones on horseback have special permission, so you don't have to worry about trespassing.
We think the Waipio Valley Black Sand Beach is one of the best beaches Big Island has to offer. But don't wait too long. We hope you get to experience this little piece of paradise!
Read Next: