Looking for turtles in Oahu? Kuilima Cove is one of the best places to see turtles and snorkel in Oahu.
Is Kuilima Cove the real Turtle Beach Oahu?
Located on the grounds of Turtle Bay, Kuilima Cove in an ideal place for snorkeling on Oahu's North Shore.
No trip to Hawaii is complete without getting to see the famous green sea turtles Oahu offers.
These awesome creatures are actually the most common of 7 different sea turtle species that call the Hawaiian Islands home.
The good news is that finding beautiful turtles isn't like whale watching where you will be stuck staring at the ocean for 6 hours in anticipation.
If you know where to look, you are almost guaranteed to be able to see them, and even swim with turtles Oahu style!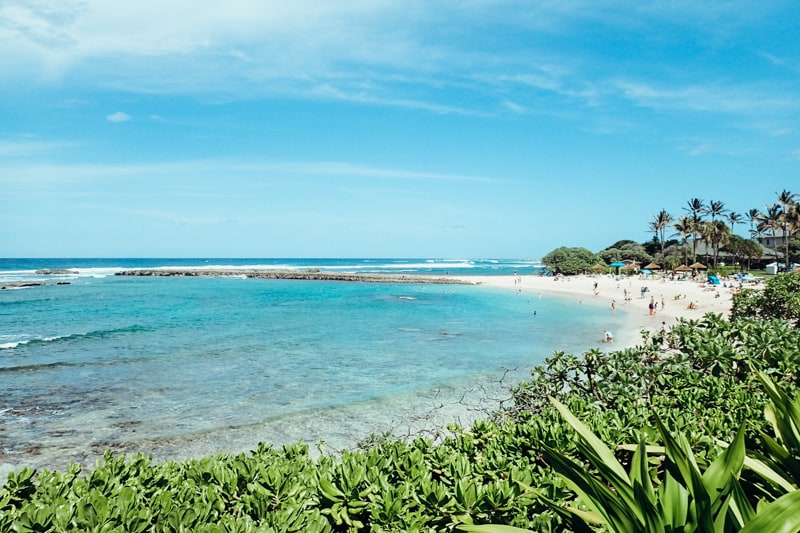 When planning your vacation you will often hear about Turtle Beach in Oahu. Unfortunately, that name can be a little confusing as there isn't one set beach actually named Turtle Beach.
Generally, when people say this they are referring to Kuilima Cove on Oahu's North Shore.
There are a number of other Oahu beaches you can find turtles on with the nickname Turtle Beach, but Kuilima Cove is the most popular.
First Off, Kulima Cove is Actually Spelled Kuilima Cove
Figuring out the actual name of Turtle Beach can be hard enough, but it gets even more confusing due to Kuilima Cove often being misspelled as Kulima Cove.
Google autocorrects won't always be able to sort this out, so make sure you include the extra i to find the right spot.
Kuilima Cove Snorkeling is amazing
Snorkeling at Turtle Bay is amazing. You should have no problem seeing the famous Green Sea Turtles.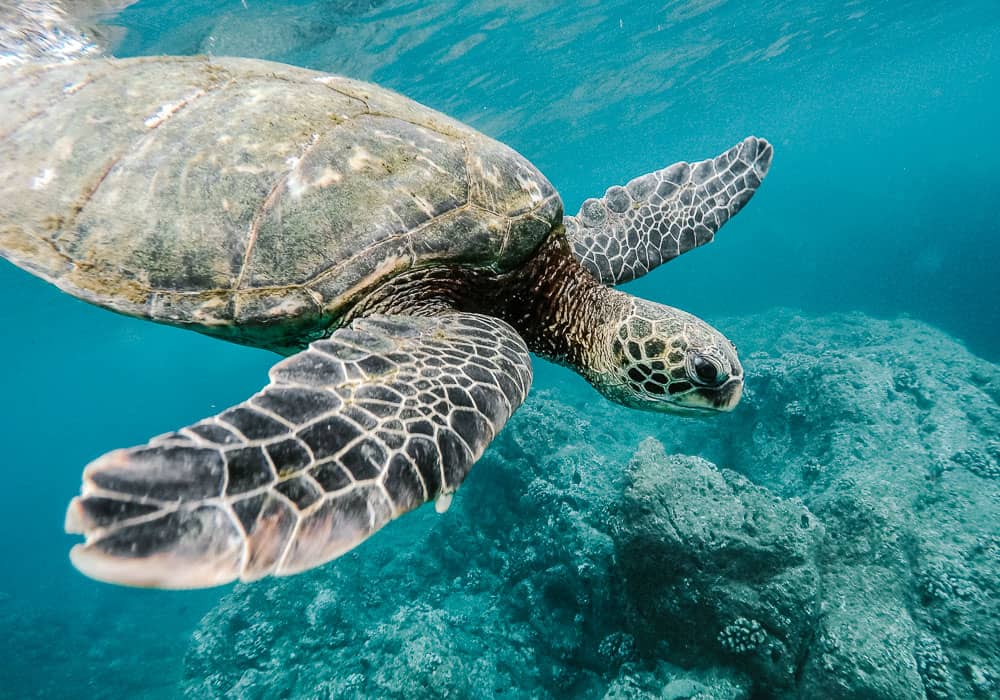 Kuilima Cove snorkeling rental
Other Possible Turtle Beach Locations
As previously mentioned, there are a few different beaches that have been nicknamed "Turtle Beach Oahu." To oversimplify a bit, you can usually find turtles sunning or swimming close to shore on most of Oahu's North Shore beaches.
If not Kuilima Cove, the nickname Turtle Beach most often refers to Laniakea Beach. It is another nearby beach on the North Shore.
On my last trip to Oahu I got lucky and saw turtles at both sites that claim the nickname Turtle Beach Hawaii, Laniakea as well as Kuilima.
Kuilima Cove Location
Located on the North Shore of Oahu. It is the beach of the world famous Turtle Bay Resort.
This resort is famous for being the site of the movie Forgetting Sarah Marshall.
It is about an 1 hour drive from Waikiki (depending on traffic it could take longer).
The North Shore is famous for intense surf waves, no high rises, and a generally a more laid back surfer island vibe than Waikiki.
There aren't many big hotels on the North Shore, which makes the ones there even more pricey.
Even though it can be a bit of a hassle driving all the way across the island to see turtles in Oahu, there are a ton of other things you can do on the way and on the north side.
Turtle Bay Resort Beach is Open To The Public
All beaches in Hawaii are public, so even though you aren't a Turtle Bay Resort guest, you don't have to worry about being excluded from the beach. You don't have to sneak on as you are allowed to access it.
Parking at Kuilima Cove
To get to Kuilima Cove you will park at the Turtle Bay Resort. It is not just limited to guests. There is a big parking lot where you can fight to find a spot in.
The area tends to get crowded, so you may end up circling the lot for a bit waiting for one to open up.
Once you find a parking spot, walk up towards the resort and then veer off to the right. There are paths that lead beyond a restaurant to the beach/cove.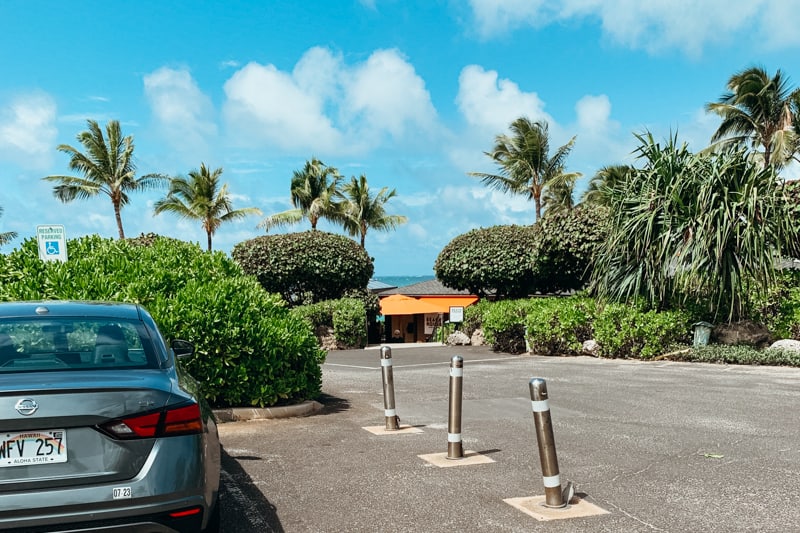 Kuilima Cove Snorkeling
While the North Shore is known for its fierce waves and professional surfers, you might not realize there is water that is calm enough to snorkel in. Thankfully Kuilima cove usually protects this beach from the most intense waves, which allows it to be a great snorkel spot.
The calm water allows you to see the famous turtles in action, meaning you can see them swimming through the water and not just sunning on the shore.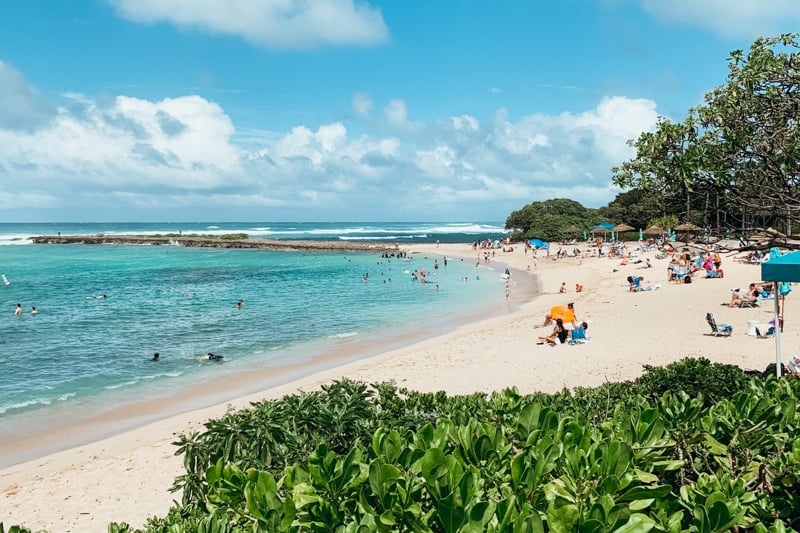 If you are looking for another phenomenal North Shore snorkel spot I highly recommend Sharks Cove, which is only about 6 miles away.
Respect the Honu
Honu is the Hawaiian word for turtle! Leaving them be and observing them from afar is serious business. Do not touch them, get within 10 feet of them, and definitely don't feed them.
Conclusion: Turtle Beach Honolulu
Sea turtle beach Oahu is most likely referring to Kuilima Cove, but don't be surprised if you hear that applied to another beach.
Regardless of which beach actually deserves to be "Turtle Beach Honolulu", there are a number of good choices to see the sea turtles Oahu offers, just make sure to know where you are actually heading.
Other top snorkeling spots on Oahu
Hanauma Bay – read our updated guide for 2022 on everything you need to know about snorkeling at Hanauma Bay. (You now need reservations!) Read more about that here.
Sharks Cove – Another one of the best snorkeling spots on Oahu.