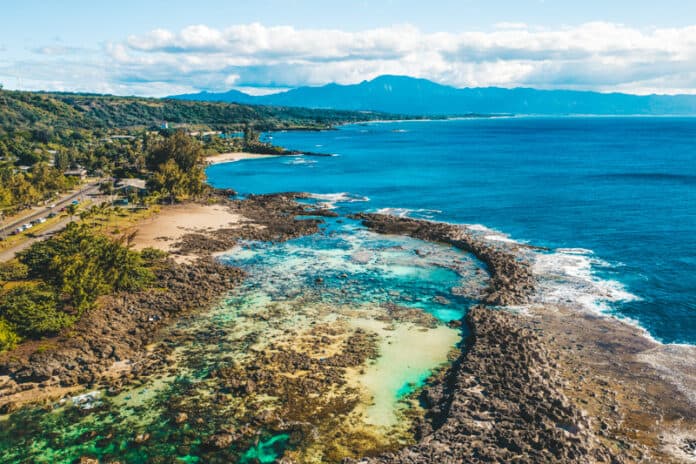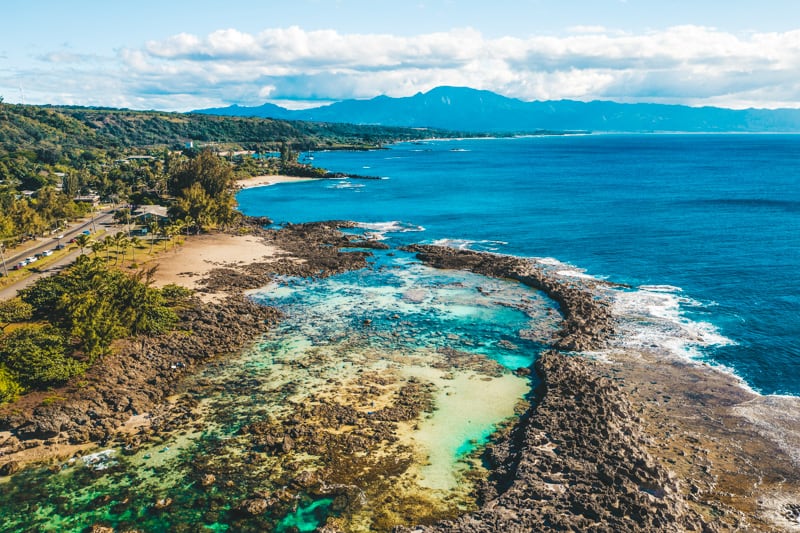 Sharks Cove Oahu
Sharks Cove is an AWESOME snorkeling spot on the North Shore of Oahu. Not only can you see a fabulous amount of sea life, it's free, beginner friendly, and doesn't have the registration hassles of Hanauma Bay.
It's located on Oahu's North Shore. This side of the island is famous for being home to some of the biggest and most consistent surfing waves on Earth.

The season is extremely important when trying to decide if you are going to snorkel or surf. The winter is when the waves are huge and the summer is when the water is calm enough to safely snorkel near the rocks.
Sharks Cove Oahu Location
Sharks Cove is located on the North Shore of Oahu. Located within Pupukea Beach Park.
If you are staying in Waikiki, it is about an hour and 10 minute drive without traffic, but don't be surprised if you run into traffic and have to add another 30 minutes.
Remember, there is only one main road to and along the North Shore. This means that it is really easy for the area to get bogged down in traffic.
The North Shore was previously known as a slower paces area with surfers and no high rise resorts. There are still no high rise resorts and tons of surfers in season, but it definitely gets packed, so plan accordingly!
Shark's Cove Parking
This is probably the worst thing when going to Sharks Cove North Shore. Even though Pupukea Beach Park has a good amount of spots, they are likely to fill up quickly.
You can also parallel park along the highway, but those spots tend to fill up quick as well.
Don't want to deal with the hassle of renting a car on Oahu? I recommend renting out a Hawaiian Style Moped for the Day! (Much easier to find parking.)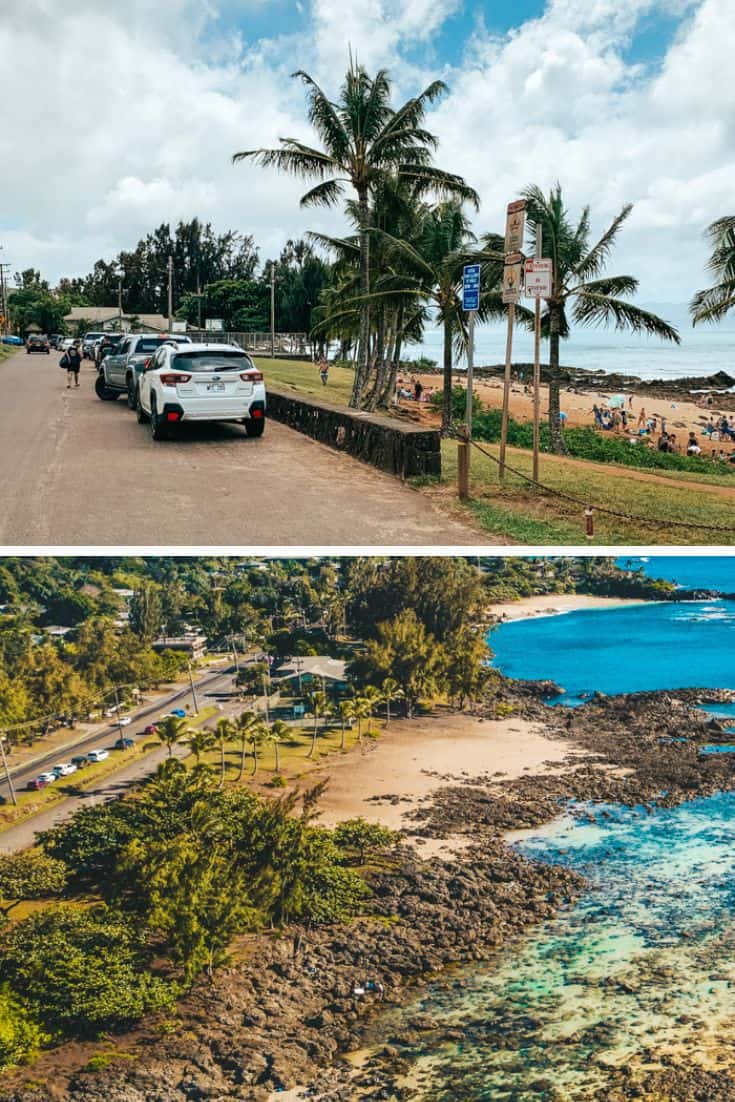 Facilities
There are showers, restrooms, and my favorite food trucks that park directly across the street. This makes it a perfect spot to hang out for a full day.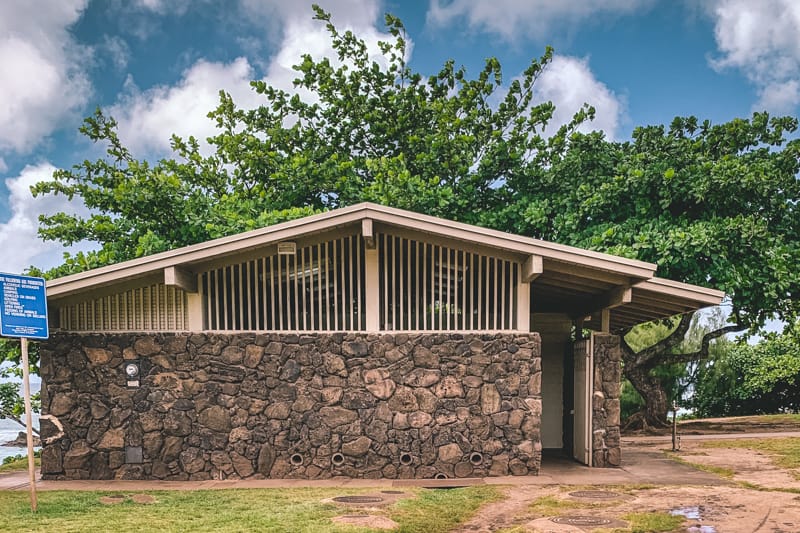 Sharks Cove Snorkeling Guide
How good is the snorkeling at Sharks Cove?
The Sharks Cove snorkeling is not quite as good as Hanauma Bay, BUT don't let this let you believe that it isn't still awesome and worth your time.
Remember, Hanauma Bay requires a complicated registration process, restricts the time you can go, and is quite expensive. You can read about the Hanauma Bay registration process here.
So while it's not quite as good as Hanauma Bay, it is free, beginner friendly, and does not require showing up at a assigned a time slot (required at Hanauma Bay).
Another huge perk of the snorkeling here is that there are caves around the northwest part of the cove. There are some smaller caves on the south end of the cove.
Can you see turtles at Sharks Cove?
When snorkeling North Shore Oahu you will still see reefs, fish, and my favorite Green sea turtles. This is especially true at Sharks Cove.
It is an extremely contained environment that generally stays calm, even when the world famous North Shore surf waves are crashing all around. The cove usually protects snorkelers.
Full disclosure, there are some days where the waves crash over the cove walls and make the water murky and wildlife difficult to see. Also, the reefs aren't quite as vibrant and colorful as you will see at Hanauma Bay.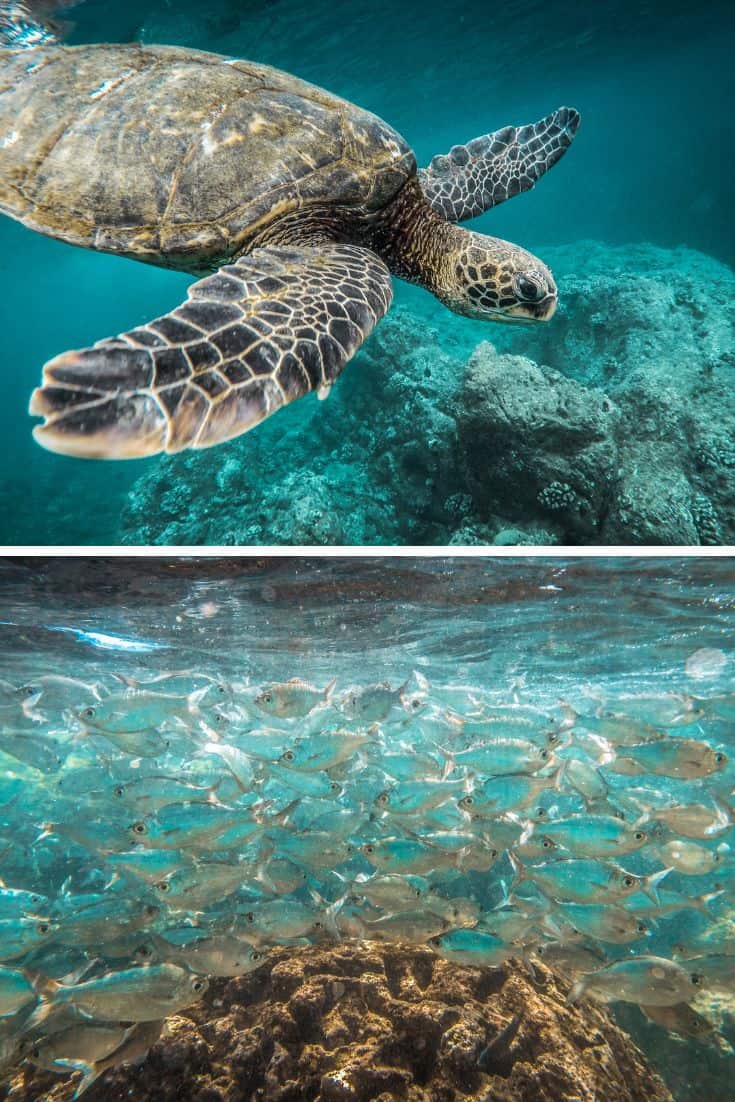 Sharks Cove Snorkeling is Beginner Friendly, BUT….
The snorkeling at Sharks Cove is beginner friendly, however, the water entrance is quite rocky so I recommend wearing water shoes and definitely don't put your fins on until you are deeper into the water. Learned my lesson the hard way with that one.
Also, the water is generally quite shallow, which is actually helpful if you have kids with you. Just make sure you tell them not to swim beyond the cove walls since the currents will pick up quickly.
FAQ
How deep is the water at Sharks Cove?
Shark's Cove water is fairly shallow, with a maximum depth of around 20 feet.
When should you visit?
The best time to visit Shark's Cove is in the summer, when the conditions are much generally much more ideal for swimming and snorkeling. In the winter the currents and swells can become dangerous given the sharp rocks that you are surrounded by.
Are there shark's in sharks Cove Oahu?
Generally, no.
The Name Sharks Cove – don't let the name deceive you. While there are places you can actually swim with fearsome sharks, this isn't likely to be one of them.
If swimming in a cage with sharks sounds like your jam, then I highly recommend trying out this epic shark cage diving tour.
The name Sharks Cove comes from the shape of the surrounding lava rocks/cove, and not because the area is infiltrated by killer sharks. In fact, you are highly unlikely to see sharks while here.
Sharks Cove Positives
Amazing sea life and reefs right next to the shore (i.e. you don't have to be a strong swimmer)
Cove protects you from big waves and strong currents (especially calm in the summer months)
Free, with no pre-registration required
Nearby food trucks
Shallow water allows kids to enjoy as well
Sharks Cove Negatives
Not as big as Hanauma Bay
Reefs not quite as vibrant as Hanauma Bay
Parking and traffic in the area can be a nightmare
Not a ton of beach to lounge on
Lava rocks can cut you up if you don't wear shoes or accidentally touch
Not a lot of beach space to lounge on
Other Nearby Attractions
Three Tables Oahu
The nearby Three Tables Beach Oahu offers is basically in the exact same location as Sharks Cove. Three Tables Oahu is just a couple hundred feet further southwest as you follow the shore. Basically, you can park at any of these areas. I advise jumping on the first available parking spot you see.
Three Tables snorkeling is also amazing, though the reefs aren't as sheltered as they are at Sharks Cove.
Sharks Cove is located right next to a few other North Shore attractions. The Waimea Valley, and my favorite, the Waimea Cliff Jump are just up the rode.
You are also close to the Haleiwa North Shore city center. Not that Haleiwa is in any way a big city, but this is where you will find the most restaurants and shops.
Conclusion
If you are looking for a great snorkel spot on the North Shore that doesn't require the hassle of registration and payment like Hanauma Bay, you should go to Sharks Cove.
Planning a trip to Oahu? Read more of our Oahu blog posts below!
My husband and I have been to Oahu many times and have written up more blog posts to help you plan your trip. These are my most popular blog posts and Hawaii travel guides to help you plan your trip.
Best Things to do in Oahu
Oahu Beaches
Best Cliff Jumping in Oahu
Best Snorkeling in Oahu
More Hawaii Blog posts: