Want to visit the true Turtle Beach Oahu offers? There are a number of places that will allow you to see the famous giant sea turtles, but Laniakea Beach justifiably earns its nickname of Turtle Beach for being one of the easiest spots to consistently see loads of turtles!
Not only is Laniakea Beach amazing for seeing the turtles in Oahu, in fall/winter it turns into one of the most famous surfing spots on earth.
Even if you aren't there to ride the massive waves yourself, lounging on the beach will make you feel like you are a spectator at a professional surfing competition.
Even though this beach offers tons of unique and amazing opportunities, it isn't all perfect. The surrounding traffic and Laniakea Beach parking can be a nightmare. Thankfully, once you figure out that hassle you unwind on a truly amazing beach!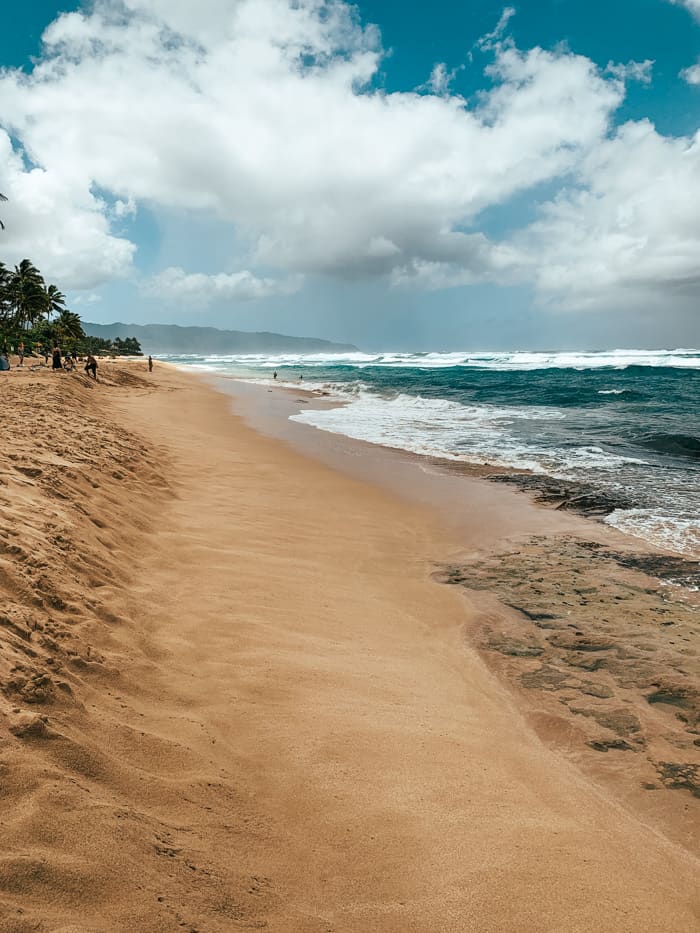 Name Confusion – Laniakea Beach Oahu vs Lanikai Beach Oahu
Okay, for those of you that are like me and don't speak Hawaiian, you may get confused not always realizing that Laniakea Beach is different from Lanikai Beach. Both are great, but they are located on very different parts of Oahu.
Laniakea Beach is one of the best North Shore Beaches Oahu offers, while Lanikai is one of the best on the east side.
The Hawaiian Alphabet
The similarities of these beach names as well as a lot of other Hawaiian words is due to the fact that the Hawaiian Alphabet only has 13 letters, 5 vowels and 8 consonants.
Given that most of us are used to the standard 26 letter alphabet, the often repeated L's, K's, N's, and H's can confuse us.
Laniakea Beach is one of the best places to see Turtles in Oahu
While the recovery of the Hawaiian sea turtle species has been impressive, they are still a special animal that needs to be protected. When seeing actually turtles in Oahu, remember that you are not allowed to get too close, and definitely not allowed to touch them.
Hawaiians are serious about protecting them, so make sure you aren't the stupid tourist that ignores the warnings and ruins it for everyone else.
Supposedly this area attracts more turtles due to the rich deposits of kelp and moss that they feed on. I can't blame them, if there was a permanent buffet of my favorite foods I would be sure to stay nearby as well!
Swimming With The Laniakea Beach Turtles
While you can usually spot the famous sea turtles lounging on the shore, if it isn't the season where the waves are too intense you can jump into the water and likely see a number of the Laniakea Beach turtles swimming in the area.
I like seeing the turtles up close and personal on the shore, but I think it is even cooler to see them in action in the water.
Don't want to deal with the hassle of renting a car on Oahu? I recommend renting out a Hawaiian Style Moped for the Day! (Much easier to find parking.)
Location of Laniakea Beach Oahu
Laniakea Beach Oahu is located between Haleiwa and the Waimea Valley on the North Shore of Oahu.
Haleiwa is the main community of the North Shore. It is where you will find the most famous restaurants (my favorite are the food trucks), shave ice stands, surf shops, as well as throngs of people.
Waimea Valley is another famous spot that attracts tons of visitors. The site is rich in Hawaiian cultural significance and also features one of the most famous waterfalls and cliff jumping spots on the island.
North Shore Oahu Beaches
If you are driving from Honolulu, you can expect about a 45 minute drive if there is no traffic. Being realistic though, you should probably count on traffic and add at least 30 minutes to your schedule.
Thankfully, there are a number of North Shore Oahu beaches and hot spots that are worth including on your trip.
The Bad: Traffic and Parking
This beach has earned its reputation as one of the Best North Shore Oahu beaches. The problem with this reputation is that it makes tons of people want to visit. There are no spots on the beach side of the road, and only a few on the other side of the road.
If you want to get a parking spot, you likely have to get there very early or later in the day. If you don't, you should plan on stop and go traffic and having a long walk back to the beach when you do finally find a spot.
I'm not exaggerating, you can almost always count on stop and go traffic backed up in front of this beach, especially in surf season.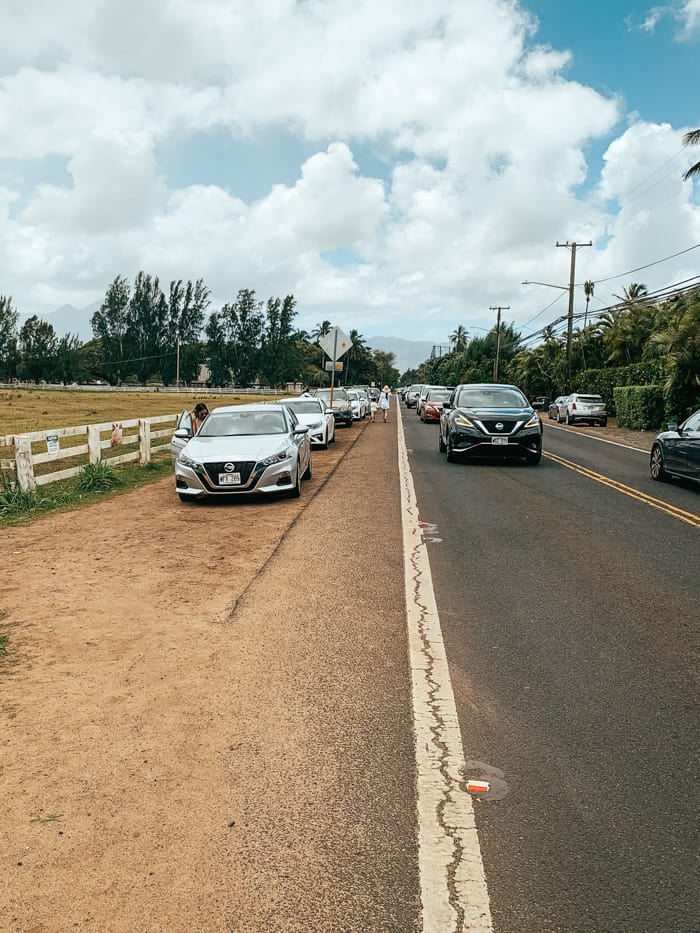 Laniakea Beach Facilities
Aside from not having enough parking, there are also no bathrooms, showers, or picnic tables. Don't let this deter you though since it's not too far to hike up the beach in either direction to find a different beach that features all of the above.
There are lifeguard stands on the beach as well as a number of warning signs that you should heed! Remember, if you aren't a strong swimmer, then this probably isn't the beach for you to swim at.
I love that the area specifically reserves parking for lifeguards. I'd never seen signs preserving parking spaces for lifeguards, but given the area it makes perfect sense.
Conclusion: Still One of the Best North Shore Beaches Oahu Offers
Even though I generally despise crowds of people, especially when I'm just one of a ton of tourists, I still have to recommend the Turtle Beach Oahu offers.
Laniakea Beach provides a perfect opportunity to see these amazing creatures, lounge on the sand, and even watch world class surfers.
What to pack for Oahu
Quick Dry Travel Towel – This quick dry towel is amazing to travel with. We honestly usually travel with 2 of them. It really will come in handy when you need extra room in your suitcase.
Snorkeling gear – for obvious reasons.
Sandals – LOVE these Tevas sandals. You can actually hike in them which is perfect for hawaii if you don't want to bother with hiking boots.
Hiking Boots – The hikes in Hawaii are MUDDY. Make sure to pack a nice pair of waterproof hiking boots so trekking through the mud and puddles doesn't make you miserable. Nothing worse than wet socks. These are my favorite hiking boots. They are cute and comfortable. I never go hiking without them! Buy them from DSW here.
Tank tops – Free people is my go to place to buy cute and affordable tank tops (Depending on the style of course). I have this tighten up tank in almost every color.
Shorts – Anyone who is traveling to Hawaii needs a good pair of shorts. Khakis are great for guys. For women, cute athletic shorts or denim shorts are perfect for a breezy summertime look.
Dresses for Hawaii – Packing a few good dresses is essential for Hawaii. Dresses have become my go to on trips to help quickly put an outfit together.
Tennis Shoes – I guess you could wear sandals hiking this trail but I would recommend tennis shoes. It can get narrow and slippery in parts. I never go anywhere without my white Air force ones. They are the most versatile shoe I own.
Beach cover-up – Having at least one good cover-up is essential on any beach trip. Amazon actually has amazing ones at really affordable prices. If you aren't a fan of buying clothes off Amazon I recommend ASOS, Nordstrom and Revolve as well.
Camera Gear – The iPhone 13 Pro is amazing and probably all that most people need. BUT, if you want something more I can't recommend the Sony A7IV mirrorless camera enough. It is AMAZING. If you are more into video than taking photos I recommend the Sony A7SIII or the Canon R5 for you Canon lovers.
Travel tripod – This Peak Design travel tripod is the best I have ever used. It is so easy to carry around because it is literally the size of a water bottle. Fits perfectly in a backpack. I have never seen a tripod so compact. It's life changing. You can check it out here if you're interested. Note – It isn't cheap, but that's why I bought it from backcountry.com. They frequently have 15% off sales so I was luckily able to purchase during a sale.
Planning a trip to Oahu? Read more of our Oahu blog posts below!
My husband and I have been to Oahu many times and have written up more blog posts to help you plan your trip. These are my most popular blog posts and Hawaii travel guides to help you plan your trip.
Best Things to do in Oahu
Oahu Beaches
Best Cliff Jumping in Oahu
Best Snorkeling in Oahu
More Hawaii Blog posts: