Did you just land in St. Thomas and can't wait to hit the beach? Did you have to check out of your hotel and looking to kill a little bit of time on an amazing beach before heading home? If yes, Lindbergh Beach just might be a perfect place for you to hang out at.
Lindbergh Bay Beach is only .3 miles away from the the airport! It's also fairly close to the cruise port if you aren't looking to go far. While it isn't the best beach in the Virgin Islands, it is still a pretty great place to hang out, especially for ease of access.
Lindbergh Bay Beach Info:
Best for: Proximity to airport, swimming, and amenities
Other names: Lindbergh Beach, Lindbergh Bay
Water Color: Gorgeous Caribbean blue
Sand: thinner strip of sand than other beaches, but still soft and white
Swimming Conditions: shallow water out a good ways (perfect for kids to swim in)
Amenities: Bathrooms, concession stand, water gear rentals, children's playground, and showers
Lifeguard: Yes
Cost: Free
Known For: Proximity to the airport (watching planes fly overhead)
Parking: Plenty of free street parking and a gravel lot
Where is Lindbergh Bay Beach located?
Lindbergh Bay beach is on the west side of the island of St. Thomas on the south shore. You will literally be staring at the St. Thomas Airport if you turn 180 degrees away from the shoreline. Seriously, the beach is directly parallel to the runway. If the runway wasn't fenced off the walk would take you 20 seconds.
It is technically located in Charlotte Amalie on the west side of the island. To get to the downtown area you can expect a 5 minute drive. It is only 1.1 miles from the main cruise port (Crown Bay Marina). In general, it is the closest substantial beach to the airport and cruise ports.
How to get to Lindbergh Bay Beach
If you decide to take a taxi you can expect to pay around $6 USD per person each way (from the airport or the cruise terminal).
If you decide to walk, expect it to take about 20 minutes from the cruise port and less than 10 from the airport.
If you plan on beach hopping in St. Thomas I highly recommend renting a car. This is what we did and have no regrets. Navigating the island is very easy and even though you have to drive on the left side of the road, we didn't find it too difficult. Free car rental reservations here.
Lindbergh Bay Beach Parking
While parking can be tricky at my of the best St. Thomas beaches, it isn't at Lindbergh Bay Beach. There is plenty of free parking along the side of the road along the beach. There is a lso a gravel lot that you can park in.
Even on a busy weekend day we didn't have a problem finding a spot. A huge perk of this beach is that it isn't as crowded as others.
Beach hours
Generally the beach is open from 8 am to 7 pm, but since this isn't a paid beach there is no one officially closing it down at night or that would have to open it up early in the morning.
We did see the concession stands close down about 5:30 though.
What you can Expect at the actual beach
First off, this beach is generally not as crowded as many of the others, even on busy cruise days (huge perk).
You will see calm clear water that you can snorkel in. It isn't the widest stretch of sand but it is not a tiny beach. It's not as big or as pretty as Magens Bay Beach or Lindquist Beach, but still nice.
There are likely to be locals lounging on the beach periodically trying to sell you things, but they weren't overwhelming the times we were there. If that isn't your favorite might want to go to a beach that you have to pay to get into.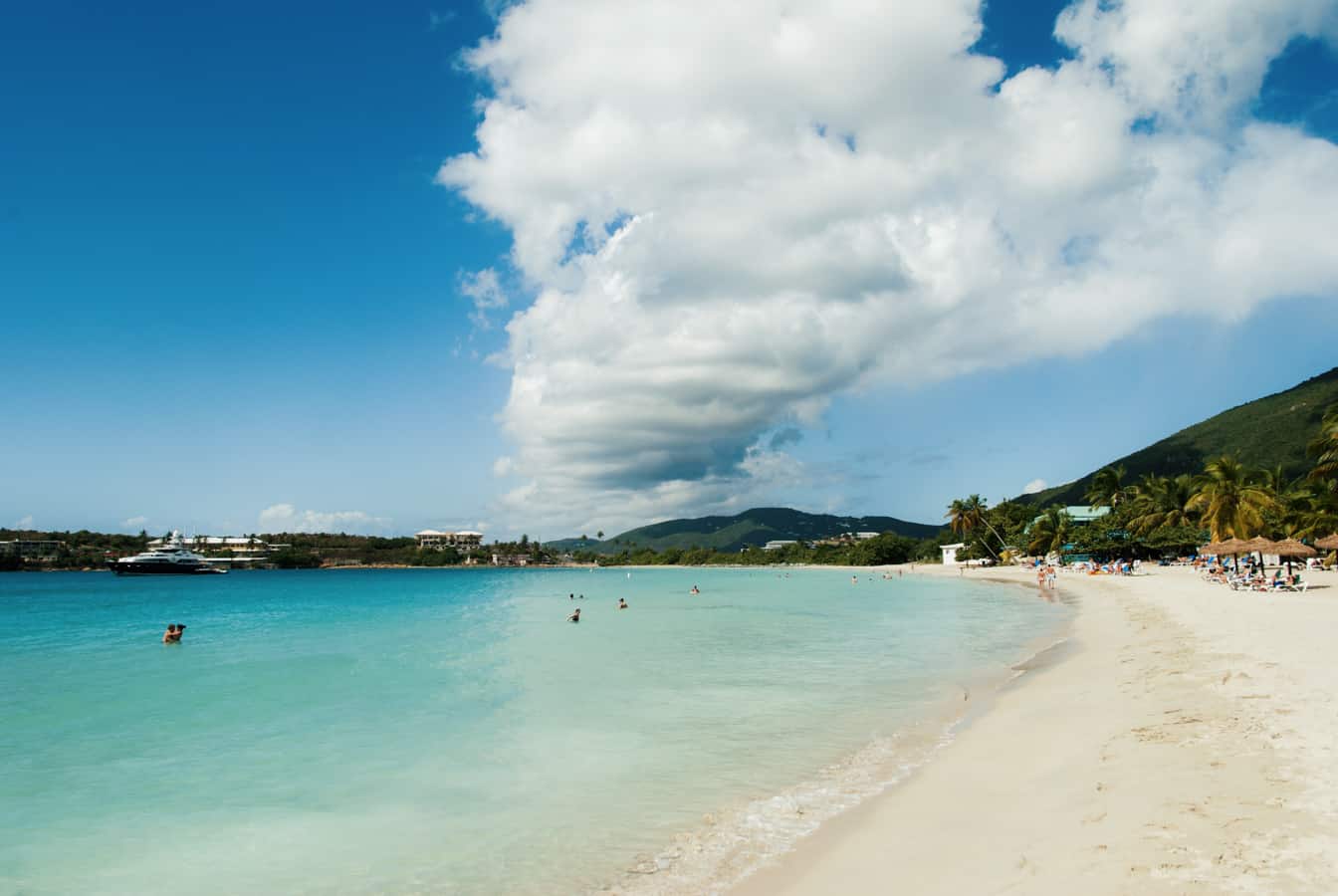 Swimming Conditions
This beach has clear waters and soft sand that make it perfect for swimming. The shallow waters a ways out make it great for kids as well.
Lindbergh Bay Beach Snorkeling
This is a great beach for sea shells and coral. You can also spot sea turtles, just don't expect as much sea life as some of the other beaches with reefs.
Crowds
Overall, this beach is way less crowded than a lot of others on the island. While you aren't likely to have it to yourself, you shouldn't have any problem finding adequate space to spread out on, regardless of the day.
The Emerald Beach Resort and accompanying hotel gardens are located on the east side of Lindbergh Bay Beach so there are likely going to be more people on that said. It is worth walking down there though as you are likely to see iguanas in their gardens.
Lindbergh Bay Beach Activities and Amenities
There are showers, restrooms, and plenty of parking. Lounge chairs are available for rent. There are jet ski rentals available on the far right (west) side of the beach.
There is also a concession stand where you can get drinks and snacks. If you want a full restaurant and bar you can go to one of the hotels just off of the beach.
There is a stand where you can rent kayaks, jet skis, paddle boards, and even wind surfing equipment.
There is also a playground for the kids at the far end of the beach.
Where to Stay Near Lindbergh Bay
There are two hotels located directly on the beach. The Emerald Beach Resort and the Lindbergh Bay Hotel.
Conclusion: Is Lindbergh Bay Beach worth visiting?
Yes! It's not my favorite beach on the island but I would happily go there and spend a day again! If ease of access is a concern you will not be disappointed.
Things to do near Lindbergh Beach
Emerald Beach
Brewers Bay Beach – 5 minute drive from this beach (1.8 mi)
The airport – 1 minute drive (.3 mi)
Magens Bay Beach (15 min drive)
Best beaches in St. Thomas (best to worst)
Lindquist Beach – My #1 favorite beach on St. Thomas! This beach is absolutely unreal! Very underrated IMO. Check out this video and you will know exactly what I mean.
Magens Bay – This beach is just absolutely stunning! There is so much space, it has all the amenities, plenty of parking and taxis and well as numerous bathrooms all along the beach. The only hit this one takes is the water was not as 'glowing' turquoise as Lindquist or Coki Beach. Also, it is much more crowded.
Coki Beach – This is my 3rd favorite & my husbands least favorite. Ha. I loved the snorkeling and the BRIGHT turquoise water. He did not like that there was not a lot of sand and it was crowded. As well as people doing drugs on the beach (when we were there). I didn't mind. Definitely more of a party beach.
How to get to the US Virgin Islands
Most people get to the US Virgin via cruise ship. This limits them to one or two quick excursions on the islands (still amazing). For those looking to spend more time, flights are available, though they can be a little bit tricky.
The main airport is on the island of St. Thomas generally has flights from the biggest US airline hub cities (New York, Atlanta, Miami, etc) which means that if you don't live in one of those cities you have to connect probably have spend a little bit more. Further, lots of these flights only operate on certain days of the week. This means that if you are looking to book a flight and you don't see options, or it is obscenely expensive try changing the day of the week!
The US Virgin Islands are generally a little bit more expensive across the board than other places in the Caribbean.
The only real budget airline offering flights is Spirit Airlines from Orlando and Fort Lauderdale. I know people love to hate Spirit Airlines, but when we flew them on the quick flight down from Florida we saved a ton!
Remember that if you want to go to St. John you are still going to have to fly into St. Thomas.
There is no commercial airport on the island of St. John, but there is frequent and fairly cheap ferry service (car or passenger). You can read about the ferries here.
For those wanting to go to St. Croix, you will have to book one of the even less frequent and quite expensive flights in from the mainland, as it isn't close enough for regular ferry service.