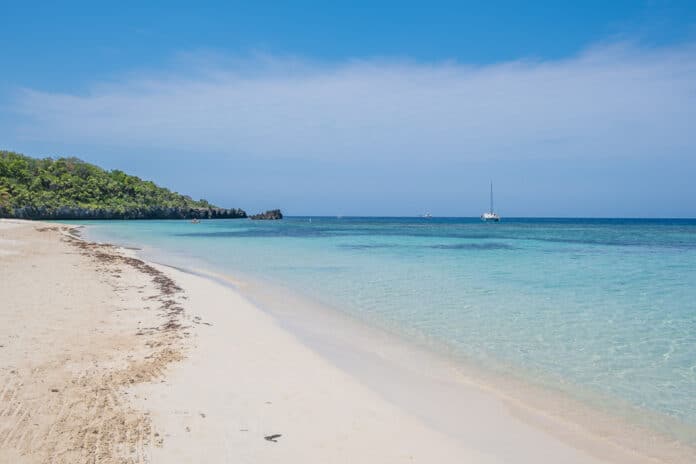 There is a reason that there are two gigantic cruise ports on the island of Roatan. The island is world famous for its scuba diving and snorkeling. Of course, being immediately next to the second biggest reef on earth will help do that.
What the island of Roatan doesn't have is a ton of sandy shores. What many people don't realize is that Roatan does still have some beautiful sandy beaches you can lounge on, you just have to know where to go!
While cruises can be fun, I recommend an extended stay on Roatan. There are flights directly into the island and compared to a lot of other Caribbean destinations the costs are MUCH cheaper.
To help you find the best beach Roatan offers I've highlighted some of the contenders below! Looking for a particular beach? Check out the table of contents below skip to that section.
Top 10 Roatan Beaches
I included a lot of the Roatan beaches that you will hear about, even though a couple of them are technically on different islands and not actually part of Roatan. Also, there are some that are currently closed to the public.
1. West Bay Beach Roatan (Best Beach in Roatan)
West Bay Beach is in the West Bay neighborhood on the western side of the island of Roatan (also in the Western Hemisphere because I was looking for an excuse to say west again).
This beach is probably the most popular of all the Roatan beaches. In my opinion, it is the best beach in Roatan.
This is where the majority of hotels, restaurants, dive shops, and other attractions are. You can find budget accommodations and glitzy resorts. All of them are trying to locate close to the pristine sands of this beach.
While it can get crowded it is big enough to almost never feel crowded. It also helps that the cruise passengers generally do not make it here as each of the ports are about 25 minutes away.
This beach is an excellent launching point for views of the gigantic Mesoamerican coral reef. You can also find all of the other fun beach activities like parasailing, massages, and paddle boarding.
Best West Bay Beach Excursions
Here are a few of the best excursions you can do at West Bay Beach.
Discover Private Scuba Diving in West Bay Beach– This is a great option for those who are not Scuba certified yet. You will have the help of a PADI-certified diving instructor. With this Discover Scuba Diving program, you can try scuba diving without having to commit to a full certification course.
Mayan Jungle Canopy Zipline – Go Ziplining through the mountain jungle canopy. Includes 13 Zips with 2 Suspension Bridges! Check out this page for more details.
Read our full blog post on West Bay Beach here.
2. Mahogany Bay (Beach near Roatan Cruise Port)
Note: Mahogany Bay is only open to cruise passengers.
Carnival Cruise lines knew what they were doing with this beach. This beach was actually built by the cruise line to be immediately next to the gigantic port that accommodates cruise ships.
To help transfer visitors directly to the sand they even constructed a ski resort style chair lift for those that don't want to walk the 10 minutes to the beach!
It is an all around great beach with tons of restaurants, bars, and water activities available, BUT it is only open to cruise passengers. Read our full blog post on Mahogany Bay here.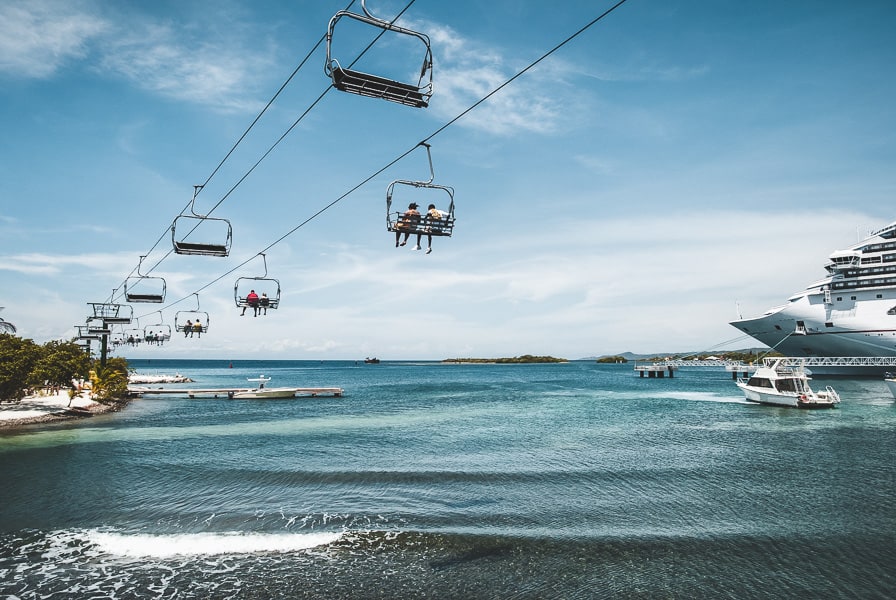 3. Camp Bay Beach
Camp Bay Roatan is the best beach that isn't packed with tourists. People talk about this being "far away" and off the grid beach of Roatan. It is located on the eastern side of the island that is not developed with significant tourism infrastructure. Camp Bay Roatan is a small neighborhood with a few local residents.
It takes about an hour to drive to Camp Bay Beach from the airport, and about an hour and a half from the western end of the island.
While the beach is very sparse on amenities and the waves are a little bit choppier, there is no better place on the island to enjoy wide sandy shores with very few people. Read our full blog post on Camp Bay here.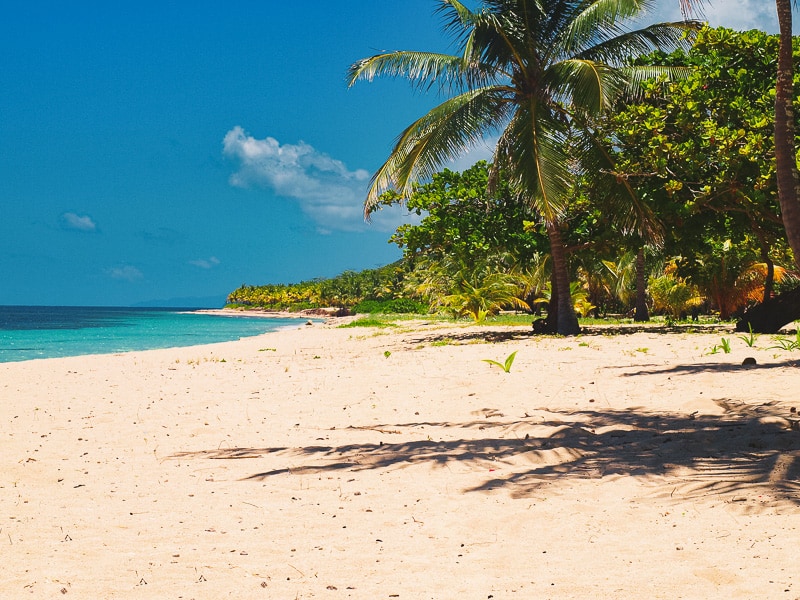 4. Beach Club Roatan (aka Havana Beach)
There is an actual beach named "Beach Club Roatan", though the actual name might be Havana Beach (I could never confirm).
The Roatan Beach Club is located on the eastern (less visited) side of the island. It is most often visited by cruise passengers on their day excursions, but you can purchase a day pass for $10 if you like.
At the Roatan Beach Club they offer jet skiing, horseback riding, snorkeling, and other water sports. There are third party tour providers that will pick you up and drop you off as well.
The beach isn't huge, but it never gets crowded.
5. Little French Key Roatan (actually a private island)
This beach is actually on its own private island. To get there, you purchase an excursion day pass, or book a night at the resort. It is supposedly an AMAZING all encompassing experience.
The boat ride there from the main island only takes 10 minutes. The on island experience can be adventurous or luxurious. This is one of the few resorts with a spa for massages and manicures.
There are jet skis, horseback riding, and of course snorkeling and scuba diving options available.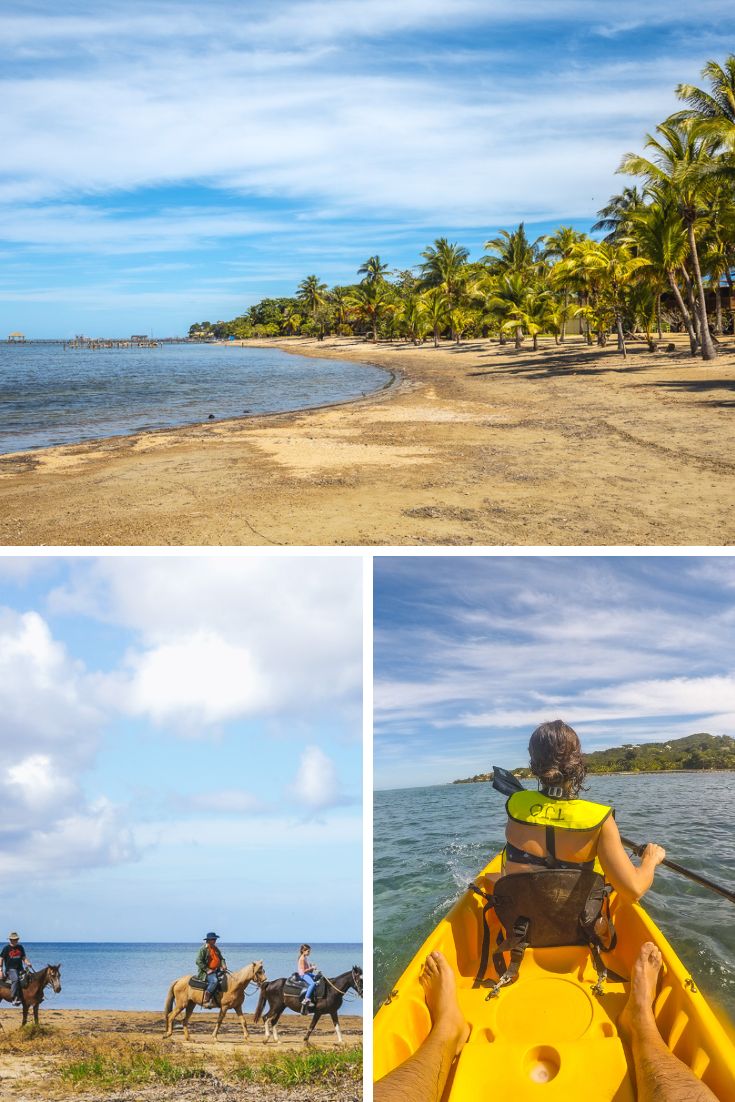 8. Maya Key Roatan (actually a private island)
Maya Key is another private island that is perfect for an excursion. They offer snorkeling, exotic animals, a swimming pool, and a private beach. The boat ride from the mainland is only 5 minutes, and the immediate access to gorgeous coral reefs can't be beat.
I love anywhere that lets me hang out with capuchin monkeys! My other favorite spot to see them on the main island is the Gumbalimba Park.
Read our full blog post on visiting Gumbalimba Park here.
9. Pangea Beach
Pangea Beach is another out of the way beach that you are very likely to have to yourself, or be sharing with only a couple locals.
It is on the northeastern side of the island which is not as nearly developed as the west.
The area is being built up and lots on the limited stretch of sand are being sold to build new houses/condos on. There are no facilities, but it is currently a good way to get away from the crowds.
10. Paya Bay Roatan
Paya Bay is actually a resort with a private beach. It is located on the east side of the island about 1 hour from the airport, but pretty close to Camp Bay Beach. The beach is small, but if you are looking for a small boutique resort this could be a great escape.
Warning, supposedly there are nudist days at the Paya Bay resort so be careful when you book. If you don't want to stay at the resort you can go just for lunch.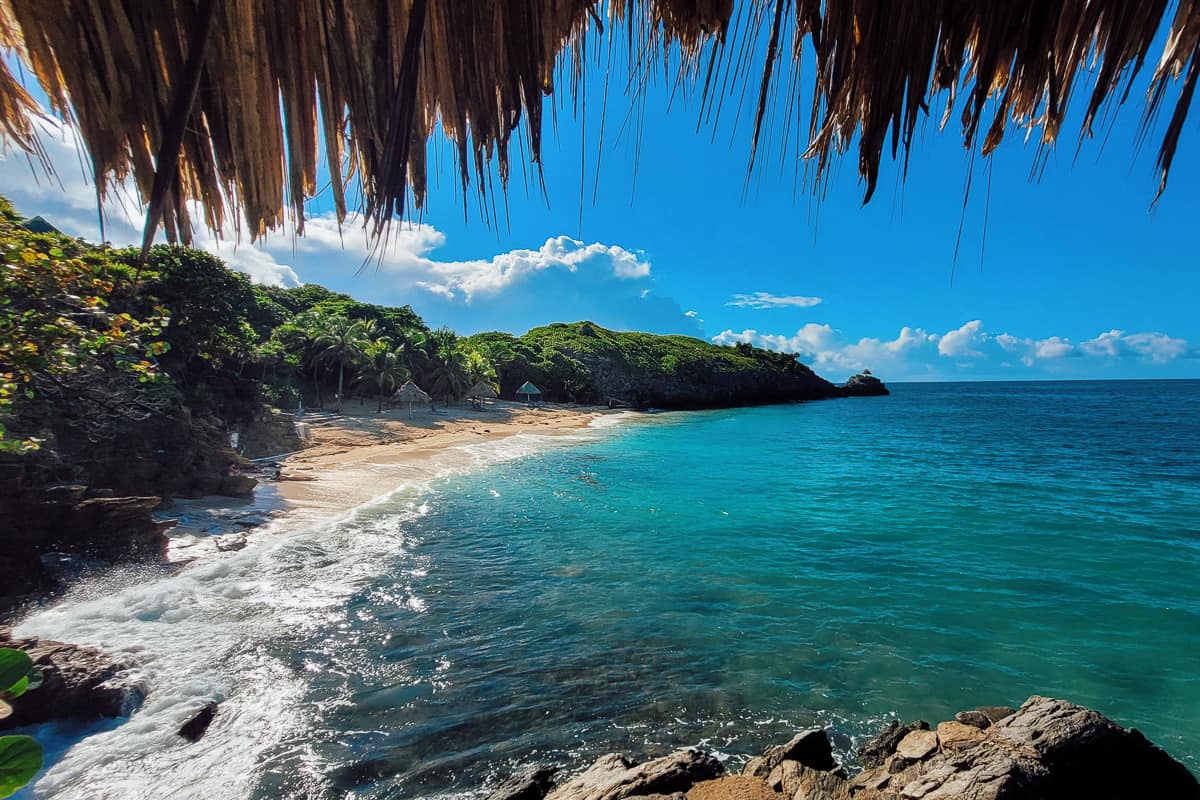 11. Marbella Beach
This beach is currently closed off to the public. When it was open, the road required a 4×4 to get there, but with it being blocked off and there now being "No Trespassing" signs it makes sense to just avoid this northwest shore beach. Read more about Marbella Beach here.
Conclusion: Which Beach is the Best Beach in Roatan?
The best beach Roatan offers depends on what you are looking for.
The most popular all around beach is definitely the West Bay Beach, but I think my favorite beach even though it is a bit out of the way is the Camp Bay Beach since it is usually not crowded at all!