5 Best Sao Miguel Hot springs in the Azores
Here is a list of the best hot springs on Sao Miguel island in the Azores.
1. Ponta da Ferraria
One of the coolest experiences you'll ever have in the Azores is a visit to Ponta da Ferraria. It is literally a volcanic hot spring located in an ocean lagoon!
Located at Ponta da Ferraria (tip of Ferraria)
Situated on the westernmost tip of Sao Miguel (i.e. Ponta de Ferraria), the largest city in the Azores, Termas da Ferraria is surrounded by dramatic basalt cliffs and the azure waters of the Atlantic Ocean.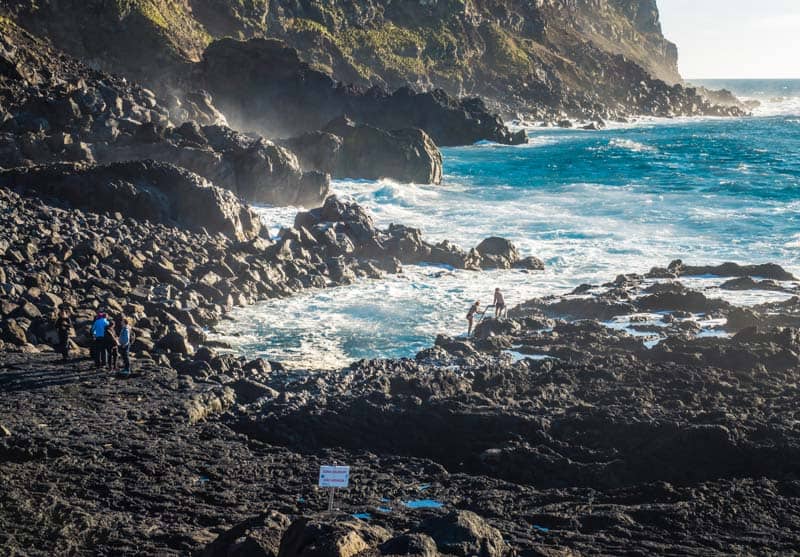 2. Terra Nostra Park (Parque Terra Nostra)
Terra Nostra Park is a natural oasis filled with geothermal spas and lush botanical gardens. The grounds are absolutely amazing, with warm water streams, tropical plants, and a series of unusual thermal pools.
Our favorite is the huge orange water spa. This hot pool's water is a unique rust-orange color. It is not caused by mud, but rather by high levels of iron in the water.
Make sure you wear a dark-colored swimsuit as the orange waters can stain! (I had on a red swimsuit and there was no staining).
There are multiple pools on the grounds, but the most famous one is the humongous rust orange mineral enriched pool. Geothermal activity helps heat the pool to about 95º-104º F (35º-40º C).
The warm water is the perfect escape when the weather cools off, which surprisingly to some happens in the Azores more often than you would think.
Facilities – If you don't want to wear your swimsuit around all day do not worry as there are lockers, towels, and changing rooms on the grounds.
Terra Nostra Park Hours – Terra Nostra Park is open from 10:00 – 18:00 and costs €8 per person. There are towels and lockers available here.
Warning! – If you wear a light colored swimsuit the mineral enriched water could stain it orange if you don't rinse it out quickly after, though we didn't have an issue with it others warned us.
Read the full blog post for details and all photos: Terra Nostra Park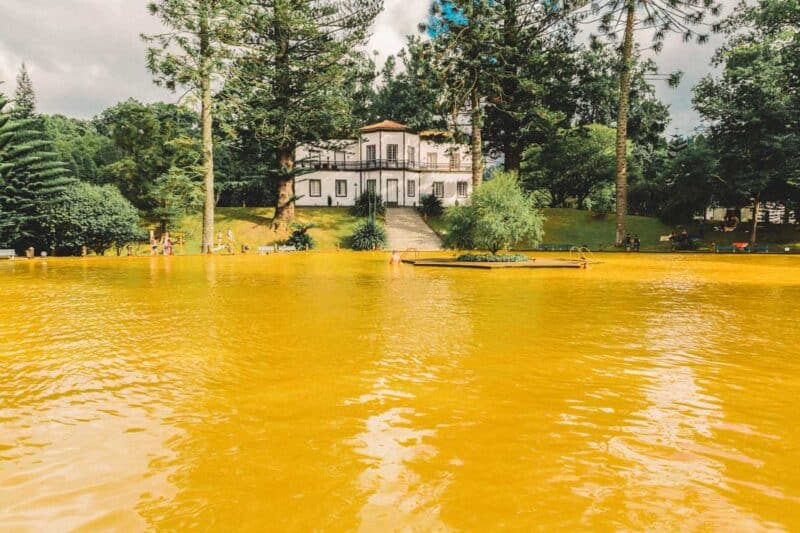 3. Pocas Da Dona Beija
At Poca Da Dona Beija you will find five different thermal pools (hot tubs) of varying temperatures as well as beautiful tropical landscaping.
Located in the town of Furnas, about a 45 minute drive from where we stayed in Ponta Delgada.
Pocas Da Dona Beija Hot Springs Hours
The hot springs are open from 7:00 am until 11:00 pm. It's the perfect late-night activity. While it is nice that it is open late, keep in mind that it does attract a younger and more rowdy crowd in the evening. While it's not a party destination, it is worth knowing that you definitely won't have it to yourself.
If you'd prefer a quieter soak, aim to visit these hot springs early in the morning. Avoid the crowds by reserving your entry and an accompanying dinner ahead of time.
Entry costs €6 per person.
Read the full blog post for details and all photos: Poca Da Dona Beija Hot Springs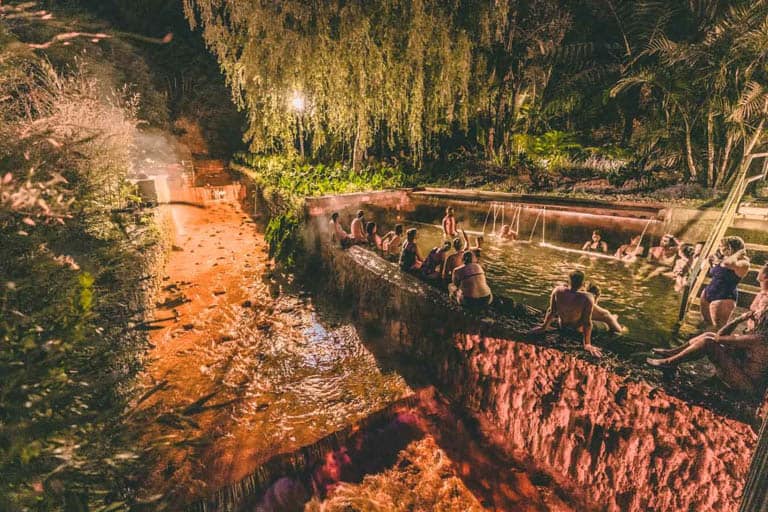 4. Caldeira Velha
Enjoy relaxing hot springs in the middle of lush forest. There is so much greenery surrounding these hot springs its hard not to feel completely relaxed.
The facilities are open to the public all week from 9am to 10pm, and are the perfect place to stop on your way up or down from the Lagoa do Fogo viewpoint.
Read the full blog post for details and all photos: Caldeira Velha Hot Springs
5. Caldeira das Furnas
This spectacular thermal valley on the edge of Furnas Lake is something truly extraordinary. You can see the steam and water literally bubbling up out of the ground!
A boardwalk leading around the northern side of Lake Furnas makes this otherwise scorching valley safe to explore.
The smell of sulfur is really strong around the caldera. I thought it would make me feel sick, but luckily it didn't.
We'd recommend coming here later in the day when there are fewer crowds; we visited in the late afternoon and had the place pretty much all to ourselves!
The boardwalk at Caldera Das Furnas is open 24 hours a day, and it supposedly costs €2 to park here. However, we pulled in to see no gate and no one to collect money from us.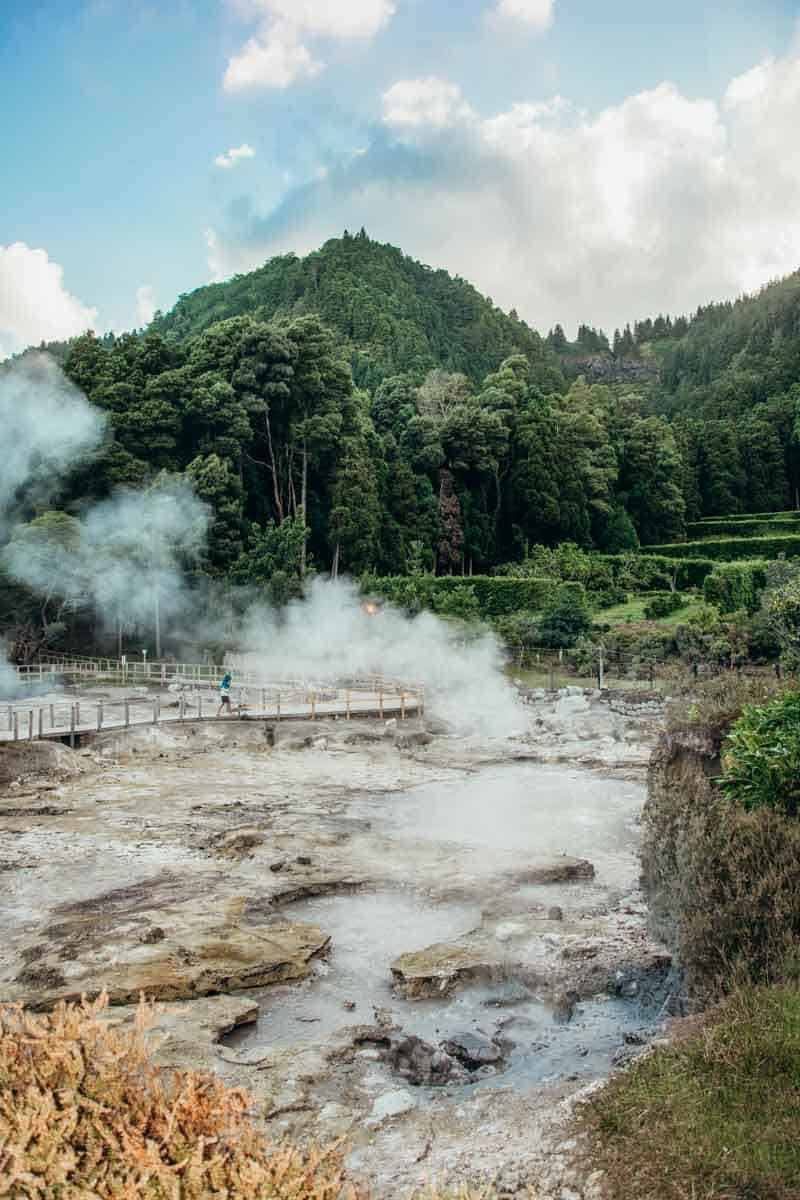 Where to Stay in São Miguel Island?
Yes, the Azores is a lesser-known destination, but now that it's becoming under more travelers' radars, more hotels are opening up.
So, if you're hoping to have an epic island adventure, you don't have to worry about accommodations as there are plenty of options.
I've compiled a list of some of the best accommodations in São Miguel for all kinds of travelers.
Luxury Hotels in São Miguel, Azores
Looking for upscale properties to live your best life on this tropical island?
Here are some of the top-rated luxury hotels on São Miguel:
Terra Nostra Garden Hotel – You don't have to miss the Caldeira Velha Hot Springs because you'd have access to São Miguel thermal pools at this lavish boutique hotel. Imagine spending the day hiking and exploring the island and going back to your hotel only to relax at a natural spa!
White Exclusive Suites & Villas – The Azores is privileged with lots of beautiful beaches and São Miguel is hands down home to many of them. So, how about enjoying your stay at an ocean view luxury suite or villa?
Santa Barbara Eco-Beach Resort – Another great beach view option is this eco-resort. Not only because the nearby Praia de Santa Barbara is one of the best beaches in the islands but also because of its close proximity to the Caldeira Velha Hot Springs – it's less than 15 minutes away.
---
Budget Accommodation Options in São Miguel
Are you an adventurous backpacker traveling on a budget? Don't fret – there are also some great options for you:
Out of the Blue – If you're on a budget, this hostel offers great value for money. Modern interiors and a cozy environment? Check! Ideal location? It's a lovely getaway in Ponta Delgada, so obviously, check!
Garoupas Inn – Also located in Ponta Delgada, this inn will make you feel at home, except for that you probably don't have impeccable ocean views or a hot tub back home!