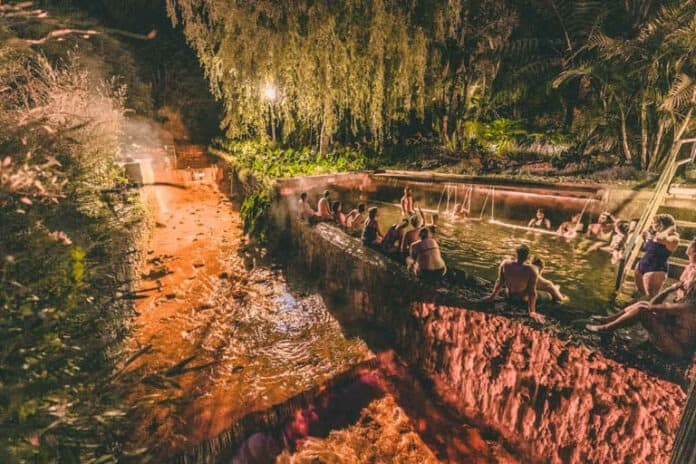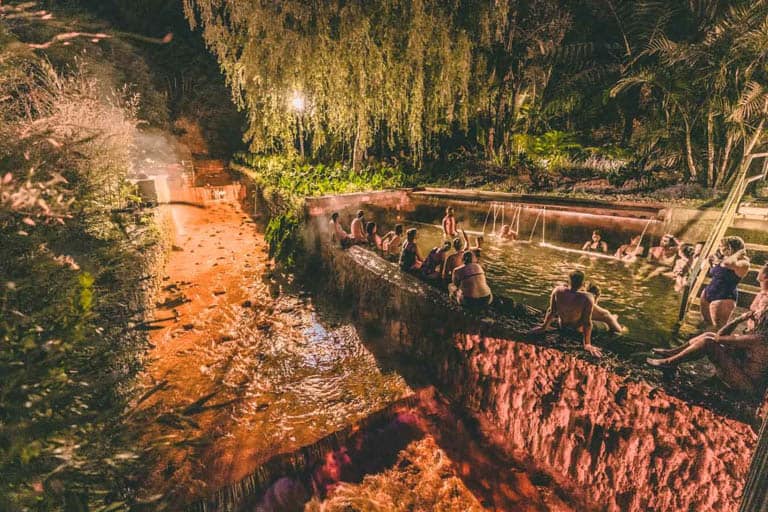 One of the main reasons to visit Sao Miguel is the Geothermal pools and hot springs.
Poca Da Dona Beija is another amazing Azores hot spring located in the town of Furnas. Furnas Azores is full of geothermal activity. These thermal baths are just one of many in the area.
Check out what else you need to see in the town of Furnas here.
What to Expect at Poca Da Dona Beija
You'll find five different thermal pools (hot tubs) of varying temperatures and beautiful tropical landscaping.
You will also see an orange river flowing through the entire Furnas area. The unique orange color is created from the high iron levels in the water. You can actually soak in the famous orange hot spring at Parque Terra Nostra.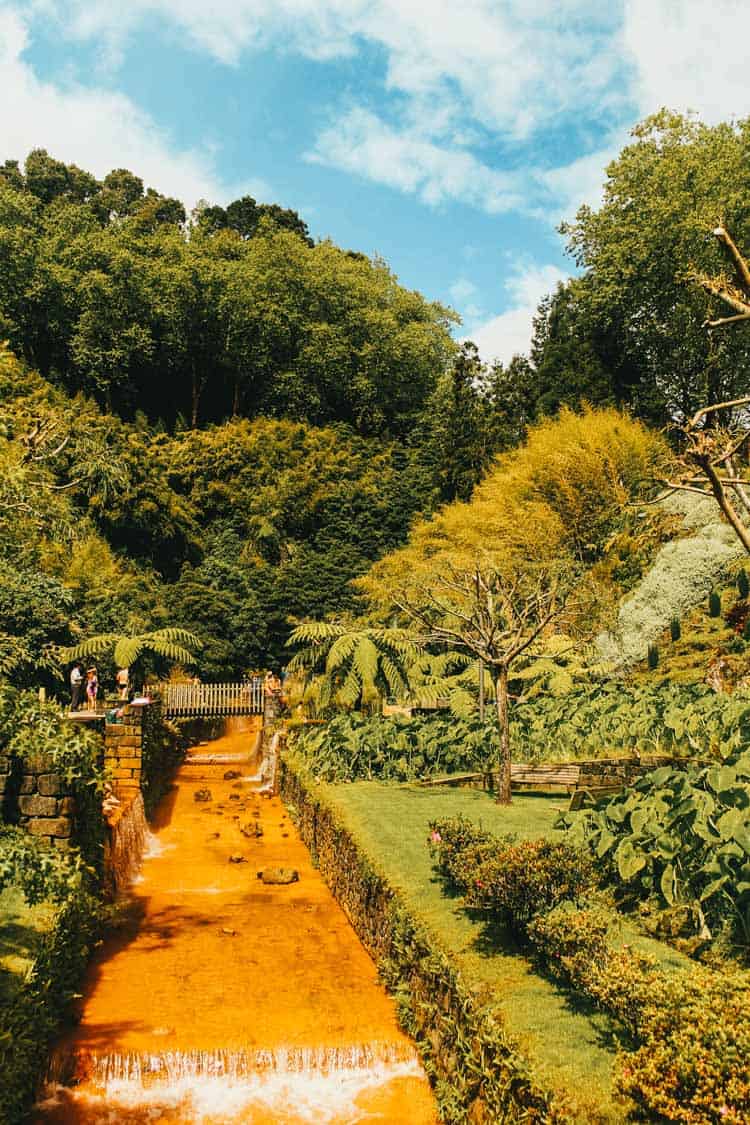 What are the pools temperatures?
At Pocas Da Dona Beija the tub's temperatures vary, going from cold to hot. 4 of the pools are 39 degrees and one is 28 degrees.
We enjoyed going back and forth between the different temperatures!
Some of the thermal pools were shallow with seating structures, and one was deep enough for standing.
Are there lockers and changing rooms at Poca Da Dona Beija?
Yes. There are lockers, changing rooms and restrooms that you can use. There is also a gift shop if you are looking to pick up some souvenirs. The lockers are available for 1 euro. We chose to use the plastic basket that they can give you to carry your things around.
The bathrooms were very tidy and clean when we were there.
Pocas Da Dona Beija Hot Springs Hours
The hot springs are open from 7:00 am until 11:00 pm. It's the perfect late-night activity.
While it is nice that it is open so late, keep in mind that it does attract a younger and more rowdy crowd in the evening. While it's not a party destination, it is worth knowing that you definitely won't have it to yourself.
If you'd prefer a quieter soak, aim to visit these hot springs early in the morning.
We were there at night and honestly, I didn't mind the crowds. It felt so relaxing after such a long day of travel. The vibe was still really relaxing.
How much does it cost?
Entry costs €6 per person without any time limits. Another option to guarantee your entrance as well as get dinner included is to pre-book here.
How long should you spend there?
Plan on spending around 90 minutes there.
Overall, we loved our experience at the Poca Da Dona Beija and would highly recommend it to anyone visiting Sao Miguel Island in the Azores. It was the perfect way to unwind after a busy day of travel.
These island of Sao Miguel hot springs are a must on any trip to Furnas Azores.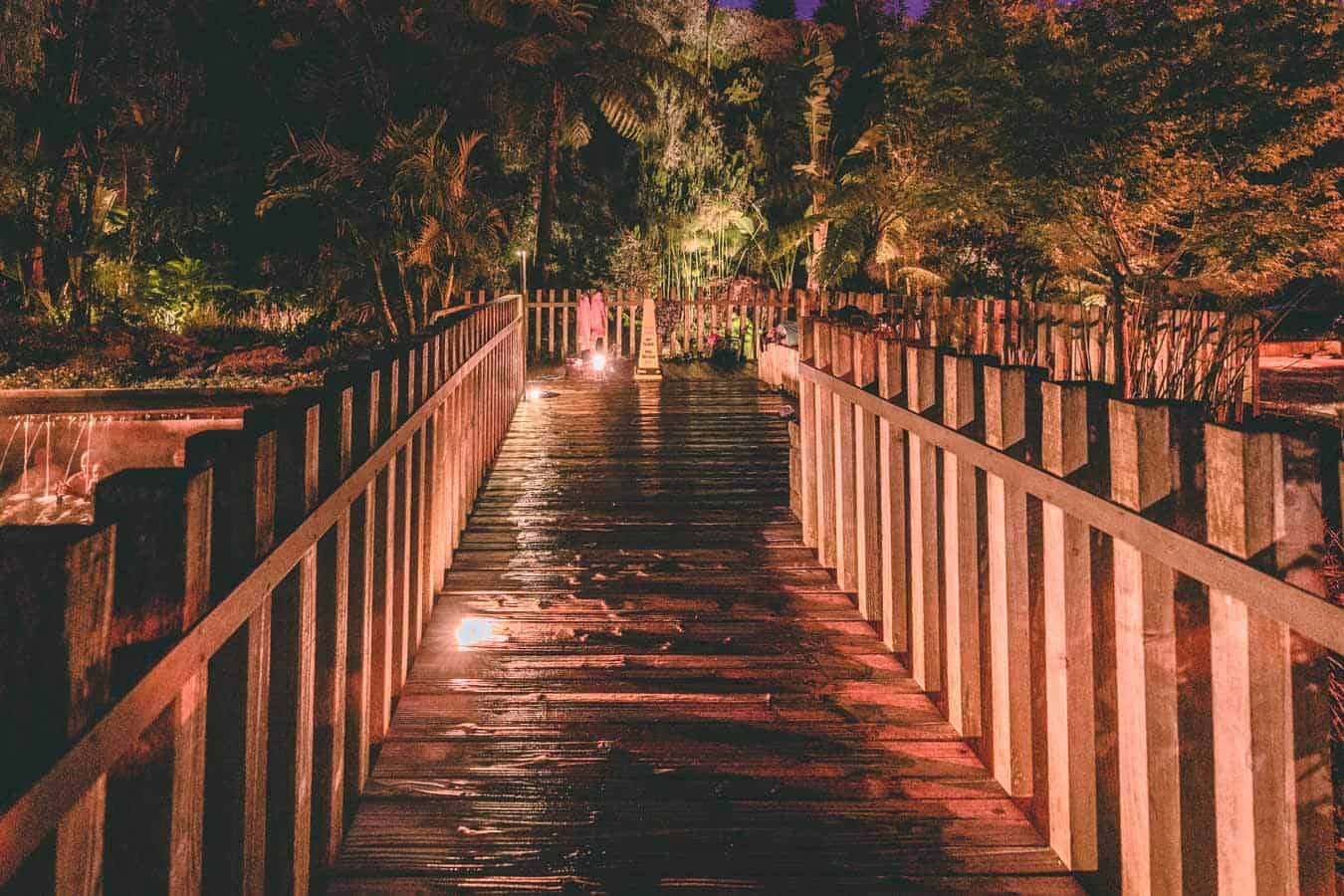 Other Tips for visiting Poca Da Dona Beija Thermal Baths
Eat before you go in as they do not allow food in the area.
Wear a darker colored swimsuit because the minerals can permanently stain light colored fabrics. I wore a red swimsuit and it was fine.
The parking lot is small (15-20 spaces) but we had no trouble finding parking.
Plan on spending around 90 minutes there.
Use a plastic basket to store your stuff.
Bring your own towel unless you want to rent one there for 2 euros. (2021 pricing) I always travel with this quick dry travel towel. Really comes in handy.
How to Get to Poca Da Dona Beija
If you are staying in Ponta Delgada (the main city on Sao Miguel Island and where I recommend staying) Furnas is about a 40 minute drive from there.
I recommend renting a car while in The Azores but if you don't feel comfortable navigating the roads in another country you can always book a tour.
Travel to the Furnas hot springs through a Guided Tour
Don't want to bother with any of the planning? These Furnas tours are amazing for anyone who wants a more stress free travel day in the Furnas.
You will still get to see all the top spots without having to do all the planning and navigating yourselves.
Furnas Hot Springs at Night with Dinner – Experience the geothermal hot springs of the Azores at night on an evening trip to the Furnas region of São Miguel Island. Enjoy a traditional dinner, cooked underground using steam from the volcano. Book your tour here.
Night Thermal Pools & Food Experience – Feast on a delicious Azorean dish. Then enjoy a night-time bathing in therapeutic water after seeing the amazing Caldeiras das Furnas. Book your tour here.
Furnas & Nordeste: Full-Day Tour from Ponta Delgada – If you are looking for a full day tour this one comes highly recommended. You will be able to experience the thermal pools in Furnas, watch how the locals cook the famous Cozido dish. And so much more!
---
WAYS TO TOUR FURNAS
Book these experiences for a close-up look at the Azores islands
---
Other places to not miss in the Furnas area:
Terra Nostra Park (Parque Terra Nostra) – Terra Nostra Furnas is a must for your vacation. Featuring the Terra Nostra Garden, Hot Springs, and so much more!
Furnas Lake – Lake Furnas (Lagoa Das Furnas) fills a natural volcano crater and is one of the most beautiful spots to visit in the village of Furnas.