Poca Da Dona Beija is another amazing Azores hot spring located in the town of Furnas. Furnas Azores is full of geothermal activity. These thermal baths are just one of many in the area.
Check out what else you need to see in the town of Furnas here.
What to Expect at Poca Da Dona Beija
You'll find five different thermal pools (hot tubs) of varying temperatures and beautiful tropical landscaping.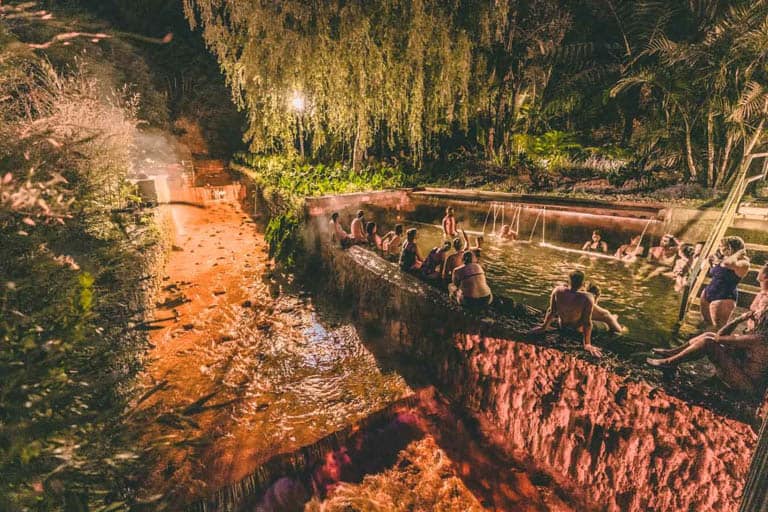 You will also see an orange river flowing through the entire Furnas area. The unique orange color is created from the high iron levels in the water. You can actually soak in the famous orange hot spring at Parque Terra Nostra.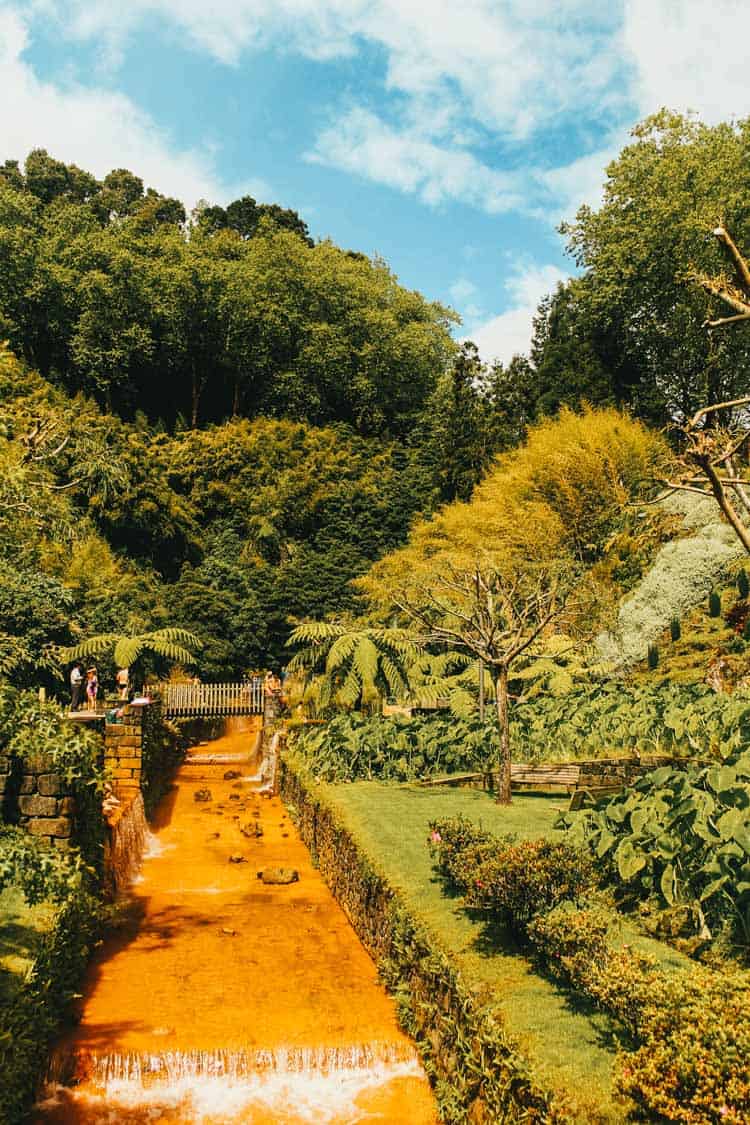 At Pocas Da Dona Beija the tub's temperatures vary, going from cold to hot. We enjoyed going back and forth between the different temperatures!
These island of Sao Miguel hot springs are a must on any trip to Furnas Azores.
Pocas Da Dona Beija Hot Springs Hours
The hot springs are open from 7:00 am until 11:00 pm. It's the perfect late-night activity. While it is nice that it is open late, keep in mind that it does attract a younger and more rowdy crowd in the evening. While it's not a party destination, it is worth knowing that you definitely won't have it to yourself.
If you'd prefer a quieter soak, aim to visit these hot springs early in the morning.
How much does it cost?
Entry costs €6 per person.
Overall, we loved our experience at the Poca Da Dona Beija and would highly recommend it to anyone visiting Sao Miguel Island in the Azores. It was the perfect way to unwind after a busy day of travel.
Other places to not miss in the Furnas area:
Terra Nostra Park (Parque Terra Nostra) – Terra Nostra Furnas is a must for your vacation. Featuring the Terra Nostra Garden, Hot Springs, and so much more!
Furnas Lake – Lake Furnas (Lagoa Das Furnas) fills a natural volcano crater and is one of the most beautiful spots to visit in the village of Furnas.